Bacon sizzling, coffee pot gurgling, and a warm plate of Caramel Pecan Cinnamon Rolls on the counter. That is my idea of a perfect morning! Especially when the baby sleeps a bit longer and I can have a few quiet minutes with my husband, sipping coffee before the hustle of the day begins. This caramel pecan cinnamon roll recipe is a delicious taste of my childhood.
They are so easy to make, yet so elegant. They really make a statement on the brunch table! I like to make them for Christmas breakfast, or anytime I need something special for a brunch potluck. They are always a big hit. They go well with this Hearty Breakfast Casserole.
How to make caramel pecan cinnamon rolls
You start with regular cinnamon rolls. You can even use refrigerated cinnamon rolls, but of course homemade is always best! Find my cinnamon roll recipe here: Kay's Cinnamon Rolls.
First, you make the caramel sauce. Place all ingredients into a small saucepan and heat over medium heat until it boils, stirring often.
Once it comes to a boil, remove from heat and set aside.
Next, pour half the sauce mixture into each pan.
Then sprinkle pecan halves into a greased round cake pan, make sure to spread them evenly.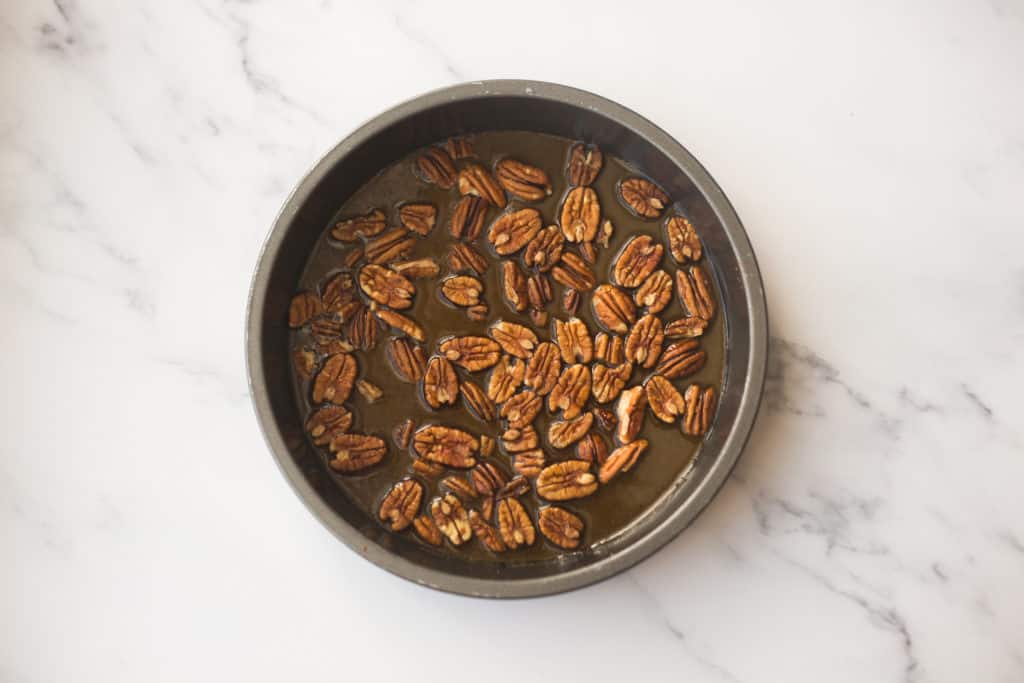 Place 6-8 cinnamon rolls on top of the sauce and nuts. You want the pan full but not crowded. Leave space between each roll for them to rise as they bake. If you place the rolls too tightly, the sauce will overflow the edges and make a mess in the oven.
Let the rolls rise for 10-20 minutes, then preheat the oven to 350 degrees. Bake the caramel pecan rolls for 20-25 minutes, or until the tops are golden brown.
Note: Rising time depends on how warm or cool your kitchen may be. Don't let them rise too long, or they will be dry. I keep my kitchen quite warm and only need to let them rise for 10 minutes.
How to get the caramel pecan cinnamon rolls out of the pan
When you take the rolls from the oven, place a plate over the top of the rolls, and hold the plate and pan together tightly while you quickly flip the pan upside-down.
Remove the pan and behold the gorgeous rolls in all their caramel goodness!
Don't wait too long to turn them upside-down, or the sauce will harden and they will not come out of the pan. Flip them within several minutes!
If you don't plan to eat them in the first two days, you should freeze them to preserve freshness.
How to store caramel pecan rolls
Just wrap tightly in plastic wrap and then in foil. To thaw, remove from freezer and thaw on counter several hours. After they're thawed, you can place in microwave for a minute to make them soft and gooey again.
They make great gifts for friends
If you're like me, you may have some friends and neighbors that you like to bless at Christmas.
These make great food gifts! Wrap a plateful for your trashman, first responder, or pastor. Tie a festive ribbon around it!
If you have a holiday brunch, these will make an elegant and tasty addition.
Cowboys love them during coffee break, or take a plateful to your new neighbor.
I hope you enjoy this easy Caramel Pecan Cinnamon Rolls recipe!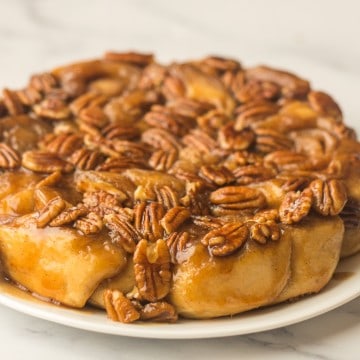 Caramel Pecan Rolls
Sticky, sweet caramel pecan rolls are the perfect brunch or breakfast dish!
Ingredients
1/4

cup

butter

1/4

cup

water

1/2

cup

brown sugar

2

TBL

Karo

1

recipe

cinnamon roll recipe
Instructions
Place all ingredients (except cinnamon rolls) in a small pan.

Heat over medium heat while stirring constantly.

When sauce starts to boil, remove from heat.

Place 1 cup pecan halves into each greased, round cake pan.

Pour caramel sauce over pecans, dividing evenly betwen both pans.

Place 6 - 8 cinnamon rolls in each pan, do not crowd.

Bake rolls for 20-25 minutes, or until they are golden brown.

Turn onto a plate as soon as they come out of the oven.

Store 3 days at room temp, or wrap well and freeze.
Nutrition