Wild game does not have to be boring, dry, and chewy! Prepare it correctly, and you will be pleased with the tasty, tender meat from your harvest. You can make this tasty Antelope backstrap recipe with a simple marinade, and a quick sear on the grill. Antelope can be a bit strong flavored, but this savory marinade stands up to the wild taste.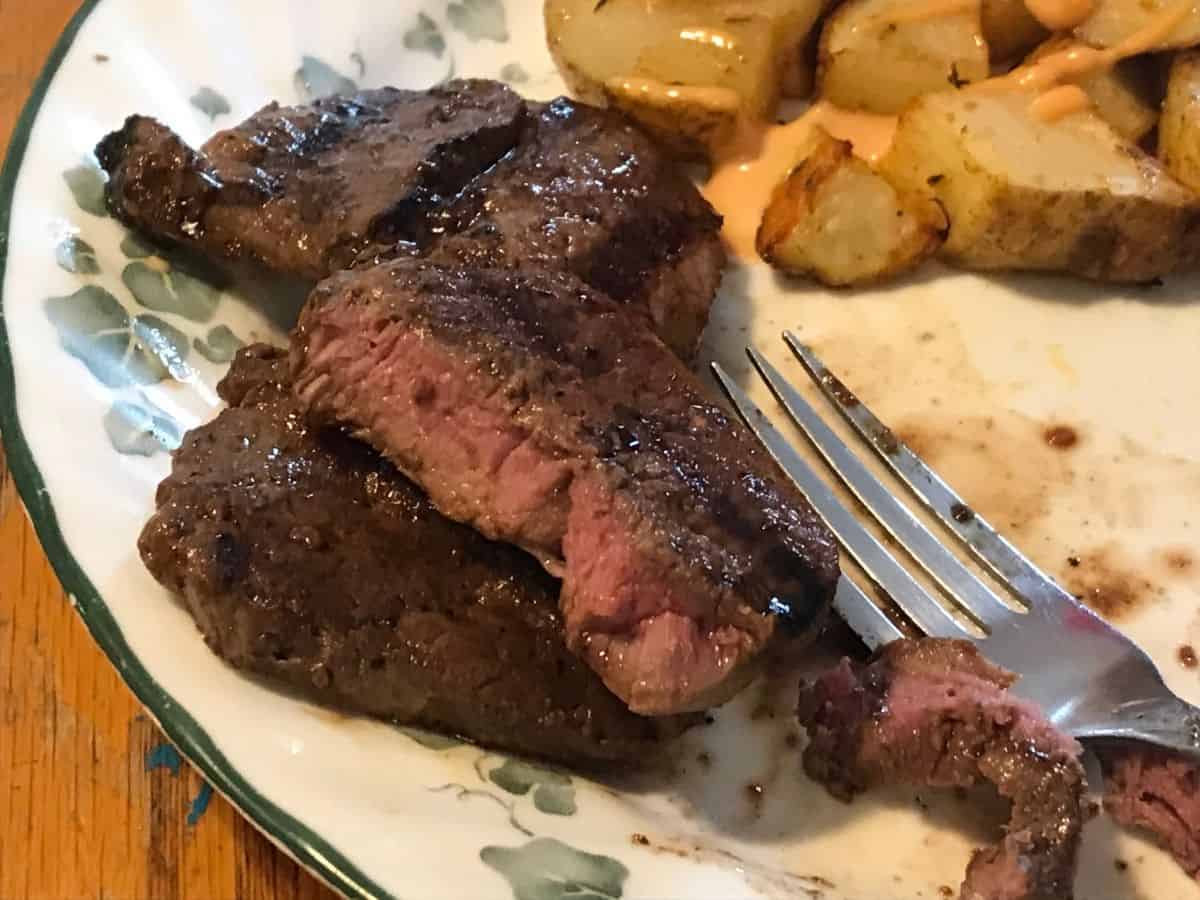 Antelope Backstrap Recipe
First, stir the marinade together, and place the antelope backstop steaks into the marinade, turning to coat each side. Marinate for 30 minutes.
Next, heat grill to 400°, and brush some bacon fat (or oil) on the racks. Drain the marinade and discard. Place antelope steak on the grill, for 2-3 minutes per side, or until internal temperature reaches a safe number. Here is a handy guide on testing when a steak is done cooking.
Ready to turn.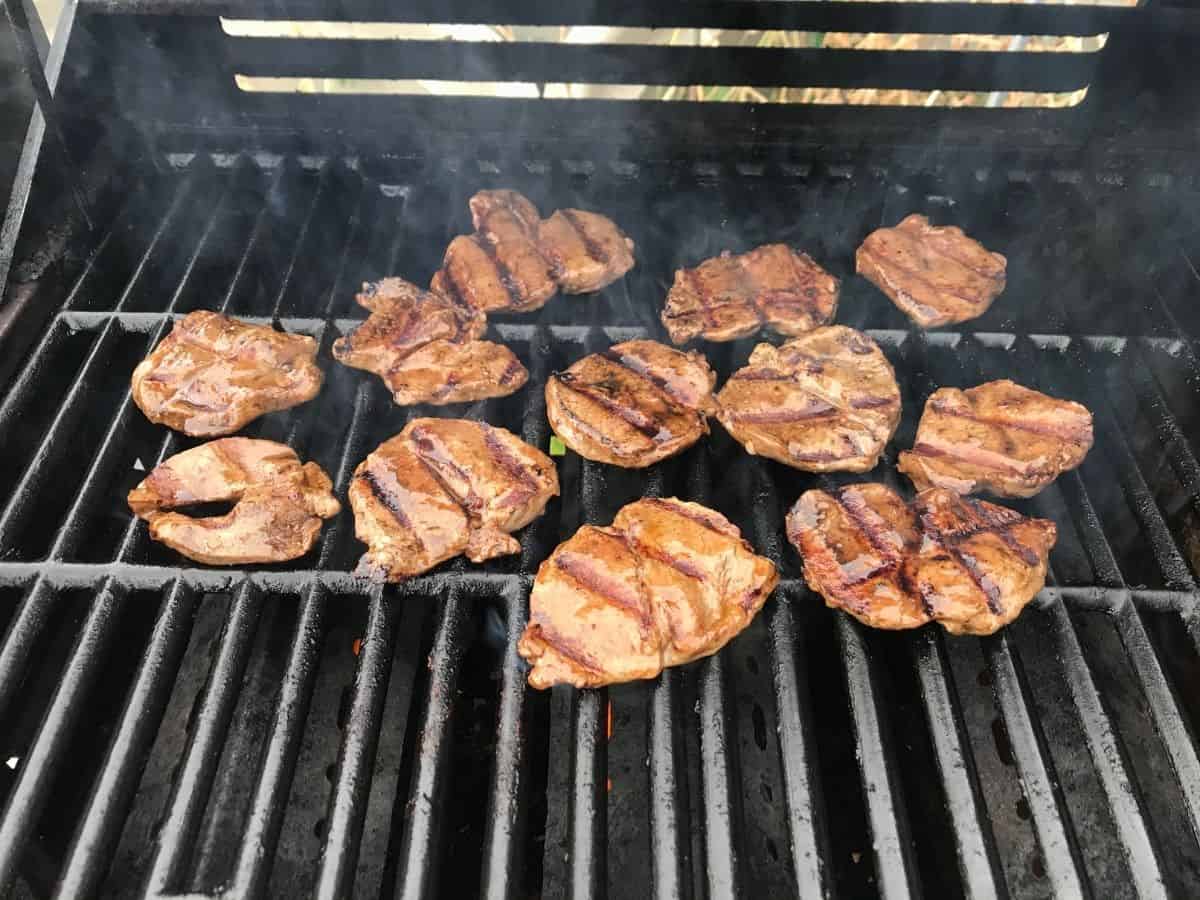 What is antelope backstrap?
Antelope backstrap steak comes from the antelope loin, (also known as quick frys). Although it is often confused with tenderloin, backstrap is two thick strips of meat taken from above the rib cage – from each side of the backbone. Here is an illustrated chart on all the cuts of venison.
I often cut backstrap steak into 1.5 inch thick steaks, then I butterfly them. (cut each one almost in half, but not all the way through, then open each one up like a butterfly.) You can see this in the photos in this recipe.
We really enjoyed this simple recipe, and hope you do too! By the way, you can use deer, elk, or moose for this recipe as well. Don't forget to grab my free guide to cooking wild game!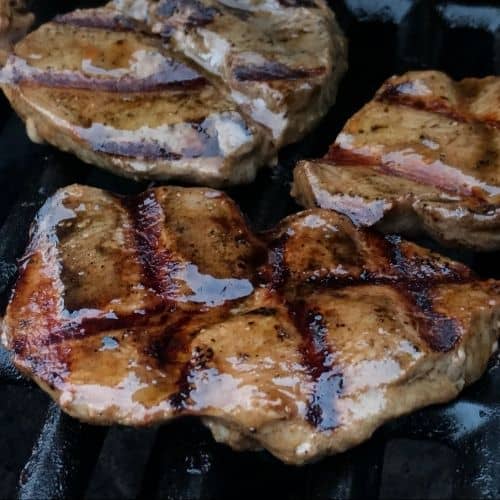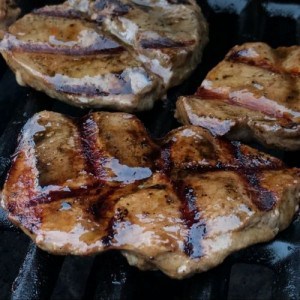 Antelope Backstrap recipe
Easy grilled antelope backstrap recipe, with bold flavors that compliment the wild game flavor!
Ingredients
1

pound

antelope backstrap steak

¼

cup

olive oil

1

teaspoon

greek seasoning

1

Tablespoon

worchestershire sauce

1

Tablespoon

soy sauce

¼

cup

steak sauce

¼

Balsamic vinegar
Instructions
Mix all marinade ingredients together. Add steak and turn to coat. Cover and let marinate for 30 minutes in fridge.

Heat grill to 400°, drain marinade from steaks and discard. Brush grill with bacon fat or oil, and grill steaks to desired doneness. Let steaks rest a few minutes before cutting.
Nutrition
Calories:
310
kcal
Carbohydrates:
4
g
Protein:
35
g
Fat:
16
g
Saturated Fat:
3
g
Cholesterol:
90
mg
Sodium:
601
mg
Potassium:
541
mg
Fiber:
1
g
Sugar:
2
g
Vitamin A:
44
IU
Vitamin C:
2
mg
Calcium:
14
mg
Iron:
5
mg