This hearty crockpot elk stew is the perfect warm meal for fall. This stew is full of healthy vegetables and lean elk meat, simmered in broth and herbs to create rich, full flavors. This recipe for elk stew is so versatile – I like how I can change up the vegetables and herbs to use whatever I have at hand.
Ingredients for Crockpot Elk Stew
The ingredients are pretty simple pantry items, although the list is long.
Elk steak
Red potatoes (or russet)
onion
garlic
bell pepper
jalapeño (opt)
green beans
diced tomatoes
carrots
beef broth
bay leaves
rosemary
oregano
basil
thyme
salt
pepper
How to prepare the stew
Start with two pounds of cubed elk meat. You can cut a roast or steaks into cubes, or if you have it – just use elk stew meat. I usually just cube some steaks.
Heat a skillet over medium-high heat and add some olive oil. Add the elk stew meat and brown . You can do it in batches, to evenly brown all of the cubes, but to save some time, I often just dump all the meat in at once and stir it a few times to get most of the sides browned.
When the meat is all browned, put it in the crockpot. Place the skillet back on the burner and add 1 cup beef broth to the hot skillet. Stir and scrape up the browned bits of meat, and bring the broth to a simmer. Remove from heat and pour the broth into the crockpot with the meat.
Dice the onion and garlic, and add to the meat. Add the seasonings, herbs, bay leaves, and diced tomatoes. Stir together and turn crockpot to high. Cook on high for 2 hours*.
*Note: You may add all ingredients at the beginning, and let it stew together for the entire cooking time. Cooking the meat first will help soften the tough elk meat without making the vegetables turn to mush. But you can certainly put it all in together, and it will be great.
After the elk stew has cooked for 2 hours, add the potatoes, carrots, green beans, and jalapeño. Pour water over and stir together. Cook on high for an additional 3 hours.
FAQ:
Can I put everything in the crockpot at once?
Yes. You can put all ingredients in at the same time, and let it cook together for 5 hour on high or 8 hours on low. The vegetables will be softer, but it will still be great!
How long to cook elk stew in the crockpot?
I cooked a total of 5 hours on high, but you could also cook it on low for 7-8 hours. Try not to open the lid more than necessary, as each time you lift the lid on a crockpot, it can add an extra 15-30 minutes cooking time.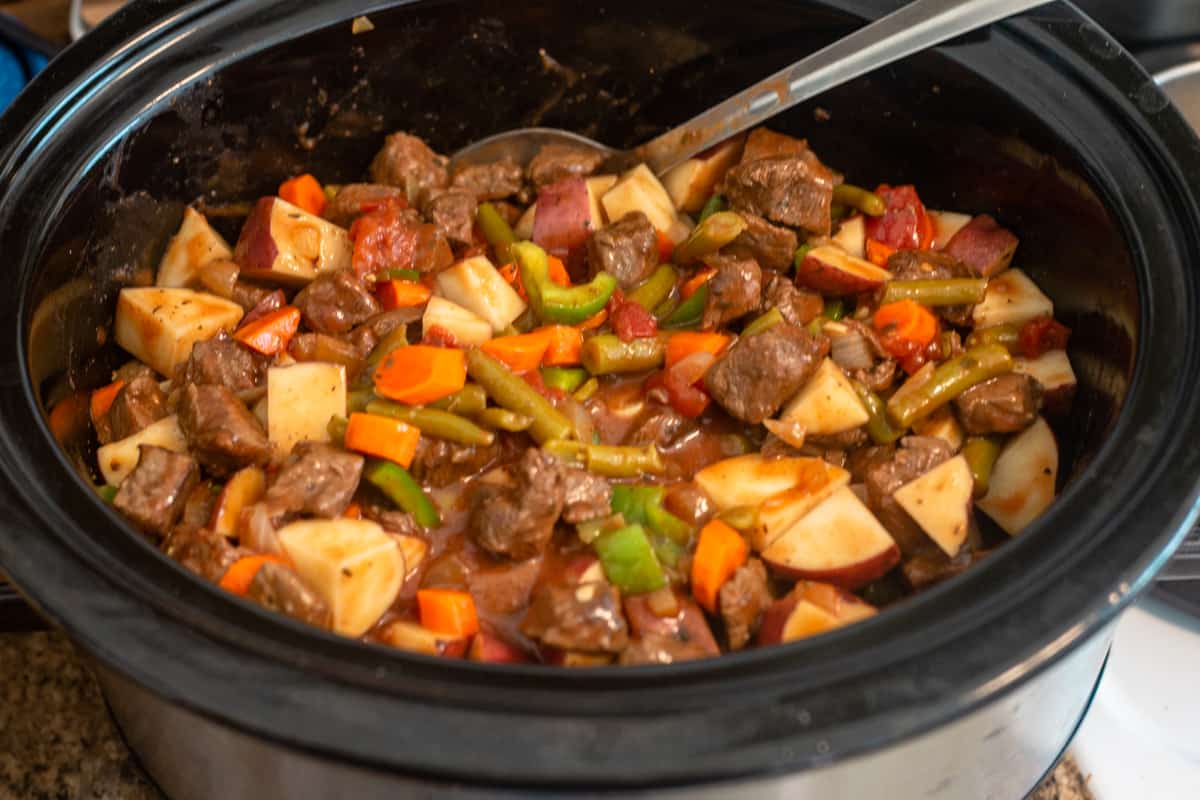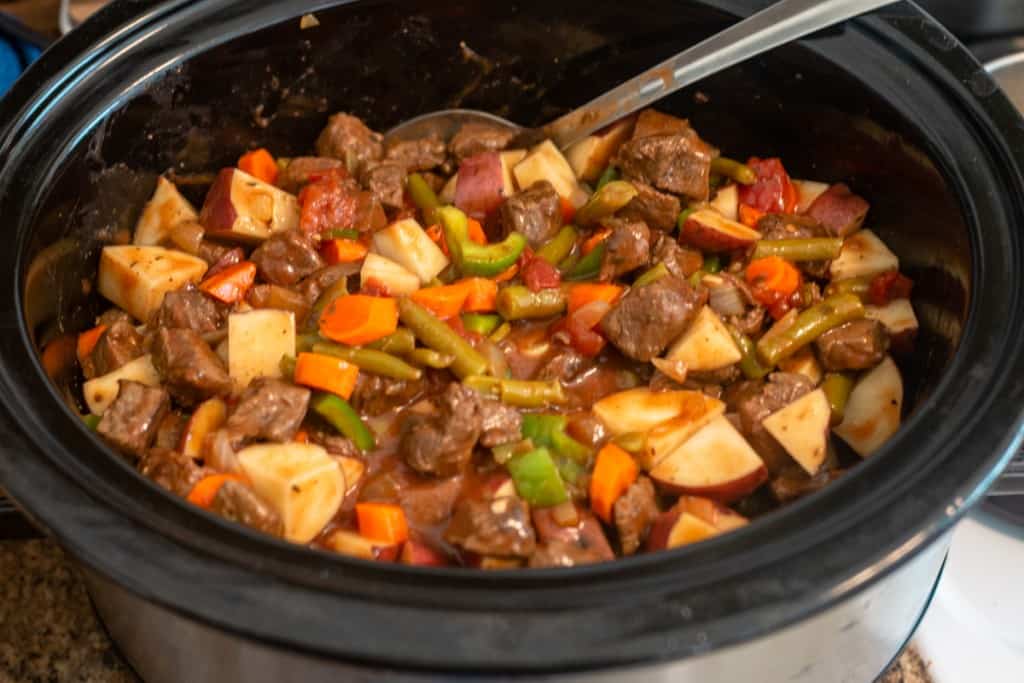 How can I get tender elk meat?
This slow cooker elk stew recipe usually produces tender meat! The low and slow cooking time, along with the acidic tomato sauce, tenderizes the wild game.
How to get rid of gamey flavor?
This recipe includes plenty of onions, garlic, and other herbs that really help with the wild game flavor. Strong game flavor depends a lot on what type of animal you are using, and also on how you field dress the animal. But, using onions and garlic really help. For my in-depth guide to great venison, download a free copy of my Wild Game Printable.
What to serve with elk stew?
We like to enjoy a large square of homemade cornbread with this stew.
A fresh salad on the side is nice, although I often skip the salad because there are so many veggies in the stew.
Finish the meal with a soft molasses cookie or piece of apple pie.
Try some other elk meat recipes:
Elk Lasagna
Elk Meatloaf
Venison Meatballs
Venison Breakfast Sausage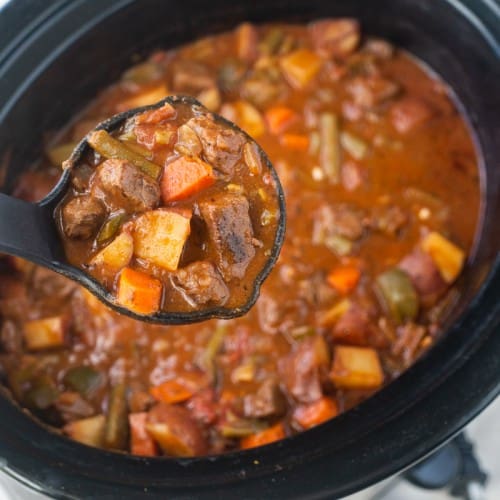 Crockpot Elk Stew
This crockpot elk stew is chunks of tender meat simmered in broth, with lots of vegetables and herbs. Hearty and healthy meal for the chilly fall months.
Ingredients
2

Tablespoons

olive oil

2

lbs

elk steak

cubed

1

cup

beef broth

2

lbs

red potatoes

cubed

1

large

onion

diced

1/2

lb

carrots

diced

1

jalapeño

diced

1

bell pepper

diced

1

can

green beans

(15 oz)

1

can

diced tomatoes

(15 oz)

6

cloves

garlic

sliced

1

teaspoon

thyme

1

teaspoon

oregano

1

teaspoon

basil

1

teaspoon

rosemary

2

teaspoons

salt

teaspoon

black pepper

2

bay leaves

1

cup

water
Instructions
Heat olive oil in large skillet over med-high heat. When oil is hot, add meat.

Let meat brown well, stir every 2-3 min. Let meat fry for 7-8 minutes. Place meat in crockpot.

Place skillet back over heat, and add broth. Stir and scrape the browned bits, and bring the broth to a boil. When it boils, remove from heat and pour broth into the crockpot with the meat.

Add onions, garlic, tomatoes, spices and bay leaves to crockpot. Cover and cook on high for 2 hours.

After meat has cooked for two hours, add potatoes, jalapeño, carrots, bell pepper, green beans, and water. Continue cooking on high for 3 more hours.

Stir and serve.
Notes
If you don't have beef broth, you can substitute chicken broth or water. You can also make beef broth with bullion cubes and water.
You may use antelope, deer, moose, or beef in place of the elk meat. 
This is a thick stew. Not much liquid. If you like it with more liquid, you may add more water. 
You can use any type of tomatoes. Fresh tomatoes are fine, as well as Rotes, crushed tomatoes, or tomato sauce. 
Nutrition
Serving:
1
cup
Calories:
181
kcal
Carbohydrates:
19
g
Protein:
18
g
Fat:
4
g
Saturated Fat:
1
g
Sodium:
528
mg
Potassium:
848
mg
Fiber:
3
g
Sugar:
4
g
Vitamin A:
3684
IU
Vitamin C:
29
mg
Calcium:
45
mg
Iron:
3
mg