What says comfort and down-home cookin' like a warm apple pie?!  Like many people, I think my mom makes the best pies! 🙂 So of course I learned from her, and make them 'like mom does'.
When I was 12, my parents bought a bakery from our Preacher's wife. I worked in that bakery every summer from age 12 till I married. (at age 19!) I hated it, quite frankly. But it definitely gave me experience in baking. 🙂 I soon realized that I enjoyed making pies more than most other things, so I was the pie-maker for the last 3-4 summers that I worked there. We made anywhere from 20-40 pies a week, depending on the market.
I have had several requests for my apple pie filling recipe, so today I thought I would share mine with you all.
First you peel the apples. Core them, slice or dice, as you desire. Put them in a big kettle – with enough room to do some serious stirring. This filling can splatter! Add sugar, cinnamon, lemon juice, and water. Simmer for 5-10 min, depending on how soft you like your apples.
Meanwhile, mix water and Clear-Jell in a small bowl. It will seem thick at first, just keep stirring, and it will dissolve nicely. Clear-jell does not get lumpy! So nice…
When the apples are softened, pour the Clear-jell mixture into the apples in a thin stream, stirring the apples quickly. The Clear-jell starts to set very quickly, so keep stirring and stirring as you slowly pour the Clear-jell in. As the filling starts to thicken, it will start to bubble up and splatter. These splatters are hot! I recommend using an oven mitt on the hand you are stirring with. You can turn the heat to low, too.
Keep stirring constantly till the Clear-jell is all mixed in, and the filling is thick. It will set up and thicken a bit more as it cools, but not much.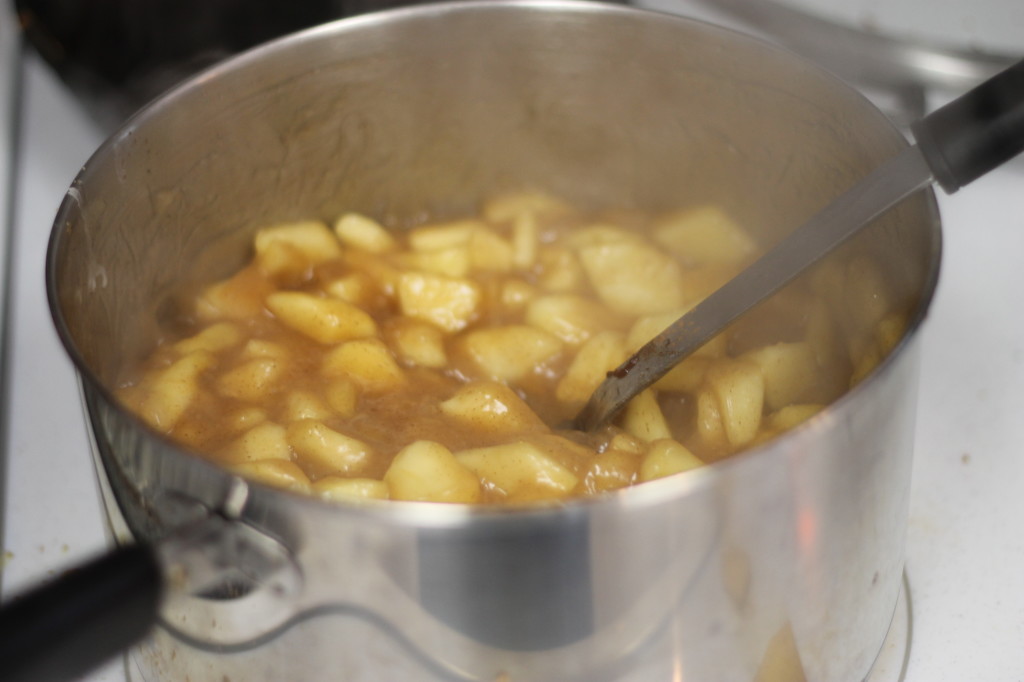 When the Clear-jell is all mixed in, and the filling has returned to a boil, (bubbling) remove from heat and cool.
Pour into prepared pie crust and bake.
Having trouble finding Clear-Jell? I buy mine from Amazon:
Hoosier Hill Farm Clear Jel, 1.5 Lbs.
  It lasts a long time.
Here is a post on how I make the pie crust: Easy, Flaky Pie Crust
And here are some tips for the perfect homemade pie!
Home-made Apple Pie Filling
Ingredients
3

lbs

apples

peel, core, slice

Water to nearly cover apples in pan

3/4

cup

brown sugar

3

TBL butter

Juice of one lemon

or 3 TBL ReaLemon(can omit if apples are very tart.)

2

tsp

Cinnamon

3

TBL Clear-Jell

1/2

cup

cold water
Instructions
Peel, core and slice apples.

Place apples in a large pan and add water till apples are nearly covered.

Add butter, sugar, cinnamon and lemon juice.

Cook 5-10 minutes, or till apples are softened. (not mushy!)

Mix 1/2 cup cold water and Clear-JEll.

Pour Clear-Jell slowly into the apples, while stirring apples quickly.

Bring apple filling mix to a boil, (bubbling slowly) and remove from heat.

Cool. Pour into prepared pie crusts and bake at 350* for one hour.