What says comfort and down-home cookin' like a warm apple pie?! This stovetop apple pie filling is silky and luscious, not too thick, and full of tender apple chunks.
Like many people, I think my mom makes the best pies! 🙂 So of course I learned from her, and make them 'like mom does'. I have had several requests for my homemade apple pie filling recipe, so today I thought I would share mine with you all.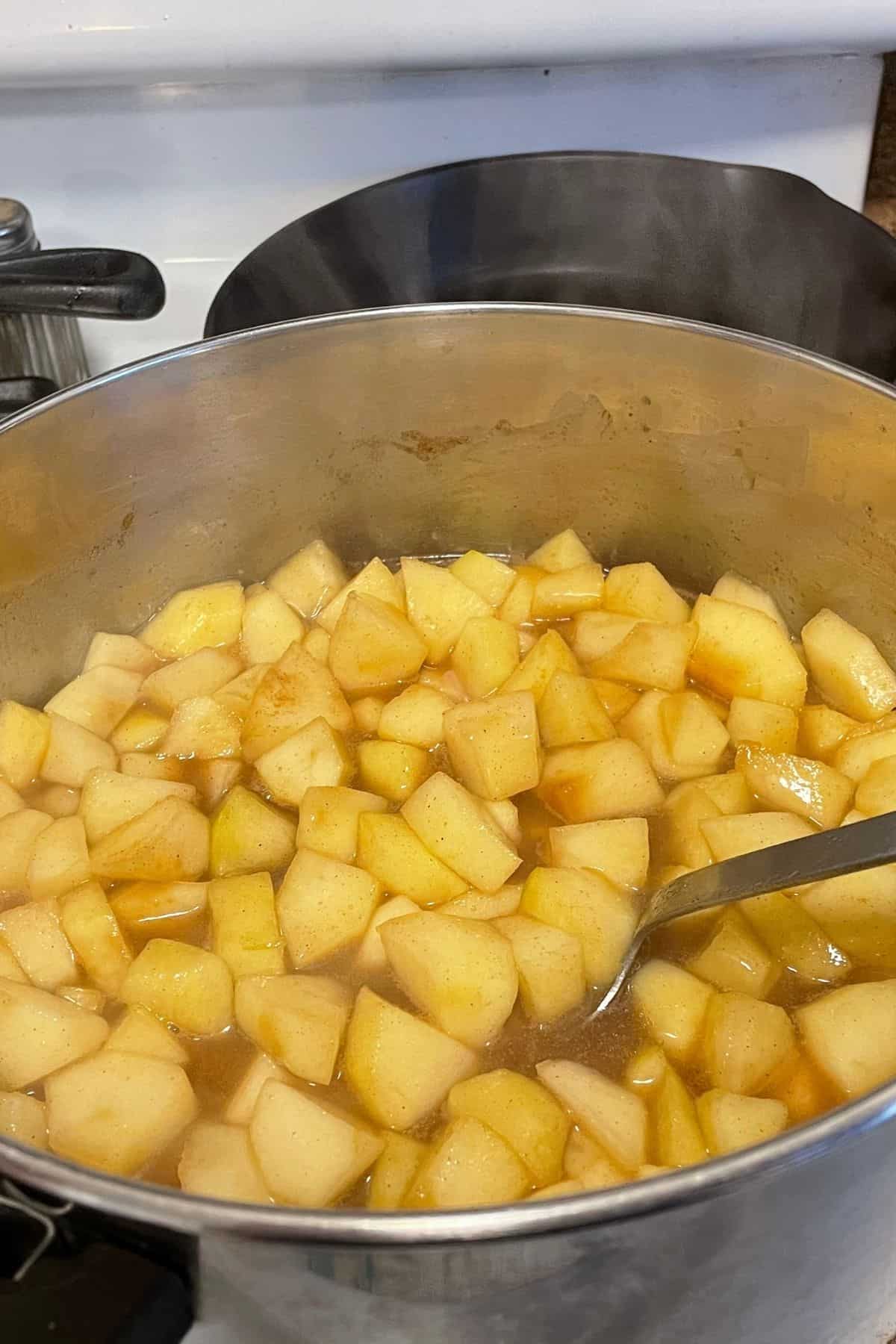 When I was 12, my parents bought a bakery from our Pastor's wife. I worked in that bakery every summer from age 12 till I married. (at age 19) I hated it, quite frankly. But it definitely gave me experience in baking. 🙂 I soon realized that I enjoyed making pies more than most other things in the bakery, so I was the pie-maker for the last 3-4 summers that I worked there. We made anywhere from 20-40 pies a week, depending on the market. Which means, I baked hundreds of pies as a teenager! Plus hundreds more as an adult.
Making stovetop apple pie filling
First you peel the apples. Core them, then slice them into bitesized pieces. Put them in a big kettle – with enough room to do some vigorous stirring. This filling can splatter! Add sugar, cinnamon, lemon juice, and water. Simmer for 10 minutes or so, depending on how soft you like your apples.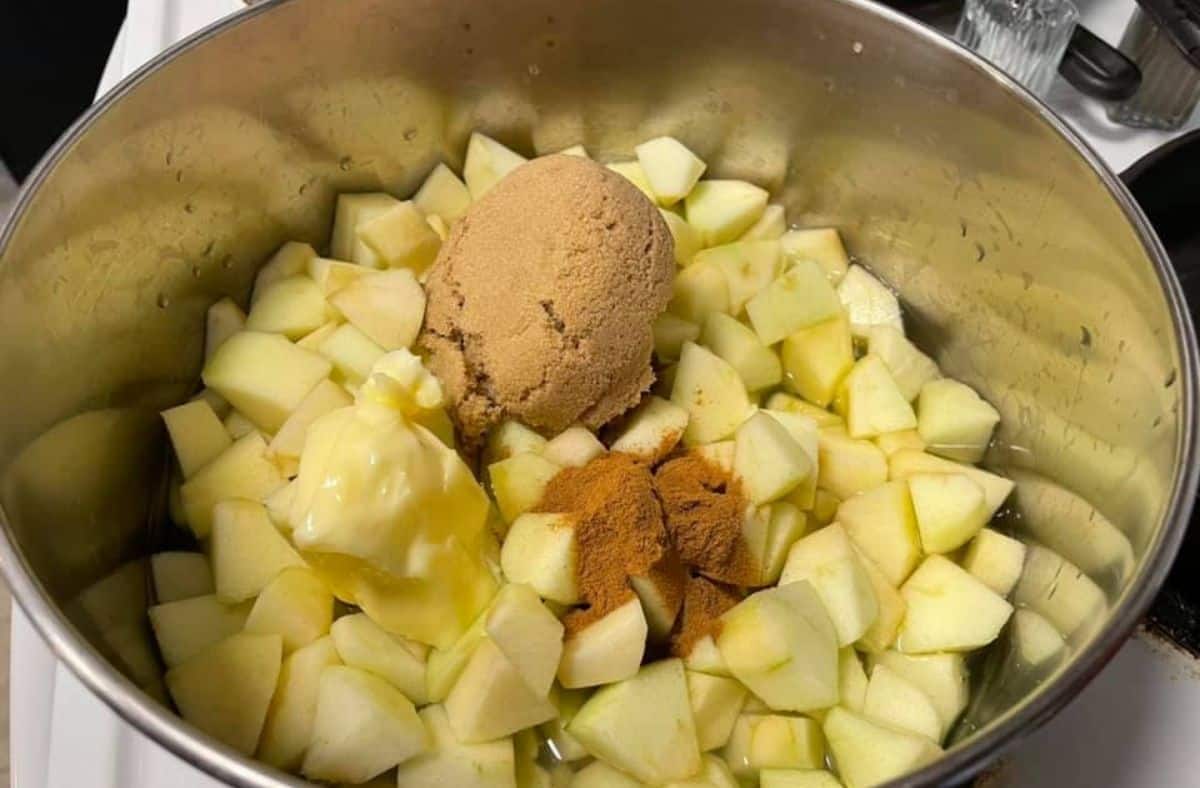 Meanwhile, mix water and Clear-Jell in a small bowl. It will seem thick at first, just keep stirring, and it will dissolve nicely. Clear-jell does not get lumpy, which is nice.
When the apples are softened, pour the Clear-jell mixture into the apples in a thin stream, stirring the apples quickly. The Clear-jell starts to set very quickly, so keep stirring and stirring as you slowly pour the Clear-jell in.
Turn the heat to low, for as the filling starts to thicken, it will start to bubble up and splatter. These splatters are hot! I recommend using an oven mitt on the hand with which you are stirring.
Keep stirring constantly till the Clear-jell is all mixed in, and the filling is thick. It will set up and thicken a bit more as it cools, but not much.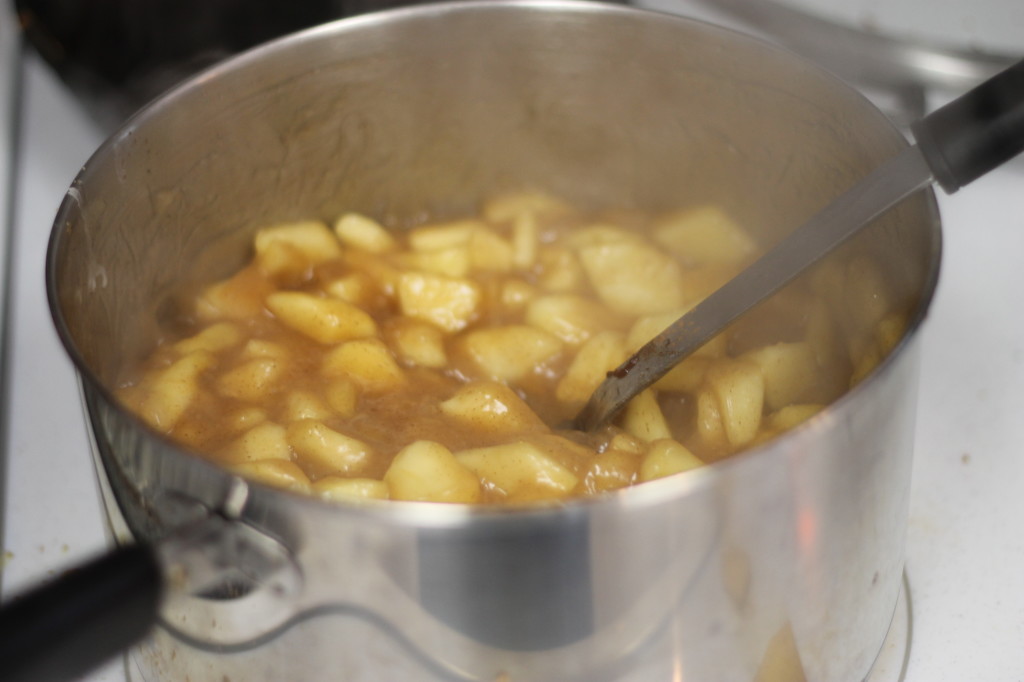 When the Clear-jell is all mixed in, and the filling has returned to a boil, (bubbling) remove from heat and cool.
Pour into prepared pie crust and bake.
Tips for stovetop pie filling
Can I use cornstarch instead of ClearJell?
Yes! You sure can, but you may need to adjust the amount. I think it should be close to the same amount, though. Just be aware that cornstarch will thicken more as it cools, so you don't want it too thick right off the stove. (Clear Jell thickens completely when it boils.)
Can I freeze apple pie filling?
Yes! I do it all the time. Place pie filling in freezer bags or containers, label, and freeze up to three months. Or, prepare your pie, then wrap well and freeze for baking later.
Having trouble finding Clear-Jell? I buy mine from Amazon:
Hoosier Hill Farm Clear Jel, 1.5 Lbs.
It lasts a long time.
Here is a post on how I make the pie crust: Easy, Flaky Pie Crust
And here are some tips for the perfect homemade pie!
Home-made Apple Pie Filling
Easy apple pie filling recipe that anyone can make!
Ingredients
3

lbs

apples

peel, core, slice

Water to nearly cover apples in pan

3/4

cup

brown sugar

3

TBL butter

Juice of one lemon

or 3 TBL ReaLemon(can omit if apples are very tart.)

2

tsp

Cinnamon

3

TBL Clear-Jell

1/2

cup

cold water
Instructions
Peel, core and slice apples.

Place apples in a large pan and add water till apples are nearly covered.

Add butter, sugar, cinnamon and lemon juice.

Cook 5-10 minutes, or till apples are softened. (not mushy!)

Mix 1/2 cup cold water and Clear-JEll.

Pour Clear-Jell slowly into the apples, while stirring apples quickly.

Bring apple filling mix to a boil, (bubbling slowly) and remove from heat.

Cool. Pour into prepared pie crusts and bake at 350* for one hour.
Notes
Serving size is 1/16th of a recipe. This is based on the recipe making two pies, each pie being cut into 8 slices. 
This recipe makes two pies.
You can substitute cornstarch for the ClearJell, if desired. You m why need to adjust the amount. 
Nutrition
Serving:
1
g
Calories:
86
kcal
Carbohydrates:
22
g
Protein:
1
g
Fat:
1
g
Saturated Fat:
1
g
Polyunsaturated Fat:
1
g
Monounsaturated Fat:
1
g
Trans Fat:
1
g
Cholesterol:
1
mg
Sodium:
5
mg
Potassium:
106
mg
Fiber:
2
g
Sugar:
19
g
Vitamin A:
51
IU
Vitamin C:
4
mg
Calcium:
16
mg
Iron:
1
mg
Homemade apple pie filling on the stovetop is a delicious way to use up apple for many different desserts.