When I was 15, I took over the pie-making in my mom's bakery. Mom still made the filling sometimes, but I made the crust and baked them. It seemed I had a touch for pies, and over time, I have further developed my pie-baking skills. Over the past 20+ years, I learned 4 tips for the perfect homemade pie!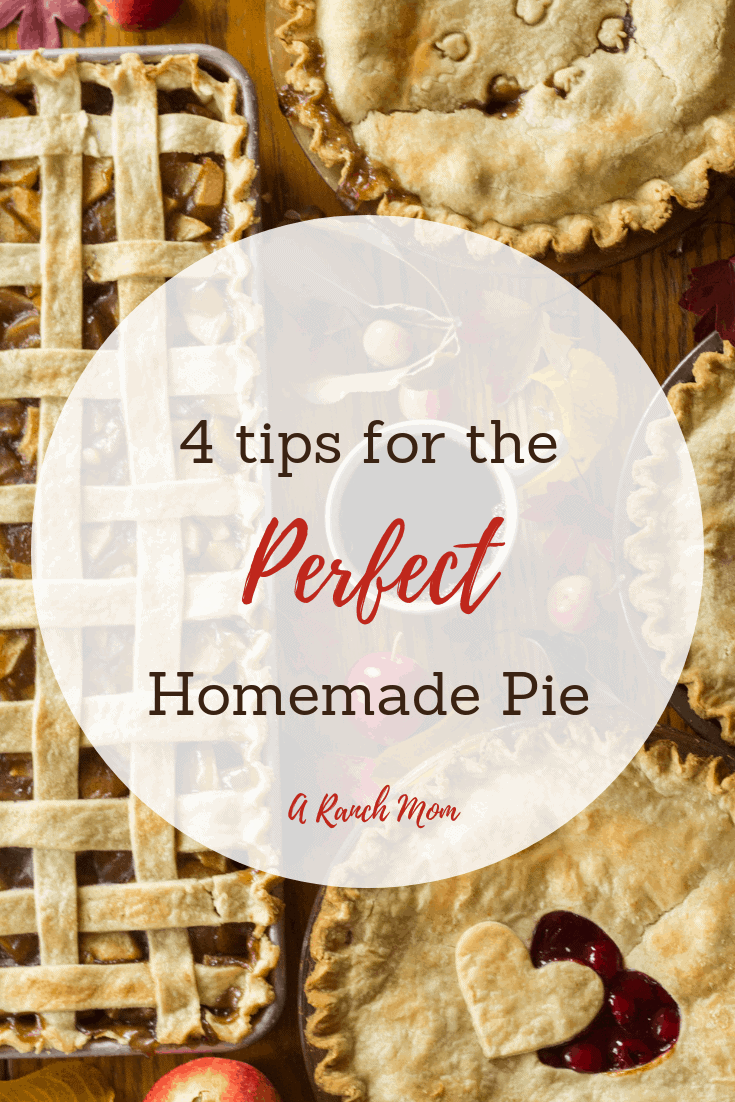 Tips for the perfect pie
1. Lots of shortening in the crust. This is the foundation of a delicious crust! Whether you use lard, shortening, butter, or some combination of those, the key word is lots! My ratio is 5 cups flour to 2 cups shortening. Here's my crust recipe.
2. Don't overmix the dough. You can get away with a little bit of overmixing if you have enough shortening. Overmixing is a common problem, though, and you need to be careful not to overmix. It will make your crust tough. Just gently mix till there are no loose crumbs.
3. Use a good filling recipe. Don't try to create your own until you get proficient with some recipes. No matter how good the crust, if the filling is bland the pie is worthless, in my opinion! 🙂 I have a few filling recipes here:
Apple,
Blackberry,
Rhubarb,
Amish shoofly,
Zucchini,
Old-fashioned apple custard.

Easy method for baking
4. Bake at 350 for 1 hour. My mom taught me this trick. Every fruit pie can be baked at 350° for 1 hour. (pumpkin or pecan pie may be slightly different, but usually close)
I've had people laugh at me, but trust me, this works!!
Your crust edges won't burn, (no need for those metal covers) and your pie will be baked completely through – no doughy crust on the bottom. However, you may need to leave it slightly less full of filling, because the filling will start to boil, and may boil over if it is too full.
Extra tips:
You can freeze pie filling. Just cool it, place in a zipper bag or plastic freezer container.
You can freeze pie crust dough. Wrap in plastic or place in freezer bag. To use, thaw and bring to room temperature before rolling.
Make your own premade pie crust rounds! Roll out pie crust, then gently roll up and wrap the long roll in plastic. Place in freezer. To use, place on counter and bring to room temperature. Unroll and place in pie pan and trim.
Here is a nifty lattice-top cutter! I found it on Amazon; my mom had one just like it.
And here is a silicone mat; also like my mom used! Personally, I never used one, but they are pretty neat.
These are affiliate links and I may earn a small commision if you purchase through them.