Big drops of sweat ran down my face as I gently pulled the briars away from my skirt. I gingerly stomped at the base of the brambles ahead of me, trying to mash them down away from me, so they wouldn't grab my clothes and skin. I steadied the plastic ice-cream bucket with my other hand, careful not to allow any berries to spill.
I picked all the ripe blackberries within reach, then carefully reached through the briars to pick a few more. I reached as far as I could without spilling my bucket of berries, or falling face-first into the briars. No matter how careful I was, I would get my arm caught on a thorn, then I'd grit my teeth as I unhooked my skin. Sweat ran down my face and down my back and down my legs.
The bees buzzed lazily around the sweet blossoms, and crawled over the ripe, juicy berries. Ants scurried over the berries, too, getting their fill of the sweetness. Every so often, I'd have to pick a tick off my arms or my dress. But they were less annoying than the chiggers that I would certainly find the following day. We'd rub Avon 'Skin-So-Soft' oil all over our arms and legs before we began, but it didn't work that great. We still came home loaded with ticks and chiggers.
After several hours of picking wild blackberries in the soggy, stifling heat, Mom would finally sigh and say: "Well, I guess that's as much as we can get today. We better go home."
Sweeter words were never spoken.
We'd untie the scarves from our waists, carefully pouring our buckets of berries into the huge, stainless steel bowls. We'd climb wearily into the van, picking off the last few briars and sticks and other debris from hours trampling around in brambles higher than our heads.
If mom had a bit of extra money, she'd stop at the Little Red Barn on the way home, and buy us an ice cream cone. It didn't make up for picking blackberries, but it sure was delicious! I would lick the ice cream as fast as I could, trying to get every drop of cool sweetness before it dripped and was wasted. The hot summer sun burned down and the wind from the open windows felt hot, not cooling at all. But with no AC, moving air seemed better than still air, somehow.
When we arrived at home, mom carefully washed the berries, and spread them on a clean towel to dry. Then she would put them in bags and into the freezer. They would make many delicious pies all year long.
But she didn't freeze all of them – she made pie, too. And jam. But the pie was my favorite! We'd have blackberry pie for dessert, Saturday evening, then we would have a slice for breakfast Sunday morning. It was the most delicious thing I ever ate! It tasted like hot sun and sweet summertime and mom's love.
Here is my personal recipe for blackberry pie. Mom never measured, and I don't either. We add and taste! But just for you, I measured. I measured several times, over several weeks, trying to perfect the taste. I think I have it!
Now, I don't live in the blackberry mecca of the Midwest, anymore. There aren't any blackberry bushes out here, that I have found. So, I start with frozen blackberries from the grocery store.
Put them in a kettle, add some water, and let them simmer. You don't want too much water or you will end up with a lot of sauce and not much fruit. The berries really cook down! Also, I buy Clear Jell from Amazon. You can substitute corn starch, but I do not know the ratio.
When the berries come to a simmer, add sugar, butter, and lemon juice. Stir occasionally till it boils.
Add the clear jell mixture, and stir quickly because it begins to thicken almost immediately. Bring to a boil then remove from heat. You can fill your crust immediately, or let the filling cool. Either way works.
Tips for blackberry pie
Cornstarch thickens more as it cools. Clear Jell reaches its full thickening when it boils.
This recipe is crafted for domestic, store-bought blackberries. if you use wild blackberries, they will definitely need more sugar! They make better pies, in my opinion, but they are much more tart. 🙂 Fresh berries work great in this recipe, too.
This goes well with my Pie Crust Recipe.
Blackberry Pie Recipe
Sweet, luscious blackberry pie recipe is teh perfect finish to a homestyle meal.
Ingredients
1 16

oz

bag frozen blackberries

or 3 cups

1

cup

water

1/3

cup

sugar

2

TBLS

butter

juice from 1/2 lemon

about 2 TBLS

1/4

cup

water

2

TBLS

clear jell

2 9-

inch

pie crust
Instructions
Put berries in large saucepan, add water. Bring to a simmer, add sugar, butter, and lemon juice. Simmer till sugar is dissolved, and butter is melted, stirring occasionally.

Mix Clear Jell and 1/4 cup water in a cup. Stir with spoon till dissolved.

Taste the blackberry mix to see if it tastes ok. Add more sugar or lemon juice, if needed.

Stir in the clear jell and bring to a boil. Caution! At this point it will bubble and splash, and the filling is quite hot!

Once it is at a boil and the filling is no longer cloudy, remove from heat and let cool. Fill one pie crust and top with second crust. Pinch edges closed, and bake at 350* for 1 hour.
Nutrition
Calories:
1349
kcal
Carbohydrates:
150
g
Protein:
18
g
Fat:
75
g
Saturated Fat:
24
g
Cholesterol:
8
mg
Sodium:
1154
mg
Potassium:
364
mg
Fiber:
10
g
Sugar:
11
g
Vitamin A:
221
IU
Vitamin C:
13
mg
Calcium:
70
mg
Iron:
8
mg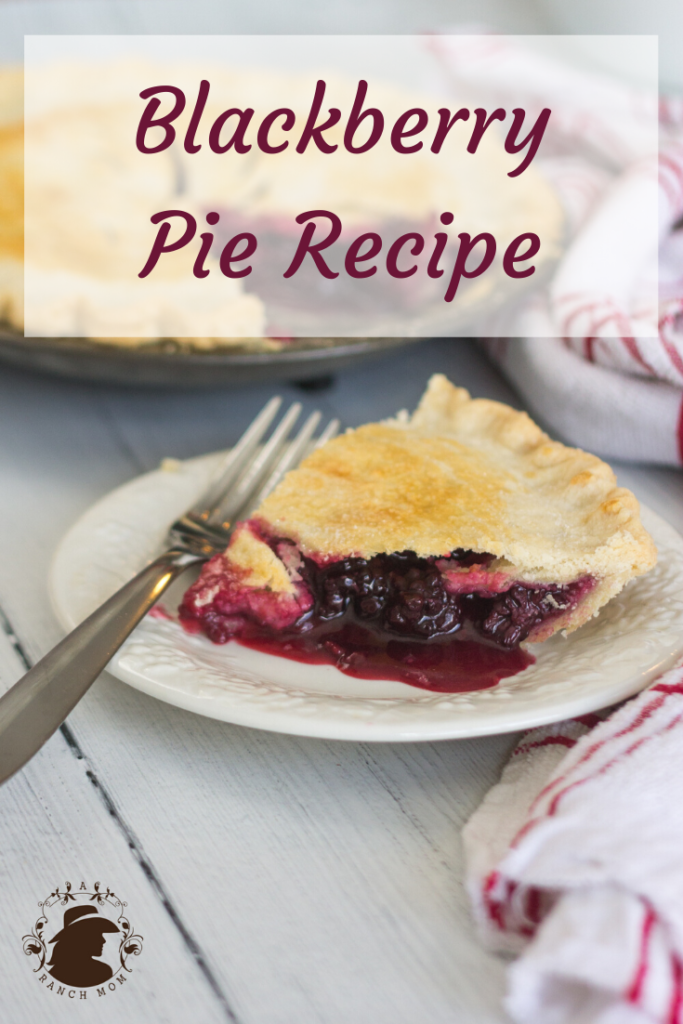 You might also enjoy these: