Elk Birria Taco recipe is great for elk roasts. You can use pretty much whatever cut you like, but I used a rump roast for this recipe. The slow-cooker makes tender meat that is so delicious in tacos. The birria sauce is amazing to dip your tacos!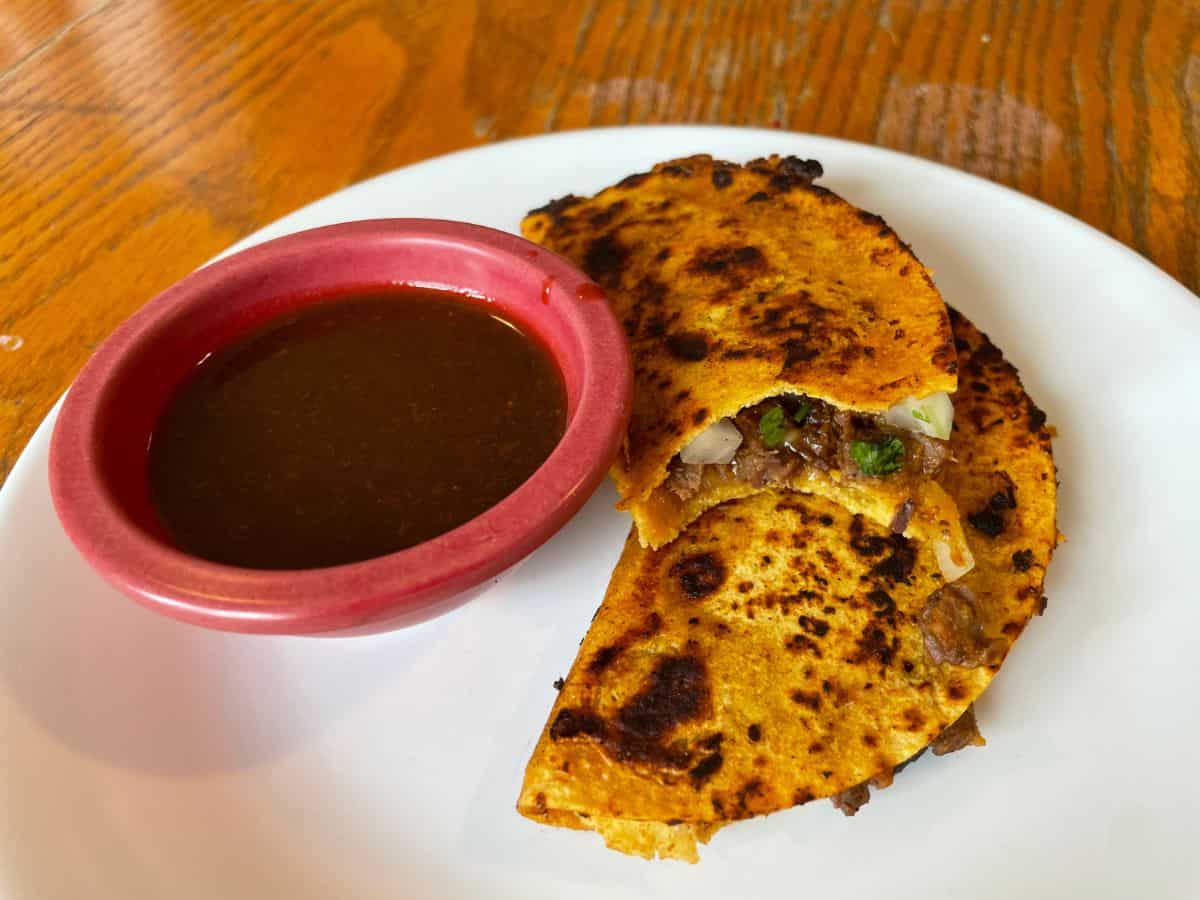 How to make Elk Birria Tacos
Start with a big kettle, add the peeled, chunked veggies; onions, celery, carrots. Add water and seasonings and simmer for about an hour. After an hour, use a slotted spoon to scoop out the veggies and place into a food processor or blender. Allow veggies to cool down for 15 minutes or so. Go ahead and discard the bay leaves.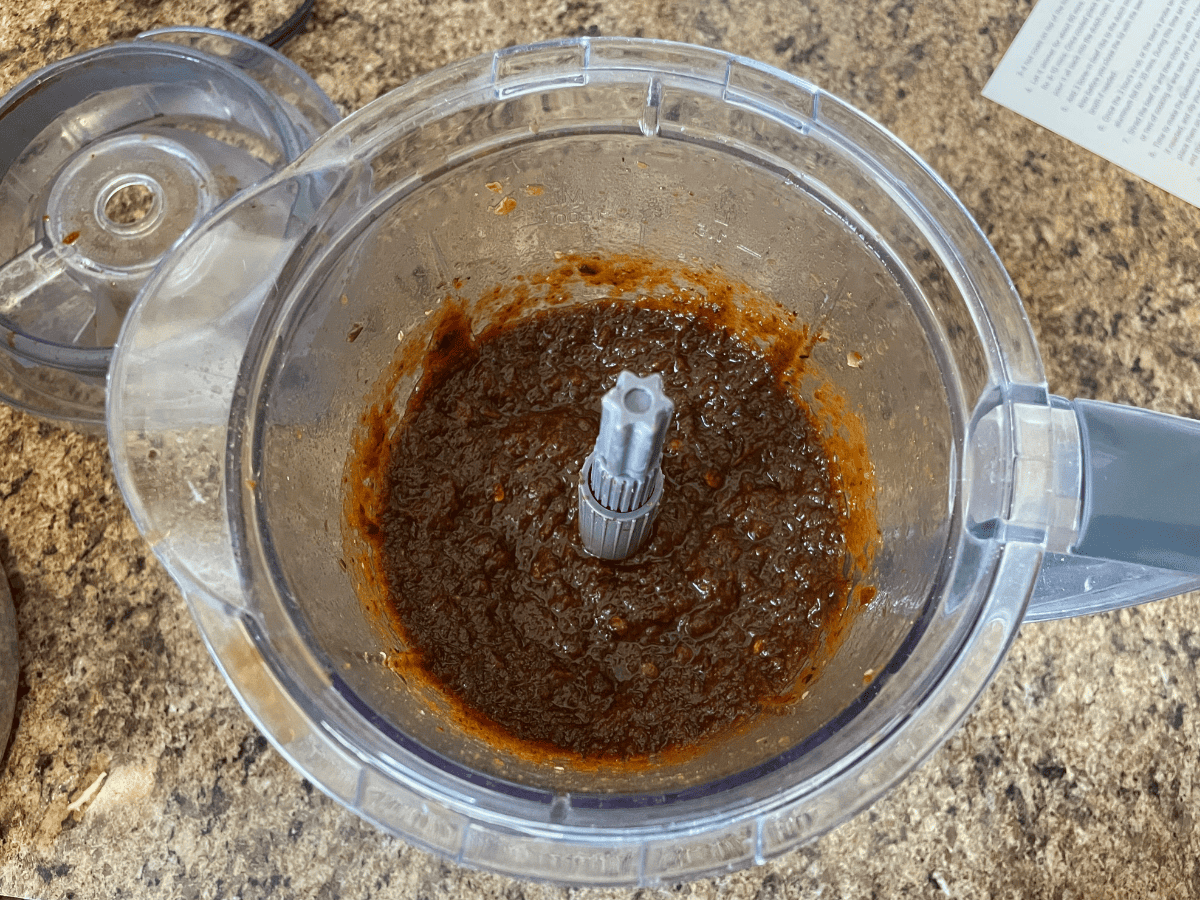 Add a cup of liquid to the veggies and blend well. If the vegetable mix is too thick, add more liquid. Pour the blended mixture back into the liquid and stir.
Next, add a bit of oil to a skillet and sear the elk roast on all sides over high heat. The time doesn't matter – just fry till it is browned on all sides. Place the elk roast into a slow cooker, and pour the birria sauce over the meat.
Set the temperature to LOW and cook the elk roast for 7-8 hours, or until the meat is tender.
After 8 hours, grab meat with tongs or a sturdy fork, lift it out of the sauce and place on a large cutting board. Slice and chop with a chef's knife until it is in small pieces. Add some oil to a skillet and fry the chopped meat briefly to crisp it up a bit. Remove and place in a bowl while frying the rest of the meat. You may need to do 3-4 batches of frying the meat. I like to stir a few spoonfuls of the Birria sauce into the crispy meat before placing it on the tacos.
Assemble the tacos
Now, clean the skillet if it is very messy. Add another small amount of oil. Dip a corn tortilla into the Birria sauce, place onto the hot skillet, add a spoonful of meat and a sprinkle of cheese, close and fry. Flip once or twice till both sides are crispy. Serve warm with some birria sauce for dipping.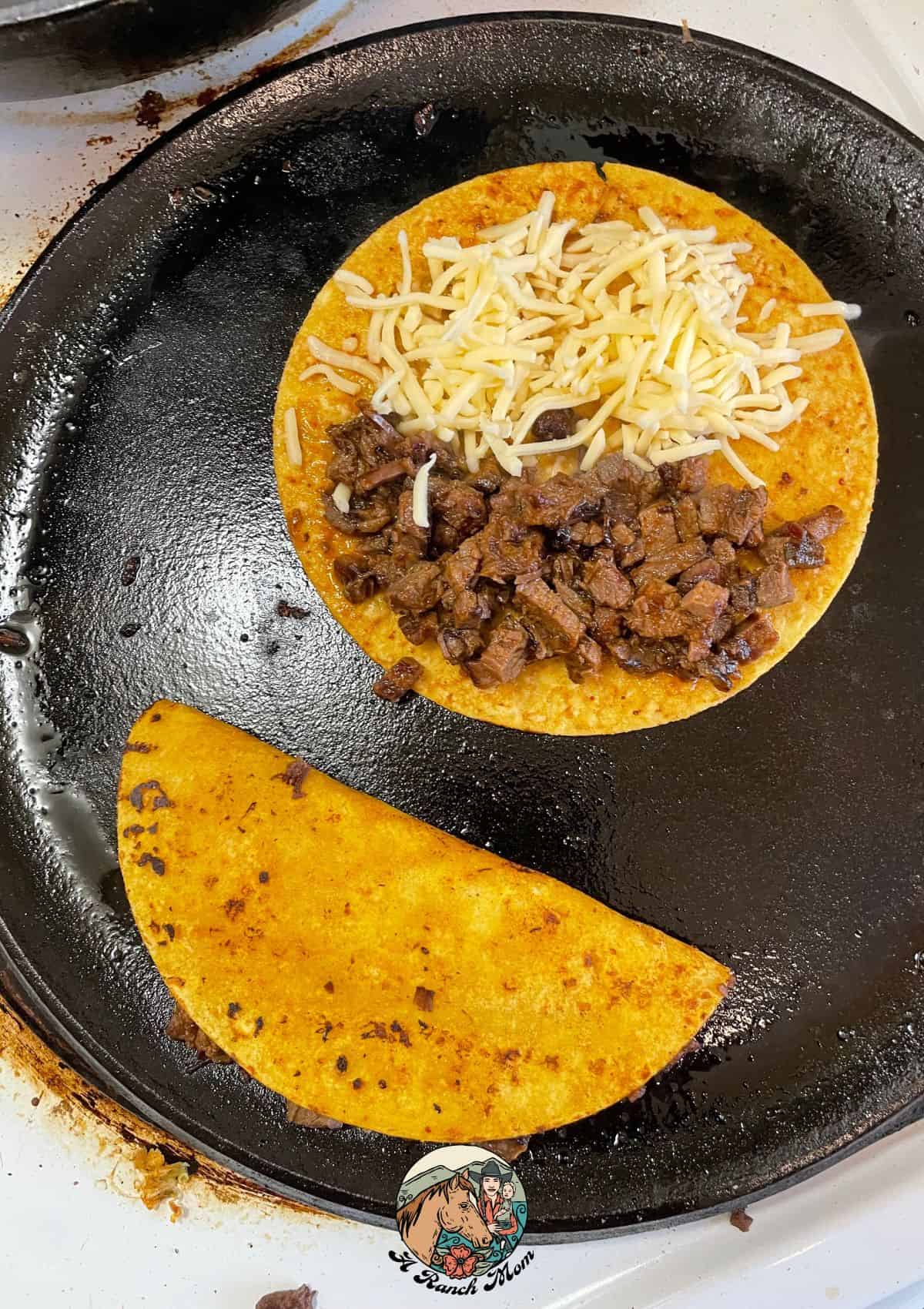 These are addictive! I scarfed down the first one I made and went for more! I could eat and eat and eat these tasty little bites. They would actually be great as party food or appetizers. But, you can certainly make a bunch and serve as the main dish, with some rice and charro beans on the side.
Other appetizer recipes:
Easy Elk Queso
Venison Sliders
Elk Birria Tacos
Elk Birria Tacos are a tasty way to eat elk roast. Great savory party food or make a bunch for the main dish!
Ingredients
3

lbs

elk roast

6

cups

water

2

teaspoons

beef boullion

1

onion

quartered

2

carrots

peeled and chunked

1

celery rib

washed and chunked

8

ancho chiles

dried

3

chipotle peppers

canned

2

Tablespoons

chipotle sauce

from can

8

cloves

garlic

5

teaspoons

salt

4

teaspoons

Italian seasoning

2

teaspoons

cumin

2

bay leaves

4

Tablespoons

oil

any kind

2

cups

Queso Fresca

or other cheese

24

corn tortillas
Optional Toppings
1

onion

diced

1

bunch

cilantro

chopped
Instructions
Place vegetables, water, bouillon, seasonings, chipotle peppers and sauce into a large kettle. Simmer for one hour. Remove from heat.

Remove bay leaves and discard. Use slotted spoon to scoop out the vegetables and place in food processor or blender. Allow to cool down for 15 min or so. Add a cup or two of liquid from the kettle, and blend well. Add more liquid if necessary. Pour blended mix back into the liquid and stir.

Heat a tablespoon of oil in a large skillet and sear the elk roast on each side over high heat until browned. Place roast in slow cooker. Pour the sauce over the roast and cook on LOW for 8 hours or until tender.

Remove elk roast from sauce and place on a large cutting board. Slice and chop into small pieces. I like to use a chef's knife for this, or a cleaver, if you have one.

Add a bit of oil to a flat skillet and fry the meat in 3-4 batches to get it a bit crispy. You can skip this step if desired. Place meat into a bowl as you finish frying it, add a few spoonfuls of sauce to it.

Clean skillet if it is really messy. Add a bit of oil. Dip a tortilla into the sauce, lay it on the skillet and quickly add a spoonful of meat on one side, a spoonful of cheese on the other side. Fold together and fry till browned on both sides, flipping occasionally.

Serve warm with extra birria sauce on the side for dipping. Add cilantro and/or chopped onion to each taco if desired.
Notes
I do not know exactly how many tacos this recipe makes. It depends on what size elk roast you use, how full you make your tacos, and so on. But the roast I used made about 20 or so tacos. 
You can use this recipe for any venison meat: elk, deer, antelope or moose. You can probably use it for bear as well, though I haven't tried it for that yet.
Don't be afraid to change things up! If you like it spicier, add more chipotle or other spice. I kept it mild because I have small children who can't handle the spice. 
The 8 hours is flexible. You can certainly cook it longer if you ahem a bigger roast, or less if it is smaller. The large amount of sauce makes it very forgiving, time-wise. I do not recommend cooking on high. This recipe really needs that low and slow cooking method.
Nutrition
Calories:
511
kcal
Carbohydrates:
54
g
Protein:
39
g
Fat:
18
g
Saturated Fat:
5
g
Polyunsaturated Fat:
4
g
Monounsaturated Fat:
7
g
Trans Fat:
0.3
g
Cholesterol:
17
mg
Sodium:
1574
mg
Potassium:
1276
mg
Fiber:
14
g
Sugar:
15
g
Vitamin A:
9729
IU
Vitamin C:
12
mg
Calcium:
243
mg
Iron:
6
mg