Summer grilling season is the perfect time to try this easy elk burger recipe. It uses just a few simple ingredients to enhance the natural wild game flavor. Put it on a soft brioche bun with a smear of good guac, and you have a delicious burger to write home about!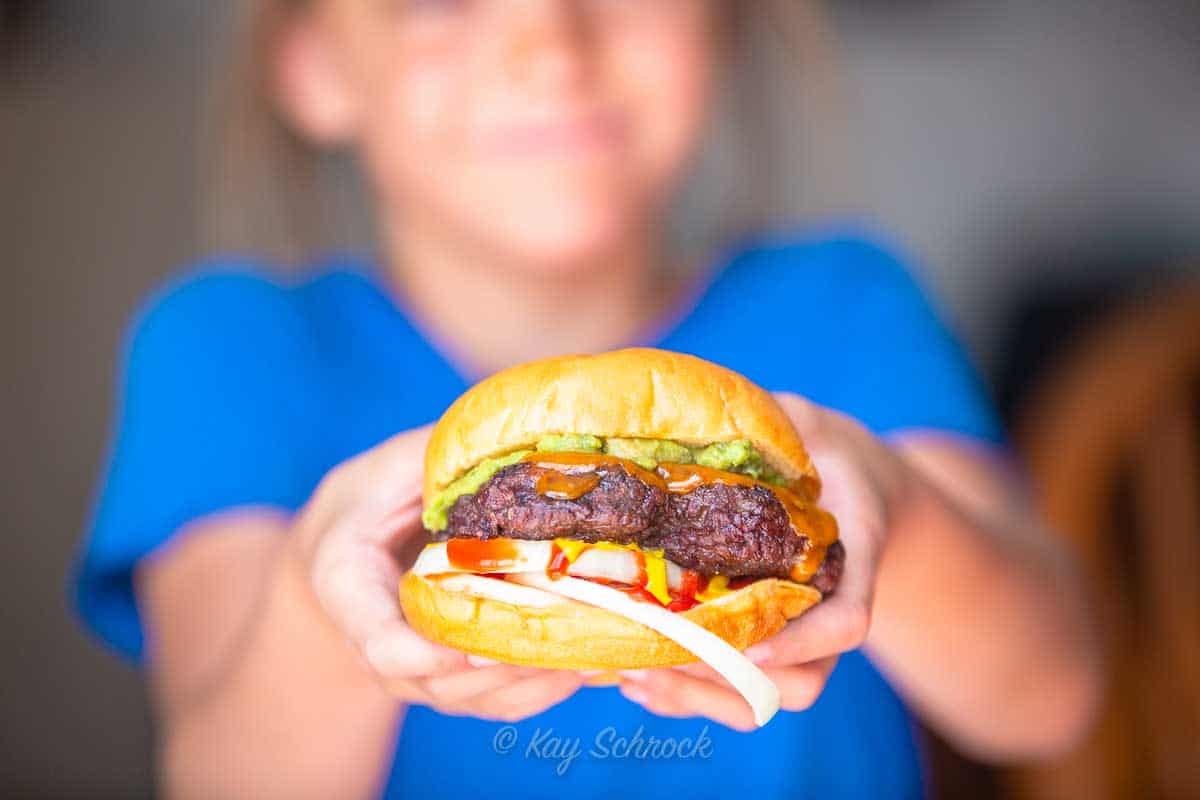 Easy elk burger recipe for the grill
Elk meat is very lean, and tends to fall apart on a grill, so I use eggs as a binding agent to hold the wild game together on the grill. You can omit the egg, and it will still be a great elk burger, but just be very careful when you flip the burgers or they make break apart.
You can also add some beef or pork fat when grinding your elk meat, to keep it juicy and help hold it together. I don't always add extra fat, so our burgers are very lean. Egg also adds some extra fat (from the yolk) to add richness to the wild game.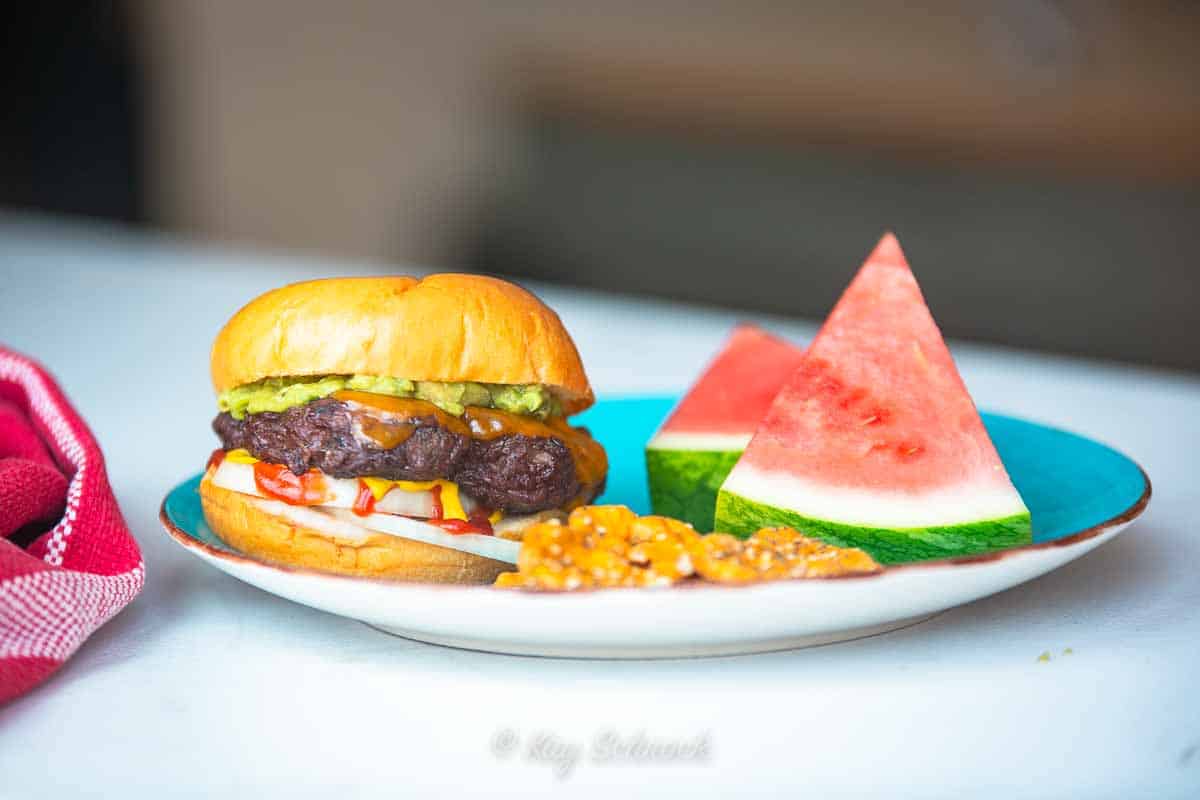 How to prepare the burger patties
Place the ground elk meat, beaten eggs, and seasonings into a large bowl and mix with your hands. The key here is to mix very gently, because over-mixing may result in tough burgers.
For this reason, I like to break the meat apart in the bowl to create more surface area, then sprinkle the seasonings evenly over the meat. This way, I don't have to mix as much to get the meat evenly seasoned.
Then, just place the burgers on a preheated grill, let them cook for about 3-4 minutes, then turn and cook the other side for the same amount of time or until a thermometer inserted in the center reads 160 degrees.
Let them rest for 1-3 minutes, then serve on buns with toppings of your choice.
Try these other wild game recipes:
Easy Venison Breakfast Sausage
Elk Meatloaf
Venison Meatballs with homemade BBQ sauce
and this post:
Cooking Wild Game tips
Easy Elk Burger Recipe
Simple, tasty elk burger recipe made with just a few ingredients. These hold together on the grill for a picture perfect burger!
Ingredients
3

lbs

ground elk

2

eggs

1

teaspoon

onion powder

1

teaspoon

garlic powder

½

teaspoon

black pepper

3

teaspoons

salt
Instructions
Place elk meat into a large bowl, break apart gently.

Sprinkle seasonings evenly over the meat.

Beat eggs well, pour over meat.

Mix the seasoninbgs and eggs into the meat with your hands, be very gentle, do not overmix.

Shaope into 9 patties and cook on a preheated grill for 3-4 minutes per side, or until teh internal temperatuire reaches 160°.

Let burgers rest for 1-3. minutes, then serve on buns with toppings of your choice.
Notes
Egg is used for binding, so the lean meat holds together on the grill - it may be omitted if desired. 
Nutrition
Serving:
1
g
Calories:
276
kcal
Carbohydrates:
1
g
Protein:
34
g
Fat:
14
g
Saturated Fat:
6
g
Polyunsaturated Fat:
1
g
Monounsaturated Fat:
4
g
Trans Fat:
1
g
Cholesterol:
136
mg
Sodium:
909
mg
Potassium:
508
mg
Fiber:
1
g
Sugar:
1
g
Vitamin A:
53
IU
Vitamin C:
1
mg
Calcium:
26
mg
Iron:
4
mg