We really enjoy this soft French bread recipe, because it is just so good! It is very easy to make, you can't mess it up. I haven't been to France, so I don't know if this bread tastes authentic, but when you spread a warm, thick slice with butter, and taste it – you won't care!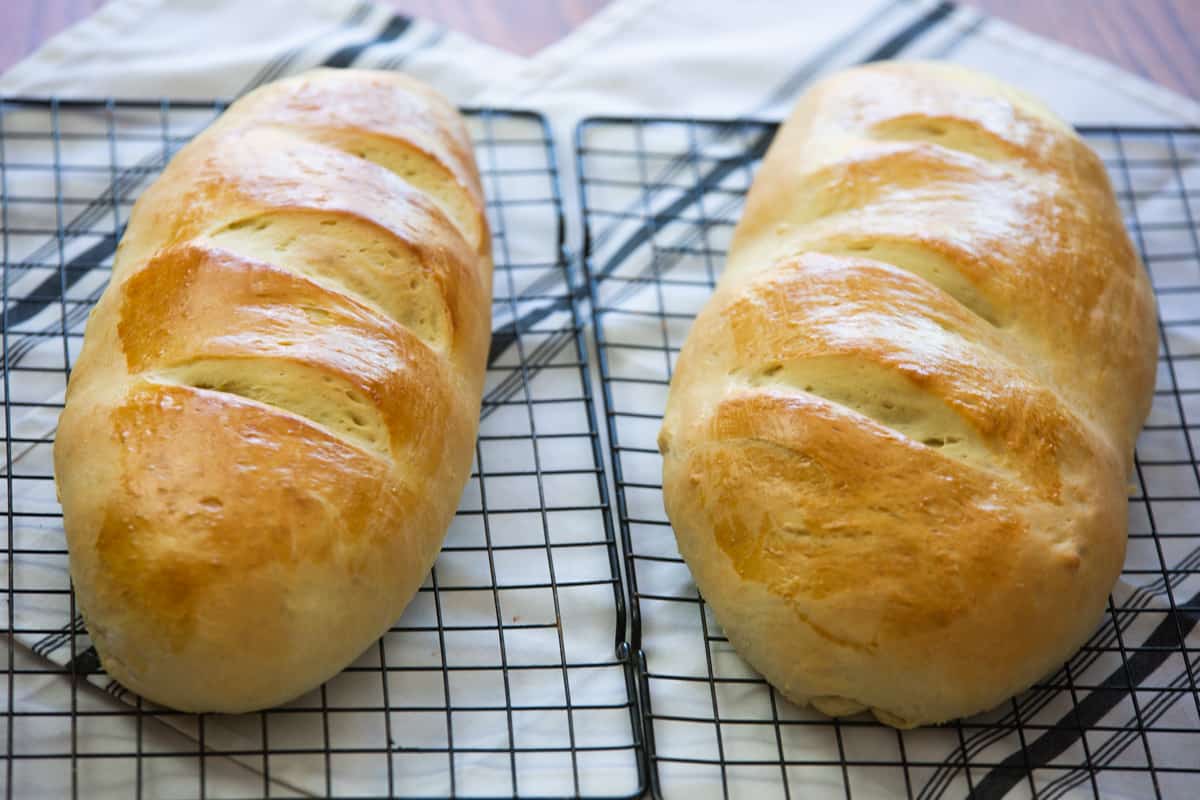 How to make this soft French bread recipe
Put warm water in the bowl of your KitchenAid stand mixer. (you can mix by hand, too. It will take a few minutes longer.)
Add yeast, sugar, and vinegar. Let it sit for 2-3 minutes.
Add flour, salt, and oil. Mix on low speed until well incorporated, then beat on a slightly faster speed till the dough starts to clean the sides of the bowl. If the dough seems too sticky, you may need to add more flour. Add 1/2 cup at a time, until the dough is cleaning the sides of the bowl. (if mixing by hand, the process is the same)
Knead for 2-3 minutes. No need to spend a lot of time kneading.
Pour a few tablespoons oil into the mixing bowl and let it swirl around to coat the dough. Let the dough rest and rise till doubled.
Punch dough down, and let rise a second time. (this second rising time can be omitted if desired.)
Preheat oven to 350*.
Divide the dough in half. Shape each half into a long loaf.
Sprinkle cornmeal onto two baking sheets. Place the loaves onto the baking sheets. Beat the egg well, and brush it on the loaves.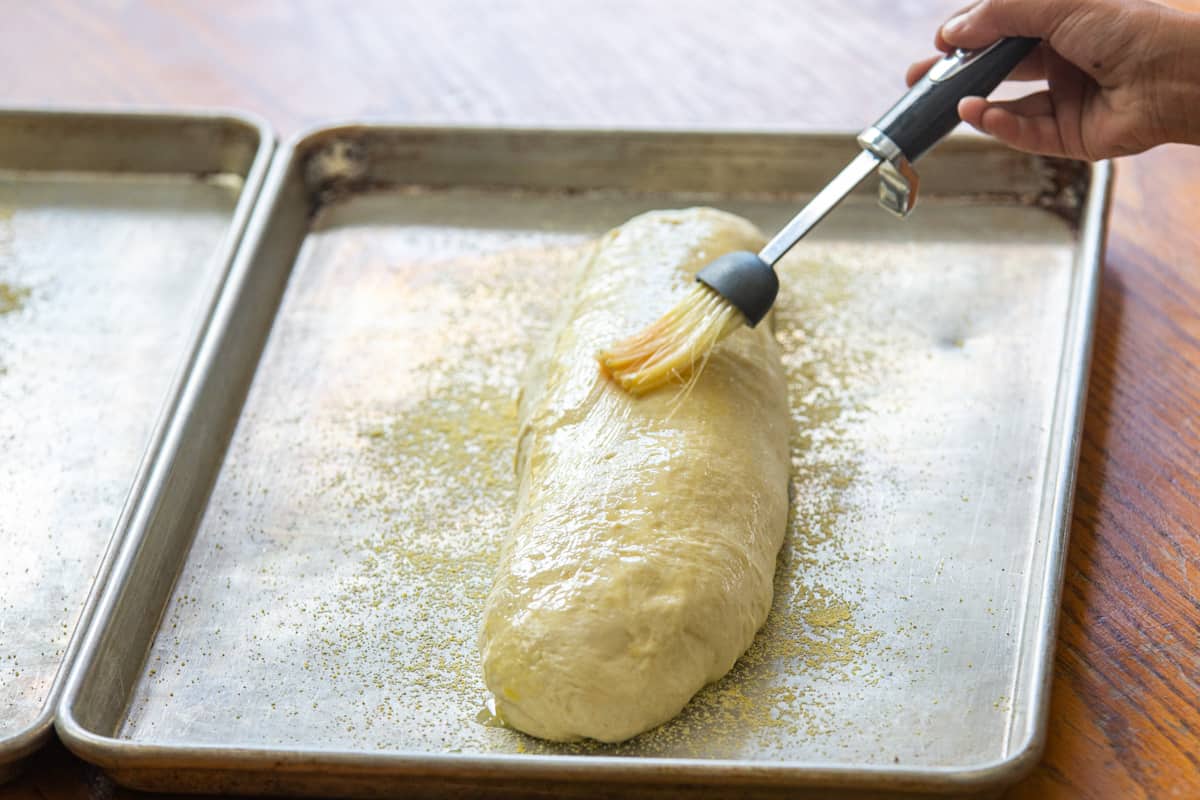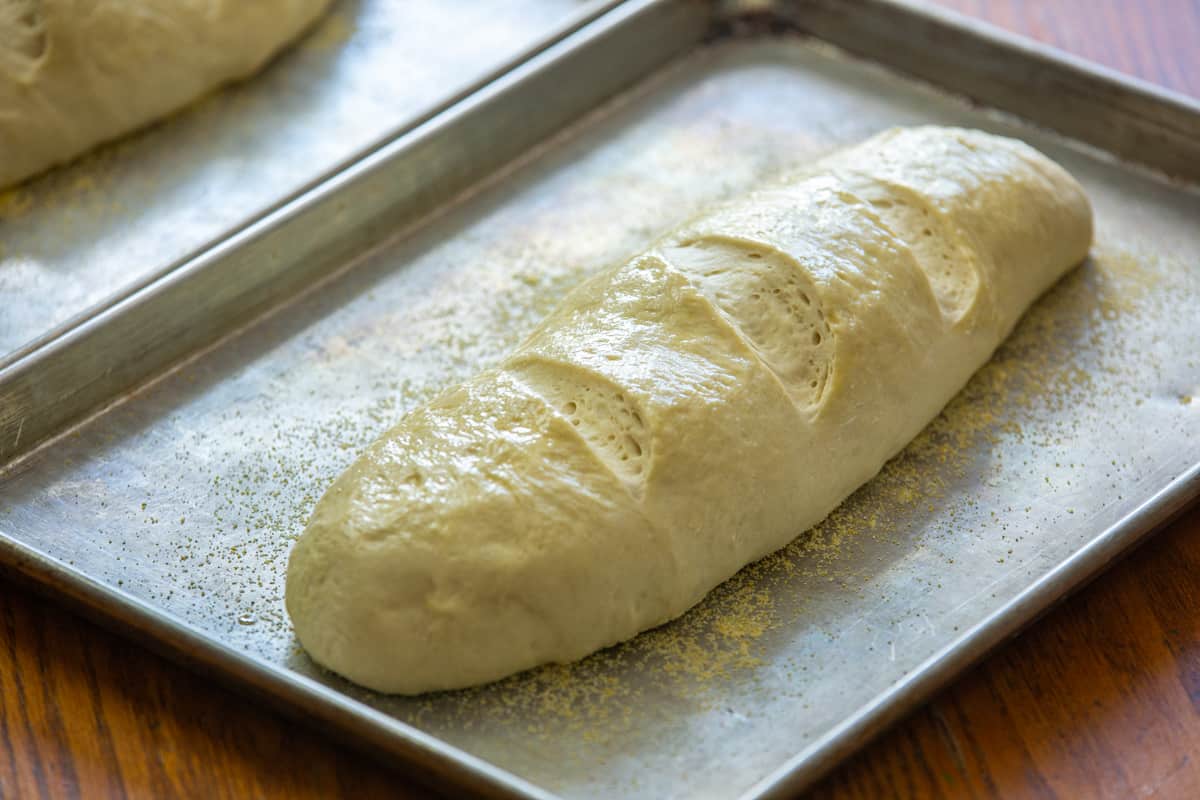 Use a sharp knife to cut slash marks on top of the loaves. Let rise till nearly doubled.
Bake at 350* for 25-30 minutes or until golden brown.
Cool on a wire rack. Store at room temperature in a tightly closed bag, for several days.
Tips for making and using French bread
You can roll out each loaf with a rolling pin, then roll into a long loaf, if that makes it easier. I just hold the dough in my hands and form them by pulling and patting the dough. It doesn't have to be perfect – I consider this a rustic bread.
This soft French bread recipe is great for French toast, homemade croutons, garlic French toast, or just eating plain!
You could split the entire loaf in half, and use for an open-faced hot sandwich.
Use a whole loaf for a family-sized sub sandwich!
Cube and use for the best buttery Thanksgiving Stuffing recipe.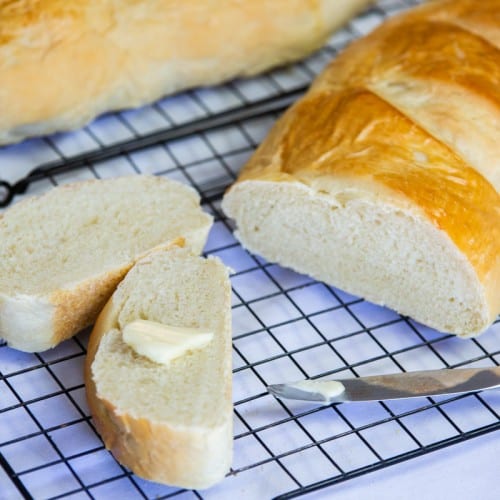 Soft French Bread Recipe
Super easy and flavorful French Bread recipe. Makes two big loaves of bread.
Ingredients
2 1/2

cups

warm water

3

tablespoons

sugar

2

tablespoons

yeast

2

tablespoons

vinegar

1

tablespoons

salt

1/3

cup

oil

6 1/2 - 7

cups

flour

1

egg, beaten
Instructions
Mix water, yeast, sugar, and vinegar. Let it set 2-3 minutes.

Add flour, salt, and oil.

Mix 3-5 minutes., or until well mixed and cleaning the sides of the mixing bowl.

Punch down and let rise again. (second rising is optional)

Preheat oven to 350*.

Dust two baking sheets with cornmeal.

Divide dough into two loaves, form each half into a long loaf. Place each loaf onto a baking sheet.

Beat egg, brush onto bread. Cut slits in top of loaves. Let raise till doubled.

Bake 25-30 minutes, or til golden brown.

Remove from baking sheets and let cool on a wire rack. Store in plastic bags.
Notes
This bread will stay soft for several days at room temperature, as long as it is in a sealed bag. You can freeze it for several weeks, if desired. 
To mix by hand: 
Use the largest mixing bowl you have. Stir with a spoon until the dough is too thick, then use your hands to knead it until the flour is all incorporated. You do not have to knead longer than that. 
Remember: Soft dough equals soft bread! Do not add too much flour!
Nutrition
Serving:
1
g
Calories:
235
kcal
Carbohydrates:
44
g
Protein:
6
g
Fat:
3
g
Saturated Fat:
1
g
Cholesterol:
5
mg
Sodium:
237
mg
Potassium:
65
mg
Fiber:
2
g
Sugar:
1
g
Vitamin A:
8
IU
Calcium:
10
mg
Iron:
3
mg