These fried potatoes and onions are simple to make, and very frugal. Instead of buying frozen potatoes, try frying this old-fashioned meal of potatoes and onions for the family! Three pounds of potatoes and an onion will feed a family.
You can make them in under 30 minutes, and they go with everything. The best thing is to serve them alongside a big, juicy steak – but I usually serve them with fish, chicken, venison, or whatever I have.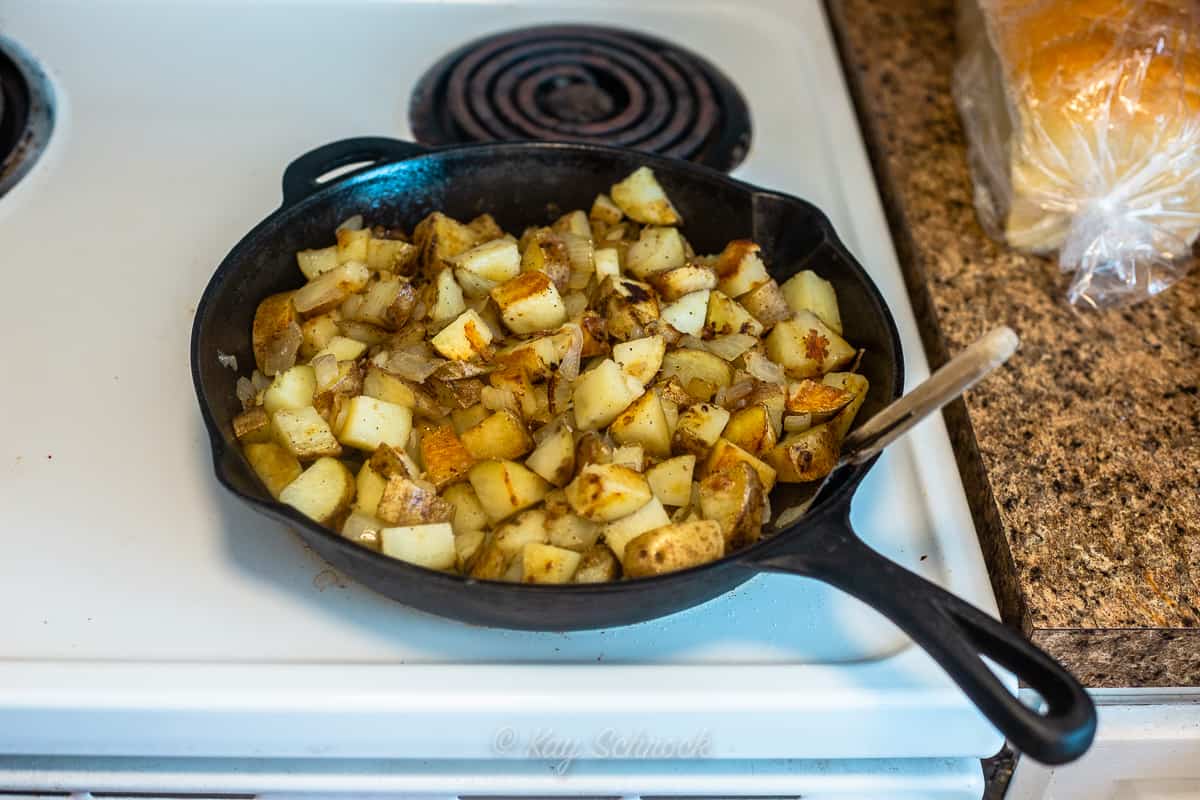 Fried potatoes and onions in a skillet
I like to use a chunk of bacon grease to fry the potatoes and onions, but you can also use butter. I personally do not like olive oil for this dish, because it just doesn't have that down-home flavor! Of course, you may use whatever you prefer.
1. Wash and cut your potatoes into chunks. I like to cut mine into small squares, so they fry fast and are easy to stir. You may also slice the potatoes or slice into strips.
2. Heat your skillet on medium. I get it pretty hot – till the butter sizzles when you add it! Like I said, I use bacon grease for that amazing down-home flavor. But I do use butter quite often, as well.
3. Add the potatoes to the hot skillet, and cover with a lid. If you don't have a lid, use foil. I like to use my cast iron skillet and most of those don't have lids.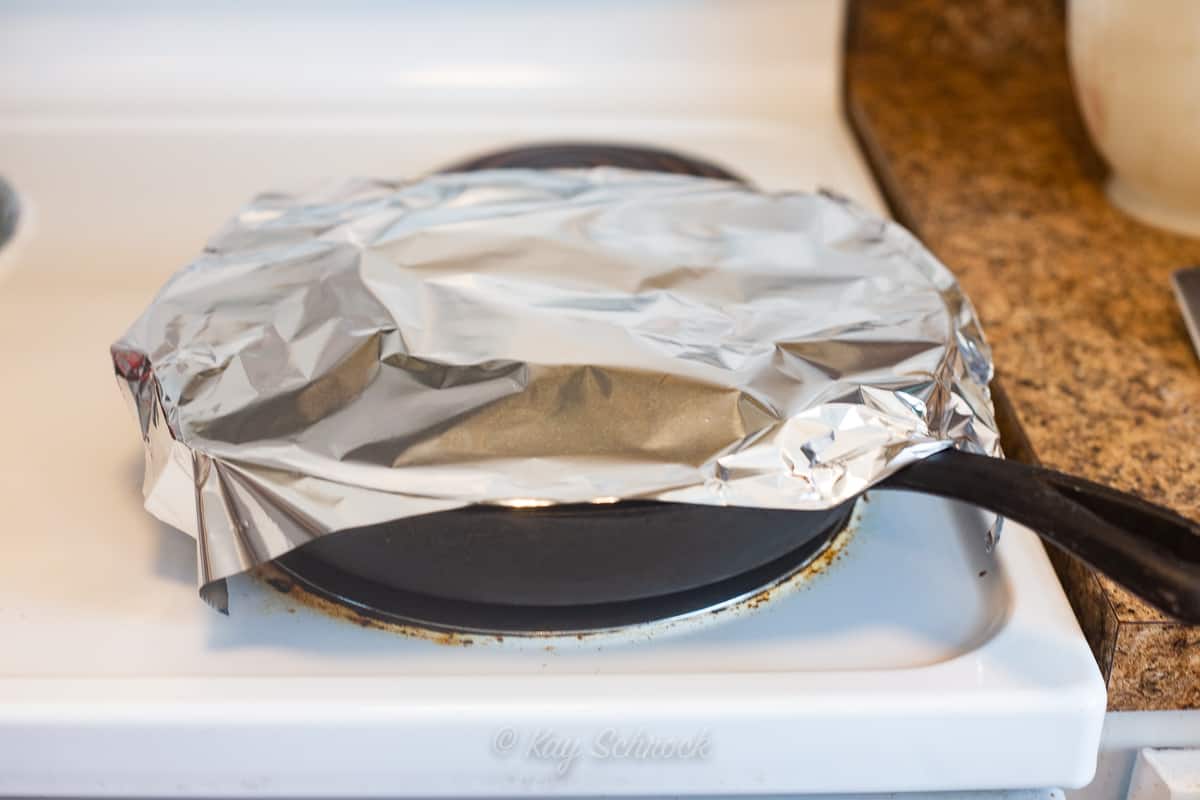 4. Let the potatoes fry for 5 minutes without disturbing them. After 5 minutes, stir well and replace lid. Repeat this for another 5 minutes.
5. After the second stir, add chopped onions on top of the potatoes. Stir and cover.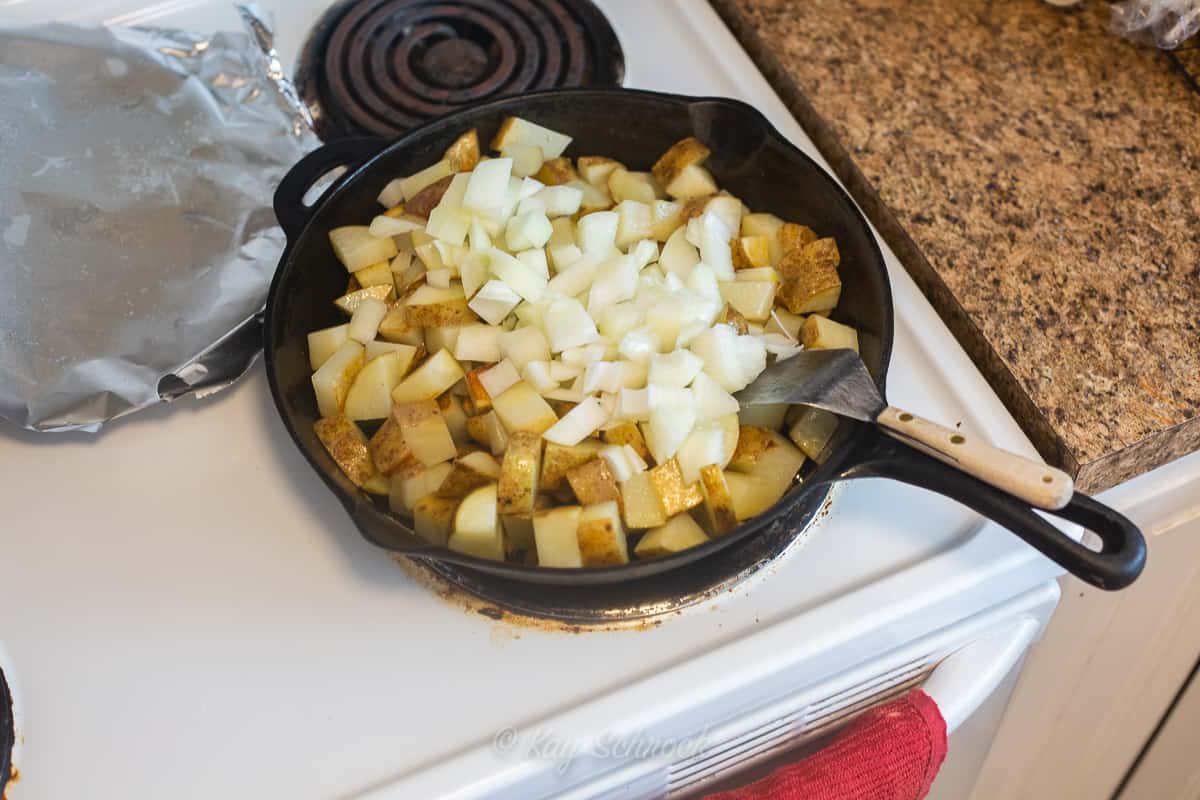 6. Add salt and pepper to potatoes and stir well. You can add any seasonings that you like. I often add a dash of garlic or thyme. You can also use seasoned salt instead of regular salt.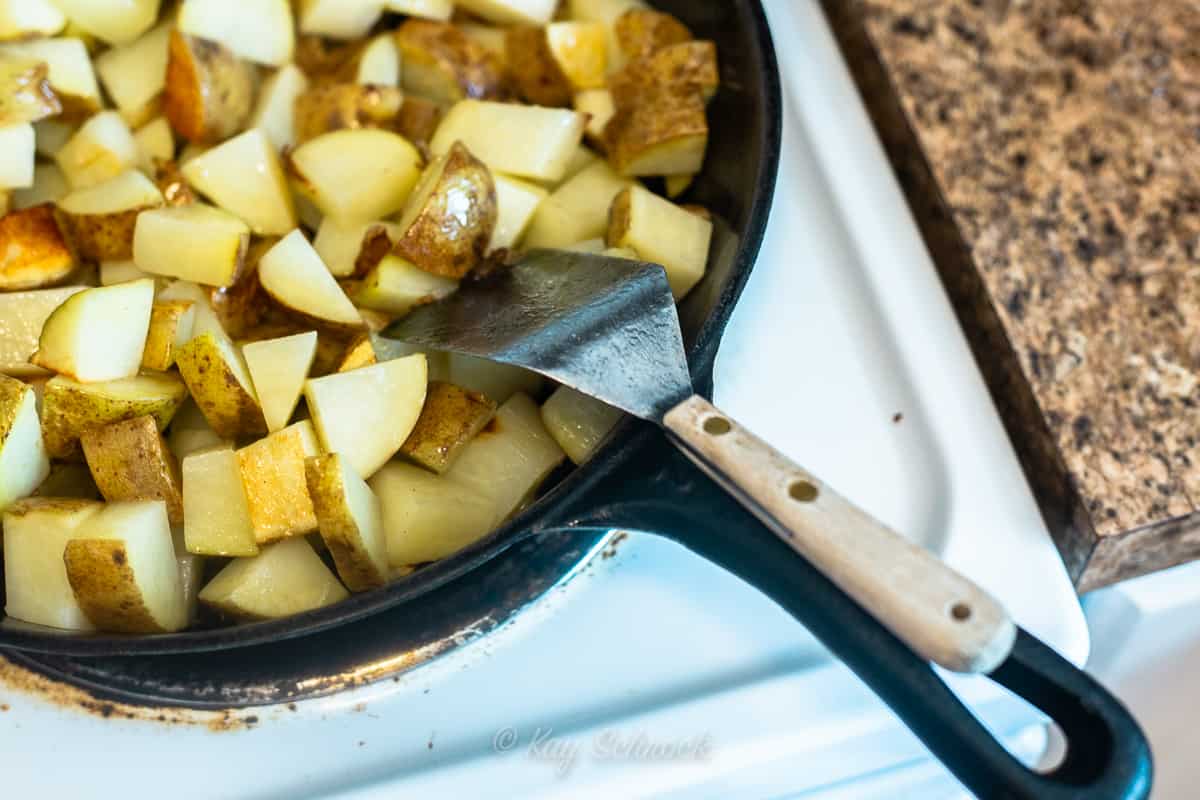 I like to use this sharp steel spatula to turn and stir my potatoes and onions. You can find it on Amazon: Favorite Steel Spatula.
7. When the potatoes are fork-tender and the onions are beginning to brown, leave the lid off while you fry them a few minutes longer.
8. Remove from heat and enjoy!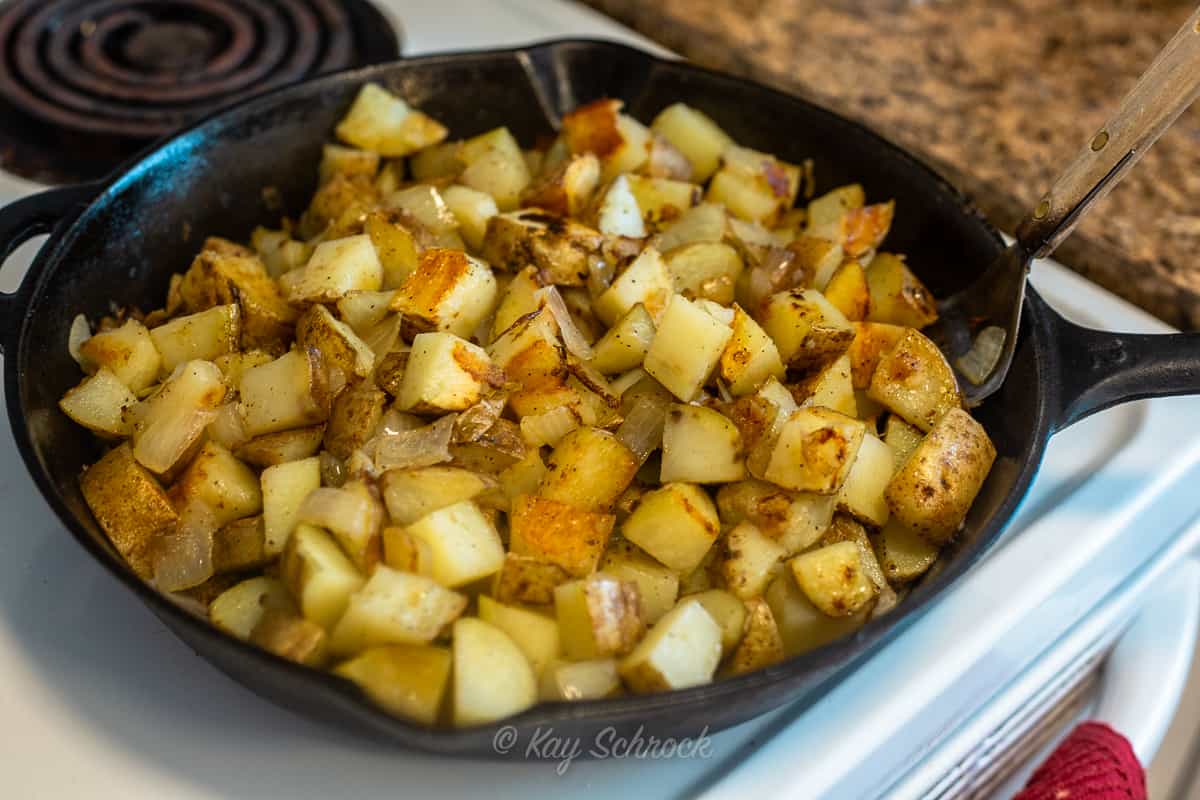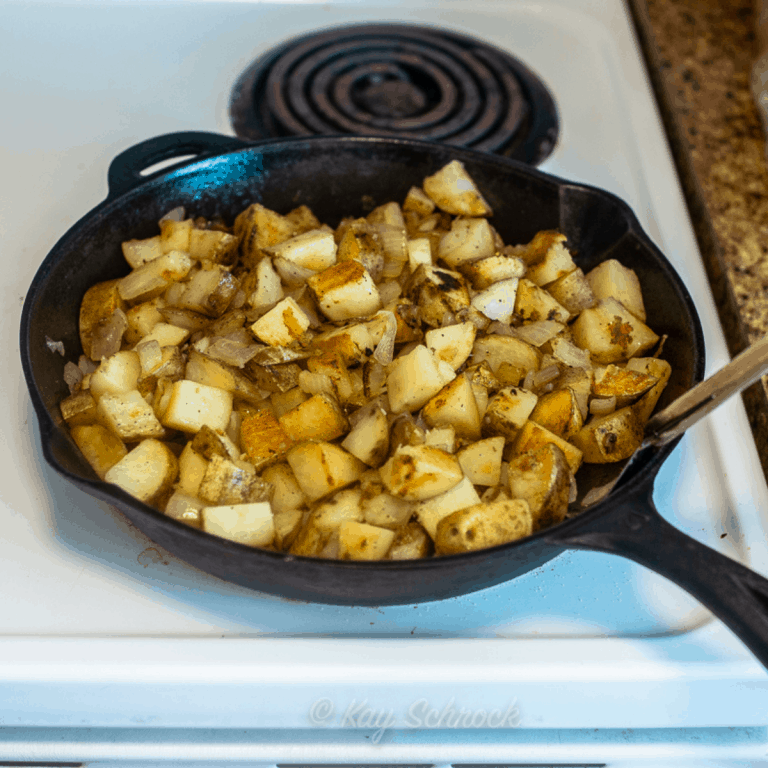 Fried Potatoes and Onions
Old-fashioned Fried Potatoes and Onions are the perfect, frugal side dish for a family meal.
Ingredients
2

Tablespoons

bacon fat

OR butter

3

lbs

potatoes

chopped

1

large

onion

chopped

1

teaspoon

salt

½

teaspoon

black pepper

¼

teaspoon

garlic powder
Instructions
Wash and cut potatoes into ½ inch pieces. Chop onion, set aside.

Heat skillet over medium heat.

Add bacon fat (or butter) to skillet. Add potatoes to skillet, and cover.

Allow potatoes to fry for 20-25 minutes, stirring only every 5 minutes, no more often than that. At 10 minutes of frying, add the onion and seasonings.

When potatoes are nearlyfinished, remove lid and fry till desired crispyness. Serve with ranch dressing or ketchup, if desired.
Notes
I calculated the nutritional values using 1/8 of the total recipe. 
Use any spices you want: I like using Thyme, paprika, or garlic. 
Any kind of potatoes work, I normally use russets or reds.

3 lbs is about 6 large potatoes, or 8 cups of chopped potatoes.
Nutrition
Serving:
1
g
Calories:
170
kcal
Carbohydrates:
32
g
Protein:
4
g
Fat:
4
g
Saturated Fat:
1
g
Cholesterol:
3
mg
Sodium:
307
mg
Potassium:
746
mg
Fiber:
4
g
Sugar:
2
g
Vitamin A:
4
IU
Vitamin C:
35
mg
Calcium:
26
mg
Iron:
1
mg