Want to cook a Hot Pocket in the air fryer? Hot Pockets are a fun snack that the kids love to eat. Air frying is super fast and easy, and gives a perfect crispy crust. Here is how you do it!
Hot Pocket in Air Fryer
First, preheat the Air Fryer at 400° for 3 minutes. While it is heating, remove the Hot Pockets from the freezer and unwrap.
There is no need to use the crisper sleeves – the air fryer will crisp them perfectly! But you can save the crisper sleeves to hold them after they are cooked.
When the air fryer is heated, open it and carefully place your Hot Pocket on the tray, inside the basket. Close the drawer and set the air fryer to 375° for 9 minutes.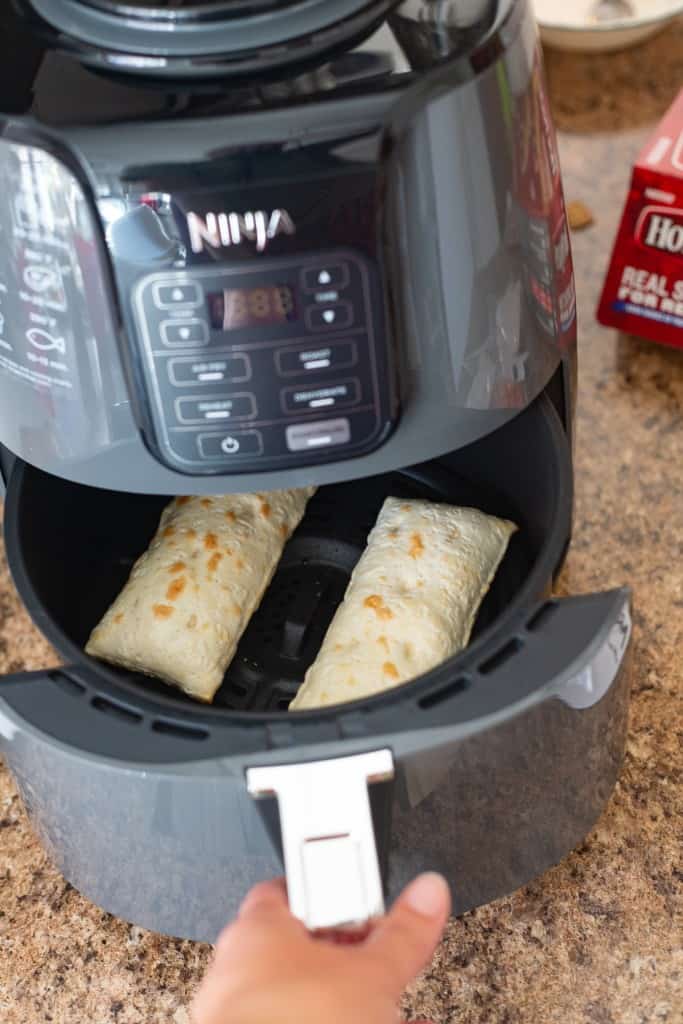 When the time is done, let it set for 1 minute without disturbing it, for the Hot Pocket to settle a bit. This allows the heat to distribute evenly.
Then go ahead and open up the air fryer, and lift the Hot pocket carefully with tongs. Place each Hot Pocket into a crisper sleeve, if desired. My kids like to hold them with the crisper sleeves – they say it helps to not feel so hot on their hands!
Be careful when you bite into these, as you don't want to burn your mouth! My kids just love these fun treats. And the Ninja Air Fryer works so well to heat them up from frozen.
Can I make my own Hot Pockets?
Yes! You can follow the recipe for Homemade Hot Pockets over at Happy Money Saver blog. This will save you money and time, and your kids will love it!
How many Hot Pockets can I put into my air fryer?
This depends on the size of your air fryer. Mine holds two, but some of the bigger fryers can fit more. As a rule of thumb, it is best not to stack foods, because the air needs to circulate to cook and crisp the food properly.
My hot pocket is still gooey – what happened?
There will be some variables in air fryers. If you live at high elevation, that makes a difference too. So just experiment. If your food isn't quite done, just pop it back in for a couple minutes.
How do I prevent the filling form squishing out?
I think cooking longer at lower temps should fix this problem. 375° works for me, but you can cook at 350°, if it is still a problem.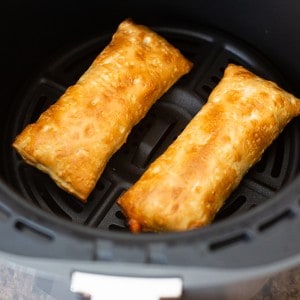 Hot Pocket in Air Fryer
How to cook a hot pocket in the air fryer.
Instructions
Preheat Air Fryer at 400 degrees for 3 minutes.

Carefully place 2 Hot ockets into the basket, and cook at 375 for 9 minutes.

Let rest for 1 minute, then remove to serving plate. No need to se crisper sleeves in air fryer, but you may use them after they are cooked, to help with heat.
Nutrition
Serving:
1
g
Calories:
320
kcal
Carbohydrates:
36
g
Protein:
11
g
Fat:
15
g