Thud! Thud! Thud!  The strange pounding sound outside my window woke me from a deep sleep. We had driven till late at night to reach my sister's home, and I had overslept. The sun was streaming in the window as I opened my eyes.
Thud! Thud! Thud! I crept silently out of bed, trying to not wake the children. I peered out the window and saw two horses, hobbled and eating grass in the yard. I grinned as I realized what was causing the noise: the horse doing their awkward hop as they moved around the yard. We lived in Missouri at that time, and I wasn't used to waking up to hobbled horses in my yard. It was a novel experience.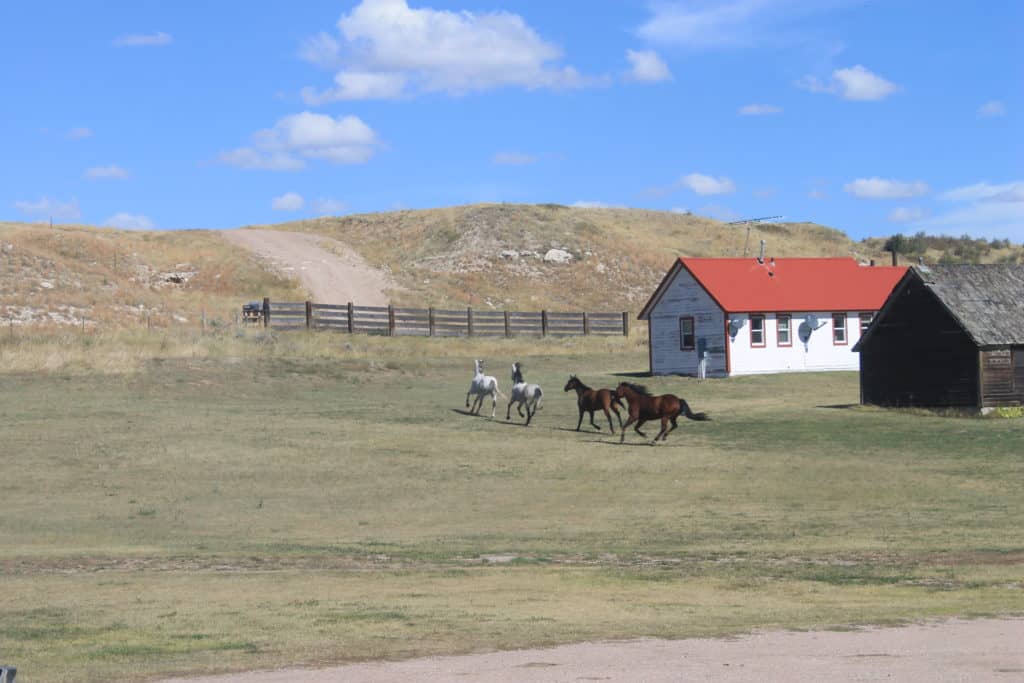 Then I looked around the room I was in. It was a small log bedroom, very low ceilings, and simple decor. The handmade blanket on the bed gave the room a homey feeling, despite it's cramped size.
As I later explored the tiny house, I was struck by it's low ceilings. My sister told me that the owners had just replaced the sod roof with a real roof before they moved in! Now that is about as pioneer as you can get in the year 2004!
I have lived in 5 different ranch houses, but none have been quite that interesting. 🙂 The other thing I noticed about the little house, was that it was very neat. My sister is a better housekeeper than me – she is such an inspiration! No matter where she lives, her house is tidy and neat.
It seems that most ranch houses are not fancy affairs. Most of the ones I have lived in are mobile homes. And with a growing family, it is a challenge to keep them tidy. I am NOT a great organizer, by any means! My little house gets stuffed to the seams at times, until I look around one day in exasperation and declare: "this has to be fixed! I am getting rid of stuff!"
And that, my friends, is how you start. Getting so tired of the mess that you become willing to part with stuff. 😉
Pare it down to the basics.
I am the worst at keeping extra stuff around because "I might need it someday". Nope. I probably won't! I don't need 6 jackets! I will get along with two; one for work and one for going out. You would be surprised how long I have had one pair of dress shoes. Granted, I am not a party person – besides, there is no place to go very often in these parts! Haha! But you get my point.
Ditch the 2 dozen pair of shoes and stick with your favorite 6 pair. Or whatever is reasonable for your lifestyle. The kids don't need 10 tubs of toys, trust me. Or if you must keep them, stick most them into storage and rotate them.
This is the best way I have found to keep my sanity. Less stuff = less mess. Instead of asking myself "What can I do without?" I now ask myself "What do I absolutely need?" I might like those  3 different ladles, but I only need one, really.
Keep on top of the clutter.
Oh I know! HOW?! But here's the thing — you may have to do a big, ugly cleaning day to get caught up. Then try to stay on top… I can tell you – this is an ongoing battle for me. About every 6 months or so, I have a giant, overwhelming cleaning day where I go through most of the house, closets, etc. Then I keep up with it for awhile but eventually, things start to pile up.
When did that first pile of papers get left out? Who kicked that book under the shelf instead of taking time to place it between the others? Who started the stack of jackets in the corner of the entryway, that now collects everything else?!
I don't know. But it always does get piled up again. My mom used to say: "The house IS going to get dirty again — and again! Because people live here." So I remind myself that people live here and that it is not going to go away just because I found a pretty new planner. I have to straighten the boots again, and pick up the dirty clothes again, and clear off the coffee table again.
Just do it again, dear momma friend. Straighten those boots again. Pick up the cups from the coffee table again. Or better yet – have the kids who put them there, pick them up! But don't fall into the angry-mom mode, either. Let's not fill our kids' childhood memories with the sound of our angry words. Be gentle but firm. And keep going.
Neat before clean.
I don't know about you, but I would rather have a house that is tidy and a bit dusty, than a house that is clean but messy and jumbled. Besides, it is so much easier to clean when the house is tidy.
I was taught (as a child) that "it's ok to be a little messy, as long as it's clean". Now, I see the wisdom in that – at least things were sanitary. But I disagree. Messy house are often a bit dirty, but I have never seen a tidy house be very dirty and you know why? It is so much easier to clean when it is tidy! Plus, if you have the self-discipline to keep things tidy, it doesn't take much more to go ahead and actually clean, too.
One day at a time.
This is a lifelong journey. If cleaning and tidiness come naturally for you, then you should probably move on to other posts! Haha! But if you struggle to keep your house properly, then read on, sister!
When you live in a small house or a large house, this is t eh same – you have to keep on. It is a day by day thing. You have to shower daily, so that shower needs cleaned weekly. You have to eat daily, so that fridge will always need wiped out. You wear fresh clothes daily, and that laundry will never be done. The entry will get mud tracked in, the toilet never stops getting stinky, you know – people live here.
Just set your mind to folding towels, picking up, wiping off, every single day.  And I find if I do a little each day it never gets so terrible. It's when I am gone too many days, or sick, or just preoccupied with other things, that's when the house suddenly turns into a monster that has spit up our belongings all over the place!
Stay home and keep house.
This one is probably what goes the most against the flesh. I mean, I have places to go and people to see and things to do! But if I stay home consistently, my house stays in good shape. When I had lots of little kids underfoot I still had some  messy-house days, but generally, things get out of hand if I am gone too much.
The exception is, of course, if you send your kids to school, your husband is gone all day, and then if you are gone too – yes. Your house will stay clean! But for those of us who homeschool or have ranch men who come in for meals, and generally have more going on – it works better if I can stay home and keep up with things.
I want you to know that I am not a housecleaning role model. I am not! Pretty sure I have said that I will never write about keeping house, because it is just not my strong point. Fact is, my house is messy more than it's not. Any of my friends can tell you that! But I am trying. And sometimes I learn better by teaching others. Weird, I know. So I am re-upping my goals this year, to include keeping a tidy house. Normal tidiness – not magazine worthy. Because people live here, after all.
What are your best tips for keeping a neat house? Especially a small house? Drop me a comment below!