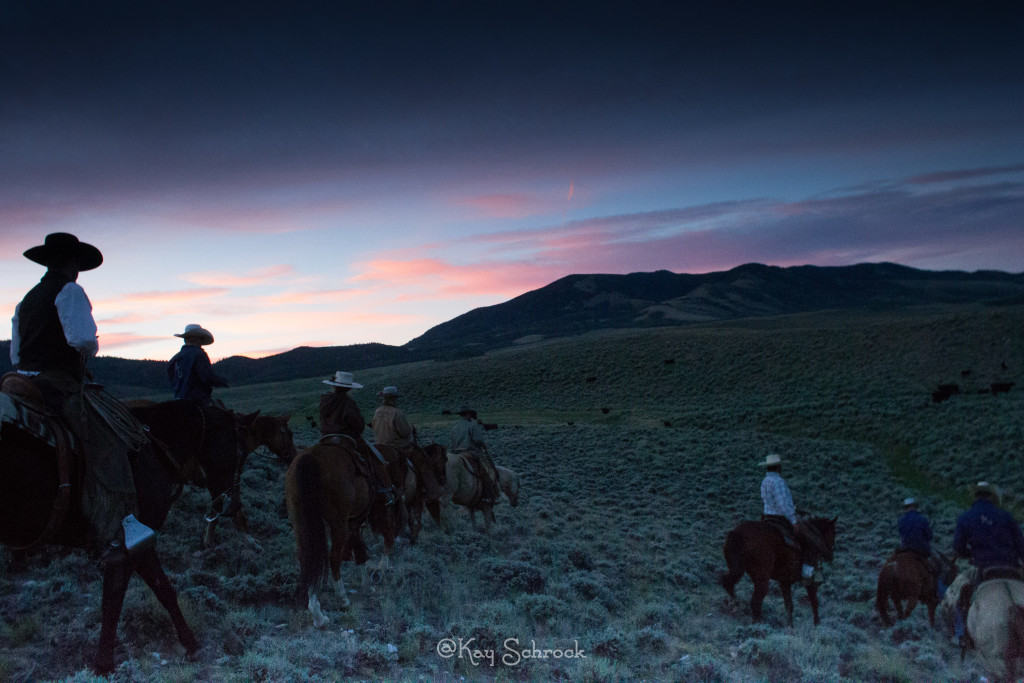 The TA is a ranch west of us, that hosts a large branding every year. They actually have several ranches – quite a good-sized outfit. We were able to make it over for one of their brandings this year.
Cliff and I loaded up at 4:30 and drove around the mountain to meet at the ranch at about 6 am. We were there early, and joined the long line of trucks and trailers lining up to park.
The sun wasn't up yet, when we mounted up and rode down to get instructions. They divided us into 4 groups, and off we went. We trotted a couple miles to the back of the pasture, got behind the cattle and started moving them back towards the corrals. In this part of the country we don't round up and drive. 
We gather and push.
As in: "We're gonna gather this pasture, and push them to the green gate."
We were close to the back of the pasture when we came to this deep wash. (or gully, if you're from the east)
The far side was steeper than it looks in the photo. One guy broke a rein-chain, and we all stopped at the top to get situated, readjust saddles, etc. This is why we use breast collars – because if you don't, your saddle may end up over the horse's rump.
We rode a bit further and there they were – the cattle were already starting to move, thanks to another group of riders that had reached the back of the pasture first.

As we got closer to the corrals, the sound of lowing cows and bawling calves grew louder. The circle of cowboys tightened gradually, until we were riding side by side and bunching up to go through the gate.
It was a lovely, overcast morning. Cold at first but warming without getting too hot.The scenery was amazing, and the remote location meant no sounds of traffic or other civilization. Just cowboys, cattle, and horses.
Quite the long line of trucks…
Question: Do you say pickup or truck? I was having this conversation with a friend recently, and I hadn't thought about it much, but now I pay attention…. and yes, we say truck! 😀 Or at least I do. I guess I need to listen to what other around here call them. I have lived so many places in my life that I never know if I am speaking local slang or just carryover from my childhood. 🙂
PS – extra points if you recognize our rig. 😉
Once we had all the cows and calves into the corral, we waited for them to pair up a bit while we got instructions. Well, they got instructions. I offered my help but since there were so many people, the boss told me to just go take pictures. (Thank you Mr. Haskell!)
There were 800+ calves that day. They gathered, roped, and branded them by 11:00 am. There were two branding pots set up, and lots of ropers! Still, that's pretty impressive. I had so much fun photographing them. Hope you enjoyed this little piece of western life. 🙂