This flour tortilla recipe has been a staple in our house for more than a decade. We use it for tacos allll the time! We mainly just have them for a side when we serve anything Mexican-themed. Rice and beans, chicken and rice, beef and beans, you name it.
We eat a lot of Mexican food, because it is a favorite with my husband. Our kids love it too – but they insist on homemade tortillas! It has become quite a travesty if I buy tortillas. Haha!
Flour Tortilla Recipe
First of all, I want you to know that it's easy to make your own tortillas! The biggest problem is getting them perfectly round. And who cares about perfection? You won't – once you taste these! Besides, you will get better with rolling them, after you make them a few times.
I like to use my KitchenAid stand mixer to mix the dough. It makes it so easy! Just place all ingredients into the bowl and knead for a minute with the dough hook. That's it!
You can also knead by hand, no worries. Just place ingredients into a large mixing bowl and stir with a spoon until it comes together. Then use your clean hands to fold and knead for several minutes, until the dough is pretty smooth.
Next, you want to let the dough rest for 30 minutes. If you try to roll them immediately, the tortilla dough will be very difficult to roll out. It will just spring back into a ball. Let the dough rest for 30-60 minutes and it will roll out much easier!
Then, divide into 12 parts, and roll each part into a ball. Sprinkle the counter with just a light dusting of flour so the tortillas don't stick. Then use a rolling pin to roll each ball into a circle about 8 inches across. I don't measure my tortillas! Just roll until it looks right.
How to fry tortillas
Heat a cast iron griddle to medium. I use a cast iron griddle, but you can also use a heavy skillet or comal. You may need to adjust the temperature until you find the sweet spot.
Carefully pick up the tortilla and place it on the hot griddle or comal. Don't oil the griddle! Just fry them dry.
On the first side, just leave them about 20 seconds, then flip to second side. Leave it on second side for another 20-30 seconds, then flip back to first side for an additional 10 seconds or so.
After the second flip, the tortilla should puff up in the middle, steaming the inside. This is good! This is what you want. When you remove it, the tortilla should have golden to dark brown spots, and be cooked through.
If it's burning before it's cooked, lower the heat. If it is not golden brown after the directed time, you need to raise the heat a bit. The first one is a 'test' tortilla. The rest should be easier.
How to store flour tortillas
When you are done frying the tortillas, wrap them in a clean towel to stay warm and soft. When they are nearly room temperature, place them in a plastic bag to stay soft.
If you have any leftovers, store them in a plastic bag in the fridge.
How to reheat flour tortillas
Warm them by placing each on on a dry skillet, just like you did to fry them. Just leave them till warm, about 20 seconds or so, flipping once.
You may also warm them by placing in the microwave for 10-20 seconds.
Tips for Homemade Tortillas
Can I freeze them? Yes! Just thaw and reheat as directed above.
What is the best flour to use for homemade tortillas? All-purpose flour is best.
How long will flour tortillas stay good? We almost never have leftovers! But they should be good in the fridge for 3-5 days and in the freezer up to 3 months.
What is the best shortening? Lard is traditional, and what I like to use. I do use Crisco pretty often, and oil if I am out of lard.
Can I use a tortilla press? Tortilla presses are great for corn tortillas, but not for flour tortillas — UNLESS you get a heated one! Unheated presses will not work. A heated press works great, and even allows you to skip the resting time. But they can be pricey. My sister gave me one from Mexico, lucky me! You can also find them on Amazon sometimes. Here is my affiliate link for the heated tortilla press.
I usually make tortillas several times a week, and my kids (and the husband!) scarf them right down. They are great with my Fabulous Venison Fajitas.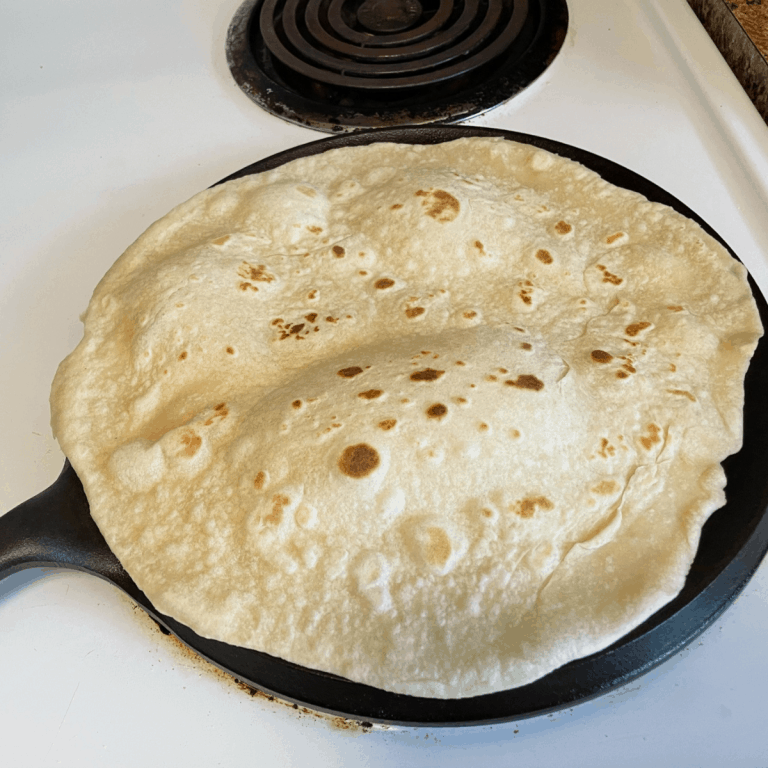 Flour Tortilla Recipe
Delicious homemade tortillas for tacos. Easy to make, you will never buy them again!
Ingredients
4

cups

flour

½

cup

lard

1 ½

teaspoons

salt

1 ½

cups

lukewarm water
Instructions
Mix flour, lard, and salt. Add water and mix well.

Knead 3-5 minutes with dough hook, till dough starts to clean edges of mixing bowl.

To mix by hand: Use a spoon in a large mixing bowl, until the ingredients come together. Then fold and knead for 5 minutes with your hands.

Divide into 12 balls. Roll each ball out thin as possible on a lightly floured counter.

Fry on a dry skillet for 20-30 seconds. Flip and fry another 20 seconds. Flip and fry for an extra 10-20 seconds.

Keep covered in a towel to stay soft.

Store leftovers in a plastic bag in the fridge.
Notes
Let dough rest for 30 minutes so they are easy to roll out. Don't skip this step! 
You may use whole wheat flour. 
Crisco or oil may be substituted for lard. 
You can use a heated press to make it faster to roll the tortillas. An unheated press won't work. 
Nutrition
Serving:
1
g
Calories:
183
kcal
Carbohydrates:
38
g
Protein:
5
g
Fat:
1
g
Saturated Fat:
1
g
Sodium:
352
mg
Potassium:
57
mg
Fiber:
1
g
Sugar:
1
g
Vitamin A:
90
IU
Vitamin C:
1
mg
Calcium:
13
mg
Iron:
2
mg
I hope you enjoy this homemade flour tortilla recipe as much as we do!