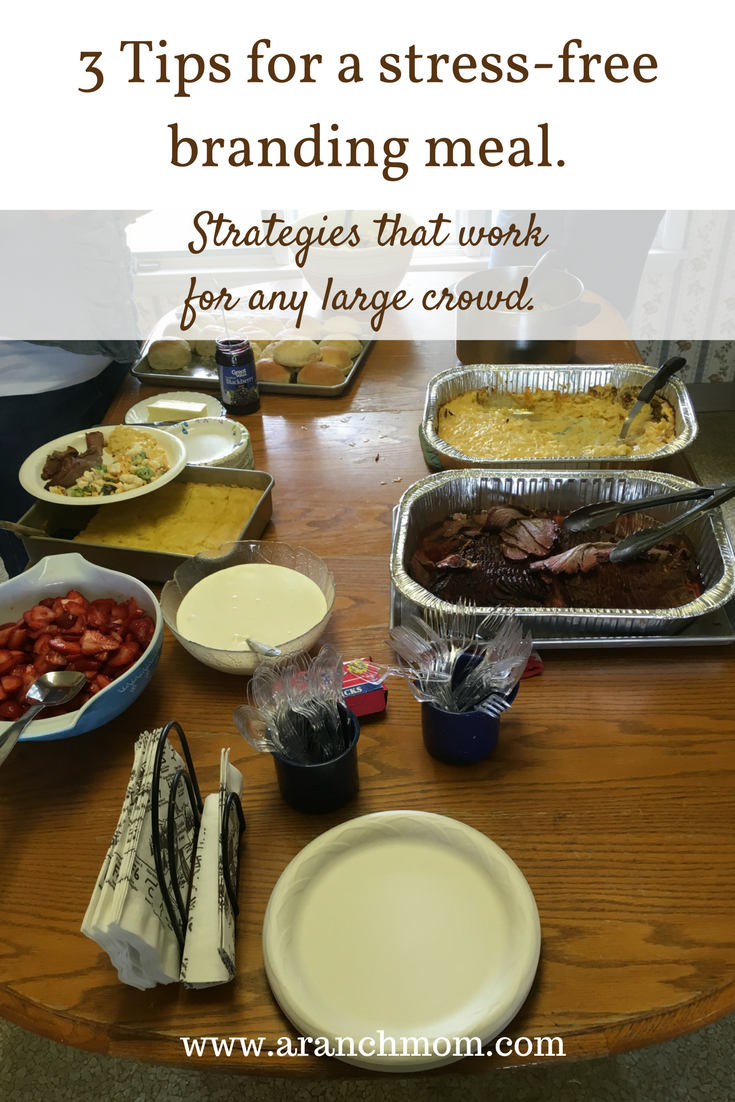 If you are new to cooking, it may look daunting to get a big meal ready all by yourself! I thought I would share some strategies I use for stress-free cooking for a crowd!
I have been cooking for a ranch crew several times a year (or more) for more than ten years. I have learned some things that help me keep my sanity! 😀 
I like to run out and take pictures while the cowboys are branding or shipping, and I can't do that if my meal is helter-skelter and I am stressed out! So, I learned to prep the right way. These tips also work for other large-group meals. This is also how I manage church functions with very low stress.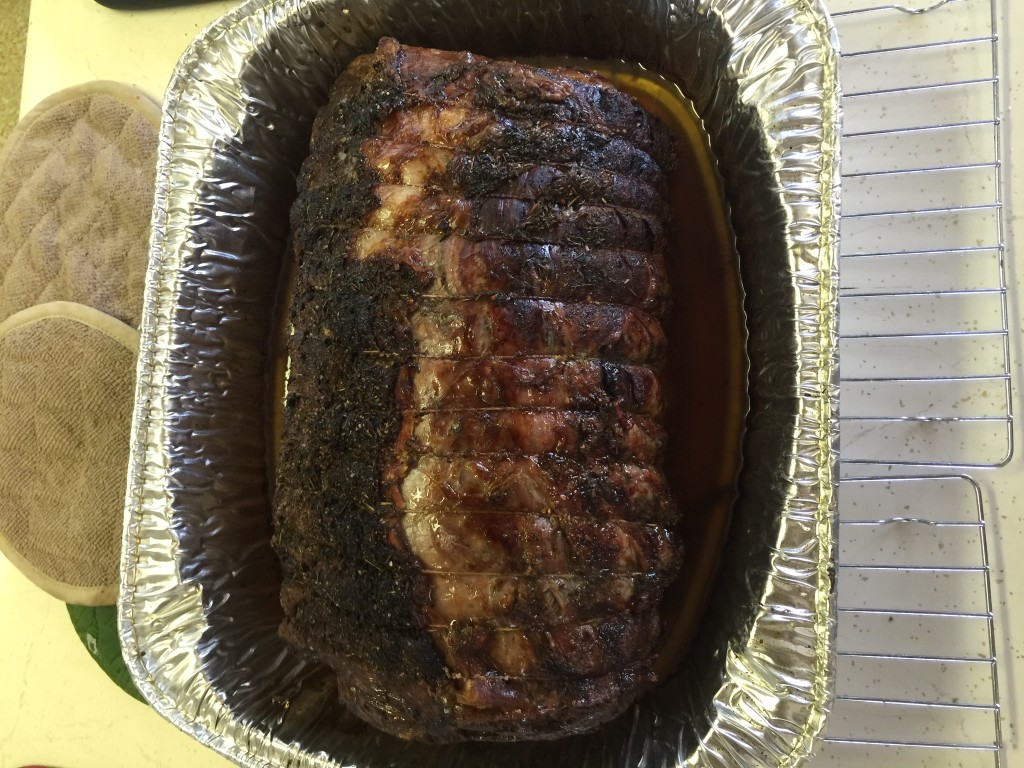 1. Plan ahead. 
If you take away nothing else – please, please, please plan ahead! This one tip will help you tremendously. If you know what needs done, you won't get caught off guard. 
Menu. Write it all out. Even if it is just boughten cookies or jugs of tea. Next, write down everything besides food that you will need. Paper plates, garbage bags, napkins, plasticware, toothpicks, salt & pepper shakers, cream for the coffee? 
Groceries. Now, figure out what ingredients you will need for each dish. Write down everything you will need to buy. Make sure you figure enough! 
Time. Check recipes, and figure out how long you will need to cook each dish. If you are making meat and rolls and cake and potatoes and baked beans… do you have two ovens? What order will you bake them? Can you use a crockpot for something? You need to figure this out now, because there is nothing worse than needing to put rolls in the oven, but your meat has the oven busy all morning!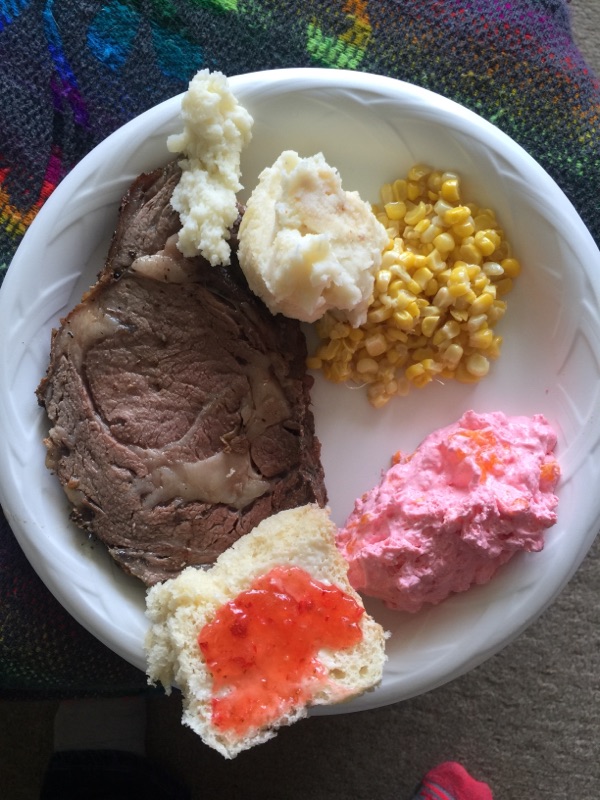 2. Prep the day before.
This is my biggest secret to a restful branding meal! I normally prep as much as possible the previous day. In fact, I try not to plan anything else the day before, so I can just prepare all the food! Trust me, you will not regret spending several hours the previous day! It makes branding day so much easier, and you will be less likely to get in a jam. (remember the oven cramming?)
Peel potatoes. If you are making a potato casserole, make it and have it ready for the oven. Or have your baked potatoes scrubbed and wrapped. You can make mashed potatoes and then reheat the following day, also. (Although – sometimes I just want those fresh, fluffy mashed potatoes. 🙂 )
Cook your meat. I like to cook roasts slow overnight. It really frees up my oven and – bonus! – makes the roast fork-tender. Almost any meat can be cooked the day before and reheated. The exceptions would be prime rib and burgers. If you are doing pulled meat sandwiches, you can just shred and reheat on branding day. So easy!
Make your dessert. Bake your dessert the day before. If you want it warm-from-the-oven, you can still get it ready. For cobbler, I make the crumbs and put them in a ziploc bag, and get the fruit ready. Then you just have to assemble it right before baking. Pie crusts can be made and refrigerated overnight, filling can be made, etc. If nothing else – at least make sure your butter is sitting out overnight so it is soft the next day. If you want to bake your dessert the day of branding, be sure you have time to fit it in with your other oven dishes!
Chop salad veggies. Most salads you can prep the day before. Just wait to add dressing till you are ready to serve. Chopping veggies for salad is messy, and this helps keep your kitchen cleaner on branding day!
Thaw frozen things. Do you need to thaw vegetables? Fruit for cobbler? At a bare minimum, you need to get your meat out and let it thaw! 
3. Get up early.
I know – who wants to get up early?! (Well me, but I know most people don't enjoy mornings! 🙂 ) But if you want to have a smooth branding meal, you need to get up at a reasonably early hour. Maybe your man doesn't want to eat at 5 am, but mine does, so I cook him breakfast. Sometimes I let him eat cereal, but I try to make him breakfast. Then I get started on my day.
Start your snack. If you will be taking a snack/coffee break to the crew, you need to make sure that is done first. Are you making cinnamon rolls? Get the dough mixed up to rise. Do you need to bake or make anything? Get it going. 
Check your meat. If you had a roast in the oven overnight, you need to check it first thing. Probably as early as 5 or 6 am. If it is done, take it out and let it rest. It can cool for an hour or so, while you start your snack, then you can slice or shred it.
Set your table. IF you have the room, get your tables set up for lunch. Set out the plates, cups, etc. Fill the water jugs. Put out butter to soften. Salt and pepper. Toothpicks. Chairs. Get a garbage can ready for all the trash.  Think about the flow… where will the guys come in? Where will they file through to get their food? Make it as easy as possible for them to go from door to sink to food to table. And PLEASE have a big towel by the sink for their hands! I can't abide little wet rags to 'dry' my hands on! 😉 (pet peeve)
Get drinks ready. Water is perfectly fine, but whatever you have to drink – have plenty! Especially out West here, we get so dried out! Those hard-working cowboys are going to need lots to drink. 
These tips have served me well for feeding groups of cowboys – as few as 8 to as many as 30. I use the exact same strategy for feeding a church group of 200 or more. Yes, I have made mistakes, and you might, too. Cowboys are generally pretty forgiving of us cooks, as long as we have plenty of food! I appreciate that. 😀
Whether you are cooking for branding, processing, or shipping, you can follow these tips for a relaxing, stress-free meal. 
If you need some inspiration, check out these cookbooks! They are some of my favorite! Beautiful photos and fun stories throughout. 

This post contains affiliate links.