This crockpot pasta sauce is possibly the easiest way to cook ground meat. I know I am not the only one who forgets to thaw meat! It is so easy to just peel off the wrapper and get this cooking. In a few hours you will have a mouthwatering, savory sauce to go with the pasta.
What meat to use
I used ground venison for this recipe, because I have a lot in my freezer right now. Beef would work just fine. Actually, I think any ground meat would work fine! Try it with turkey, elk, or pork.
How to prepare the sauce
First, place 1-1/2 lbs frozen, ground meat in your crockpot. I just pulled meat out of the freezer, unwrapped it, and paced it in the crockpot; it was still rock hard. I held the meat packages under running water for a minute, just to loosen the wrapper.
Then, pour two cans of crushed tomatoes over the meat. Add onions, garlic, and spices. Stir the tomatoes and spices a bit. Cover and cook on high for 4 hours. If you are using meat that isn't frozen, cook on low.
After 4 hours, open the lid, and use a spatula to break up the meat. It should break up quite easily. Serve over cooked pasta.
Tips for this crockpot pasta sauce
– I used elk, you can use beef, pork, turkey, whatever you want.
– I used 1-1/2 lbs of meat, and it was very meaty. If you want less meat or need to save money, you can use just 1 pound of meat.
– I added more red pepper flakes, because I like mine a bit spicy. But feel free to leave it out! My littlest kid thought it was too spicy.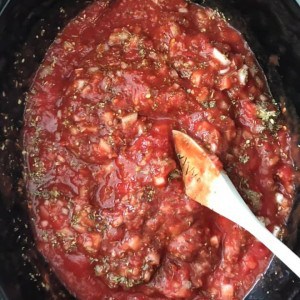 Slow Cooker Spaghetti Sauce with Deer Meat
Use frozen deer meat in this hearty recipe. No need to thaw - just place the frozen meat into the slow cooker, then add the tomatoes and spices! Super easy and delicious!
Ingredients
1-1/2

lbs

frozen ground deer meat

can use any ground meat

2

(28 oz) cans

crushed tomatoes

1

onion, diced

4

cloves

garlic, diced

1

Tablespoon

Italian seasoning

1

Tablespoons

oregano

2

teaspoons

salt

1/2

teaspoon

black pepper

1/2

teaspoon

red pepper flakes

Add more for a spicy kick!
Instructions
Place frozen meat in slow cooker.

Pour tomatoes over the meat. Add diced onion and garlic. Add seasonings. Stir seasonings into tomatoes.

Cook on high for 4 hours. (cook on low if using meat that isn't frozen) Break up meat with spoon. Serve over pasta.
Nutrition