Deer tongue is something I had no thought of eating — it just never entered my mind. But, my older brother was chatting with me one day as I was processing a doe, and he told me how delicious deer tongue is, and how he always eats them. So, I decided to try it!
My brother recommended tacos, but I didn't have the right ingredients in the house, so I decided to just make a simple hash. It went well with a fried egg, but you could also add potatoes.
How to cook deer tongue
First, I washed the tongue well under running water. Use a scrub brush to get it really clean.
Second, I placed it in a pan and covered with water. I added an onion, some garlic cloves, bay leaves, and beef bouillon to the water. You can use beef broth but I just used what I had – canned bouillon.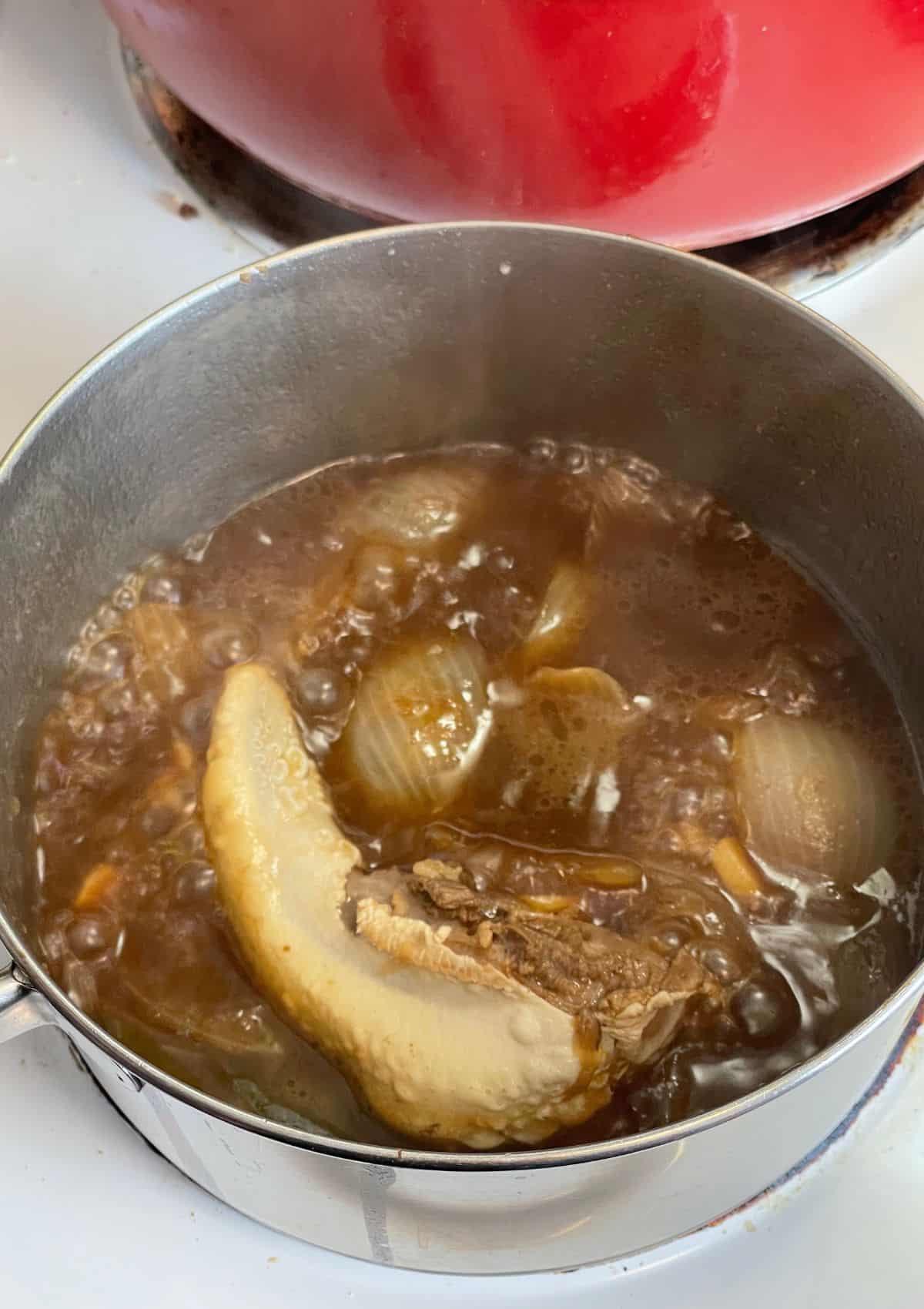 Next, I boiled it for 2 hours, then discarded the broth. Then I peeled the skin off the tongue, and diced it into small pieces.
I heated a small skillet and fried the deer tongue in butter, with diced onions, pepper, and diced jalapeño. I seasoned it well with Cavender's Greek Seasoning. I buy it at Walmart or any local grocery store. You can find it on Amazon as well. (affiliate link)
Despite my hesitation, deer tongue is delicious and I will be making it again! I think next year I will save each deer tongue – clean and freeze them until our season is finished, then cook them all at the same time. One deer tongue is about one serving, so it would be more time efficient if I had several.
Deer Tongue Recipe
Spicy deer tongue hash is an easy way to use this unique part of venison.
Ingredients
1

deer tongue

4

cups

beef broth

1

onion

sliced

4

cloves

garlic

sliced

2

bay leaves

¼

teaspoon

Cavenders Seasoning

¼

cup

bell pepper

diced

¼

cup

onion

diced

½

Jalapeño

diced
Instructions
Wash deer tongue very well under running water. A brush works good.

Place tongue in pan and cover with 4 cups beef broth. Add bay leaves, onion, and garlic.

Boil tongue for 2-3 hours, or until a sharp knife pierces it easily.

Remove tongue from broth and discard broth. Peel the skin off the tongue, and discard skin.

Dice tongue finely, add to skillet with butter and diced peppers and onion. Season with Cavender's and fry about 5 minutes or till hot and starting to crisp up. Serve with eggs or potatoes.
Notes
You may need to add more broth or some water during the boiling process. I had to add about 2 cups more water.
Nutrition