Try this delicious elk medallions recipe made in the cast iron skillet and drizzled with a homemade mushroom sauce. Elk tenderloin is a wonderful piece of meat, it maybe my favorite cut of elk! So tender and juicy. But it must be cooked correctly to keep it fork-tender and juicy.
Elk Medallions Recipe
First, slice up an elk tenderloin. One whole elk tenderloin makes 10 slices. A whole tenderloin would feed 3-4 people, depending if they are hungry men or more dainty eaters!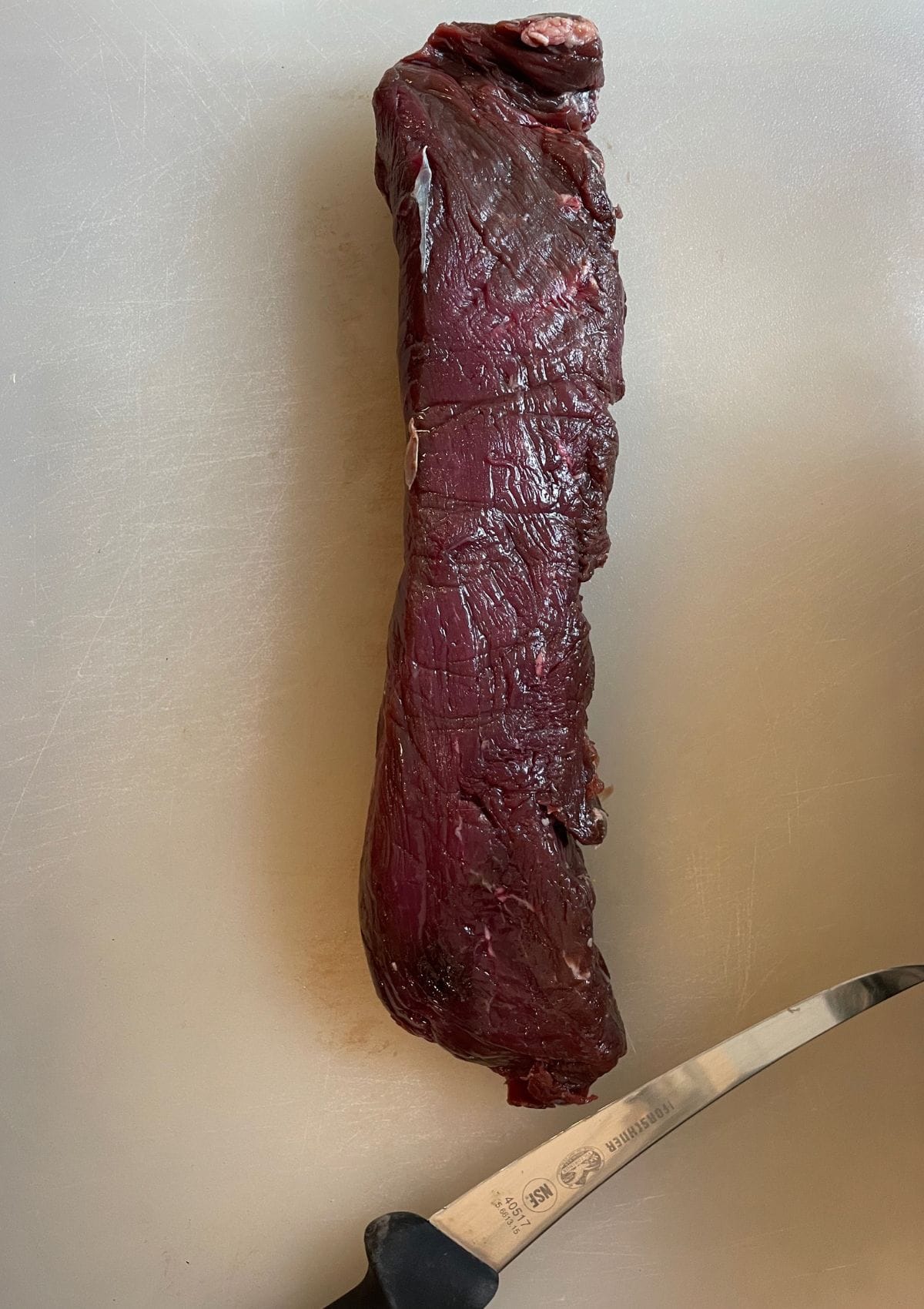 The tenderloin should be trimmed of all sinew and fat, then sliced into medallions – basically tiny steaks – about an inch thick.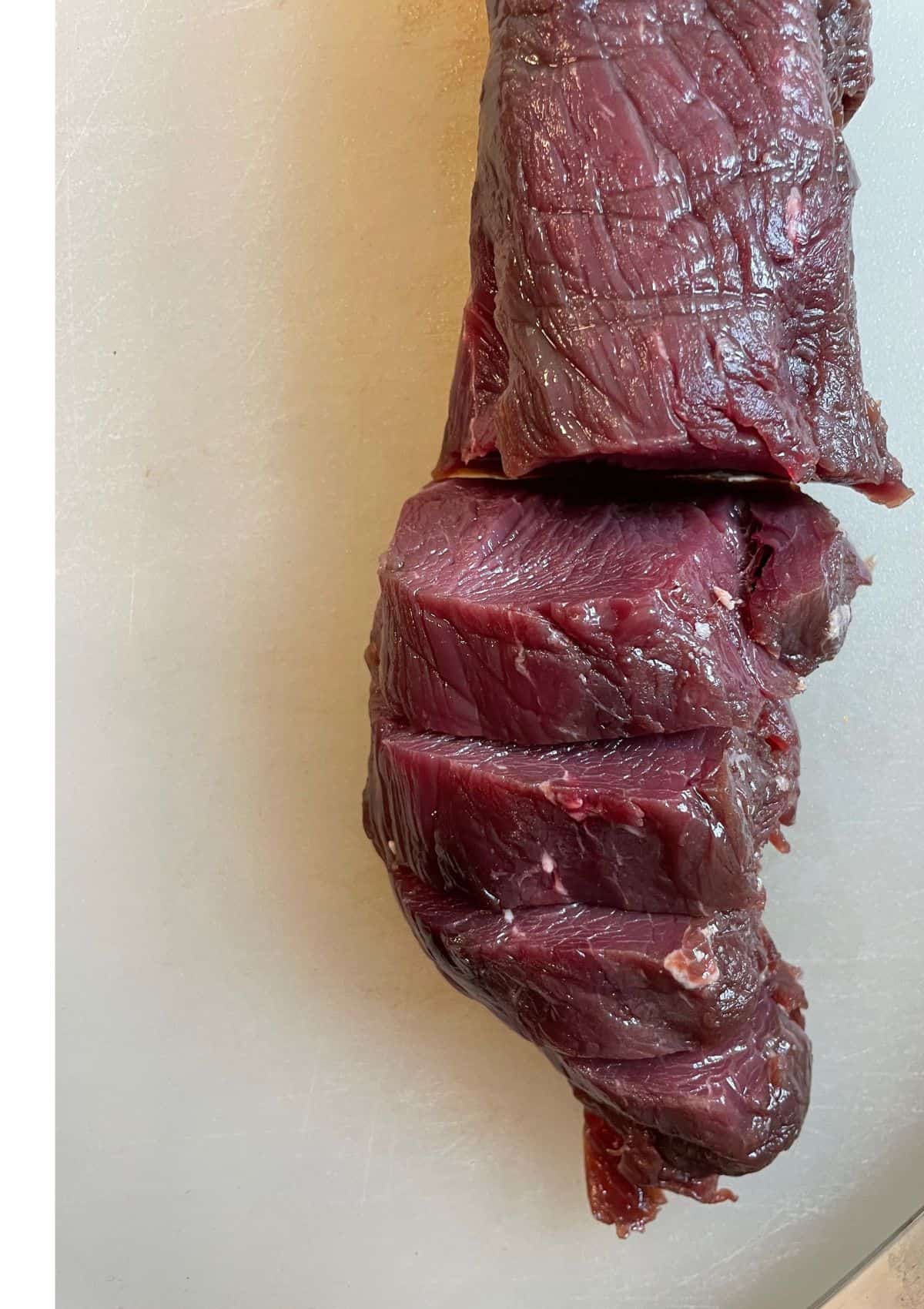 Cooking elk medallions
Now, heat your skillet over medium-high heat, and when the skillet is hot, add the butter. Place the elk medallions into the skillet and fry for 1-2 minutes per side. Internal temperature for elk should be 160, according to FoodSafety.gov. However, many wild game chefs cook to internal temps of 140. I personally cook to a minimum of 145 degrees.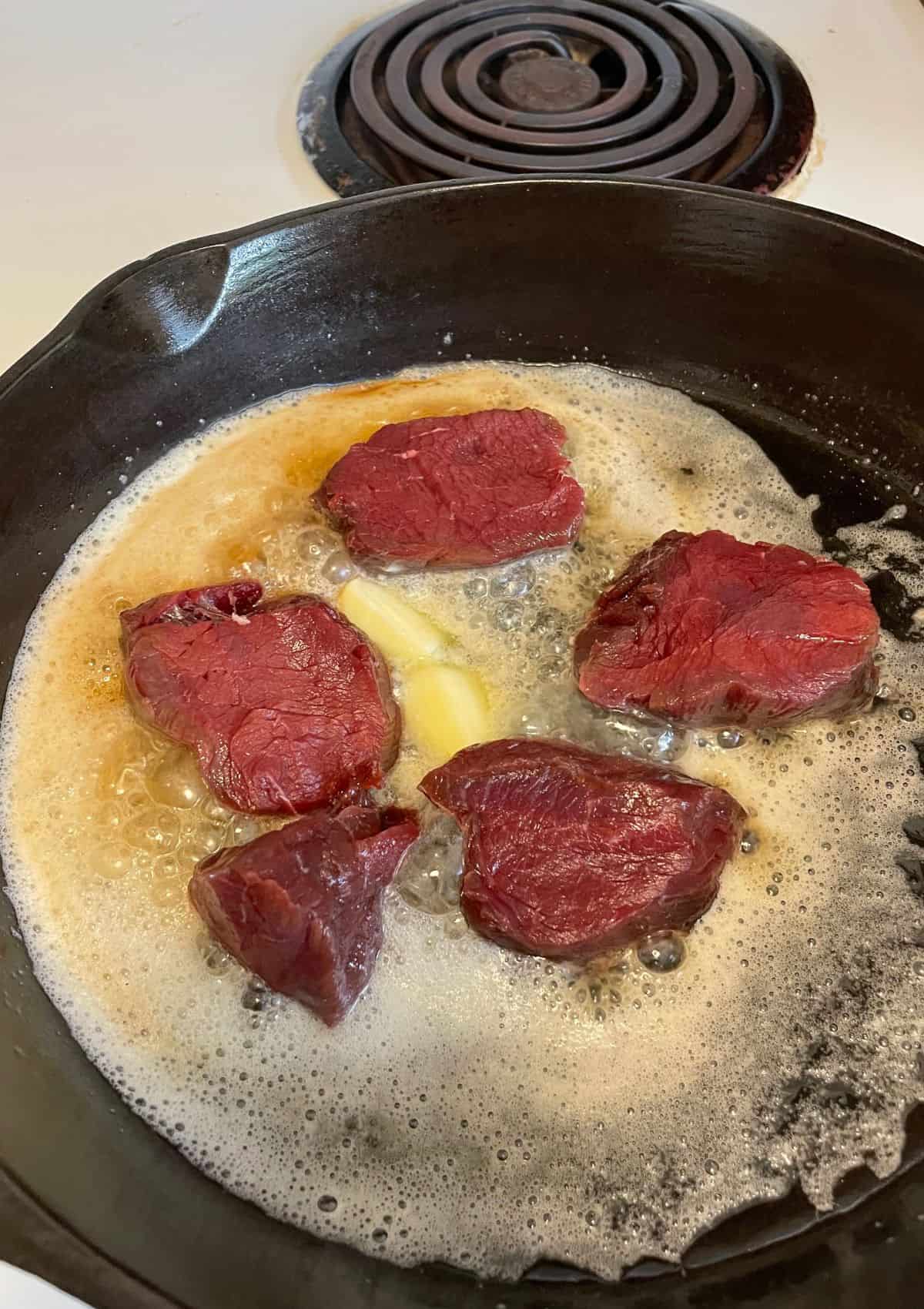 When the elk pieces are cooked, remove them from the skillet and put them on a plate. Add more butter to skillet and add in the mushrooms.
Making mushroom cream sauce
Sauté the mushrooms for 5-7 minutes, or until they are softened. Add garlic and stir for about a minute. Remove mushrooms and garlic from skillet and set aside for now.
Add cream to the skillet. Add salt, pepper, thyme, wine, and balsamic vinegar. Warm and stir for 1 minute.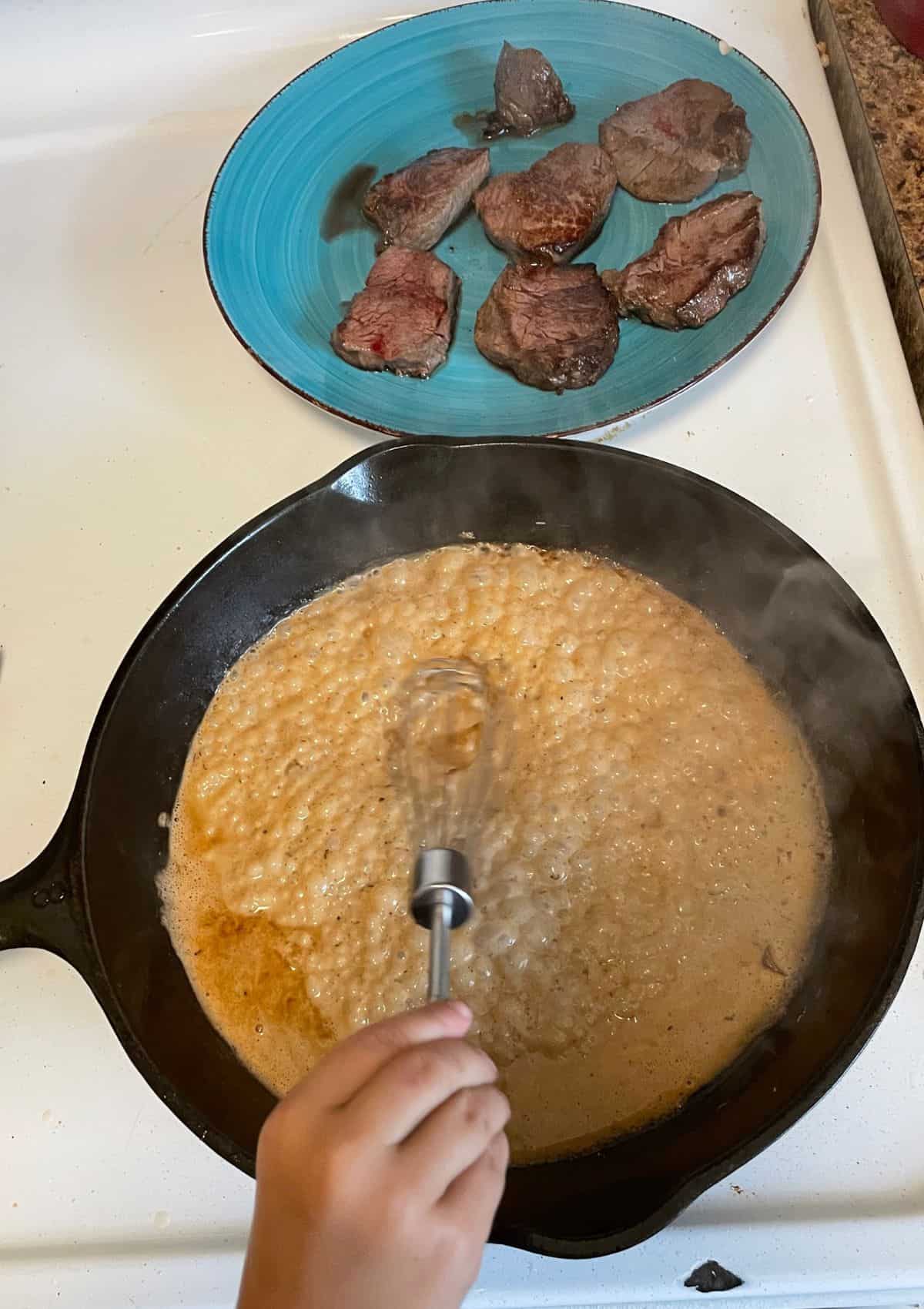 Pour the juices from the plate of meat back into the skillet with the mushroom sauce. Stir gently for 1 minute. Place the mushrooms, garlic, and elk medallions back into the sauce and serve.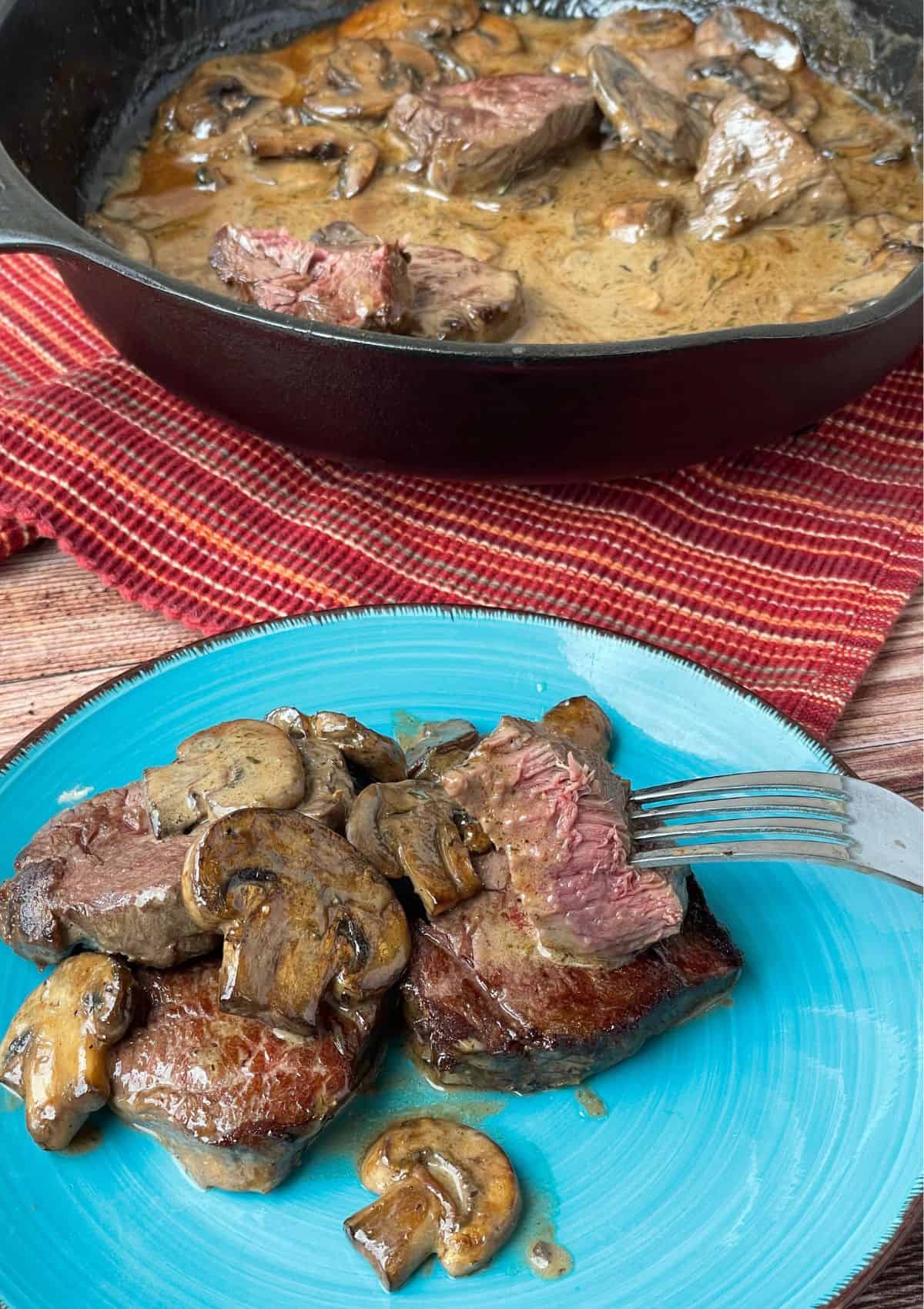 What to serve with elk medallions
I like to serve with pasta or mashed potatoes. This would also be good with a salad and some crusty bread to sop up the juice.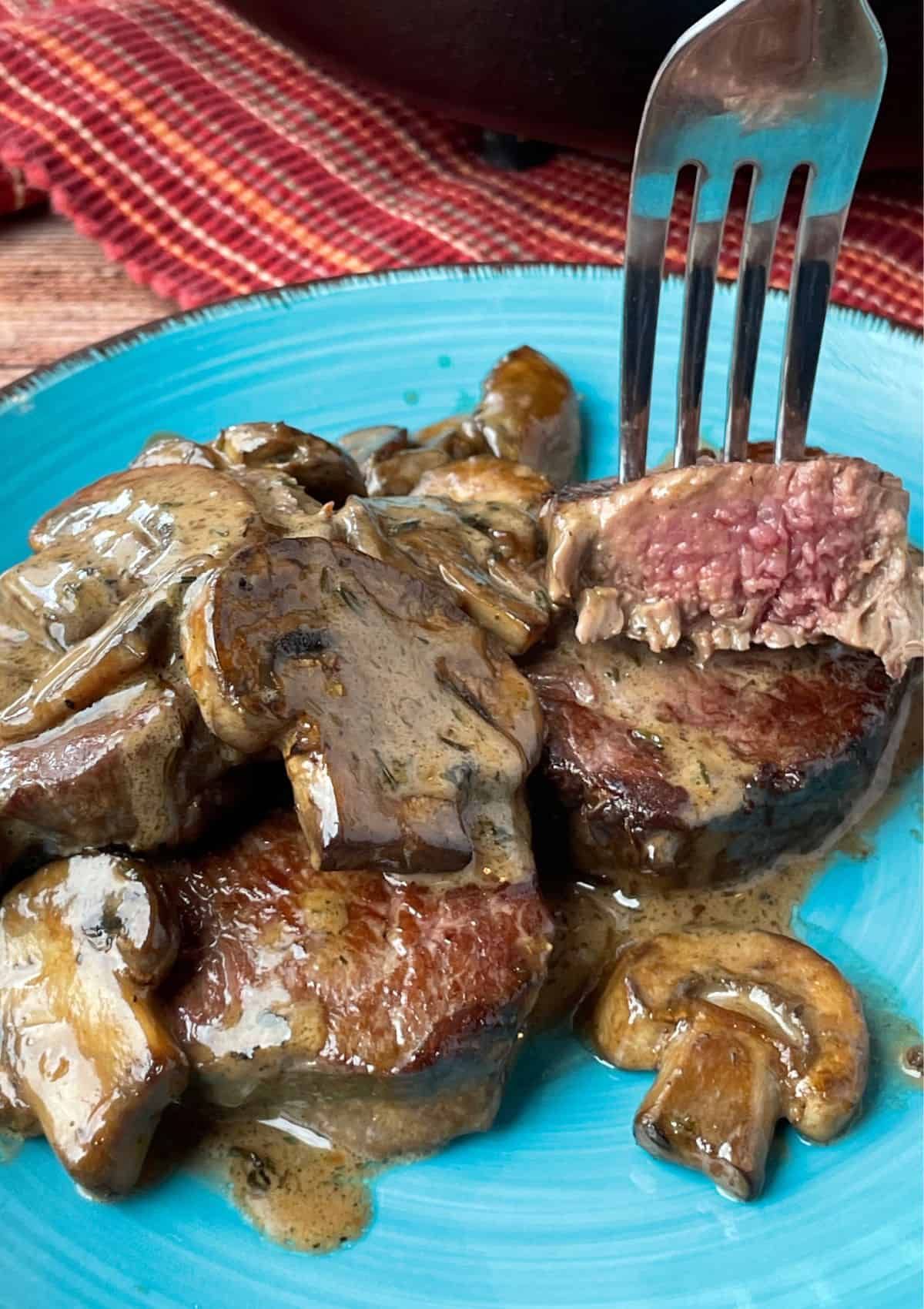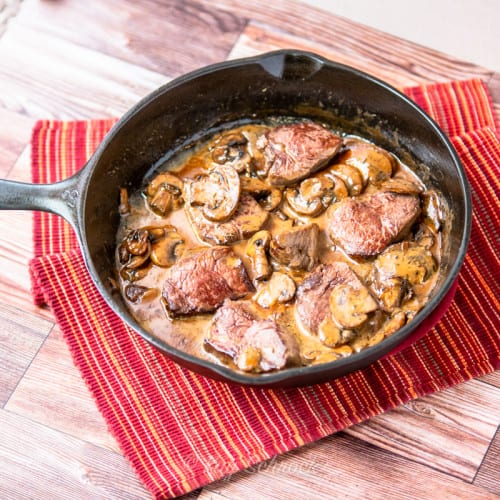 Delicious Elk Medallions Recipe
Try these Delicious Elk Medallions with mushroom cream sauce! Simple but delicious wild game recipe.
Ingredients
1

elk tenderloin

about 1.5 lbs

6

Tablespoons

butter

1

lb

mushrooms

sliced

½

cup

heavy cream

3

Tablespoons

red wine

1

Tablespoon

balsamic vinegar

1

clove

garlic

1

teaspoon

thyme

dried

salt

to taste

black pepper

to taste
Instructions
Slice elk tenderloin into thick slices, about 10 slices per tenderloin.

Heat cast iron skillet over medium heat, add 3 Tablespoons butter and fry the medallions in the butter for 1-2 minutes per side or until a meat thermometer reaches 145℉.

Remove the meat from the skillet, place on a warm plate and cover.

Add the remaining 3 Tablespoons butter to the skillet and sauté for 5-7 minutes or until soft. Mince the garlic and add for the last 30 seconds.

Remove mushrooms and garlic, adding them to the warm plate with the meat.

Add cream to the same skillet, also add the thyme, salt, pepper, balsamic vinegar and wine. Stir and cook for a minute or two till warm and bubbly. Scrape the bottom of the skillet to include all of the flavor from the browned bits.

When sauce is warm and seasoned to taste, add the meat, meat juices, and mushrooms back in and remove skillet from heat. Serve immediately.
Notes
This recipe works great for elk, moose, or deer. 
If you are using both tenderloins, just double the sauce. 
Use whatever cooking wine you have on hand. I had some red wine in my fridge so that is what I used. You can also replace the wine with beef broth if desired. 
Nutrition
Calories:
389
kcal
Carbohydrates:
8
g
Protein:
6
g
Fat:
38
g
Saturated Fat:
24
g
Polyunsaturated Fat:
2
g
Monounsaturated Fat:
9
g
Trans Fat:
1
g
Cholesterol:
105
mg
Sodium:
201
mg
Potassium:
559
mg
Fiber:
2
g
Sugar:
5
g
Vitamin A:
1315
IU
Vitamin C:
5
mg
Calcium:
45
mg
Iron:
1
mg