Here is a delicious and easy french toast recipe for your breakfast table! French toast is one of my favorites – ok, most breakfast foods are favorites of mine – but french toast is pretty high on the list! Especially with a generous pile of strawberries and whipped cream on top.
I don't actually know anything at all about French culture, whether this food even originates in France, or if it does – how they make it! All I know is that I love it! So thank you to whoever invented this dish!
Make the egg mixture
Crack the eggs into a bowl and beat them well with a fork or whisk. I am using eggs from my chickens in this recipe, so they might look a deeper yellow than commercial eggs that you buy at the store.
Then add milk, salt, sugar, and beat well again. You want to beat this mixture very well, because if you don't, you will get clumps of egg white, and that isn't cool. 😀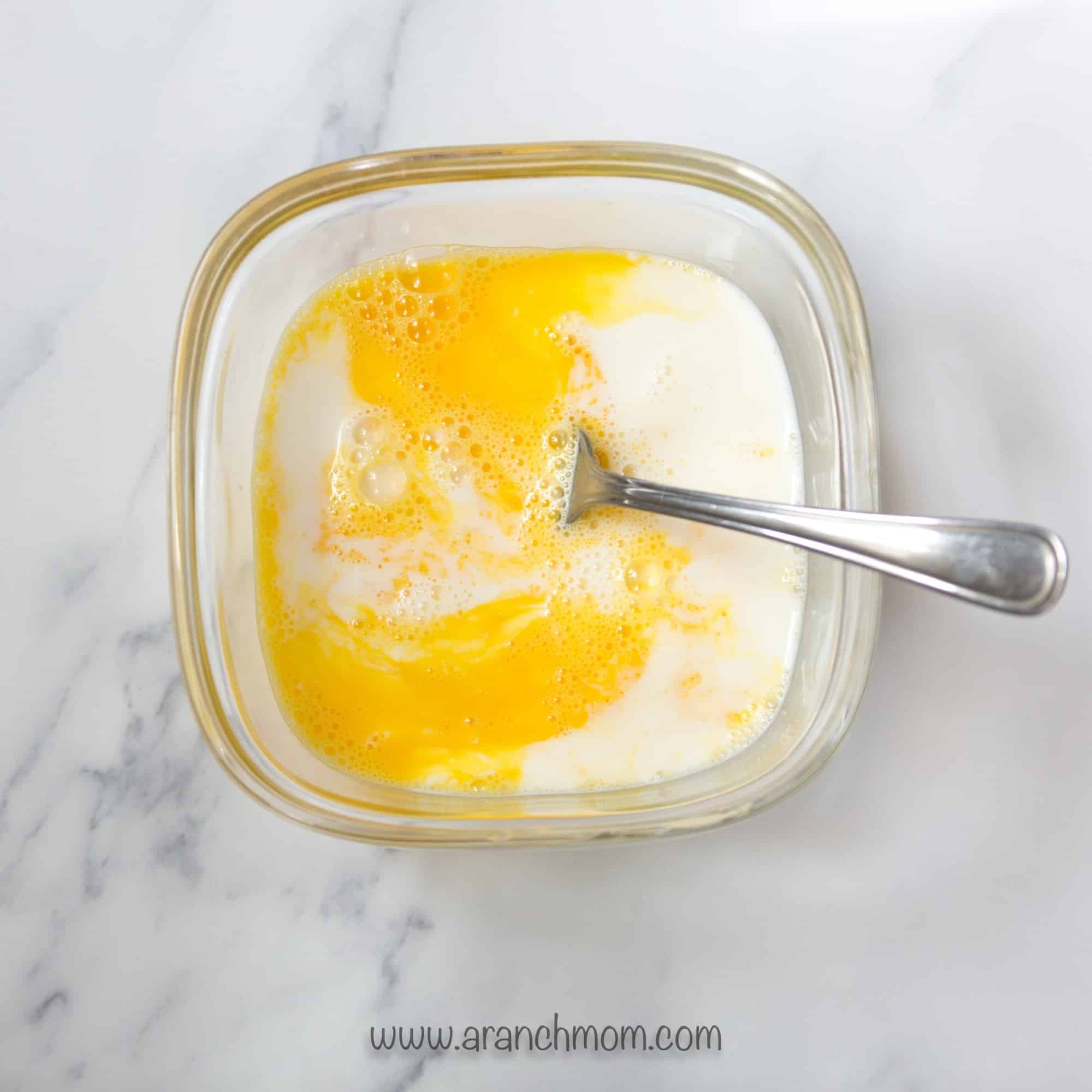 What bread to use
I use any bread that I have available for this french bread recipe. Bread that is a bit stale works great! It is a good way to use up that old bread. But for this recipe, I am using my favorite: French Bread.
I like to slice it fairly thick; it's so delicious and slightly chewy. You can buy a loaf at WalMart for a dollar, so it is inexpensive as well.
Fry the French Toast
Heat a skillet to medium-hot. I like my cast iron skillet because it makes a lovely brown crust. After the skillet is heated, melt a tablespoon of butter in the pan. Dip each piece of bread briefly into the egg mixture, and place in the pan.
Fry one side for about 2 minutes, then flip and fry on the other side for 2 minutes, or till golden brown and cooked through.
For cinnamon french toast
If you like cinnamon french toast, just sprinkle generously with cinnamon while the first side is frying. Flip and continue frying as normal. I love cinnamon, and it helps to regulate blood sugar. But if you don't like the spice, just omit this step. 🙂
Serve with berries or syrup
Stack in a pan and keep warm while you fry all the slices of french toast.
Serve warm with berries and whipped cream, or drizzled with maple syrup! You can store leftovers in the fridge to be reheated the following day. I like to serve sausages on the side, for extra protein.
Delicious French Toast Recipe
Ingredients
1

loaf French Bread

cut into 16 slices

2

eggs

3/4

cup

milk

1/2

teaspoon

salt

2

TBL sugar

optional

cinnamon

optional

Berries and syrup
Instructions
Beat eggs well with a whisk.

Add milk, sugar, salt, and whisk again.

Heat frying pan to med-high, add butter to pan.

Dip bread quickly into egg mixture, place in frying pan.

Fry each side for about 2 minutes, or until golden brown.

Sprinkle with cinnamon if desired.

Serve warm with syrup or berries.