When I was a kid, my mom made easy jello pudding cake often. It was one of my favorite desserts! The pretty jello paired with the creamy pudding was just great. Especially in the heat of a Southern Illinois summer – it was so refreshing!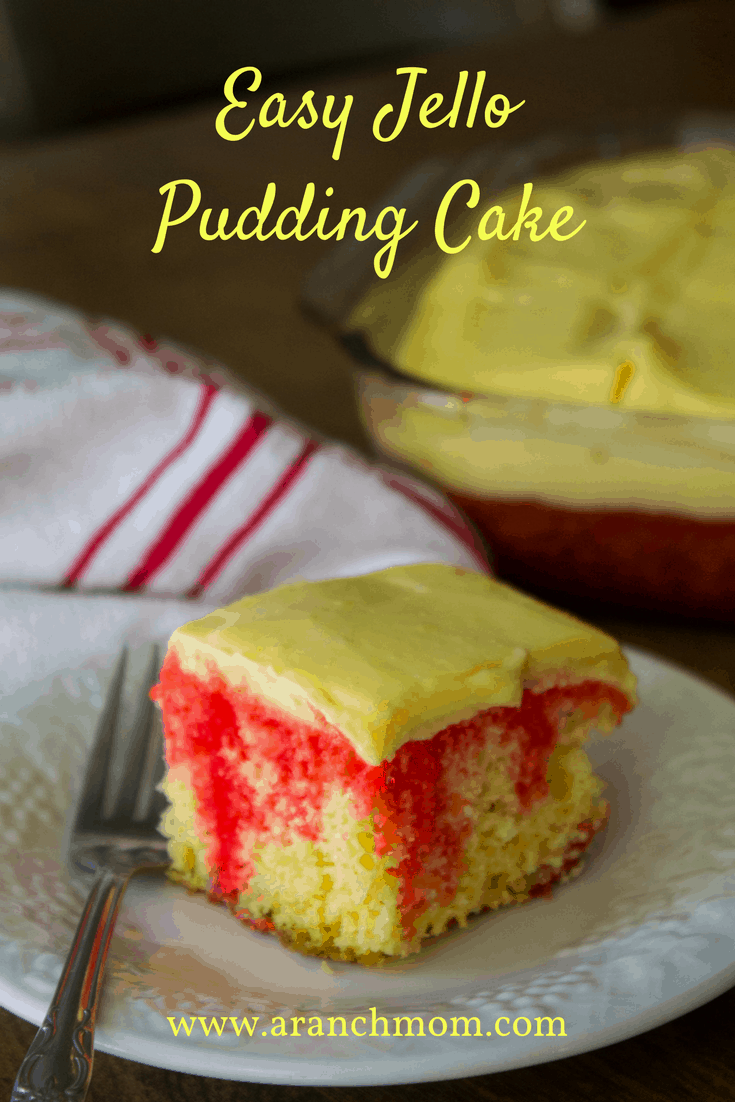 Mom used strawberry jello most frequently, but sometimes she experimented with green or orange. I have used a white cake with blue jello(raspberry) for July 4th, green jello (lime) with pistachio pudding for St. Patrick's Day, or red (strawberry) for Christmas. So many fun options!
The pudding is one of my favorite parts. I am not a huge fan of thick frosting, but this pudding is  just right. Creamy and sweet, but not too sweet! 🙂
The other great thing about this easy jello pudding cake, is how simple it is. First, you bake a cake mix according to directions on box. I use yellow but you could also use white cake mix.
When it comes out of the oven, let it cool 10 minutes while you mix up the jello. Mix 1 package jello (any flavor) with 1 cup hot water. When it is dissolved, add 1/2 cup cold water.
Poke lots of holes in the cake, with a fork. Make sure you get around the edges.
Take a large spoon and spoon the jello over the cake, slowly. This is somewhat tedious, but keep at it. Pay special attention to the higher areas where it just wants to run off. Keep spooning jello until it is all on. It seems like a lot but it will be fine. 😉 Then set your cake in the fridge to chill for several hours.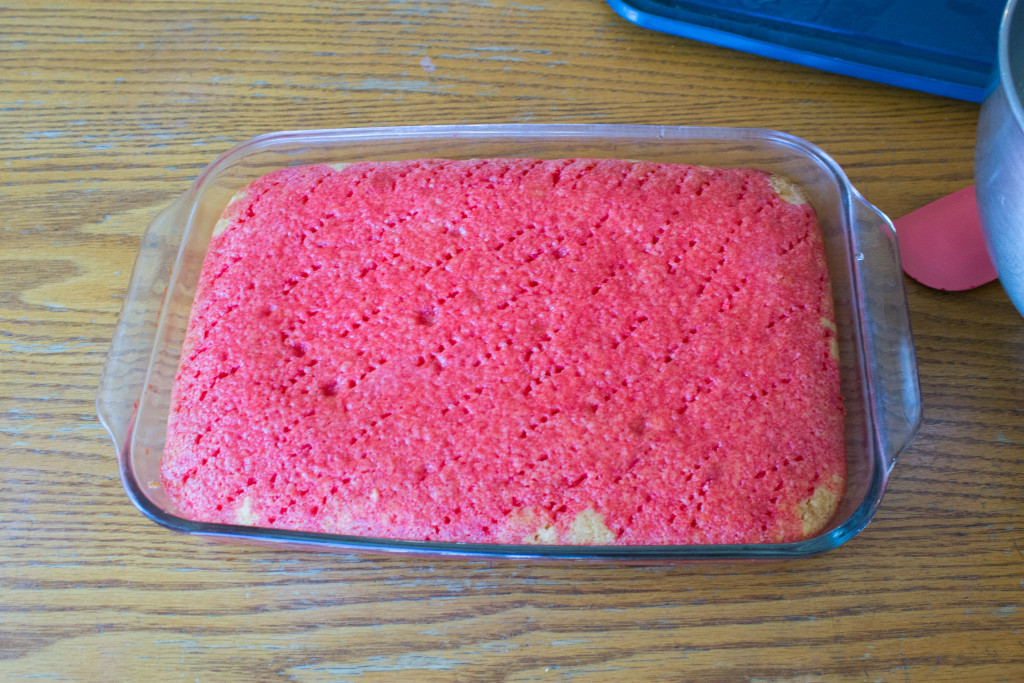 After the cake is cold, mix the pudding and pour it over.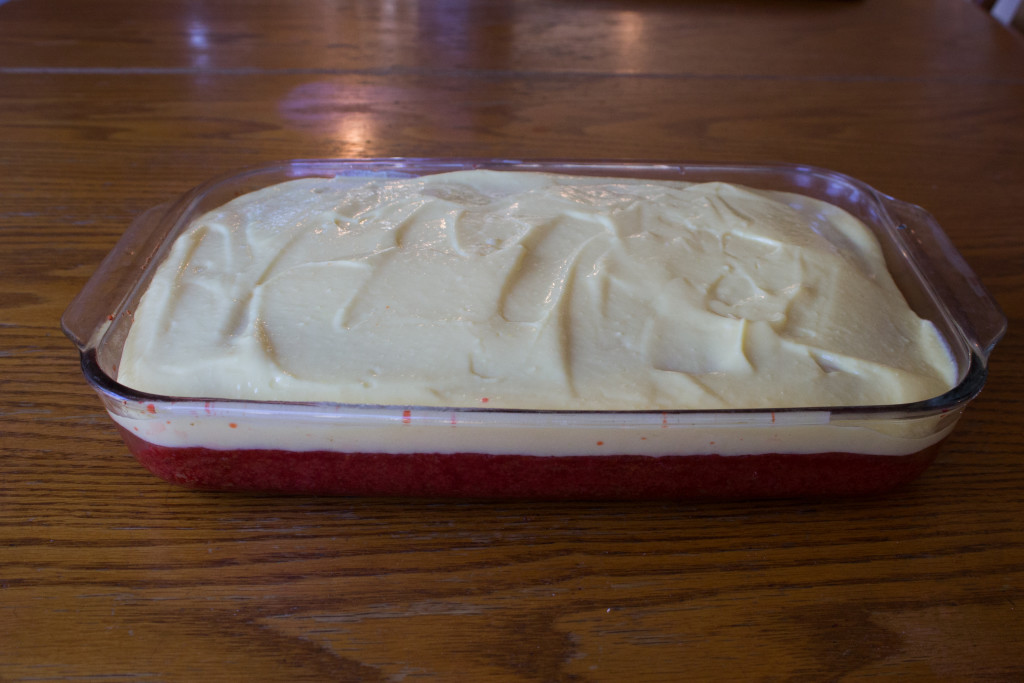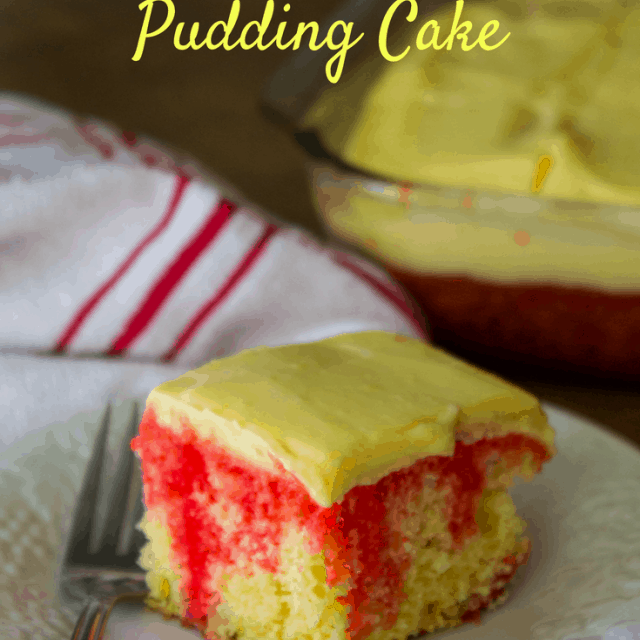 Jello Pudding Cake Recipe
Ingredients
1

yellow or white cake mix

1

box jello

any flavor

1

box vanilla pudding

2

cups

cold milk
Instructions
Prepare cake according to directions on box.

Cool cake 10 minutes.

Mix jello with 1 cup hot water till dissolved. Add 1/2 cup cold water.

Poke cake with fork.

Slowly spoon jello over cake.

Chill cake for an hour.

Mix pudding with milk.

Pour pudding over cake.

Serve.