Elk Heart is a big chunk of meat that is worth the time to clean and prepare! I know lots of folks fry it, but I wanted to try something different, so I made mine in the crockpot. Fall weather always puts me in the mood for crockpot meals!
Elk Heart Recipe
First, the heart needs cleaned well – all blood removed, fat trimmed off, and any tough or stringy bits cut away. I cut it into several pieces to work with it better.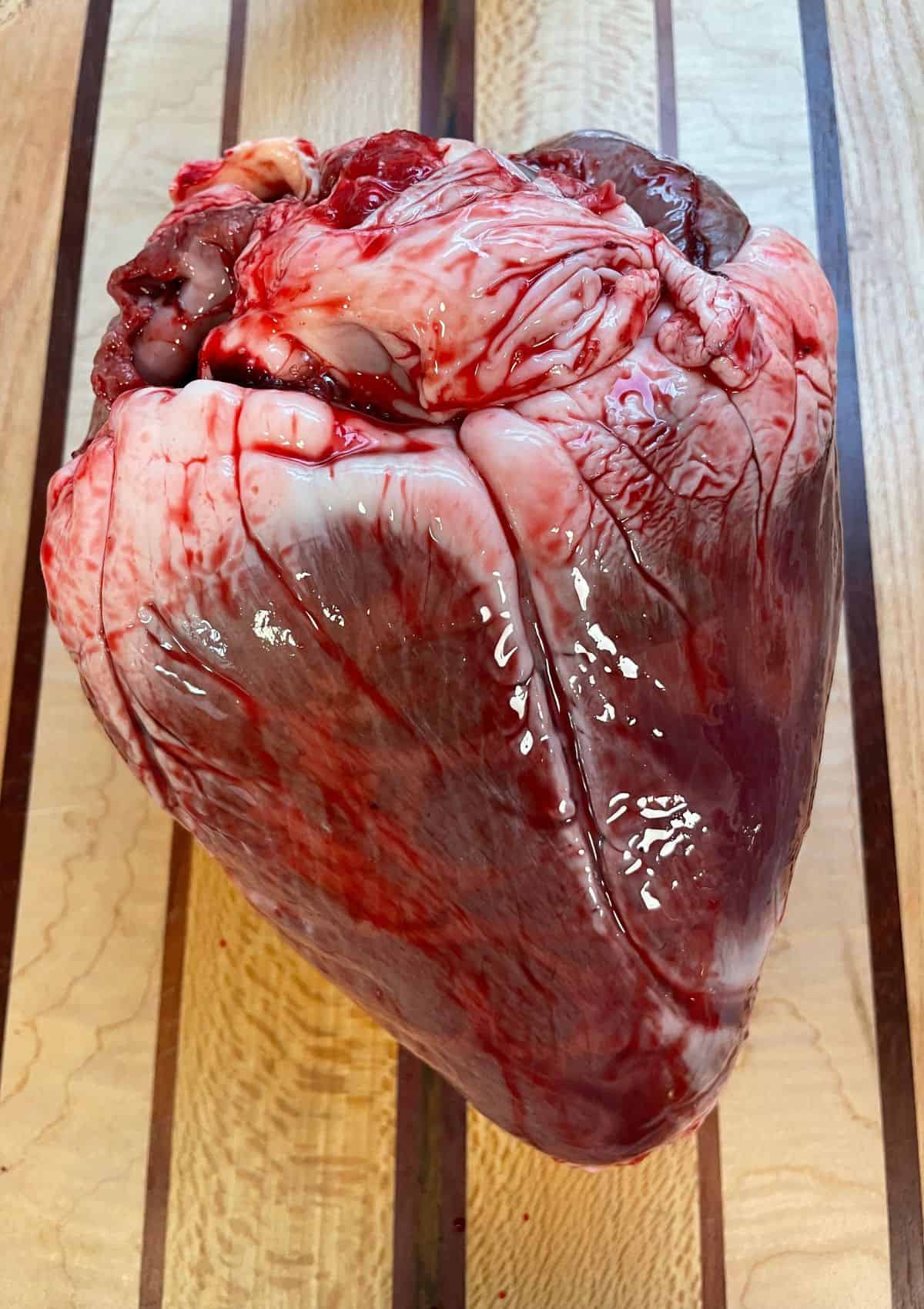 Next, slice the heart into slices, then strips, then cut into small bite-sized pieces. I made mine about one-inch square, but next time I will make them smaller.
Heat a skillet over med-high heat, and add some oil or my favorite: bacon fat. Brown the elk heart pieces well, stirring a few times to get all sides browned.
Place elk heart in crockpot, and add remaining ingredients. Cover and cook on low for 8 hours. Serve over mashed potatoes or hot, cooked pasta.
Yes, elk heart in the crockpot is a bit different – most recipes are for seared or fried elk heart. But there's just something about wild game drowning in tasty gravy that makes me want to pour it over everything!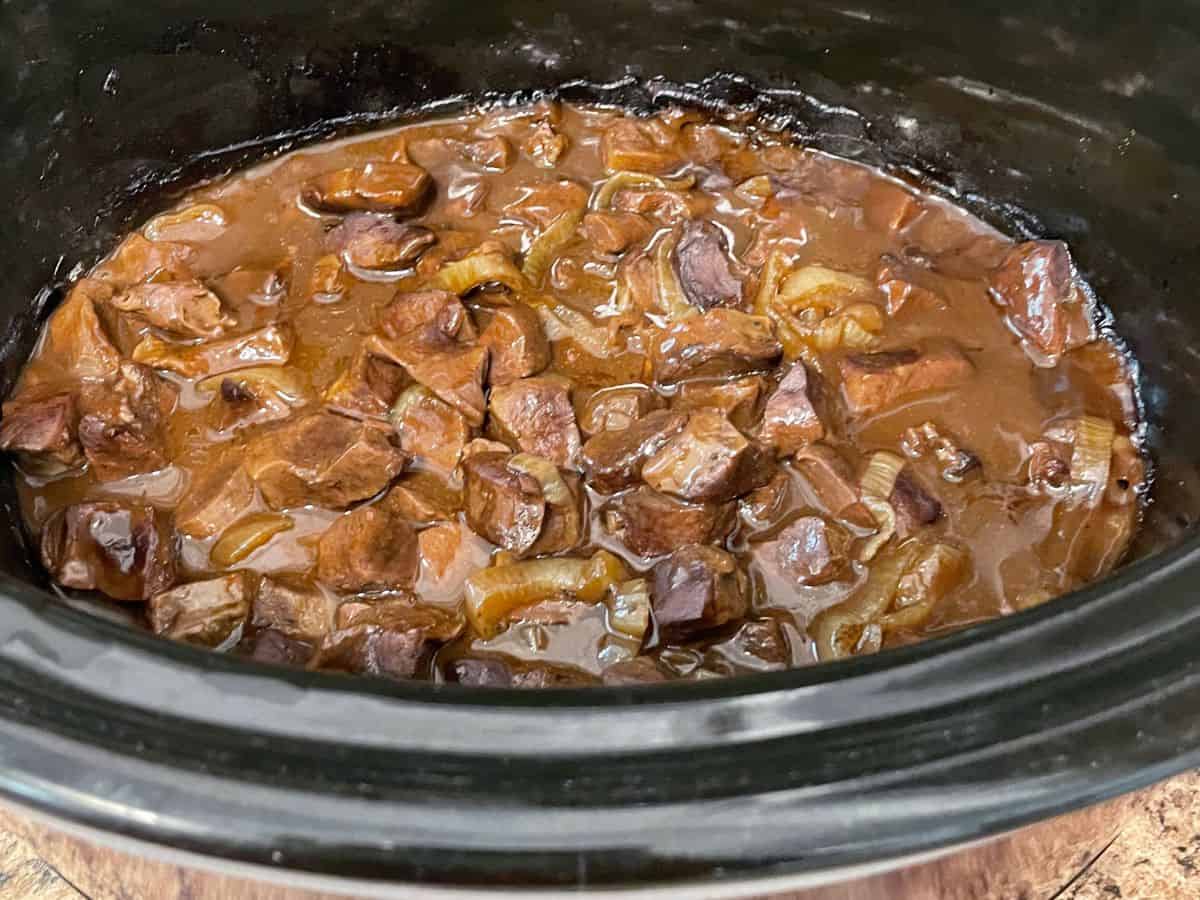 What is the texture of elk heart?
I would say elk heart is slightly chewy in texture. It is not dry at all, and certainly not at all like liver! It is a muscle, so it can be tough if not prepared correctly. You should definitely try it next time you harvest an elk! It is a lot of meat, and I hate to see good meat go to waste.
Can you freeze elk heart?
Yes! Absolutely. Wrap it well and freeze it like any other meat. I would just say to clean it first – open it up and clean out the blood and trim off fat and such. Then freeze it.
Other Elk Heart recipes:
Elk Heart Recipe – Mountain Girl Camp
Elk Heart Fajitas – From Field to Table
Grilled Elk Heart Tacos – Peak to Plate
Grilled Deer Heart with Peppers – Hunt Gather Cook
Elk Heart Recipe in the Crockpot
Elk Heart Recipe in the crockpot has a rich, savory gravy that is great for serving over mashed potatoes or biscuits!
Ingredients
1

elk heart

⅓

cup

red wine

1

Tablespoon

Worcestershire

1

packet

brown gravy

1

onion

sliced

¼

cup

balsamic vinegar

1

cup

water

2

Tablespoon

oil

or bacon fat
Instructions
Clean and trim heart, discard clotted blood, fats and bits of tough tissue. Cut into bite-sized pieces. ½-1 inch.

Heat oil over med-high heat. Add elk pieces and fry till browned, stirring frequently.

Place elk heart into crockpot, add sliced onion, wine, balsamic vinegar, Worcestershire sauce, and brown gravy packet. Add water and stir well.

Cook on LOW for 6-7 hours. Serve over mashed potatoes or cooked pasta.
Nutrition
Calories:
180
kcal
Carbohydrates:
3
g
Protein:
26
g
Fat:
5
g
Saturated Fat:
1
g
Polyunsaturated Fat:
1
g
Monounsaturated Fat:
3
g
Trans Fat:
0.01
g
Cholesterol:
62
mg
Sodium:
98
mg
Potassium:
413
mg
Fiber:
0.2
g
Sugar:
2
g
Vitamin A:
2
IU
Vitamin C:
1
mg
Calcium:
14
mg
Iron:
3
mg