As the queen of frugal road trips, I thought I would share with you some of my go-to ideas for road trip meals. I have used these tips for nearly 18 years of road trips. It works for large families or singles.
I just have a hard time forking out money for restaurant meals, when I am already blowing through cash on fuel! So I squeeze my dollars every whichaway, to make them last. Sometimes my handsome husband has to remind me to loosen up and enjoy the trip a little! Haha! 😀
1) Pack a cooler.
The number one way to save on food, is to take it along. Even if you buy name brand items, they will be less expensive from your grocery store than they will be at any gas station. Soda pop, donuts, chips, candy – you name it. Buy it ahead of time and pack a cooler.
2) Think outside the burger box.
Little Caesars sell hot n ready pizzas for a low price. 5-6 dollars each, in most places. Yes, it is cheap pizza. But if you want to save some money – one pizza has 8-10 slices, and the kids love them! Plus, the stores are pretty easy to find, at least in the western states.
Grocery store deli's sell grilled chicken at a good price. Usually 6-7 dollars for 8 pieces. The grilled or rotisserie stye is not as greasy as the fried chicken, and our family feels better if we eat less greasy food.
Buy some deli meat and cheese, and some crackers or a squirt bottle of mayo and some rolls. Spend 15 minutes making sandwiches, it will give the kids time to run off some energy, and will make you feel refreshed!
Fresh fruit and ready-to-eat veggies are always a hit. Baby carrots, sugar peas, and radishes are handy for eating with no prep. Clementines, bananas, apples, nearly any fruit is a treat.
If you plan ahead, you could make a nice salad with grilled chicken or bacon, yum! I never think of that when I am planning for a trip, haha! Maybe one day I will remember to try new things instead of sandwiches all the time. 🙂
In Walmart, you can find their store-label water bottles in the coolers near the checkout, for .30 cents each. They are cold, and somehow, cold drinks are always better than warm water bottles that have been rolling around in the trunk. 😉 Be careful though – if you decide to get Cokes at that cooler, they are 'way overpriced! See point 1. (pack a cooler)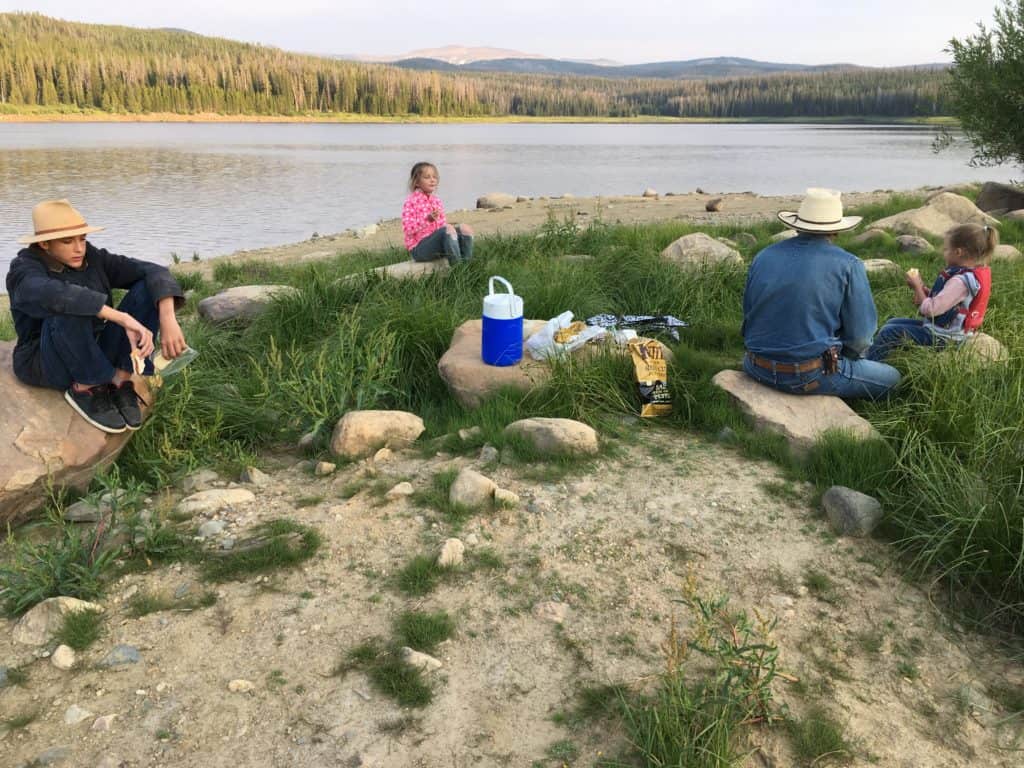 3) Stop at a park for lunch.
We like to find a roadside park or city park and stop for 30 minute lunch break. We have decided that it is worth the break, with kids. We have been known to pull over at a wide spot in the road, and the husband and kids 'explore' the surrounding national forest while I slap together some sandwiches. (we live in the mountain west) If we are short on time, I just assemble the sandwiches while we are in the parking lot, and then we eat them as we drive.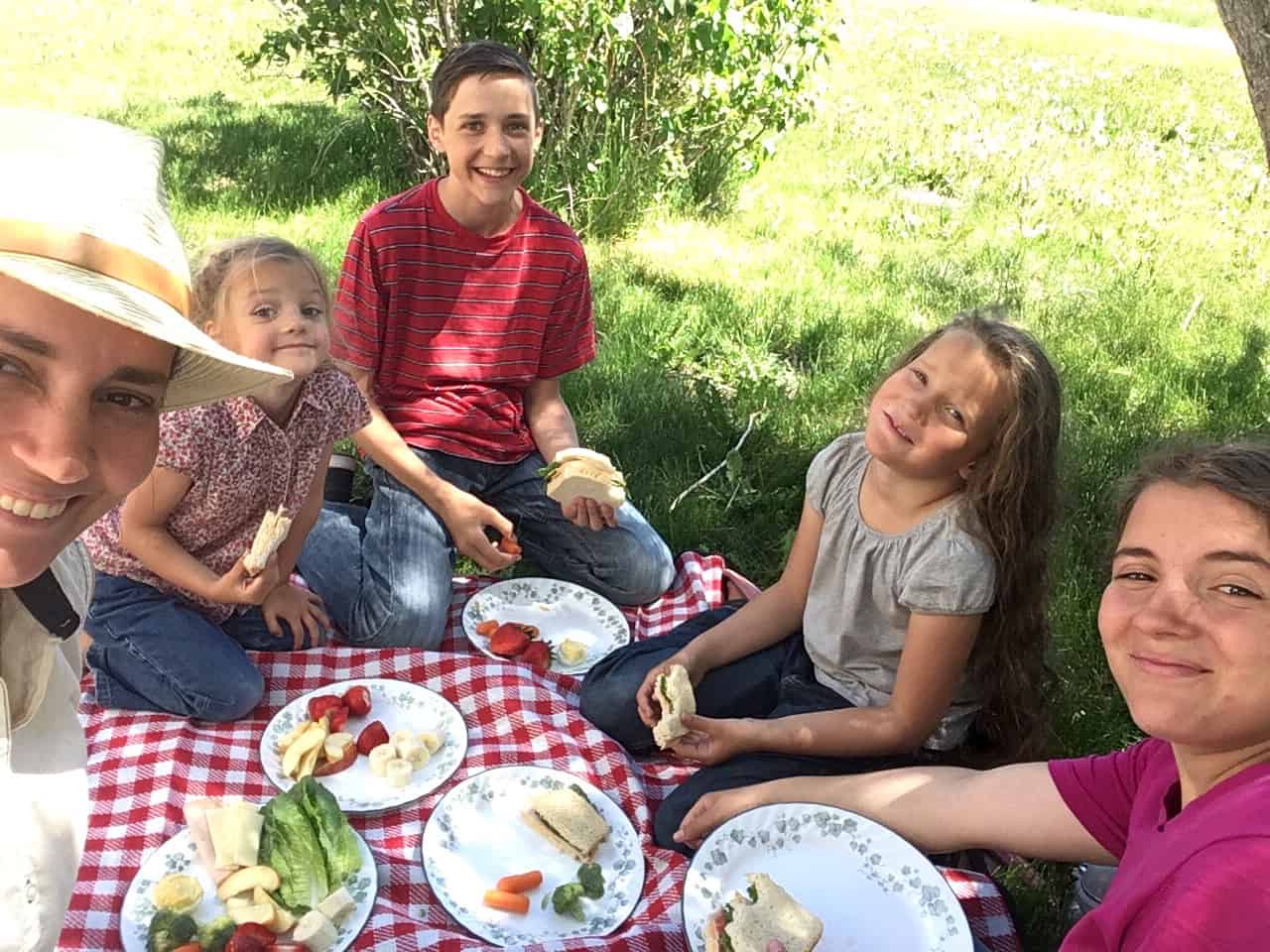 The fastest method though, is the fully prepped cooler from home. Sandwiches, fruit, vegetables, cheese sticks, etc. Maybe this sounds rather 70ish, but remember, we are saving serious money here! Let's go though a few examples:
Restaurant meal for 4. 
Assuming you are stopping at a chain restaurant, you can expect to pay approx $15 per adult, plus $10 per child. Let's say you have 2 adults and 2 kids. That is $50.00 plus tax & tips…
= $65.00
Fast food for 4.
2 regular meal deals: $16.00
2 kiddie meals: $10.00 (or 4 reg meals which would be more)
=$26.00

Buying less expensive alternatives at grocery store.
Say you buy grilled chicken, ($8) Fruit, ($5) and veggies,(4) and water bottles. ($1.20)
=$18.20 
You can see the price difference! It is insane how much money we spend on food! Then if you are on the road several days… well, lets just say you will be so proud of yourself for saving so much money. 🙂
What are YOUR best tips for saving money on a road trip? Drop a comment below and share with us!