For the last 12 years, I have been perfecting my cinnamon roll recipe to serve to my friends, family, and many dozens of cowboys. Kay's Cinnamon Rolls have become the expected treat when it's my turn to bring coffee break to the branding pen or shipping corrals. I often pass out plates of them for Christmas treats to neighbors.
It's nice to have a signature treat that everyone likes. And I love to share my recipes so you can enjoy these delicious cinnamon rolls, too! (and also, so I can stop typing it out for everyone who asks! Haha!)
How to make cinnamon rolls
I like to use my KitchenAid mixer for the dough. That really cuts down on kneading time and energy.
I put the sugar, yeast, and warm milk into the bowl, in that order. I let it sit for 5 minutes while I gather other supplies.
This is the yeast I use. If you do a lot of baking, this is really inexpensive and handy! I pour one package into a glass jar and keep it in the freezer. (Amazon affiliate link)
Next, I add the flour, salt, oil (or butter), and mix it well. When the dough is starting to clean the sides of the bowl, I pour in a little oil – let it swirl a few times to coat the dough – and then turn off the mixer.
I let the dough sit in the bowl to rise. When it has risen to about double in size, I place it on a floured counter.
Roll the dough out to about 1/2 inch thickness, in an oblong shape. It doesn't have to be perfect — maybe around 12×20 inches, or similar.
Spread softened butter generously over the entire rectangle of dough. You can use a knife or just clean hands.
Sprinkle brown sugar generously over the butter. Then sprinkle with cinnamon.
You want the sugar and cinnamon pretty thick, because we will be stretching the dough as we roll.
Roll the cinnamon rolls up
Once you have the butter, sugar, and cinnamon spread out, then take the long side of the dough and begin to carefully roll it up, stretching slightly as you go. You don't want to break the dough, just put a little tension on it so everything stays snug.
Once it is all rolled up, slice off rolls about 1 1/2 inches thick. Place the rolls on a greased baking sheet or in other baking pans.
This recipe makes about 18-20 rolls, depending how thin or thick you cut them. (3 round pans full or one large baking tray)
Tip: A serrated knife works best to cut the rolls – it doesn't squash them as much. Any really sharp knife will work, though.
Bake for 20-25 minutes, or until golden brown. Do not overbake!
If they are crowded together in a pan, they will take longer to bake. If they are baked on a baking sheet with space between each roll, they may be done in 15-18 minutes.
Stir together the frosting
While they are baking, make the frosting. When the rolls come out of the oven, spread the caramel icing over them while the rolls are still warm.
You can freeze the rolls after they are baked and frosted. They freeze very well.
I hope you enjoy my cinnamon rolls! They are so delicious with a cup of black coffee. Make them for your ranch crew and you will not be sorry! 😀
TIP: These can be made into delicious, gooey sticky buns that will knock your socks off!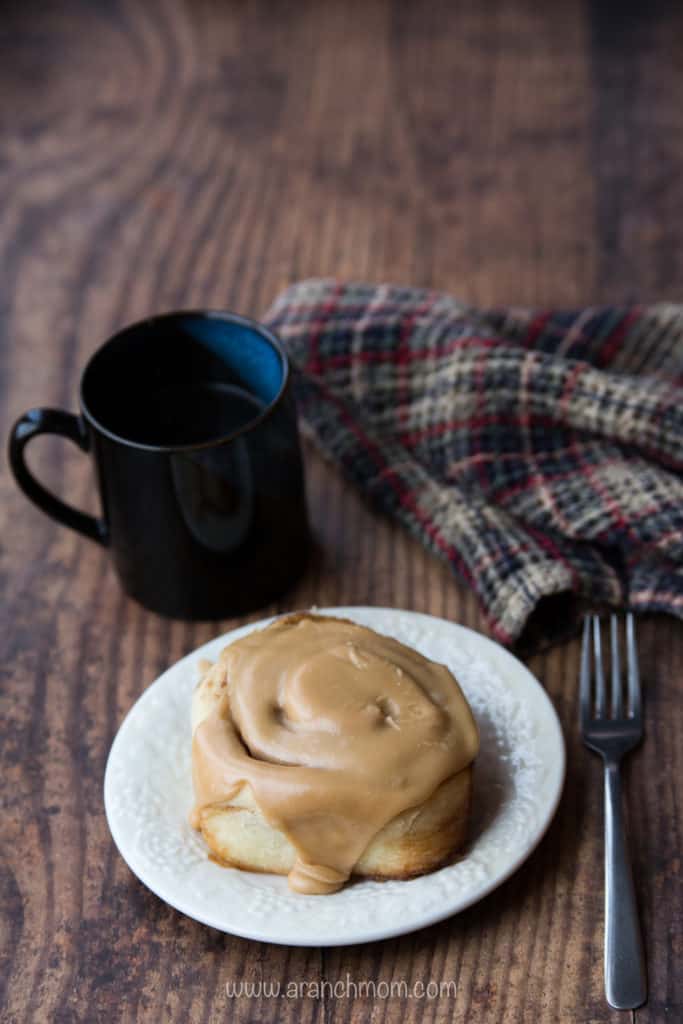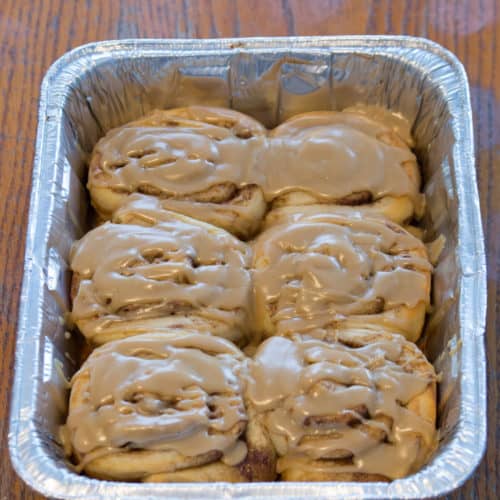 Kay's Cinnamon Rolls
The best, softest cinnamon rolls with caramel frosting. They freeze well, too.
Ingredients
2

cups

milk

1/2

cup

oil

1/2

cup

sugar

2

packets

yeast

or 1 TBL

5 1/2

cups

bread flour

can use all-purpose

1

tsp

salt

Filling:

3/4

cup

butter, softened

1 1/2

cup

brown sugar

2

tbsp

cinnamon

Caramel Frosting:

1/2

cup

butter

1

cup

brown sugar

1/4

cup

milk

2

cups

powdered sugar
Instructions
Put yeast in mixing bowl. Add warm milk and sugar. Let rest 5 minutes.

Add flour, salt, and oil, and mix well. Add up to 1/2 cup extra flour if neccessary.

Mix well with hands, spoon, or KitchenAid. Knead until the dough begins to clean the sides of the bowl.

Place dough into a greased bowl to rise. (I just add a little oil to the mixing bowl and turn the dough over once to coat the sides of the dough.)

Let the dough rise to nearly double in volume (about 30-45 minutes).

Place dough on floured counter and roll out with rolling pin to about 1/2 inch thick, in an oblong shape approximately 12x24 inches.

Spread softened butter evenly over the dough. Spread the brown sugar over the dough with your hands, in an even layer. Sprinkle generously with cinnamon.

Starting at the longest side, roll dough up tightly. Slice into pieces about 1 1/2 inches thick. Place into greased baking pans.

Turn the oven on to 350. Let rolls rise while you preheat the oven. Bake for 20-25 minutes, or until the tops turn golden brown. Do not overbake! The tops should be just barely brown. Cool and frost.

Caramel Frosting: Melt butter in pan over medium heat. Add brown sugar and simmer over medium heat for 2 minutes, stirring constantly. Add milk, and continue stirring until it comes to a boil. Remove from heat and whisk in powdered sugar. Pour over warm cinnamon rolls.
Notes
Using bread flour will really make tases rolls super soft! And they will stay soft much longer. Totally worth the small extra cost to buy bread flour.
Nutrition
Calories:
465
kcal
Carbohydrates:
71
g
Protein:
5
g
Fat:
19
g
Saturated Fat:
8
g
Cholesterol:
33
mg
Sodium:
238
mg
Potassium:
113
mg
Fiber:
1
g
Sugar:
45
g
Vitamin A:
399
IU
Calcium:
70
mg
Iron:
1
mg