Laundry is my favorite part of the homemaking jobs. No, clean laundry doesn't last long, but at least you don't have to do it three times a day plus snacks! Haha! But I too, have been overwhelmed by laundry at times. It gets to everyone – the constant piles, full hampers, washing, drying, folding.
What to do when you are overwhelmed by laundry
Back when the internet was still young, and I had little tots running around, (soiling clothes at a rapid rate!) I read lots of homemaking blogs. I loved seeing other's schedules, finding little tips and tricks, and just gaining some knowledge to help me be the best that I could be. I always looked for their laundry schedules, to see if I could improve in any way.
You might be thinking: "Wow, what's so hard about laundry? Just put it in the washer, then in the dryer!" Well, maybe this post isn't for you. Or, maybe it will give you a new idea how to streamline the process!
But let's get down to business. First thing, get up right now and put load of clothes in your washer. If you are reading an article about laundry overwhelm, then I am fairly certain you have some laundry waiting around. Go start the washer, then come back and dive in!
Just start somewhere
First, if laundry is piling up, scattered, and just lying everywhere, you need to just start. Grab a basket, gather a load of towels, and put them in the washer.
Second, gather all the dirty clothes from every room and pile them near the washer. Just a big ole pile! Just pull out clothes by type as you fill the washer. (towels, shirts, underwear, etc)
Next, gather some hangers for the shirts, and put them near the dryer. Hang up shirts as they finish drying, and you will avoid wrinkles.
Then, set a timer for 45 minutes, and every time it goes off – go check your laundry. As each loads finishes, fold and put it away.
Finally, keep going. If you start this in the morning, you should be caught up by evening. If it's already evening and you are discouraged by the mess lying about, just do one load. That's one load down! Tomorrow do another few loads.
Best laundry methods and tips
There are two common methods of doing laundry: weekly and daily. I think weekly is efficient for one or two people. That's how I managed it before kids. But as our family grew, it turned into two days a week, then a daily load, and now it's 2 loads daily!
The benefits of weekly laundry day: you get it all done and don't think about laundry for a whole week.
The cons: it takes all day to finish laundry, and if you get distracted, you may have piles of clothes lying around for days.
The benefits of daily laundry: you have mostly clean clothes all the time, you can do one load easily while cooking or cleaning up meals, or after dinner when you are watching tv.
The cons: You have a never-ending stream of laundry.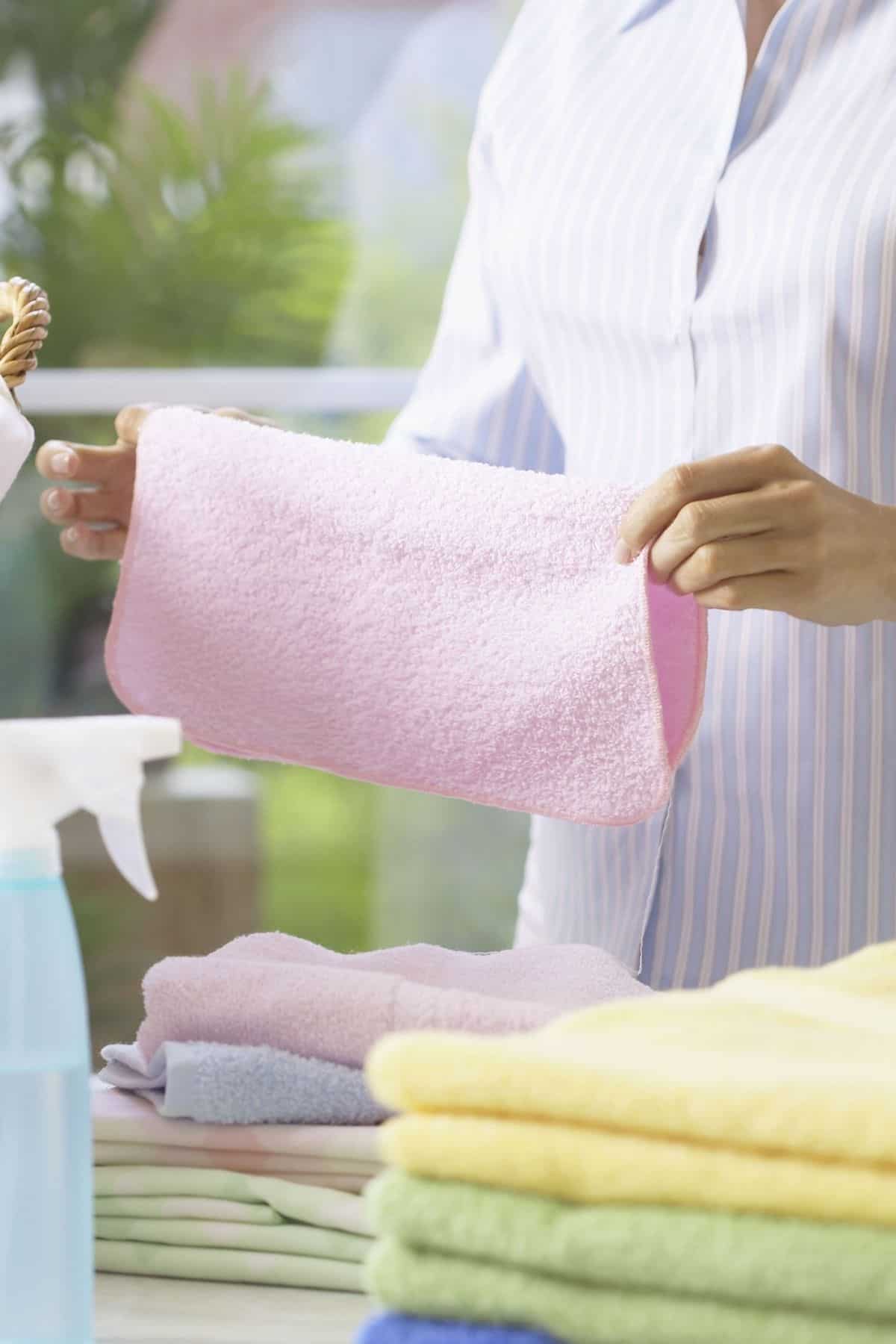 Tips for easy laundry
Sorting by color is so 1990! Fabric manufacturers have heard us, and now most fabric does not bleed colors all over each other in the washer! The only items that have given me trouble was new towels and a few specialty items. But most average clothing in the USA does not bleed dye – it's color safe.
A better way to sort clothes, is by weight. Towels get their own load, jeans are washed together, shirts and dresses washed together. This way, they dry evenly in the dryer. Also, it seems to help my brain, if I know I have a load of just shirts – grab a handful of hangers and hang them up right out of the dryer.
Teach kids to help with laundry
When my son was 6, I was pregnant and sick. I couldn't keep up with all my chores around the house. So, I taught my son to do the laundry. First, I cut tiny triangles of colored tape, and placed them on the washer and dryer – pointing to the settings I wanted him to use.
Next, I sorted the laundry for him, then showed him how to put a load in, add the soap (I used a black marker to draw a line on the soap cup so he knew how much to add), and turn the knobs to the marked settings.
If there was a load that needed special attention, I would do it myself. But most of our laundry can be washed using the same settings. This simple act made life so much easier for me! I highly encourage you to teach your kids to do the laundry. It's a basic life skill that will serve them well.
Tips for laundry overwhelm
Fold while watching tv. An age-old trick, but it does make tedious task go by quickly. I don't do this a lot, (see next tip) but I often plop a basket down in front of my kids when they are watching a show. They don't mind too much.
Fold into drawers – so you only handle dry clothes once! A friend taught me this one, and I haven't always followed it, but as I get older I am doing it more and more. Just take the laundry basket straight to your bedroom and open a drawer and put them away as you fold.
Have the kids help you. How many times I've dumped a basket of dirty clothes into the washer and a piece of clean, folded clothing fell in! Kids are pros at tossing unworn clothing into the laundry basket. If they help with the laundry, they are less likely to toss every piece of clothing that they touch.
High capacity machines – bigger loads equal fewer loads! We recently bought a large-capacity washer and I am surprised how many clothes it holds! It definitely cut down on the number of loads that I do each week.
Re-wear clothing sometimes. Now, I have a sensitive nose and cannot abide sour smelling clothes! But, if you only wore that shirt 2 hours, you can probably squeeze another use out if it. Or if your child changed clothes 30 minutes before bedtime, go aead and lay those clothes aside for the next day.
I hope these tips have given you a few new ideas or maybe just a fresh inspiration for keeping on top of this never-ending task. Feeling overwhelmed by laundry is exhausting, so I hope you have felt a gentle encouragement here.
You might also enjoy these: