Recently I was reading something written about how hard, and yet rewarding babies are… when  I realized something – I have changed. When I had 1 or 2 or maybe even three babies, I thought things were hard that I don't think are hard now. I viewed life differently, I viewed motherhood differently, I certainly viewed child training differently! And it it started me thinking — what changed me? Age? Experience? Losing a child? Maturing? Growing in the wisdom that comes from God?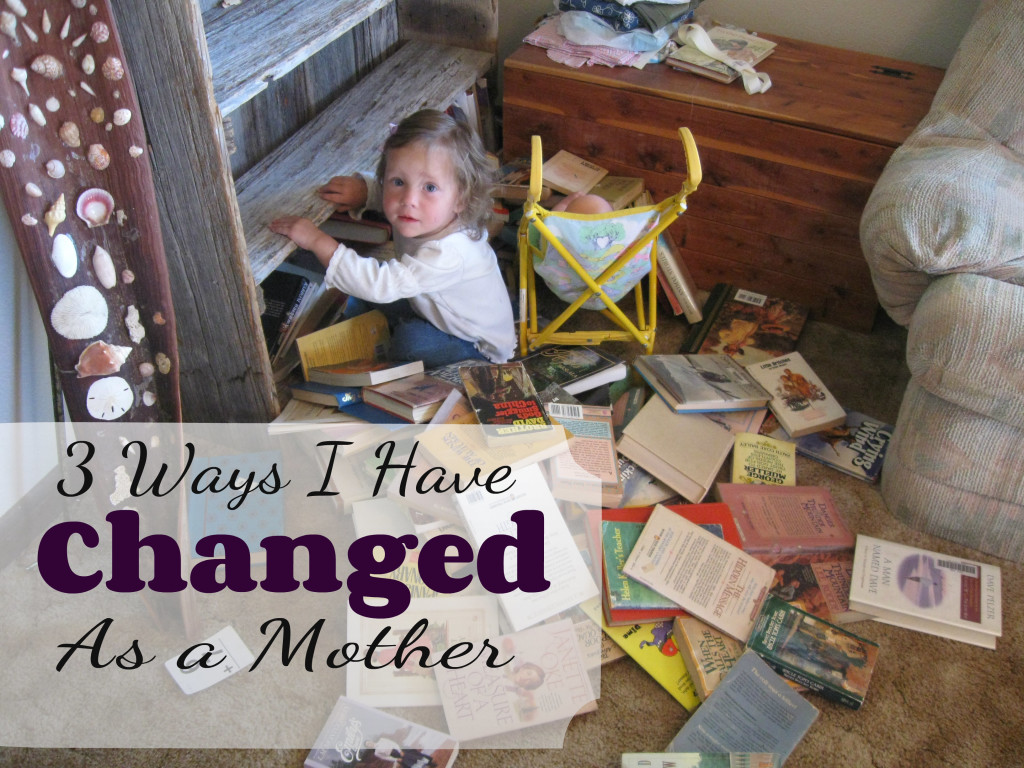 I don't know. Probably a bit of all three. Everyone is shaped by their life experiences, relationships, and the media they consume. I wish I could have started my parenting journey with the view I have now – my kids would have benefited from a more grace-giving mama!
Here is a few ways I have noticed where I have changed:
1. "This child made me change countless diapers." 
Yes, with my first baby I got sick and tired of changing diapers. Maybe once in a while with my second baby too. But after baby # 3? Nope. Doesn't bother me at all. Even the squiggly, squirmy one! And between five babies – trust me, I've had a few of those! 🙂 I Actually kind of enjoy it now. I mean, it's one-on-one time with the baby – which can get neglected in a busy household. I like to talk to them, blow raspberries on their tummies, and kiss their toes. And no – my husband doesn't change many diapers. I don't know if I would let him, these days! 😉 Seriously, mamas – it's not 'wasted time'. It's vital to their care and well-being. And since you will be changing 1,000's of them, best figure out how to enjoy it! 🙂                                               Disclaimer: I still hate changing a stinky diaper on a toddler who isn't my own child. Eesh.
2. "I have to get up ALL night!" 
OK – this one is tough. I admit it. It is hard to get up often – sometimes every hour- with a baby when you haven't had a full night's sleep in 3 months. Or a year. or more! I totally understand. I don't remember minding this much when my first babies were waking at night, but the last two have been harder. ( I was diagnosed with Hypothyroidism, which makes me a lot more tired.)  However, this one is particularly special to me for two reasons:                  a. I had to get up at night for a month to pump, when my baby was in the NICU… Trust me – being able to snuggle a warm baby when you get up is so much better!                                  b. I have lost a baby. (a toddler, really) And I nearly lost another one. 'They' said I would miscarry. 'They' said it was a matter of time before the baby I was carrying would die. 'They' were wrong – God prevailed and the baby lived. After a month in the NICU, she came home to flourish and grow. Do I mind her waking me up at night? No. Sure it is tiring, sure there are some awfully long nights, but no. Not when I consider the alternative. Not when I remember the aching emptiness of my arms after my son died.
3. "Babies make such a mess!"
 …when they eat, when they play, when they bath, etc, etc. Everything they do makes a mess. I know. this one was probably one of the hardest for me when I was a new mom. I had dreams, people! I had dreams of a tidy little house with a vine-covered porch. It would have a neat writing desk inside and fresh flowers on the table. Lemonade or sweet tea would always be fresh and cold. I wasn't expecting the whirlwind of spit-up baby clothes, (not to mention my clothes!) baby bottles, smeared food, splashed water, and toy-strewn floor! The porch never materialized, the lemonade was spilled, the writing desk had dried-milk spots on it, amid burp cloths and pacifiers. I mourned for a bit, then soon learned to see the beauty in the mess. The baby mess, that is. I still am learning to control my own clutter! Cleaning up a messy highchair is actually kinda fun now. (wow! I can't believe I said that! I've come a long ways…) Wiping up bath water is just fine. Toys are no sweat.
(Now if you could teach me to clean up my own messes… 😉 )
Dear fellow mamas, this time will pass. They will grow up. A year or two of baby messes and sleepless nights will seem small pretty soon. Keep on going. Keep your smile, your sense of humor, your faith in God. Have patience. Practice kindness. It will do your heart good. It will do your kids' hearts good! Remember that there is an end – and  someday you might just be willing to wipe up a small flood on the bathroom floor – just  for the indescribable joy of hearing those baby shrieks of glee. 🙂
Tell me, how has your parenting changed the way you view things? Do you still hate to change diapers? 🙂 What has led to your change of perspective?
I'm linking this post over at: http://www.themodestmomblog.com/ and http://www.beautythroughimperfection.com/2014/01/04/pin-it-party-30/