Here are 5 qualities that I think are essential to being a good mom. As a Christian mom, I know that I can't just do whatever feels right, feels good, or what is most convenient. I must be true to Jesus Christ first of all, and follow God's Word.
I have been a mom for nearly 20 years. I am raising 5 kids of my own, and I have cared for several other kids via foster care. And here are what I consider the top 5 qualities of a good mom.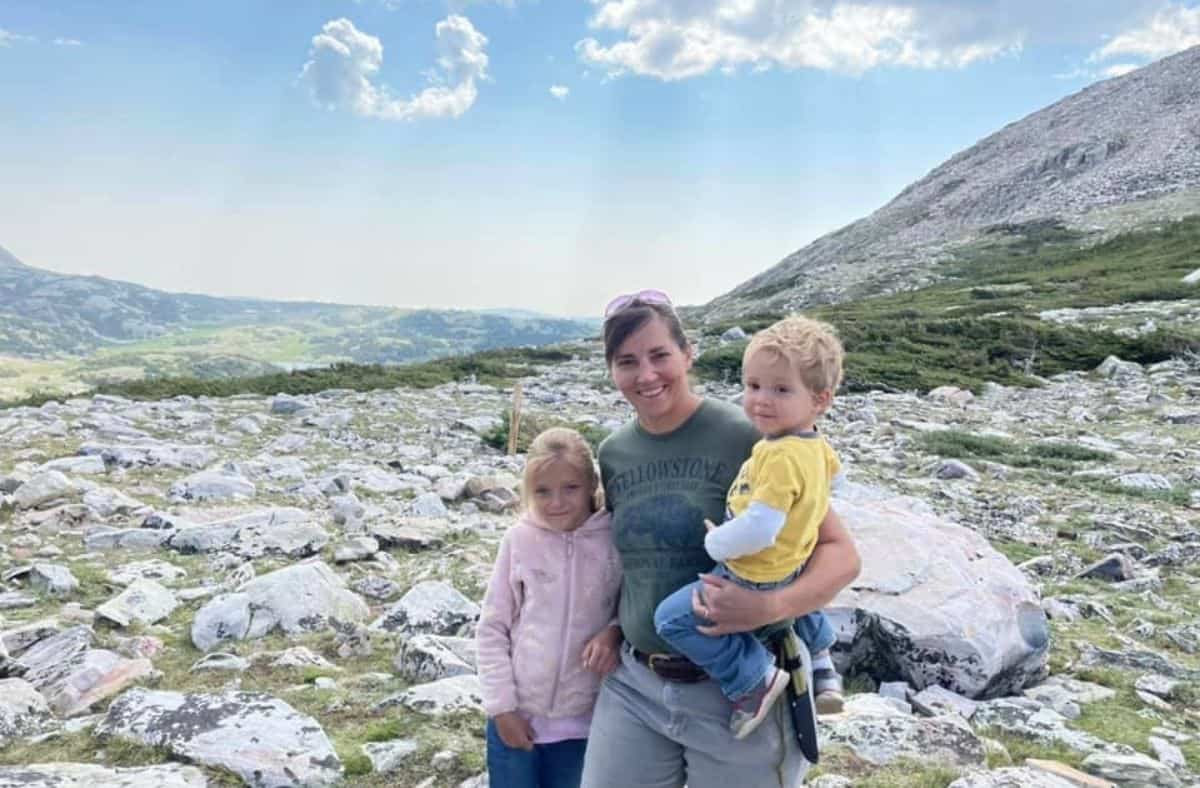 Qualities of a good mom
Patience
A good mom is patient. She takes time to listen to her child as they tell another long-winded story, she takes time to build block towers for the baby to knock over, she shows her child how to do a job well – even though it takes 5 times, she teaches her child the skills that will serve them well their entire life, she stays up past her bedtime to listen and chat with her teen.
With all humility and gentleness, with patience, bearing with one another in love. Ephesians 4:2
Patience can be learned! And the only way to learn, is to practice. Stop what you are doing, listen, look them in the eye, smile, and ignore the housework for a minute. Or, maybe get down on the floor with your toddler and play.
Patience is necessary when your child drops a glass cup and it shatters – just when you are ready to walk out the door! Do you yell, or maybe just sigh heavily? Or do you reassure them that it was just a cup, and go get the broom?
I remember breaking one of my mom's favorite dishes when I was 9 years old. She just helped me clean it up, and never said a word, but I knew it was a favorite so I felt bad. Point is, you don't have to remind your child of every mistake they make. Many times they already know.
Perhaps your older child has a bad habit that they can't seem to break. You can remind them daily, or you can shame them, or better — you can give gentle suggestions, pray for them, and love them. Remember that you have a few bad habits too!
We especially need patience when our child is learning a new skill. Whether it is sports, music, school subject, household skills, or a new job. They get frustrated. As mature adults, we should not join them in frustration, but be a source of strength for them to lean on. We can share tips, gentle advice, words of hope and encouragement. Of course we will feel frustrated also, but we should not let that show. We can empathize, but our goal should never be to show them we are the same. They need someone to guide them, understand them, and have patience with them.
Preach the word; be ready in season and out of season; reprove, rebuke, and exhort, with complete patience and teaching. 2 Timothy 4:2
There's always a moment of decision when your child does something or asks something, when you can choose what your response will be. Will you choose patience or will you choose frustration? When you first start this journey, you will fail. The key here, is when you realize you failed, immediately go back and apologize, and start over. That will help you choose better next time.
Being strengthened with all power, according to his glorious might, for all endurance and patience with joy. Colossians 1:11
Faith
Moms need faith to continue the hard work of caring for their children. Faith that God will honor their love, prayers, care, and efforts. Faith that their children will develop a sincere love for Jesus, and follow Him all of their lives.
His master said to him, 'Well done, good and faithful servant. You have been faithful over a little; I will set you over much. Enter into the joy of your master.' Matthew 25:23
Moms need faith for the hard days. Faith that God is with them in the trials, that God has a purpose in His dealings with us, that He will never leave us or forsake us. That we can be content with the things we have, knowing He provides all things necessary.
But if God so clothes the grass of the field, which today is alive and tomorrow is thrown into the oven, will he not much more clothe you, O you of little faith? Matthew 6:30
Moms need faith in the long days of little ones – faith that God's design for women is perfect. Faith that moms were created to bear children and that design is holy and perfect. (even though sin has messed up this world, and some women cannot bear children.)
Moms need faith to believe their prayers are heard, that their family needs them, that they are able to do everything necessary by the power of God. (not everything we want to do, but everything necessary)
We need faith to say NO to things that are not part of our ministry, and to know that God will take care of that situation without us.
And Jesus answered them, "Truly, I say to you, if you have faith and do not doubt, you will not only do what has been done to the fig tree, but even if you say to this mountain, 'Be taken up and thrown into the sea,' it will happen. Matthew 21:21
Love
Moms need love. We need genuine love in our hearts for our children. Sometimes we don't feel very loving, but that is when our love is the most needed!
Children need someone who is invested in their life, someone who is there for them and loves them even when they mess up.
Love bears all things, believes all things, hopes all things, endures all things. 1 Corinthians 13:7
Moms need enduring love that is willing to sacrifice for someone else. Babies and young children need a mother's sacrificial love that will get up 5x a night to feed and change a baby. Love that shares her chocolate with her children during a rough day. Love that helps a teen figure out how to be an adult. Love that gives and gives and gives.
Greater love has no one than this, that someone lay down his life for his friends. John 15:13
Moms need love for the days that are long, the hours that wear on you, the minutes when you'd rather be anywhere else. Love that is patient to clean up messes, kind to sick children, selfless at all times.
Love is patient and kind 1 Corinthians 13:4
Diligence
Diligence is an important quality in a Christian mom! There are temptations to laziness everywhere, especially the time suck of phones and shopping. But we who are Christ's do not have the luxury of laziness in our lives.
Time with our children is slipping away like sand through an hourglass, and we can't afford to waste a minute!
Our children will likely only live with us for 18-20 years, so we have to make it count. We need to be diligent with our housework, to set an example and instill good habits.
We need to be diligent with our Bible studies and training, because ether world is just waiting to throw its garbage at them. We need to be diligent with teaching them about God, church, family, and friendships.
He who exhorts, in his exhortation; he who gives, with liberality; he who leads, with diligence; he who shows mercy, with cheerfulness. Romans 12:8
How many times have you heard about a lazy mom who instilled some great wisdom or quality into her child? Never! We hear about the diligent, hard-working, Christ-serving mothers.
We need to break the phone habit, turn off the tv during the day, get enough sleep so we can get up in the morning, eat good food and get some exercise.
If we truly believe our job (motherhood) is important, then let's act like it! Dress appropriately, show up, lean into the work.
Be devoted to one another in brotherly love; give preference to one another in honor; not lagging behind in diligence, fervent in spirit, serving the Lord; rejoicing in hope, persevering in tribulation, devoted to prayer, Romans 12:10-12
Diligence in prayer is so needed! Who actually prays every day, beyond a quick plea for help? Diligence. I sure need diligence.
Diligence in worshiping the Lord with others. It is far too easy to stay home and skip church – again. Put in the work of getting everyone ready and out the door to church.
Humility
Ah, what a wonderful grace is humility! As mothers, we need humble and gentle hearts that serve others first and ourselves last.
Are we too important to stay home with our babies and change their diapers? Must we hire an impartial keeper for our little ones, so we can leave our mark in this dying world? I pray not!
Humility is how we acquire God's help! Lay down the pride that is standing between yourself and Him. Take up the cloak of humility and with it, find all your needs met in Christ.
Yea, all of you gird yourselves with humility, to serve one another: for God resisteth the proud, but giveth grace to the humble. 1 Peter 5:5

Do nothing from selfishness or empty conceit, but with humility of mind regard one another as more important than yourselves; phillipians 2:3
"Do nothing from selfishness…" What a plain, easy to understand concept, yet so hard to abide by. So many areas in my life where selfishness wants a foothold.
Selfish about my sleep. Selfish about appearance. Selfish about me time. Selfish about foods. Selfish about clothes. Selfish about money. I am selfish and rotten to the core!
But Jesus… He came to model the unselfish, humble way of life. He wasn't too important for us mere humans, yet we so often act like we are too important for other humans – especially small humans!
with all humility and gentleness, with patience, showing tolerance for one another in love, Ephesians 4:2
Kindness
Oh, how often harsh words have flown out of my mouth is times of stress, and how bitterly I regret them!
Harsh words and scalding rebukes have never won the heart of a child. It doesn't win the heart of an adult, for that matter. Kindness gets you further any day than screaming and yelling. We need to be firm, that's a fact. But there is a difference between firmness and harshness.
She openeth her mouth with wisdom; And the law of kindness is on her tongue. Proverbs 31:46
Our children need a mother who is kind when they mess up. Kind when they make mistakes. Kind when they are sad. Kind when they have nightmares. Kind when they are sick. Kind when they are just having a bad day.
When we are talking to other moms, one thing we shouldn't do is recount the child's failings. How would we like if our spouse told everyone our failings? Be kind and manage those things at home. If we feel like we need encouragement or wisdom or help, we should be careful to speak of it in private, not in public where we humiliate our child.
Kindness costs nothing except our self-control.
That which maketh a man to be desired is his kindness; And a poor man is better than a liar. Proverbs 19:22
You may also enjoy these:
How To Be A Happy Stay At Home Mom
Easy way to build a Connection with your child.
Why the World Needs More Stay At Home Moms
I hope this list of Christian qualities for a good mom is inspiring and helpful. Of course, there are many more qualities of good moms! But these are some of the top priority.
You might also enjoy these: