This banana cream pie is made with a mouthwatering homemade pudding, layered over sliced bananas and topped with whipped cream.
I would be happy to just eat the pudding straight from the dish, and skip the bananas altogether. But my kids love banana pie, so I put it in a pie. It doesn't last long around here, let me tell you!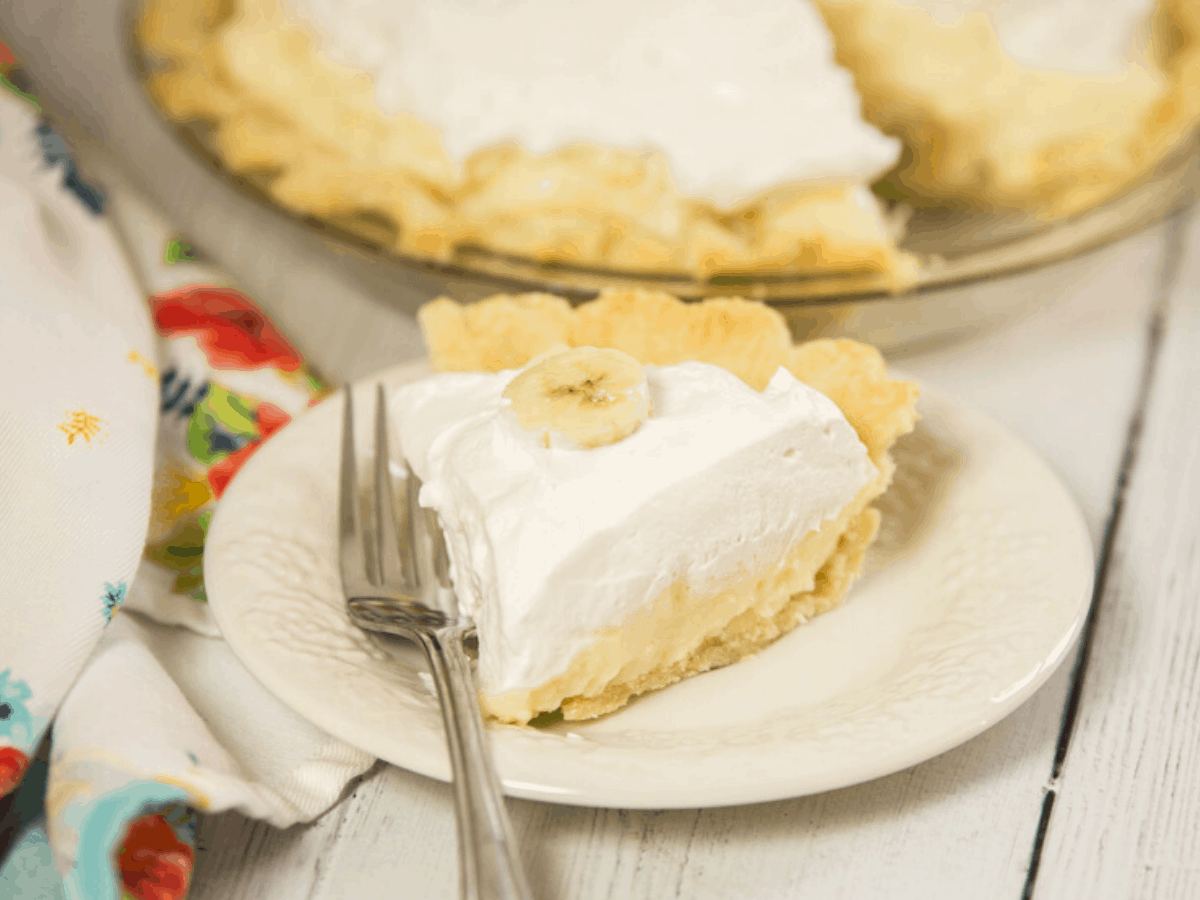 Prepare to cook
The pudding seems complicated, but it's really not that difficult. Just read the instructions a couple times, and have all your ingredients and tools ready before you start.
I recommend reading the instructions all the way through. But don't be intimidated – pudding is really not hard, once you do it a time or two, you will wonder why you ever bought the boxed mix!  (I do still buy the boxed stuff for quick desserts)
I use my Pie Crust Recipe, but you can use a store-boughten crust if you prefer.
Make the pudding
Crack the egg into a small bowl, add 1/2 cup milk, and beat it well. Set aside.
Add the remaining milk, cornstarch, sugar, and salt into a medium pan, and heat over med-high heat. Stir constantly while you heat it. It will be very runny at first, but when it heats to almost a boil, it will get thick very quickly. If you aren't stirring constantly, it will get lumpy or burn.
As soon as it gets thick and starts to boil, stir in the egg mixture. Whisk the milk mixture very quickly while you pour in the egg mixture, so it doesn't get lumpy.
Stir and cook for one minute.
Remove from heat and add the butter and vanilla. Stir it till the butter melts.
At this point, the pudding will smell so good you won't be able to resist licking the spoon. That's perfectly acceptable – just don't burn your tongue! 😉
Assemble the pie
Cover the pudding with plastic wrap or just put the lid on the pan, so the pudding cools without a skin forming. Let cool to room temperature.
Slice two ripe bananas. Save several slices for a garnish. Lay the rest in the bottom of the prepared pie crust.
Spread whipped cream over top of the pudding. Sometimes, I use whipped topping to save time. It's really about your preference.
How to store leftover banana cream pie
For leftovers, I just wrap the pie in plastic wrap and place in the refrigerator. It will be ok for a day or two. But by the second day, the crust will be getting soggy.
However, you probably won't have this problem of leftovers, since the pie is so delicious, it will be gone on Day one! 😀
If you enjoy this recipe, please save it on Pinterest or share on Facebook!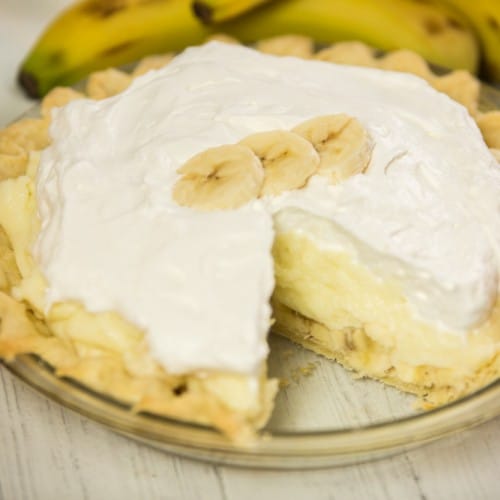 Banana Cream Pie
Mouthwatering homemade pudding, layered over sweet bananas in this classic banana cream pie.
Ingredients
1

prepared pie crust

2

cups

milk

3/4

cup

sugar

3

Tablespoons

cornstarch

1/4

teaspoon

salt

1

egg

1

Tablespoon

butter

1

teaspoon

vanilla

2

sliced bananas

2

cups

whipped cream
Instructions
Beat egg and 1/2 cup milk together in a small bowl. Set aside.

Combine sugar, cornstarch, salt, and remaining milk. Bring to a boil over med-high heat. Cook till thick, stirring constantly.

Add egg mixture, whisking pudding quickly. Cook 1 minute.

Remove from heat and add butter and vanilla. Stir well. Let cool completely.

Place bananas in the prepared crust, spoon pudding over the bananas. Top with whipped cream. Garnish with several banana slices.
Nutrition