Blackberry Delight is easily in my top ten favorite desserts! Creamy cheesecake filling, buttery shortbread crust, topped with a sweet berry sauce. Call it a delight, cobbler, or cheesecake, it is just luscious and a perfect taste of summer!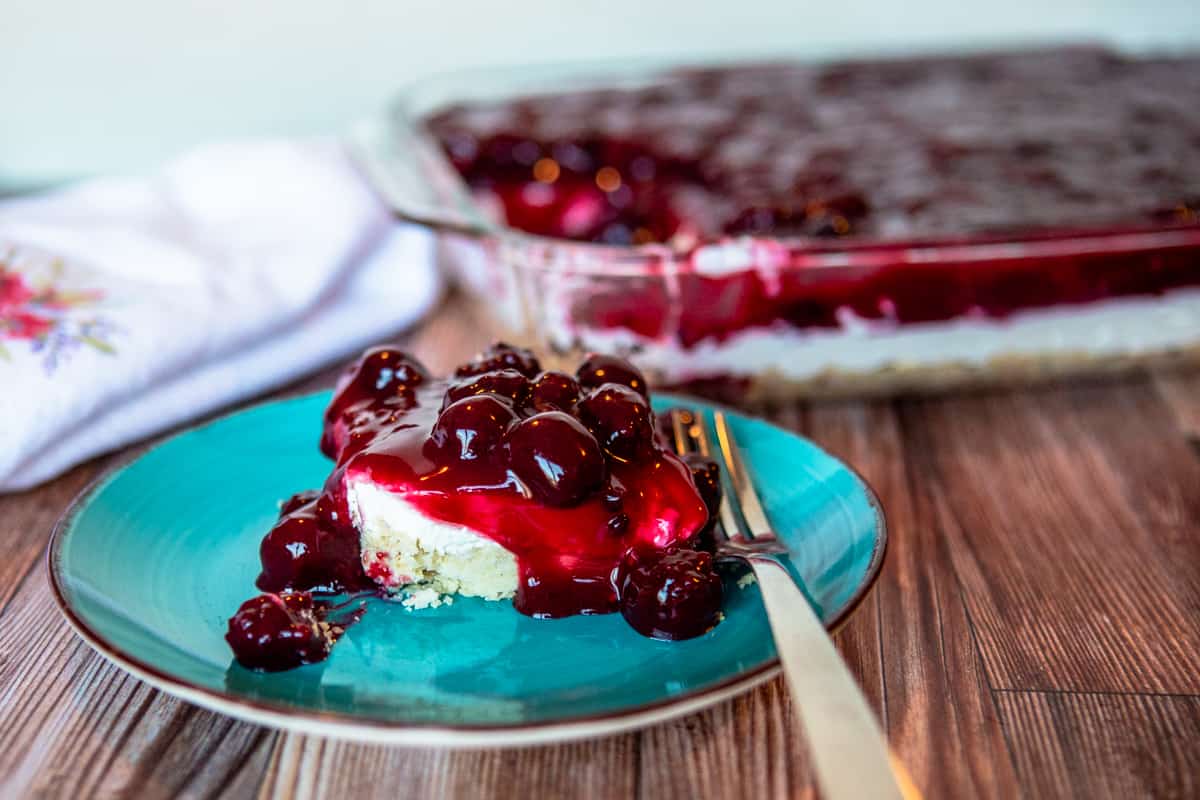 How to Make Blackberry Delight
Berry delight is such a great dessert to take to summer BBQ's, Holiday meals, or just feeding a large family. This recipe makes a 9×13 pan brimful, so it feeds a lot of people! You can cut it into 20 pieces, or just put a spoon in the pan, for each person to spoon out what they want.
How to make the shortbread crust
First, use a pastry blender to mix the butter into the flour and baking powder. I like to use butter that is just slightly colder than room-temperature. I rarely remember to take the butter out of the fridge to let it soften, so I pop it into the microwave for 15 seconds. The key to softening butter in the microwave is to stop the microwave after 15 seconds, then allow it to rest for 30 seconds without opening the door. That allows the heat waves (for lack of a better term!) to redistribute and settle.
After the butter is mixed in, add the nuts and stir. Pour into a glass 9×13 pan and pat down with your hands, The crust may seem too dry, but it will bake out very nicely.
Bake the shortbread crust at 350 for 20-25 minutes, or until the edges turn a golden brown. Do not overtake! Over-baking will cause it to become tough.
How to make Blackberry topping
While the crust is baking, begin to make the blackberry sauce. Place frozen blackberries into a large pan, add water, sugar, lemon juice, and butter. Bring to a boil over medium-high heat. Allow the berries to simmer for several minutes. Note: If you are using wild blackberries, you may need to add more sugar. This recipe was developed using domestic or tame blackberries. Just wait till everything is melted and dissolved, then take a spoonful of sauce and taste it. Add sugar to taste.
Now, get a 1/3 cup of cold water (doesn't have to be exact) and stir the Clear-Jell into the cold water with a spoon. If you are using cornstarch, the process is the same. Stir until all lumps are dissolved. Do not use warm water!!
While the blackberry sauce is bubbling, pour the Clear Jell mixture into the berry sauce in a thin stream. Stir the berries with a large spoon as you pour. The blackberry sauce will quickly begin to thicken up, and it will plop and spatter as it boils. Be very careful to avoid burns! You can wear oven mitts if you are especially sensitive to hot spatters.
Stir until the Clear Jell is completely mixed in, and the sauce is boiling. If you are using cornstarch, boil it for several minutes to thicken it. Remove from heat and cover with a lid or foil to prevent a 'skin' from forming on top.
How to make cheesecake filling
I like to allow the crust and the filling to come to room temperature before making the cheesecake filling. It takes a couple of hours for the blackberry sauce to cool down, so I typically begin this recipe in the morning, then finish it after lunch. I place the cream cheese on the counter when I am finished with the berry topping, so it can soften while the berries cool down. This works out about right! Don't worry, leaving the cream cheese on the counter will not go bad in a couple of hours. You can also soften it in the microwave just like butter. 15 seconds, rest 30 seconds, check and repeat.
Now you have room temperature crust, berry topping, and cream cheese. Now it is time to make the cheesecake filling and put it all together!
First, place cream cheese into a bowl and beat well with an electric mixer. Add powdered sugar and beat again, until creamy and soft.
Next, add Cool Whip and mix on low speed until completely mixed in. This shouldn't take too long – you don't want to beat all the air out if the Cool Whip.
Spread the cheesecake filling onto the crust, smoothing as evenly as possible. Pour the blackberry topping over top, being careful as it will be full! If the berry sauce doesn't all fit, you can save a cup or two to use as topping for ice cream, yogurt, pancakes, or waffles.
Cover the blackberry delight and place in the fridge to chill at least two hours before serving. I like to chill it overnight. This berry delight is simply decadent and everyone will love it! Be sure to check out my other very popular and simple Cherry Delight Recipe! This blackberry topping recipe is basically the same as what I use for blackberry pie! This recipe makes two pies.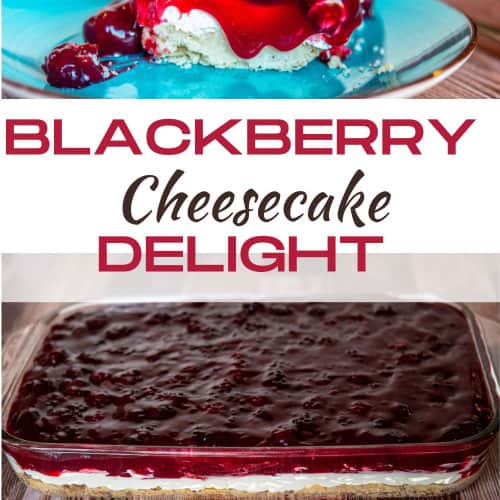 Blackberry Delight Recipe
Blackberry Delight is a luscious, summery, cheesecake type of dessert, perfect for BBQ's or potlucks. This recipe fills a 9x13 clear to the top, so it feeds a lot of people!
Ingredients
Blackberry Topping
2

lb

blackberries

frozen

2

cups

water

⅔

cup

sugar

4

Tablespoons

butter

1

lemon

juiced

⅓

cup

water

5

Tablespoons

Clear Jell

or 8 T. cornstarch
Cheesecake Filling
16

oz

cream cheese

softened

12

oz

Cool Whip

¼

cup

powdered sugar
Shortbread Crust
1

cup

butter

softened

2

cups

flour

1

teaspoon

baking powder

1

cup

walnuts

chopped
Instructions
Make the berry topping
Place frozen blackberries into a large saucepan. Add water, sugar, lemon juice, and butter. Bring to a boil and simmer for 3-5 minutes.

Mix Clear Jell (or cornstarch) with ⅓ cup cold water. Stir till dissolved, then add to blackberries slowly, stirring the blackberries constantly. When blackberry sauce comes to a boil again, and is thickened, remove from heat and cover with a lid. *If using cornstarch, boil it for 2-3 minutes or till thick.
Make the shortbread crust
Place flour, butter, and baking powder into a bowl. Cut butter into flour with a pastry blender till the butter is in pea-sized lumps.Stir in walnuts and pat into a 9x13 glass baking pan. Bake crust for 20-25 minutes, or until the edges are barely starting to brown.
Make the cheesecake filling
Place softened cream cheese and powdered sugar into a large mixing bowl. Use an electric mixer to beat till soft. Add the Cool Whip and mix on low just till blended.
Putting the blackberry dessert together
When fruit topping and crust is cooled, spread the cream cheese mixture over the crust. Pour the blackberry topping on top, cover and chill several hours or overnight.
Notes
I like Clear Jell because it doesn't have an aftertaste that cornstarch can have. But cornstarch works just fine. 
You can substitute pecans for walnuts if desired. 
This recipe works for raspberries too! Black or red. 
I haven't tested this exact recipe with fresh berries. You may need to adjust the water or clear jell ratio. 
Wild blackberries will need more sugar.
Nutrition
Serving:
1
piece
Calories:
350
kcal
Carbohydrates:
31
g
Protein:
5
g
Fat:
24
g
Saturated Fat:
13
g
Polyunsaturated Fat:
4
g
Monounsaturated Fat:
6
g
Trans Fat:
0.5
g
Cholesterol:
56
mg
Sodium:
198
mg
Potassium:
172
mg
Fiber:
3
g
Sugar:
14
g
Vitamin A:
787
IU
Vitamin C:
12
mg
Calcium:
79
mg
Iron:
1
mg