When you are cooking for the ranch crew, it is most important that you think ahead to how you will be serving. Will you be serving in the field or at the house? And what time will they be coming in to eat? In my experience, they don't usually know exactly when they will be in, so you need to make sure it's ready at noon, but be able to hold it warm till 2 pm or even later if necessary! 🙂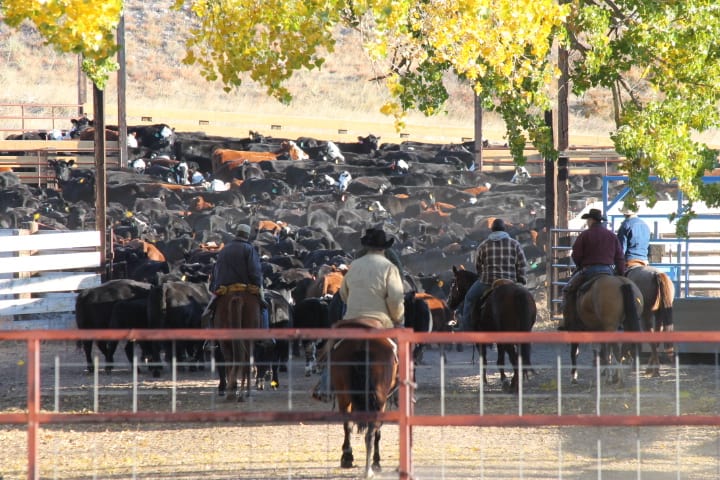 Think about how much oven space you will need, and how much time stuff will take to cook. You don't want to have 3 pans of dinner rolls and a pan of baked beans and a dessert, all needing to go into the oven at the same time! 🙂 So think about what can be baked earlier in the morning.
I like to bake my dessert first, and then my rolls, and then stick in the beans, corn, or whatever other hot dish I may have. Pies, cobblers, and breads can be served cool. They will still be delicious, since they are fresh. But you don't want lukewarm beans!
If I am doing a roast, I like to stick it in the crockpot or oven the night before. Then it will be super-tender by lunch.  If I am doing a smoked brisket, I will put it in the oven (or electric roaster) in the morning, and let it heat slowly. Those come pre-cooked. 
So my cooking day looks something like this:
1. Mix up dinner rolls.
2. While the rolls are rising, I make my pies. When the pies are ready for the oven, so are the rolls. I stick the rolls in the oven. After the rolls come out, I bake the pies. NOTE: I really try to bake my pies the day before, because that makes cooking day so much easier! But sometimes life happens, and I don't get it done till the day of.
3. I make my salad. If I am also having a jello salad, I like to make that a day ahead, too. But sometimes it doesn't happen till day of, either! 😉
4. Next, I make my potatoes, and start my veggies. By now it will be getting close to noon. I start checking off things, mentally. Bread? Dessert? Salad? Veggie? Potatoes? Meat? I may put some butter out to soften, for the bread, and get a fresh jar of jam out. Fill the salt&pepper shakers… just make sure things are there.
5. By noon, or shortly thereafter, you should have all your food ready. If everything is done, just turn the oven as low as you can, and set stuff in there to keep warm. They may be late, but if it's all ready, then you can relax. It's better to keep stuff warm for awhile, than to be unprepared! 🙂 Once they showed up at 11:30, and that was a bit nerve-wracking, as I wasn't ready. (Of course, they expect to wait if they are early, but I still don't like it.)
I am thankful to have several kids I can call on to make a last minute sweep of toys, shoes, and other junk that needs put away. Put a large towel and plenty of soap by the bathroom sink. It's the little things, you know?
Set the table, (make sure you have large glasses for water!) put out the jam, butter, napkins, toothpicks. Get a jug of ice-water ready to pour. You want to be as ready as you can get before they come in. Well, OK, that's kinda my thing. I hate waiting on a meal, so I try to not make others wait! 😉
Here is the menu I used in Part 1:
(some are linked to recipes)
Beef Roast
Mashed Potatoes
Gravy
Green Beans (Drizzle with a bit of browned butter for a tasty flavor!)
Broccoli Salad
Jello Salad
Dinner Rolls
Homemade Pies
with ice cream.