Deer neck roast is surprisingly tasty and tender when cooked in a crockpot. Sprinkled with herbs, dotted with butter, cooked low and slow… this recipe is a wonderful way to use up a deer neck. There is a lot of meat on a neck – don't just let it go to waste! It make a good meal for a family, or you can freeze it in smaller portions for later.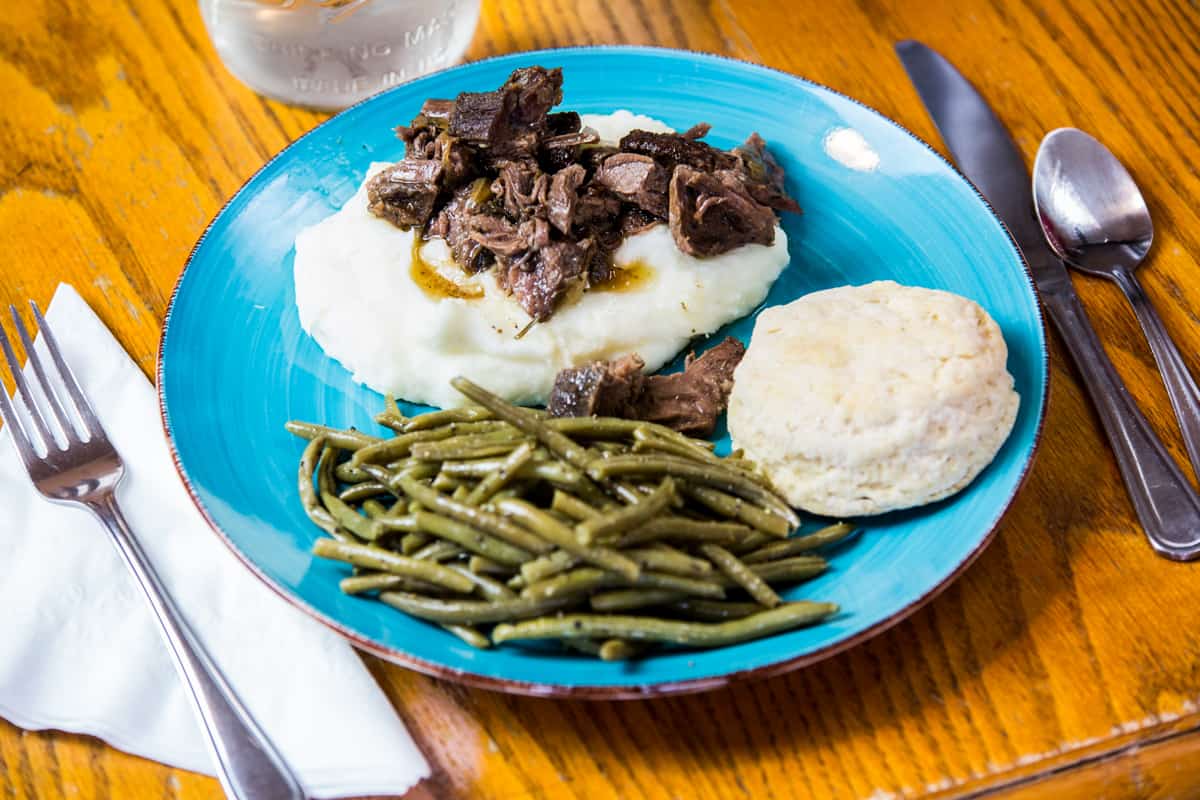 How to Make Deer Neck Roast
First, let the venison marinate overnight, or at least several hours. This gives it such a good flavor. I mixed up a simple marinade and let it rest overnight in the refrigerator.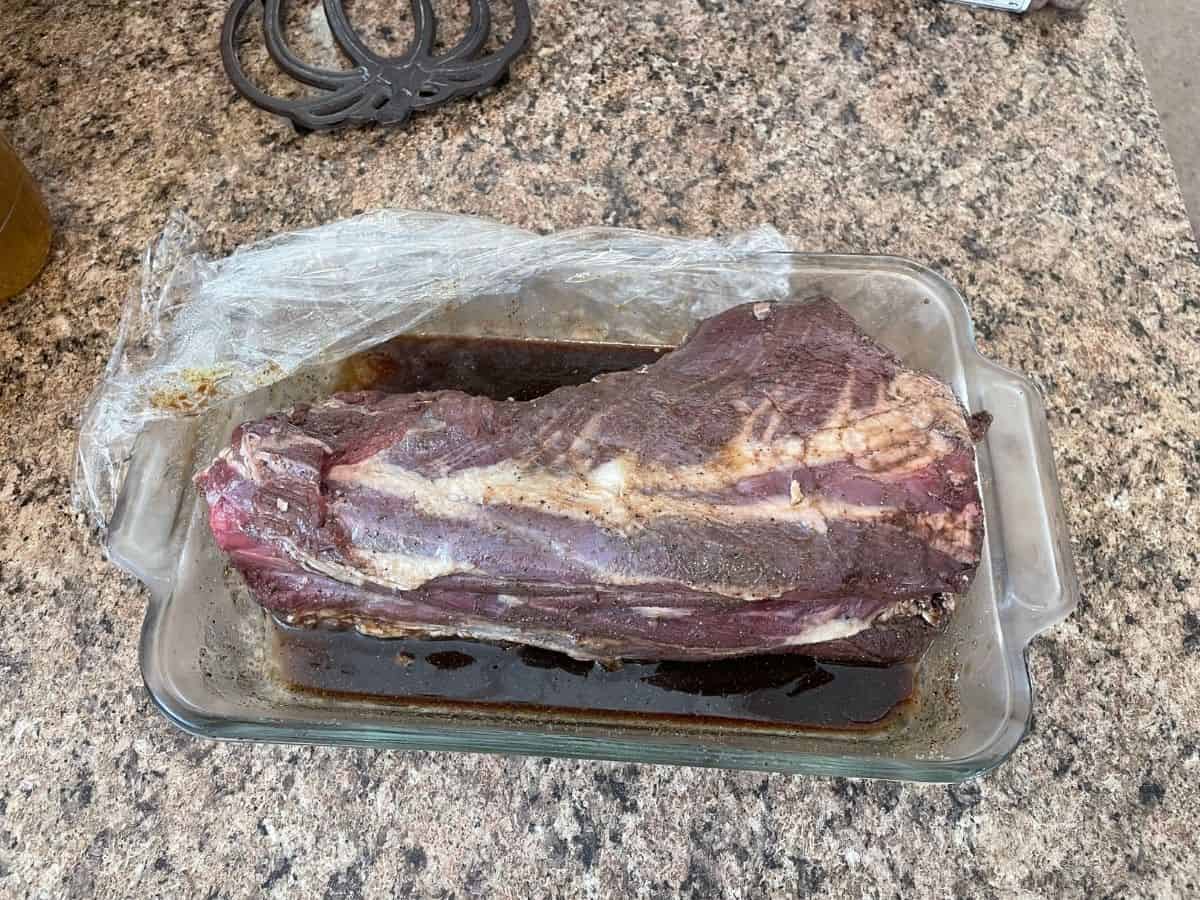 Next, heat a skillet to high, add oil and sear both sides till well browned. Slice an onion and place in the bottom of a crockpot.
Place the deer neck roast on top of the onions. If your roast is too long, you may have to cut it in half. Alternately, you can roast it in the oven instead of the crockpot.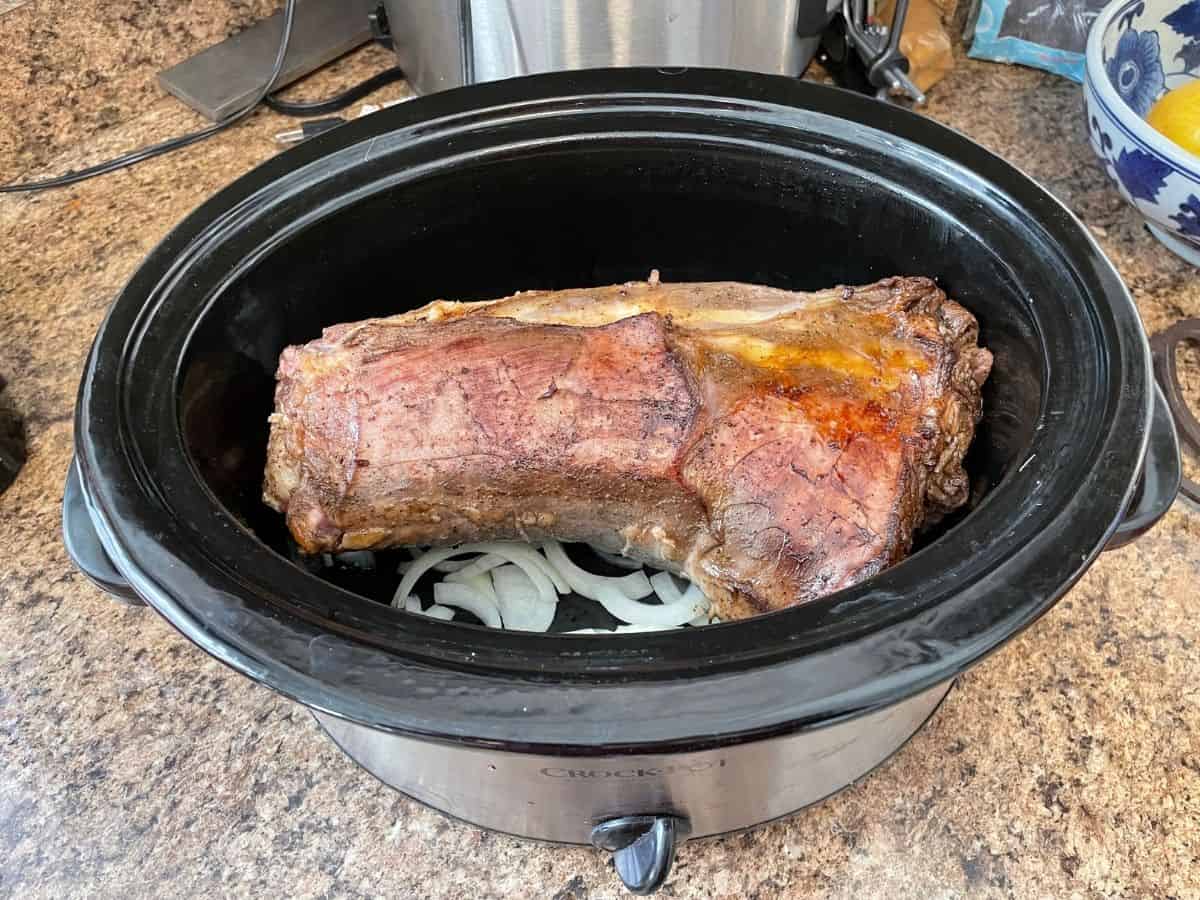 Sprinkle seasonings on the meat, carefully place garlic and butter over top, then pour liquids around the sides. Cover and cook on high for 8 hours.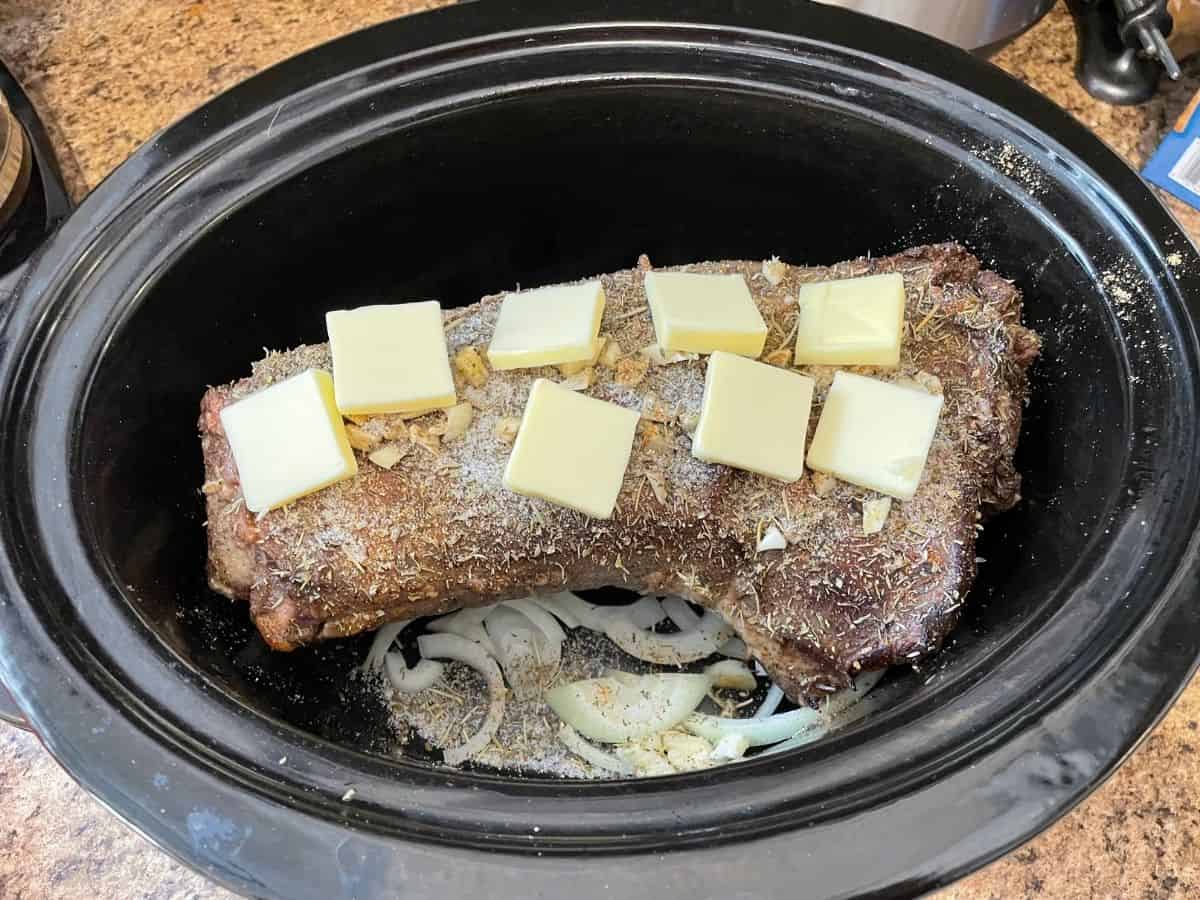 After 8 hours, the meat should pull off easily with a fork. Carefully lift the venison neck roast out of the slow cooker and place on a cutting board or baking sheet. Cut across the grain several times, then pull meat off with a fork.
What to serve with deer neck roast
Place all meat back into the juices in the crockpot, and stir. Serve over hot noodles or mashed potatoes. You could pile it on rolls for a French dip, or tuck into tacos.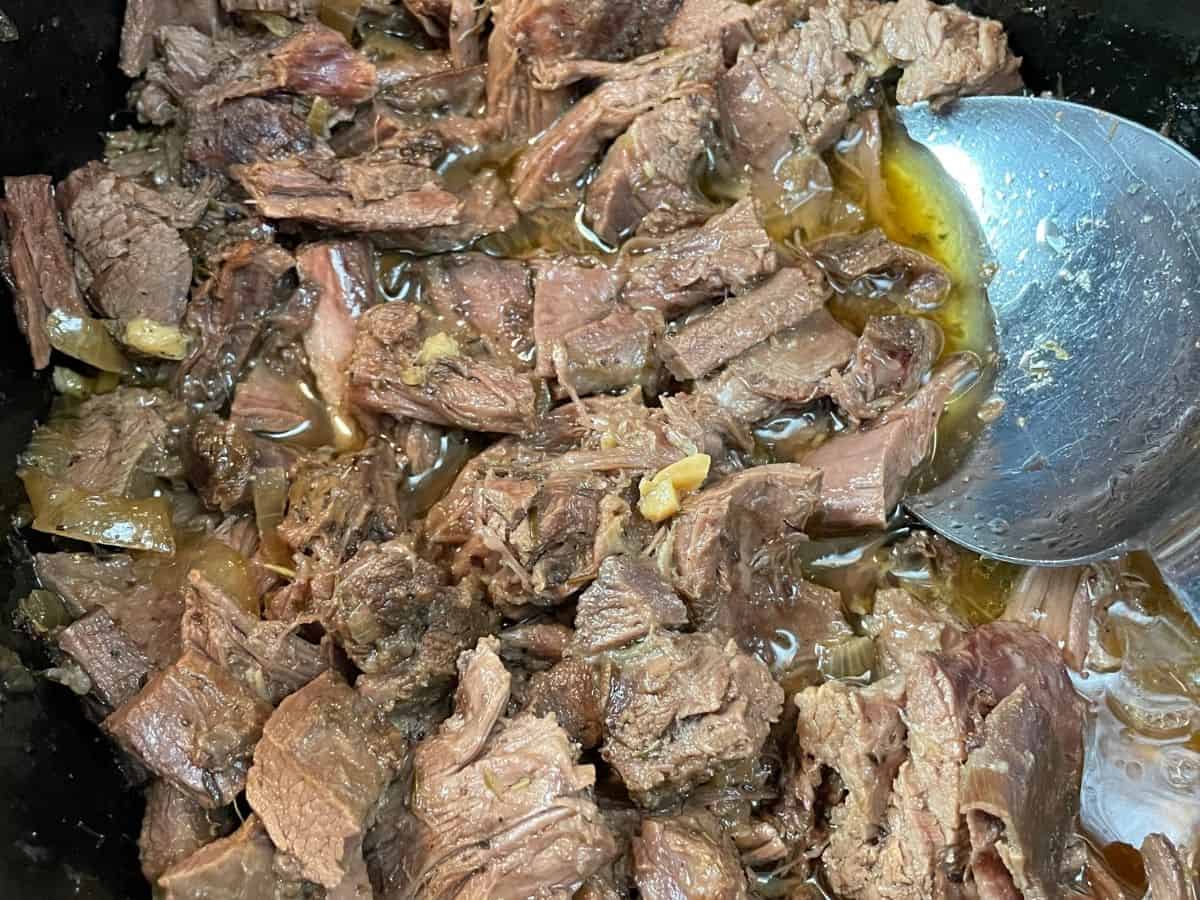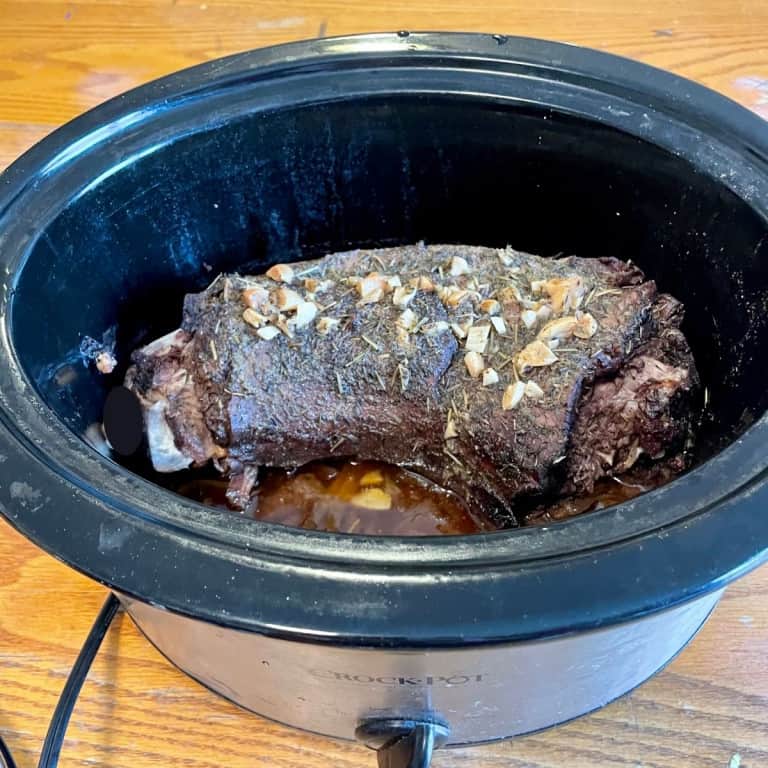 Deer Neck Roast
Tender and delicious deer neck roast in the slow cooker. Herbs, garlic, and butter make a rich, flavorful meat.
Ingredients
For the Marinade
1

cup

water

¼

cup

olive oil

¼

cup

worchestershire sauce

¼

cup

balsamic vinegar
For the Roast
1

deer neck roast

2

Tablespoons

olive oil

4

Tablespoons

butter

1

onion

sliced

6

cloves

garlic

diced

1

cup

beef broth

or chicken broth

¼

cup

balsamic vinegar

¼

cup

soy sauce

1

teaspoon

salt

1

teaspoon

thyme

½

teaspoon

oregano

½

teaspoon

pepper

¼

teaspoon

cayenne

¼

teaspoon

rosemary
Instructions
Mix marinade ingredients together in large pan and place meat into the marinade, turning to coat both sides. Cover with plastic wrap and place in fridge for 4-12 hours. Can flip meat to other side once during marinade time if desired.

Slice onion and place in bottom of crockpot.

Heat oil in heavy skillet, and sear roast on both sides till well browned. Place roast on top of onion.

Sprinkle salt, pepper, thyme, rosemary, oregano, and cayenne on top of the roast.

Dice garlic and place carefully on top of the meat. Arrange sliced butter over top of the garlic, and pour the balsamic vinegar, soy sauce, and broth into the crockpot.

Cover with lid and cook on HIGH for 8 hours. Remove from crockpot and cut against the grain several times. Shred with a fork and place back into the juice. Stir and serve over noodles or potatoes.
Notes
You can omit the marinade if you don't have time, just sear the roast and proceed with recipe.
Serve over mashed potatoes or hot noodles. You can also pile onto rolls for a French Dip. Or stuff into tacos with cheese, jalapeños, and sour cream.
Serving is approximately 1 cup,  this may vary depending on size of roast and amount of meat on the bones, etc.
Nutrition
Serving:
1
cup
Calories:
526
kcal
Carbohydrates:
9
g
Protein:
57
g
Fat:
27
g
Saturated Fat:
10
g
Polyunsaturated Fat:
2
g
Monounsaturated Fat:
13
g
Trans Fat:
1
g
Cholesterol:
191
mg
Sodium:
1342
mg
Potassium:
680
mg
Fiber:
1
g
Sugar:
5
g
Vitamin A:
297
IU
Vitamin C:
4
mg
Calcium:
50
mg
Iron:
9
mg