This easy white bread recipe is perfect for sandwiches, and comes together quickly in a stand mixer. The bread has a fine, even texture, and is more dense and moist than store-boughten bread.
You can achieve a lighter loaf by allowing it to rise longer. However, I prefer a more dense loaf, so I don't let it rise too long.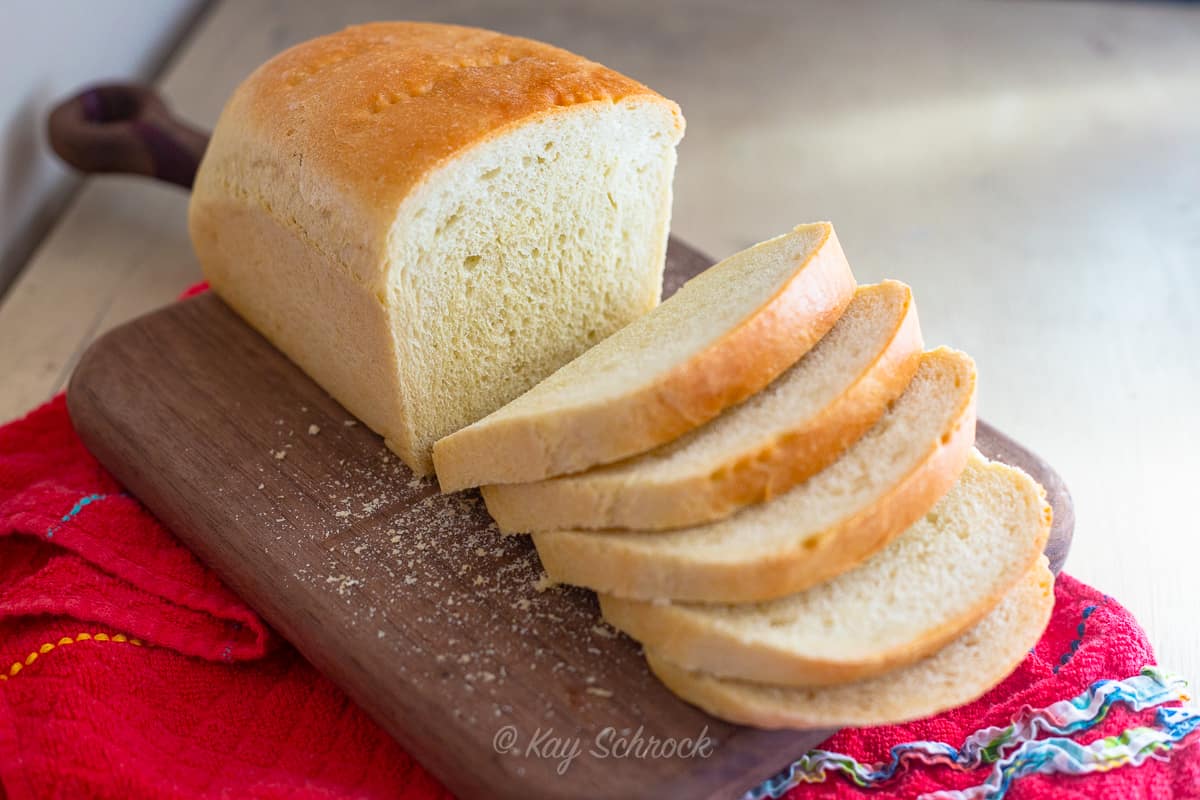 Easy White Bread Recipe
First, place the yeast, water, and sugar in the mixing bowl of the stand mixer. I have a KitchenAid, but you can use a Bosch or any heavy duty stand mixer that includes a dough hook.
Next, add the flour, oil, and salt, and mix on low speed. When the flour is mostly mixed in, turn the speed to medium and beat the dough well.
If the dough sticks to the side of the bowl, you need to stop the mixer and add additional flour. I add a half cup at a time, and continue mixing on low till well mixed.
When the dough starts to pull together and 'clean' the sides of the mixing bowl, it is done. Beat it a bit longer on medium; this is the equivalent of kneading.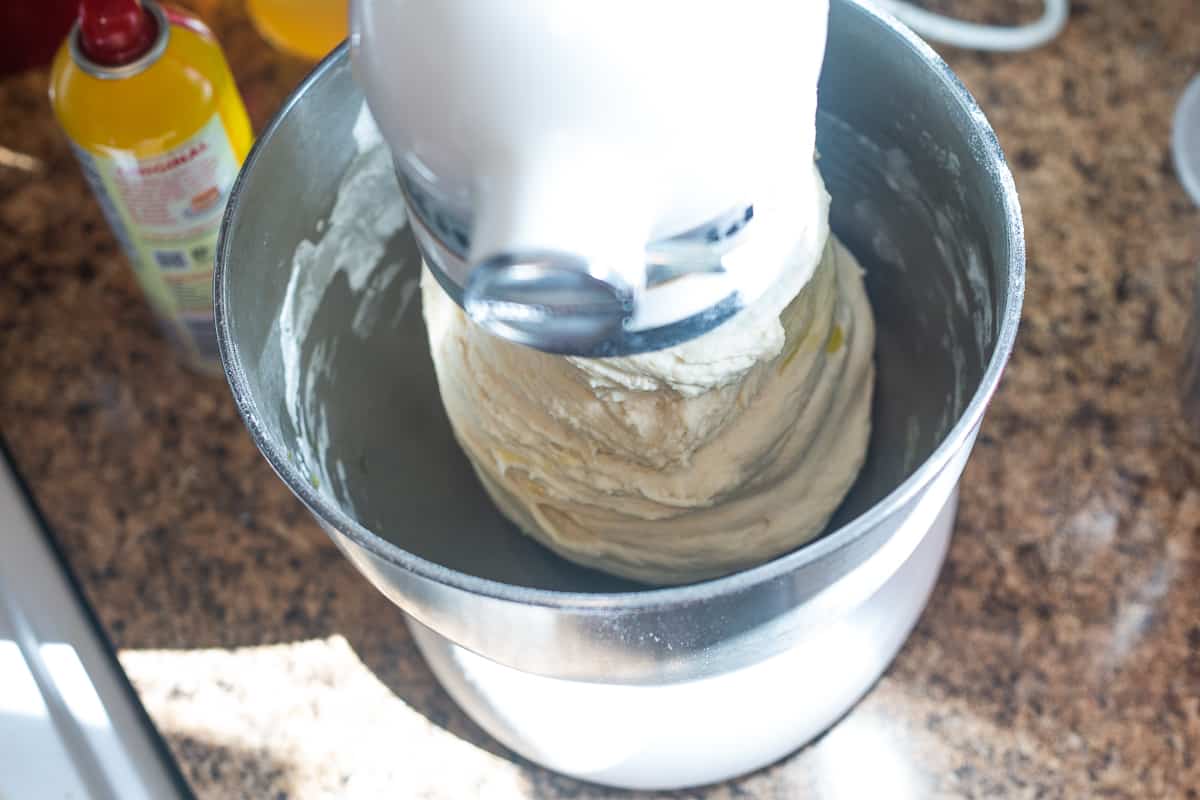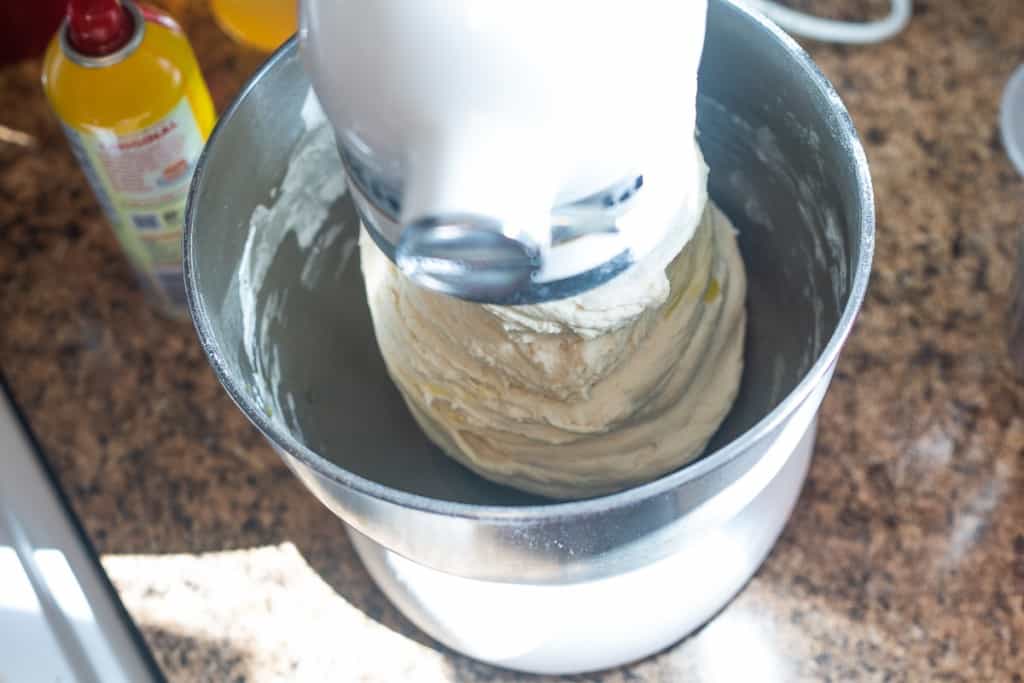 Pour a bit of oil into the bowl while on low speed, and let it coat the sides of the bowl and dough. Then turn the mixer OFF and remove the hook, and let the dough rise till doubled in size.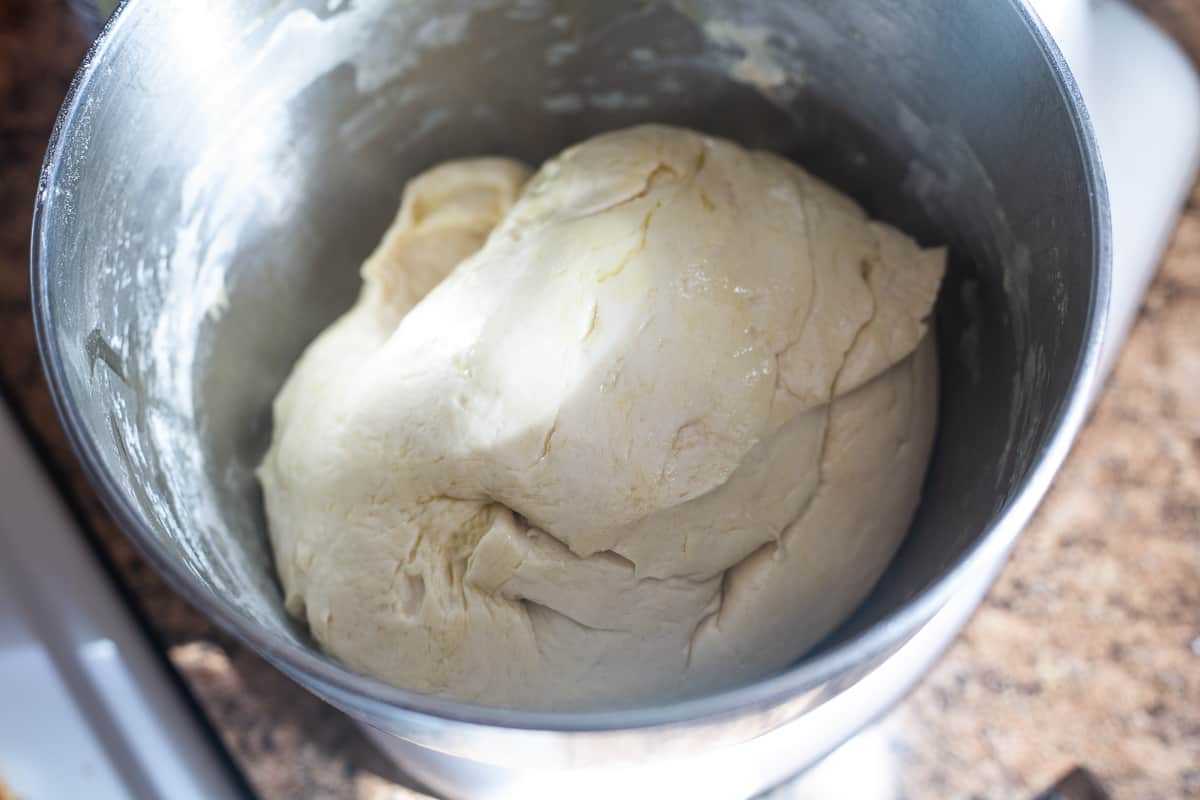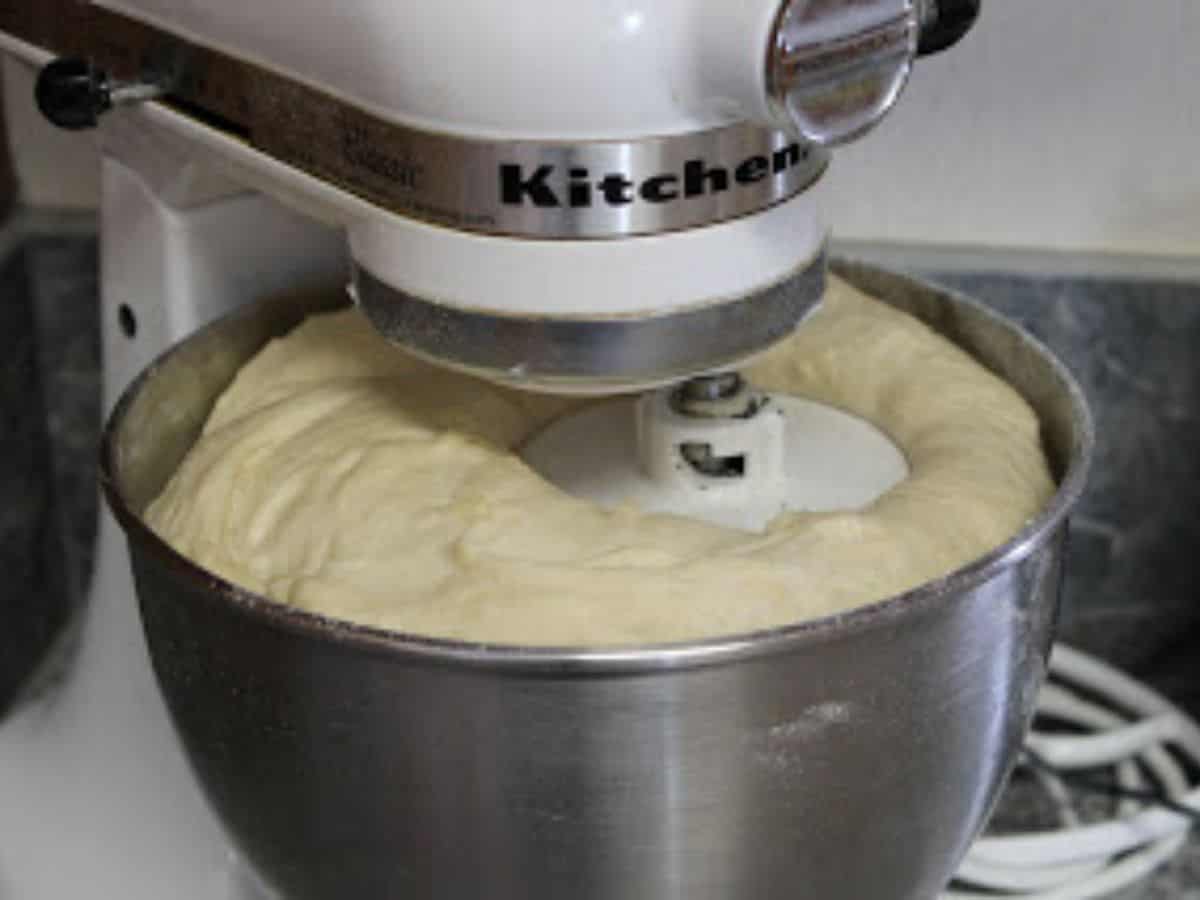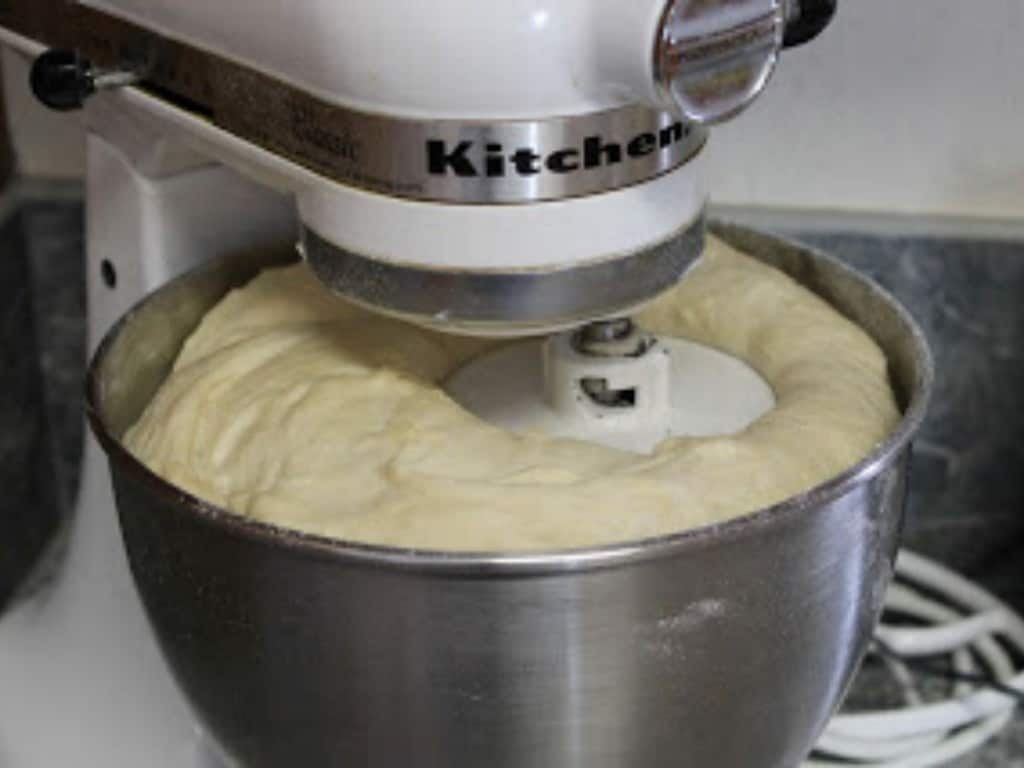 When the dough has risen, remove from bowl and divide in half. Take one half and shape into a loaf. Place in greased bread pan. Repeat with second half of dough.
Take a fork and poke the loaves of dough all the way through. This prevents the bread from forming large holes, and creates a fine, even bread texture.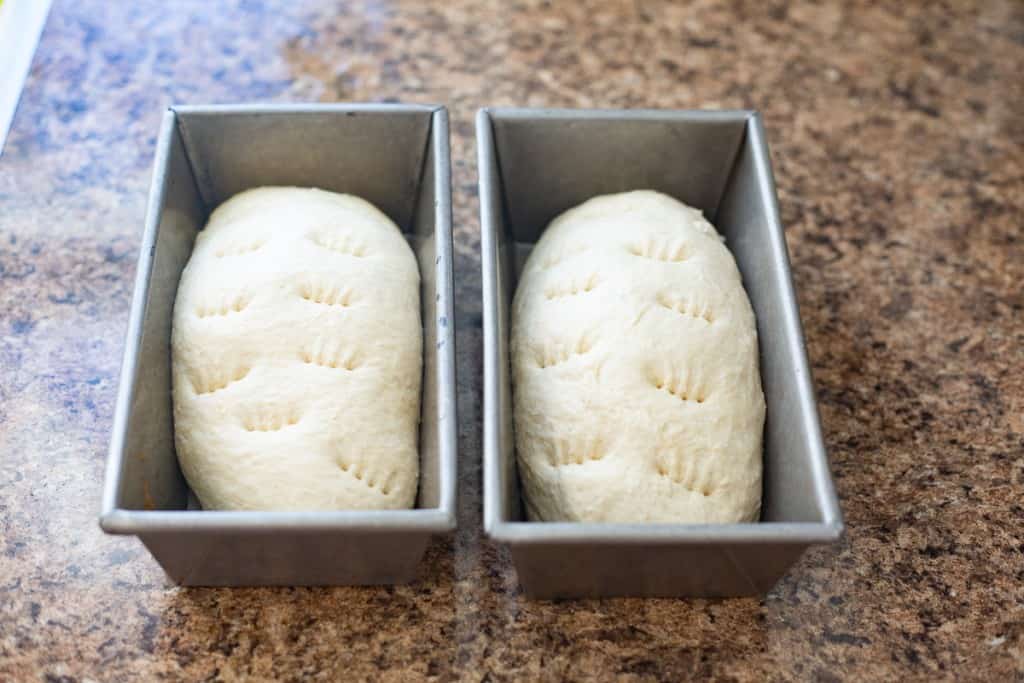 Next, let the loaves rise again until doubled in size. This will take anywhere from 20 minutes to an hour, depending how warm it is in your house, how fresh the yeast is, and how much moisture there is in the air.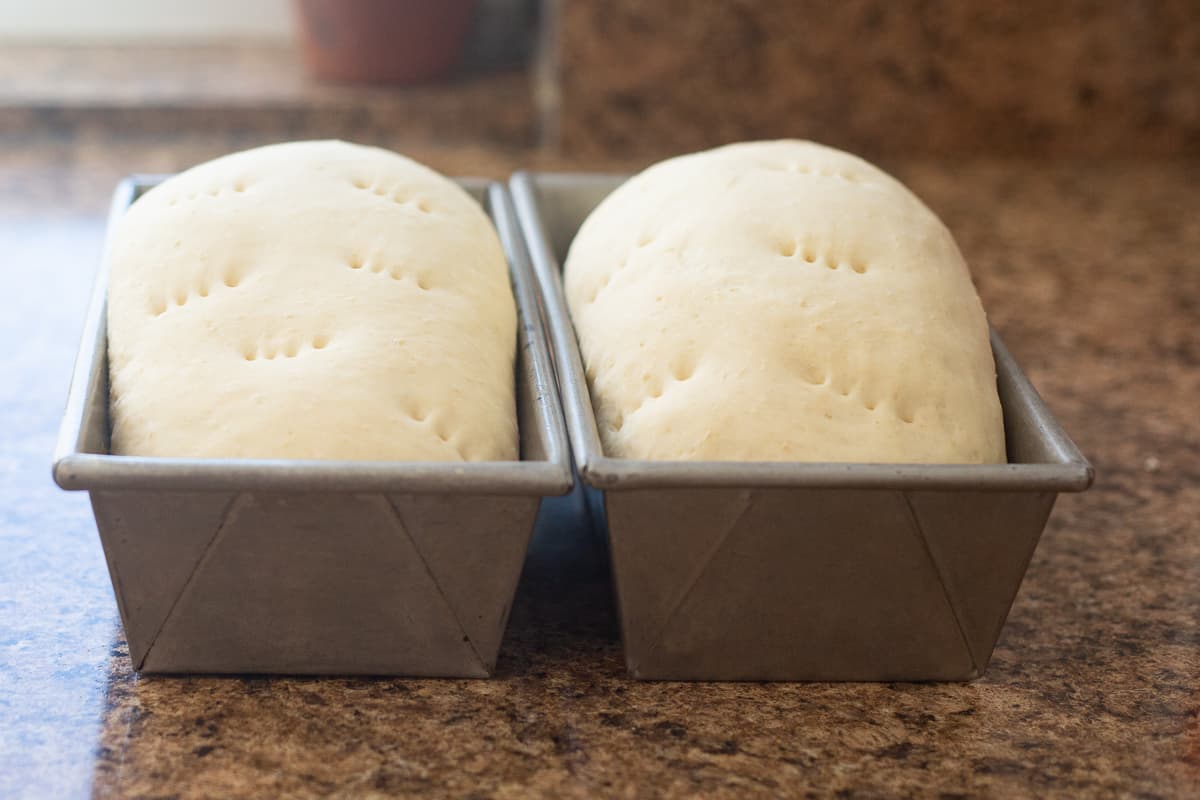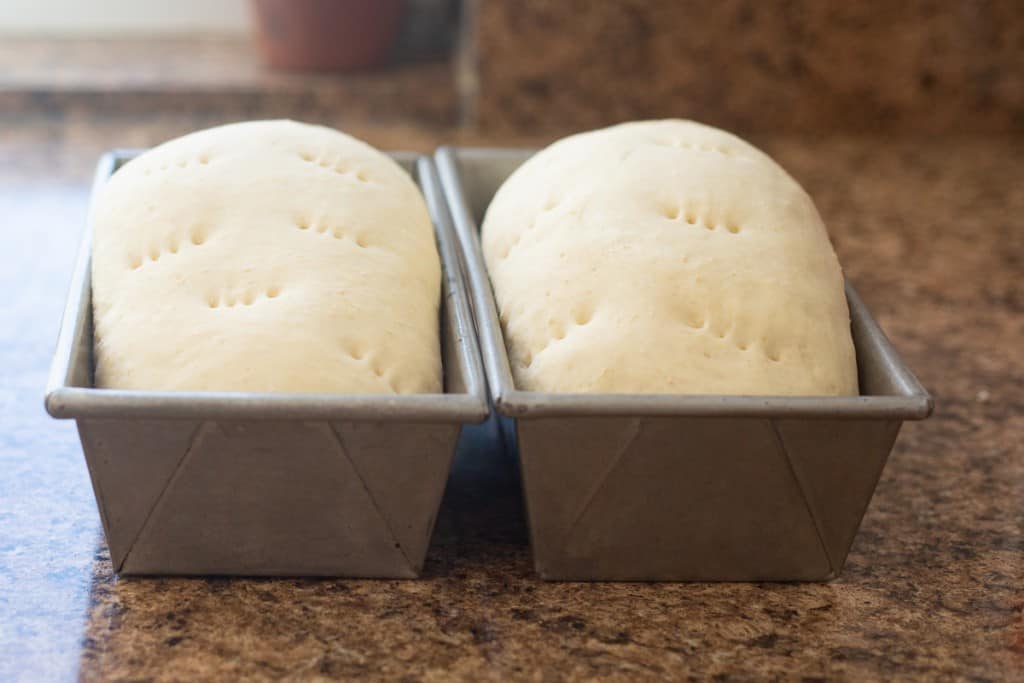 Finally, when the loaves have risen enough, preheat the oven to 350°. When the oven is hot, place bread inside and bake for 30-35 minutes.
When the bread is finished baking, remove from pans and cool on a wire rack. I brush the tops with butter while they are hot.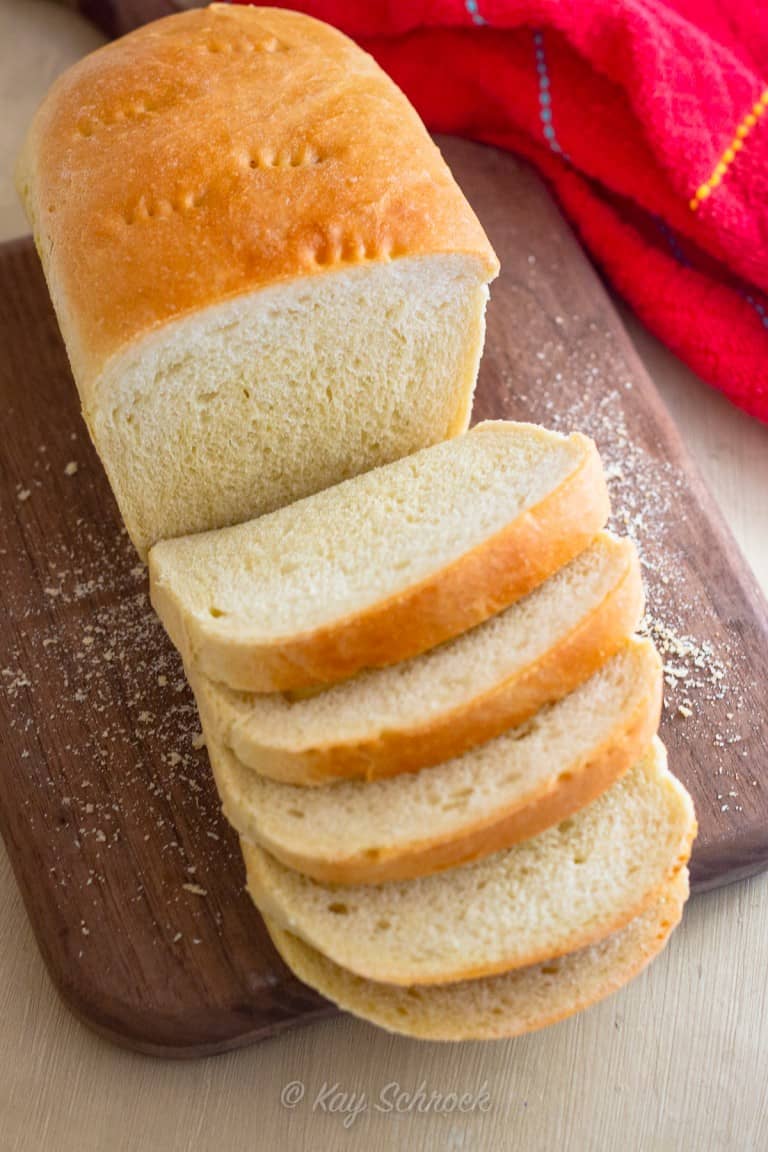 Bread flour vs. all purpose flour
Bread flour has a higher amount of protein than all-purpose flour. All purpose flour has a oration amount of 9-11%, while bread flour has a protein ratio of 11-13%. Higher amount of protein produces a more chewy bread. So bread flour is always you best bet for yeast breads, but if you have all purpose on hand, it will work too!
How to store white bread?
Store in a tightly closed plastic bread bag, or wrap in plastic. Store at room temperature – no need to refrigerate! This easy white bread will keep for 2-3 days. If you keep it longer than that, just pop it in the freezer.
Can I freeze bread?
Yes! This bread freezes very well. Place in a tightly closed bag and place in freezer. Use within 4 weeks for freshest flavor. To thaw, just place on counter at room temperature until completely thawed.
How to use day old bread
If you don't get all the bread eaten within a few days, it will not taste very fresh. You can still use it for things like Easy French Toast, or Buttery Stuffing. You can also stick extra slices in the freezer to make bread crumbs later, to use in these delicious Venison Meatballs. You can use this recipe to make Easy Cinnamon Bread, too!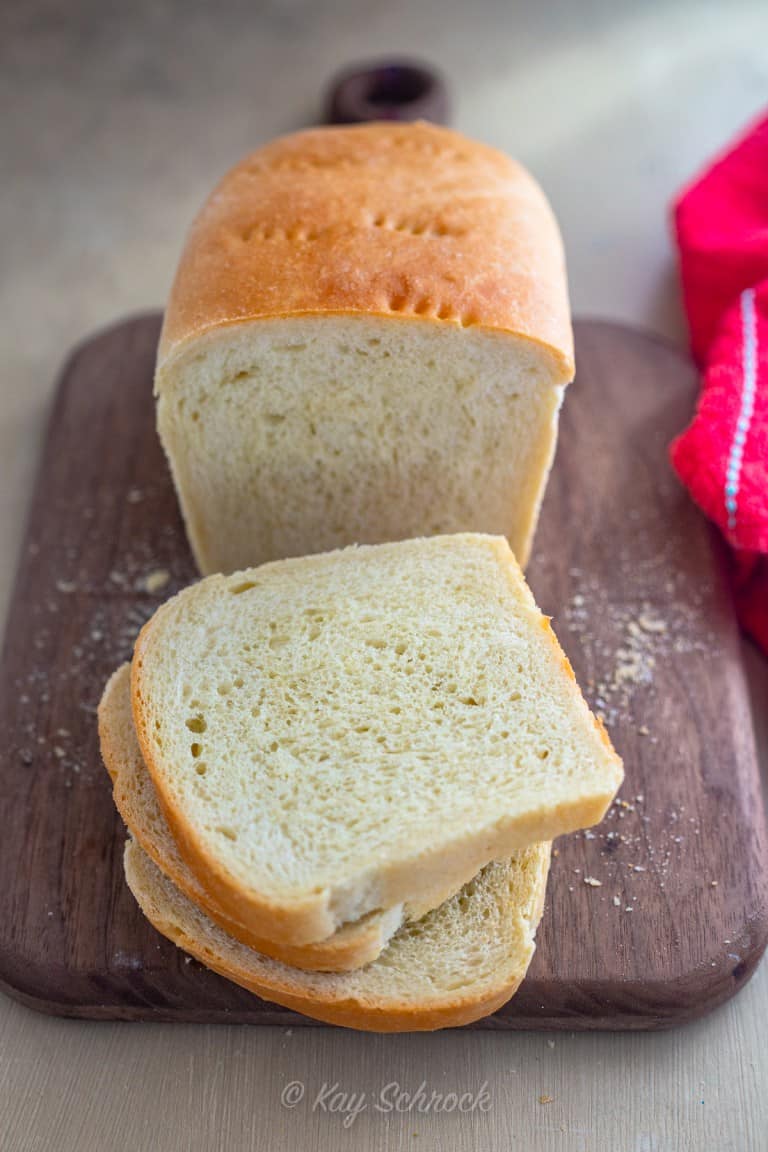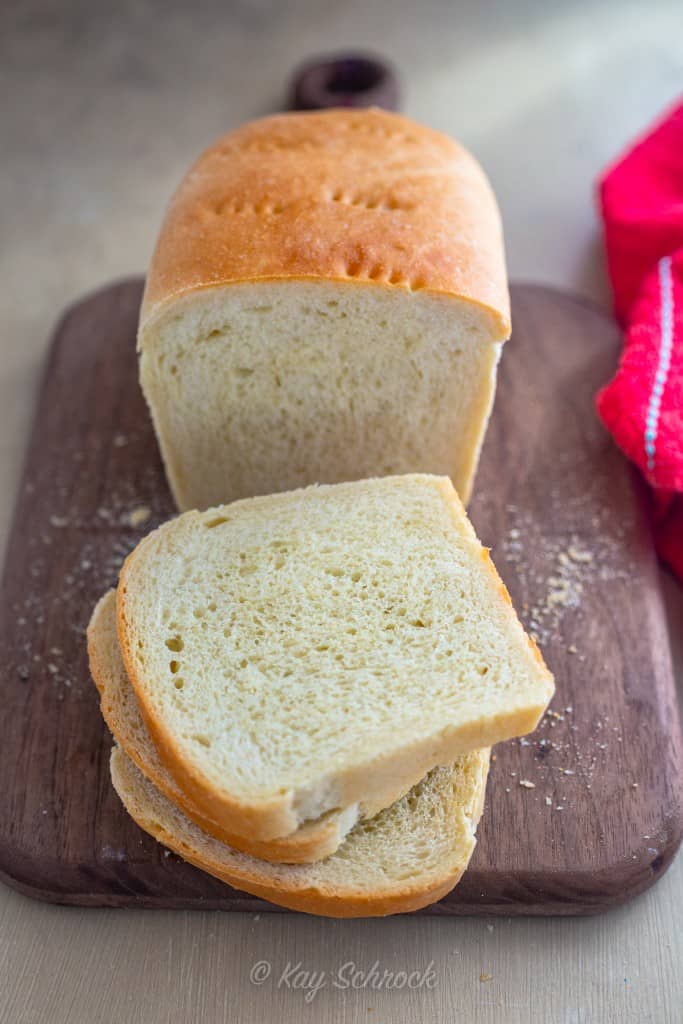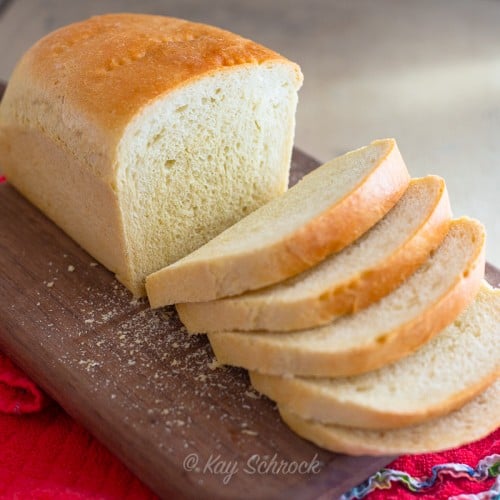 Easy White Bread Recipe
A basic, delicious white bread recipe for sandwiches or toast.
Ingredients
2

cups

warm water

1

Tablespoon

yeast

1/4

cup

sugar

2

teaspoon

salt

1/4

cup

vegetable oil

or crisco

5

cups

bread flour

up to 6-7 cups if needed
Instructions
Place water, yeast, and sugar in bowl.

Add flour, oil, and salt. Mix on low speed til mostly mixed.

Beat dough on medium speed until well mixed.

If dough is still sticking to sides of bowl, stop the mixer and add one-half cup more flour. Continue adding flour until the dough comes together and sticks to the dough hook, and cleans the sides of the bowl.

When dough is mixed, pour a couple spoonfuls of oil into teh bowl and swirl teh dough a time or two to coat teh dough with oil. Turn off teh mixer and let the dough rise til doubled.

When dough is risen, divide in half and form each half into a loaf. Place teh loaves into greased bread pans and poke the loaves with a fork.

Let loaves rise again, until about doubled. Preheat oven to 350.

Bake loaves of bread at 350 for 30-35 minutes. When bread is baked, remove from pan, and cool on a wire rack. Brush tops of bread with butter while still hot.

Place in tightly closed bread bags and store on counter or in freezer.
Notes
Baking times can vary depending on several factors, like altitude, humidity, and specific ovens. I bake my bread for 32 minutes, because I live at high altitude (7,400 ft), and at high altitude you must adjust. 
Flour volumes can vary, depending on air moisture, etc. Start with 5 cups pf flour, add extra one-half cup at a time. You may need 6 or 6.5 cups of flour total. Stiff dough makes dry bread. You want soft dough!
You can substitute butter, lard, or crisco or any type of oil for the shortening. 
Nutrition
Serving:
1
slice
Calories:
147
kcal
Carbohydrates:
25
g
Protein:
4
g
Fat:
3
g
Saturated Fat:
2
g
Sodium:
234
mg
Potassium:
33
mg
Fiber:
1
g
Sugar:
3
g
Calcium:
5
mg
Iron:
1
mg