When I was 12, my parents bought a small bakery. Two days a week, I helped Mom bake all sorts of cookies, bread, pies. and much more. On Saturday, we loaded up our van with the baked goods and sold them at a Farmer's Market.
One of my favorite items was the cinnamon bread. Mom would slice off a thin piece from the end of the loaf, to show the pretty cinnamon swirl inside. I liked to smear a bit of frosting on that end piece and eat it hot! It was almost like a cinnamon roll. I no longer put frosting on my cinnamon bread, but I do enjoy a piece hot from the toaster, slathered in butter!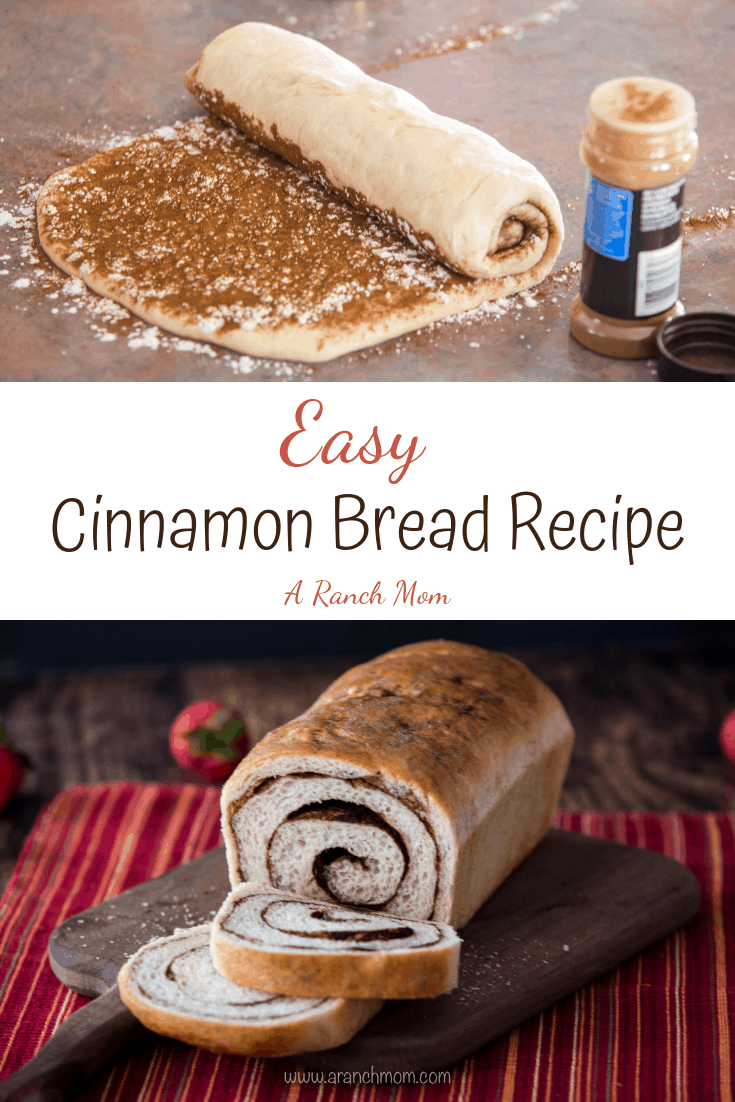 How to make cinnamon bread
Cinnamon bread is so easy to make; just use your regular white bread recipe, add cinnamon and sugar and roll up!
But maybe you don't have a 'regular' white bread recipe? No problem! I have your back! I have included the entire recipe so you can just print it off and use it.
First, I put the warm water, sugar, and yeast in a bowl, and let it set for 5 minutes so the yeast can begin to work.
Then, I add the flour, salt, oil, and mix it well. I knead the dough several minutes, then let it rise for an hour or until doubled.
Tip: I use my KitchenAid mixer, (affiliate link) but you can always use your hands to knead the dough if you don't have a stand mixer.
Forming the bread loaves
To form the cinnamon bread loaves: divide the dough in half, and roll one half about 15 inches long, and as wide as your bread pan. Try to make sure it doesn't get wider than your bread pan.
Sprinkle generously with powdered sugar, then with cinnamon. I do not measure either of these, but I did give an estimate in the recipe. Just sprinkle heavily and it will be fine.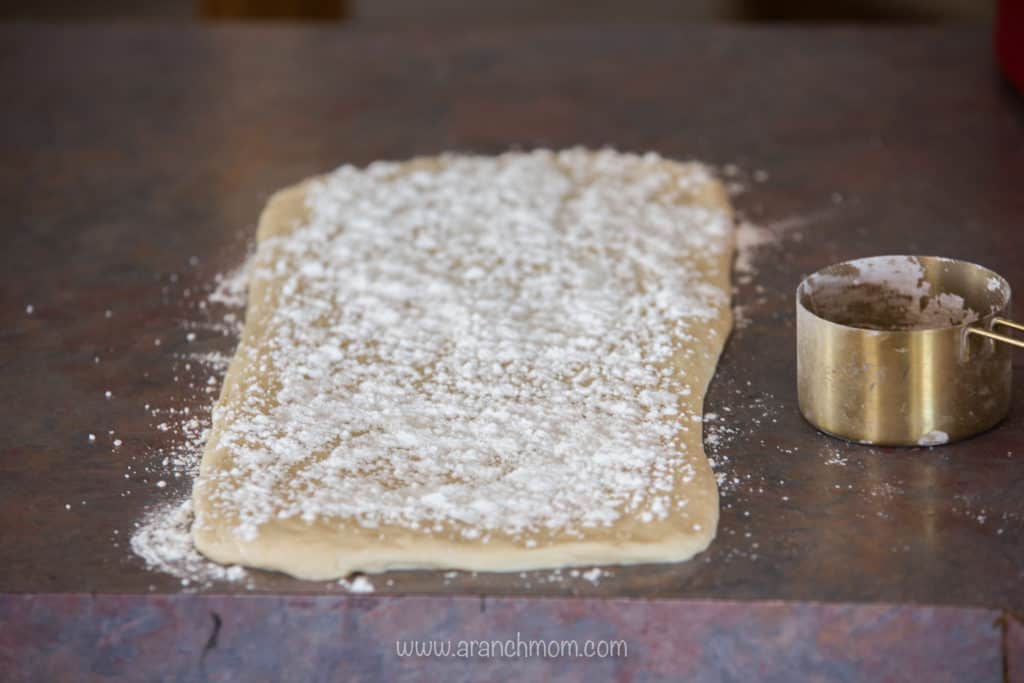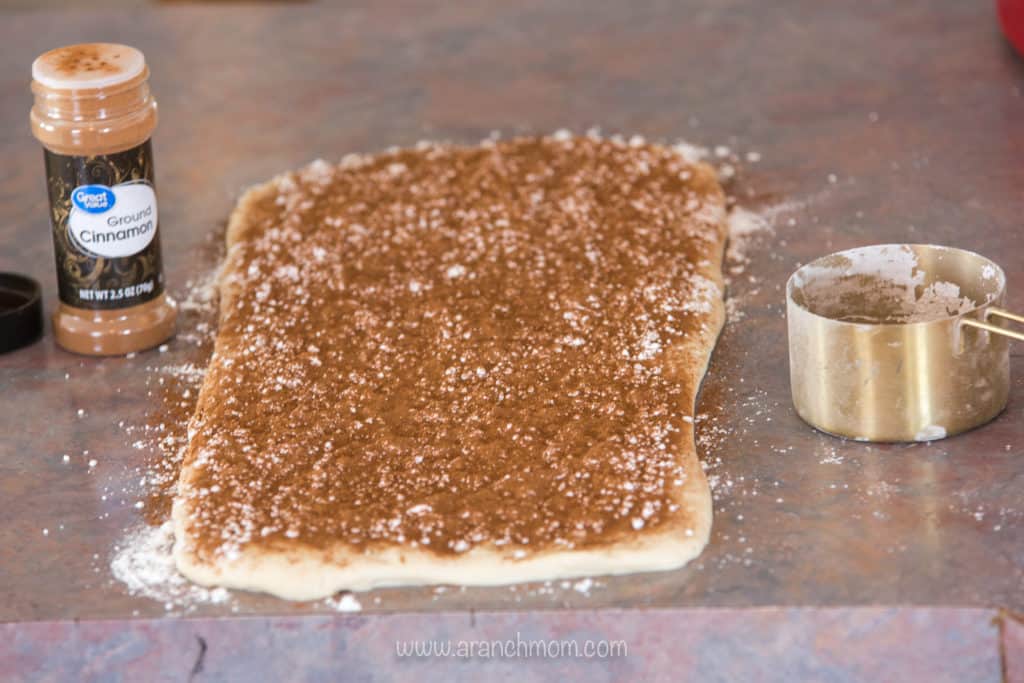 When you have the cinnamon and sugar on, begin to carefully roll up from the short side. I tug gently as I roll the dough, so there is no air pockets or holes in the roll. Roll it all the way up, and place into a greased bread pan, seam side down.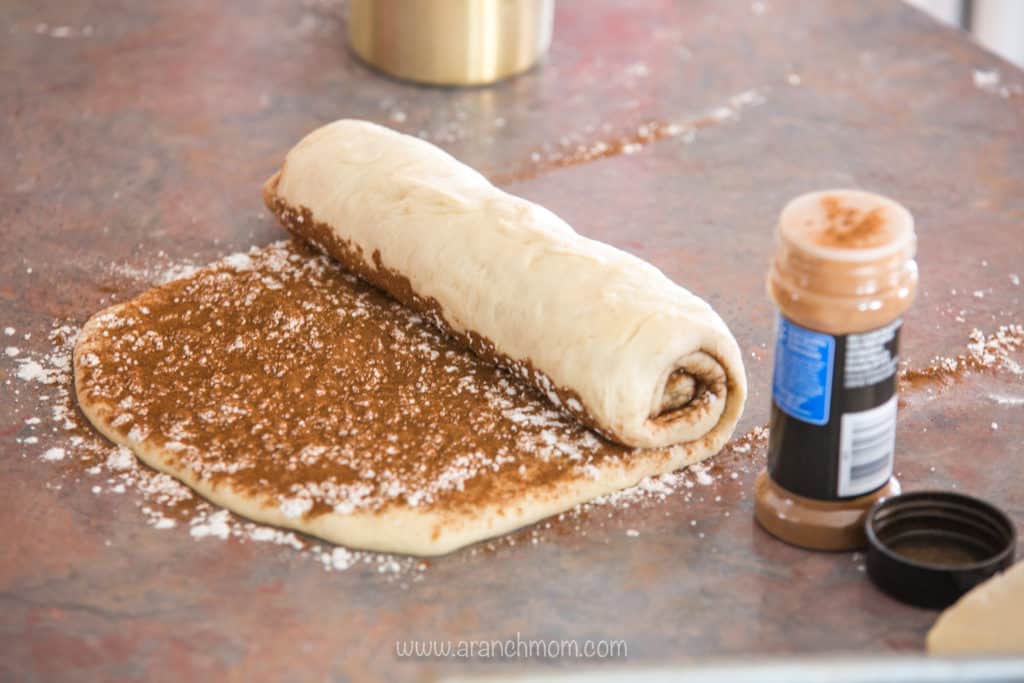 I sprinkle the loaf with a dash of cinnamon, then let it rise till nearly doubled. Repeat with second half of dough.
Bake at 350* for 30-35 minutes, till the loaf is golden brown.
Turn out onto a cooling rack and allow to cool before bagging.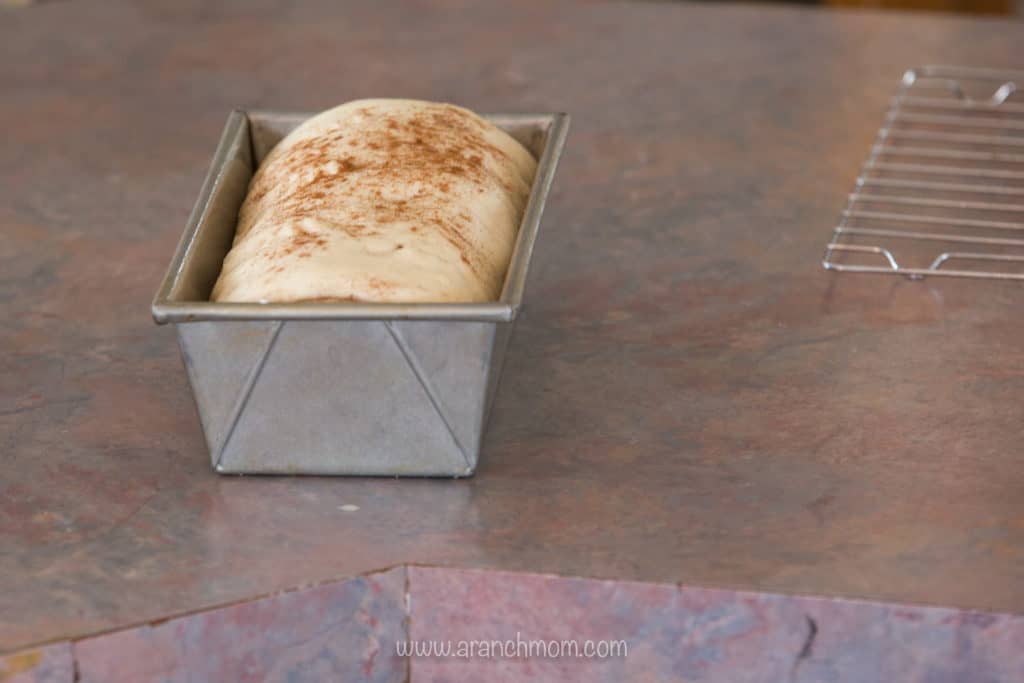 Bread rising and baking
Personally, I like a more dense bread, so I don't let my dough rise too long. You can see in the above pictures how the dough looks when I placed it in the pan, and how it looks when I baked it. Less time rising means a heavier bread with smaller air holes. If you like big holes in your bread, then, by all means, let it rise longer! 🙂
Same goes for baking; I like my bread just golden brown. If you like the crust very brown, just bake it longer or at a higher temp. I bake bread at 350 for 30 minutes. But If you like more crusty bread, bake it at 375 or 400 for 30 minutes. Play around with it till you see what you like best.
Can I freeze Cinnamon bread?
Yes!! This homemade cinnamon bread freezes very well. Just let the loaves cool completely, then place in plastic bags and freeze up to a month.
To thaw: place bread on counter (still in bag) and allow to thaw completely. Slice and eat! You can slice before you freeze it, too.
You might like these other bread recipes:
Easy French Bread
Chile Cheese Cornbread
Cheesy Breadsticks
Simple Homemade White Bread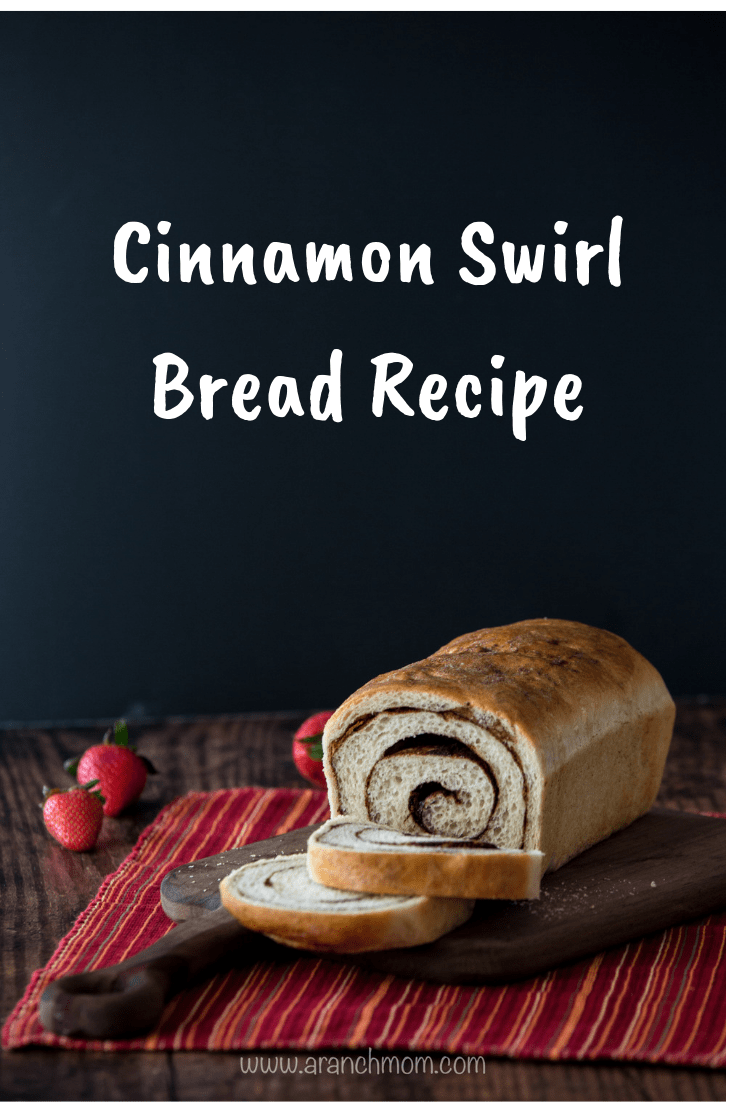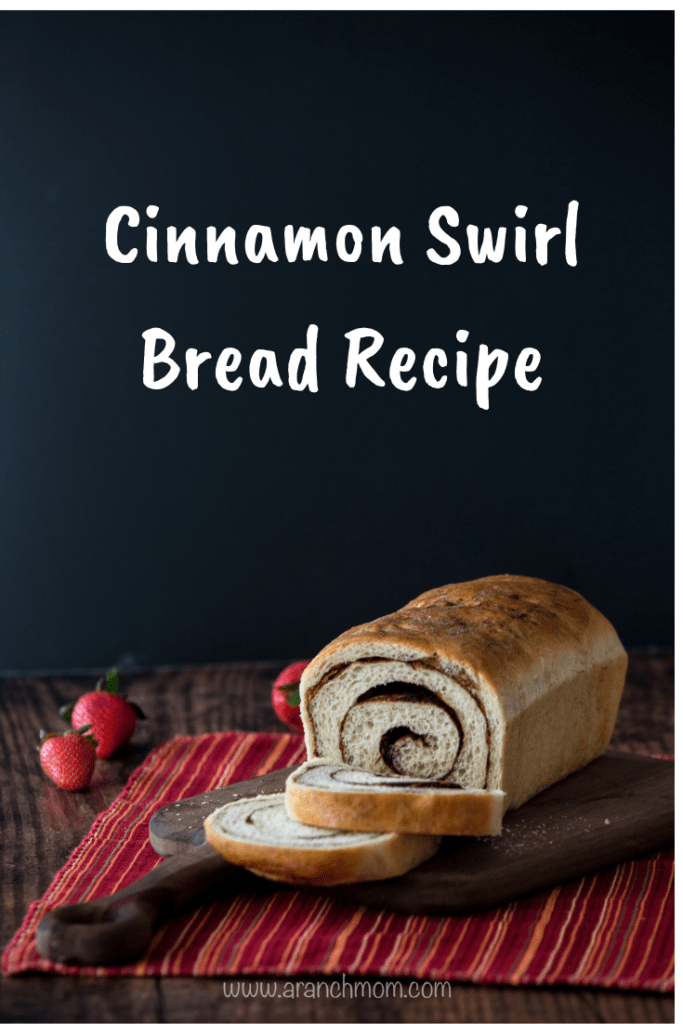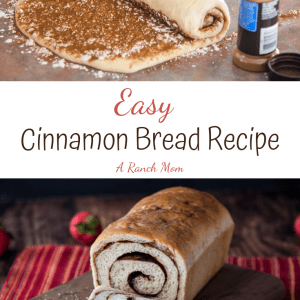 Easy Cinnamon Bread Recipe
This recipe is so easy that you can make it even if you never baked bread before! It is perfect to make cinnamon toast or french toast.
Ingredients
2

cups

warm water

1

TBL yeast

1/4

cup

sugar

5

cups

bread flour

2

tsp

salt

1/4

cup

vegetable oil

1/2

cup

powdered sugar

1

TBL cinnamon
Instructions
Place water in mixing bowl.

Sprinkle sugar and yeast over water.

Allow to stand for 5 minutes.

Add flour, oil, and salt and mix well. If the dough is too sticky, add more flour - ½ cup at a time - until it is smooth and workable.

Knead 2 minutes with mixer, or 5 minutes by hand.

Let rise till doubled in size, about an hour.

Divide dough in half, roll each half 9x15 inches, or as wide as your bread pan.

Sprinkle generously with powdered sugar and cinnamon.

Roll up tightly, place in greased bread pans, seam side down.

Let rise till nearly doubled, about 30-40 minutes.

Bake at 350 for 30 minutes, or till golden brown.

Turn onto rack to cool. Store in bags.
Nutrition
Calories:
158
kcal
Carbohydrates:
28
g
Protein:
4
g
Fat:
3
g
Saturated Fat:
2
g
Sodium:
234
mg
Potassium:
31
mg
Fiber:
1
g
Sugar:
6
g
Calcium:
7
mg
Iron:
1
mg