I am always working on keeping our food budget within reasonable limits! How to feed a family on a budget is a topic that comes up regularly – whether it's me scouring Pinterest for new ideas, or friends asking me for tips. I do enjoy the subject, even though it also frustrates me at times! How to eat cheaply on a road trip is another area I like to save money.
Groceries continue to be a big portion of our expenses, especially as our kids get older. Currently, we have two adults, two older teens, and two younger kids in our household. (and we'll be adding number 7 in a few months! Yay!) The kids' ages right now, are 17, 15, 10, and 6. I thought I would share a few tips on how I shop and cook, to stretch our food dollars as much as possible.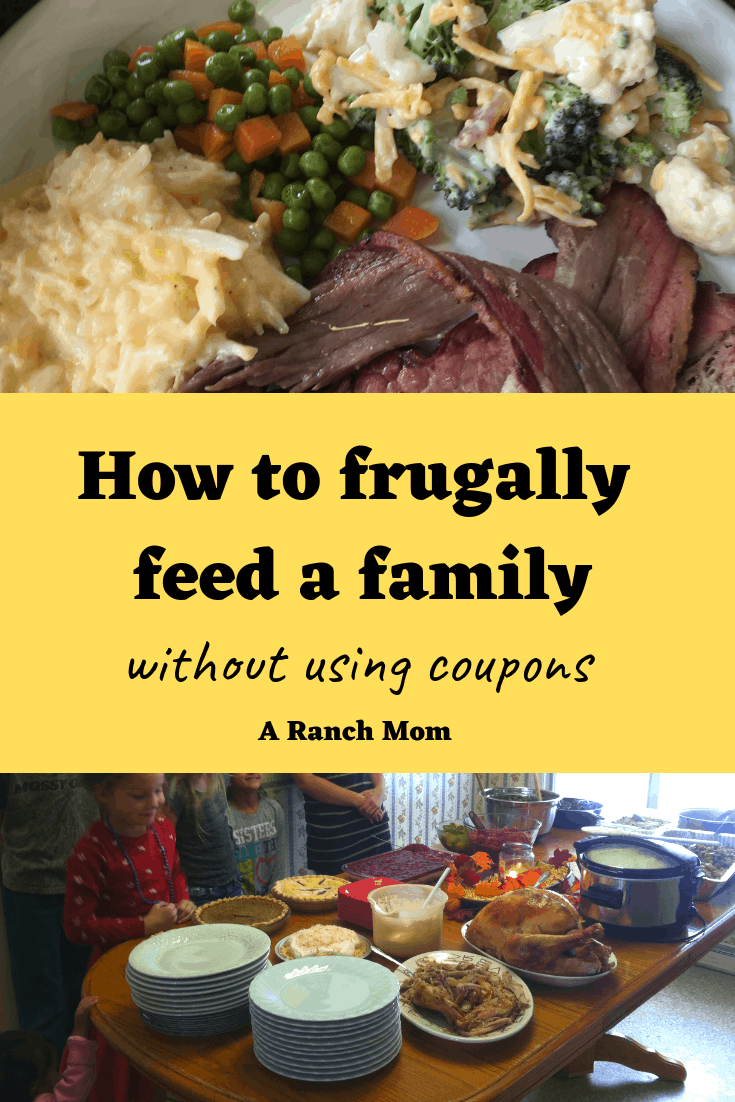 How to feed a family of 6 on a budget
Keep in mind, I live in Wyoming – neither the least nor the most expensive state. I do not have access to Aldi, nor Save-A-Lot. (if you live within a couple hours of an Aldi, please take advantage of it!)
I have WalMart, Safeway, and Ridley's in my town. I get to a larger town and go to Sam's Club several times a year. Probably 80% of my grocery shopping is done at WalMart. The rest is Amazon, Ridley's, or farmer's market in summer.
Shop less often
I cannot stress this enough! If you simply go into a store fewer times per month, you will buy less!
In my own experience, if I go in for 3 things, I will come out with 6. I am guaranteed to see something I forgot I needed, or on sale, or just plain looked good! Maybe I'll see the bratwursts and think "oh! I should grill some brats tonight!" when I had a perfectly good menu at home.
Shop for groceries only once per week – less if you have good planning skills. Whether or not you make a menu plan, try to go longer between trips.
Use frozen and canned produce
Here is the secret for going longer between grocery trips! Buy your salad veggies and fresh fruit – but only enough so you can eat it all before it goes bad. Usually, about a week's worth, I find. Apples and oranges last a bit longer, as do carrots, celery, and cabbage.
Buy canned and frozen fruits and veggies to last till next shopping trip. You can easily go several weeks this way.
Do we prefer fresh berries and fresh lettuce salads? Definitely! But when you have a limited budget, you do what you have to do. Sometimes we can't afford fresh fruit (or only the inexpensive types) and that's ok.
Applesauce is healthy, as is canned green beans and frozen peas. You can buy so many types of frozen fruits and veggies – there's no need to go without.
Buy frozen bell pepper strips to toss in your stirfry or fajitas – they are just as healthy and will not get soggy in your fridge drawer.
Buy frozen berries and throw a handful into the blender with some milk and honey for a delicious smoothie.
Canned green beans might be a tad boring, but they are a green vegetable and will suffice.
With all the emphasis on healthy foods, it's easy to get caught in the trap of thinking we need fresh, organic produce at all times.
We don't. We can eat healthy within our budget. Shop wisely, but don't feel like you need to eat just like everyone else does.
Sales and marked down items
I do like to shop sales! if I see that a good sale is on (Ridley's has fantastic case lot sales!), then I plan my shopping trip around that and spend a bit more to stock up on sale items.
However, I do not plan my menu around sales. I don't buy baby back ribs just because they are on sale, for instance. Those are delicious and a weakness of mine (smoked on the grill?! drool) But even on sale they are not the most frugal cut of meat.
Chips, pop, ice cream… all these things are not part of our regular meals, and so I don't buy them just because they are on sale. (One exception is Doritos; we eat a lot of taco salad, so I do stock up on those when I can.)
Shop sales wisely. The secret is to stick to things you normally buy, and stock up if on a really good sale. (25% or more off)
My favorite way to save
One way to know if something is truly a great sale or just a tiny % off is to sign up for a Deals To Meals subscription. I have used this service for years and it saves me more than the $5 a month subscription fee. They have sales conveniently marked as great deals (stock-up prices), average deal (good but not amazing), or just buy if needed.
They also have a menu plan that is included with the membership, but I don't always use it. Mainly because we eat a lot of elk and beef, and their recipes include a lot of chicken and pork. But I have gotten great ideas from their menus. I always check them out and see what looks good.
You can sign up for a free trial here: Deals To Meals Free Trial. (affiliate link)
One item I always buy on sale is cereal. We usually only eat it one day a week, but with 6 people we can go through an entire box in one day! So I stock up when I find a really good deal on it. (Then the struggle is to not eat it more often just because I have lots in the pantry, haha!)
Another thing I do is to check the bargain shelf and the marked-down meat section. Sometimes you can find tremendous savings in these sections for items that you use regularly.
I learned the hard way to not buy novelty items – novelty items tend to be on the discount shelf for a reason, and likely won't get eaten at my house, either!
But sometimes a seasonal product is marked down and makes a good substitute. My personal weakness? Day-old donuts. It is so hard to pass up those things! I cave far too often. (shhh!)
Keep your pantry stocked with staples
Here is the biggest secret to frugally feeding a family: keep your kitchen stocked with the staples.
You probably have a lot of recipes that you cook over and over. So make sure you keep the necessary items stocked.
If you cook from scratch like me, it might be potatoes, flour, sugar, butter, milk, eggs, beans, rice, you know – ingredients! 🙂
If you make more quick meals, then keep those things stocked; frozen meatballs, pizzas, frozen potatoes, canned items, cereal, etc.
The thing is; you want enough stuff in your pantry and freezer to last at least a week.
If you can't think of what you normally eat, sit down with a paper and pen and list about 7-10 meals that you frequently eat. Then write down what items you can keep in stock.
I know I can always go thaw some elk burger and make chili soup, for instance, and probably make cornbread to go with it. Because I have lots of elk in my freezer, beans and tomato sauce in my pantry, and the ingredients to make cornbread: cornmeal, oil, eggs, milk.
I can think of 4-6 meals that I can almost always make because I keep the staples stocked. It helps if you know how to cook from scratch! 😉
Eat the same things often
Hear me out! Before you click away – think about your favorite meal. Would you mind eating it once a week? What about your kids? Do they mind eating the same meal every week, or is it you who likes the varied menu?
It's definitely me, in this household! I like a varied menu, I enjoy new recipes, and I balk at eating the same old thing day after day. My family doesn't care! My kids would eat ramen noodles and sandwiches every day, and my husband loves his meatloaves or baked potato. (some of you will be the other way around in your household, but still, consider this principle, at least!)
We eat homemade pizza every Saturday night. It is frugal, we all like it, and I always have the ingredients on hand — because I know we make it weekly! I always have the flour and oil for the crust, the sauce and cheese, and pepperoni. It's purely habit by now, after making it weekly for 18 years!
Sometimes I wish I did that for every meal! But then again — I enjoy trying new recipes… oh well, lose some, win some. 😉
My point is, it helps a lot on the budget if you eat the same meals fairly frequently. Leftovers can be incorporated, you remember what ingredients to buy, you don't end up with odd stuff in your cupboard. Pick some frugal meals and rotate through them on a 7-14 day schedule. Try it awhile, anyways.
Cook mostly from scratch
To frugally feed a family, I believe the best skill is to cook from scratch. Homemade bread is very inexpensive, frying your own potatoes is cheaper than buying the bagged hashbrowns, putting a pork roast in the crockpot with a bottle of bbq sauce is more cost-effective than buying fully prepared, and so forth.
If you work outside the home, perhaps you don't have a lot of time to cook. See if you can find a few crockpot recipes that you can start in the morning and they will be done by dinner.
Brown bag your lunch. Switch it up by using divided containers and using leftovers or other fun meal prep. (search Pinterest for ideas)
But for sure if you are a stay at home mom, or even at home a few days a week, try cooking some from scratch. Cooking from scratch will save more money in the food budget than anything else!
[bctt tweet="Cooking from scratch will save more money in the food budget than anything else!" username="aranchmom"]
I go through seasons of making everything from scratch, and then sometimes I am so busy with other things that I start to buy pre-made items. I always spend more in months when I buy premade!
I have my limits; I don't make my own cheese regularly, I buy condiments and yogurt… I mean, you can go as far as you want down the 'homemade' route, and I am not suggesting that you grind your own wheat! (although I do that too, at times! LOL)
Buy generic brands, mostly
I buy almost everything generic. I have a couple of exceptions: we like Folgers coffee, and we sometimes buy Coca-Cola brand because it truly tastes better! But otherwise, (and often even with these two items) we choose generic.
Yes, sometimes the name brand tastes better. But often it is barely noticeable. And when you are staying within your budget, it is worth it. Is it really worth going into credit card debt to eat the top brand?
Nope.
Is it pride? Then definitely nope. Pride has no place in my budget! Or anywhere else, for that matter. I don't care what everyone else buys – that is their journey. Focus on your own goals and don't worry about everyone else. 😉
My son gets annoyed at the cheesy generic names that companies give to their knock-off product. But I assure him that if he wants cheesy corn chips, he better be happy with the generic because I can't afford the name-brand at double the cost! Haha! (Paying double just for a name is my pet peeve.)
I hope this has given you a peek at how I frugally feed a family, and maybe some ideas you can work from, to keep your food costs lower!
Whether you enjoy cooking or feel like it is a waste of time, food is one expense we can all work on keeping under control.
Check out this post on Things You Can Buy at the Thrift Store to save you money, or this one on How to Save Money on a Tight Budget.