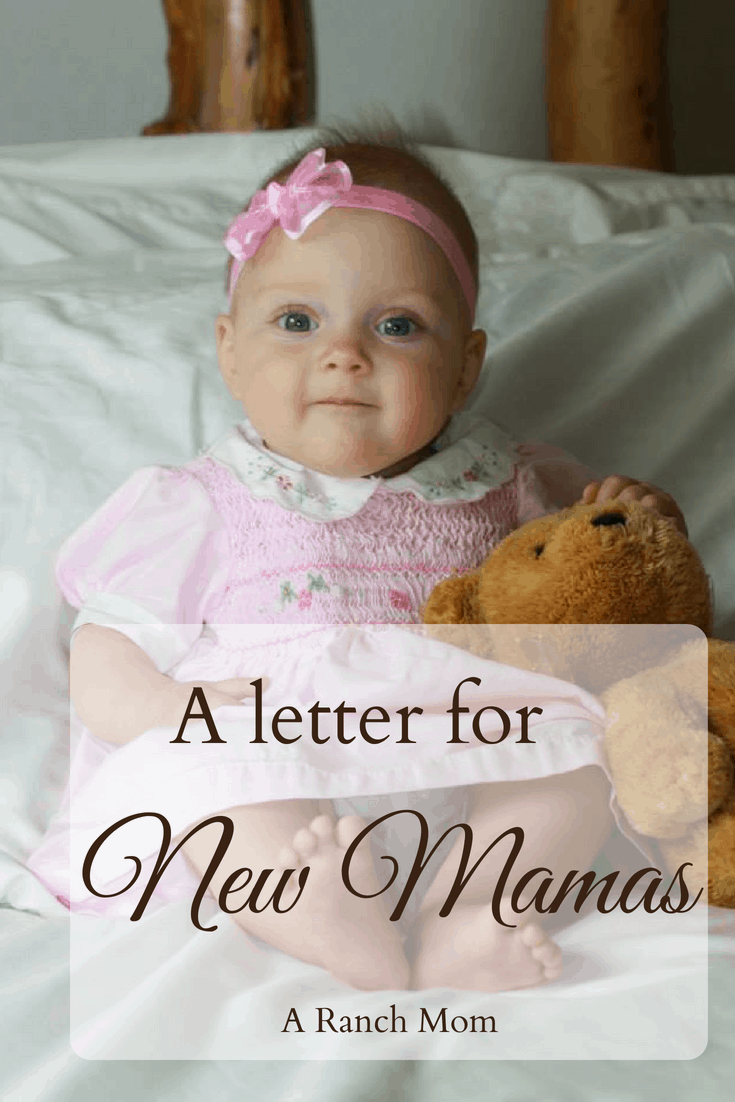 Today, I have some encouragement for new moms. You are tired aren't you? You might be a little under the weather with a cold or a headache. Probably because you are sleep-deprived. You might even wish you could drop off that bundle of sweet grumpiness at your mom's house for the day so you could curl up in your cozy bed and SLEEP!!! Forget shopping, forget cleaning – just blissful, uninterrupted sleep! …oh, but on your way home, don't forget to swing through a fast food joint, because you will be starving – thanks to the little cutie-milk-guzzler! (sucks the life right outta ya, I'm tellin' ya!)
And perhaps – just possibly, under the cover of darkness, during that 2 am feeding… you know, the one where you are afraid you might drop the baby because your eyelids feel pasted shut and no matter how many times you shake your head, they won't stay open? Yeah. That one… If you are perfectly honest, you may have even wondered "why in the world was I so excited about a baby?!!" 
It happens. You are not wrong for being exhausted, worn out, and fighting discouragement. Keep fighting. It is so hard, this motherhood bit. It is beyond frustrating when your baby refuses to eat, sleep, or any number of other things. It is wearisome to realize that your life now consists of changing diapers, wiping spit-up off your lap (and other people's shoulders), rummaging in the car seat for a dropped pacifier, and planning your life around feeding times.
But dear new mama, I have good news for you! There is a Friend who:
Loves to give strength to the weary. (Isaiah 40:29)
He is a ready help for when you are in trouble. (Psalm 46:1)
He answers and saves with His strong hand. (Psalm 20:6)
He restores and sustains. (Psalms 51:12-13)
Gives wisdom. (James 1:5)
Intercedes for us in our human weaknesses. (Romans 8:26,27,34)
Let me just say, new mama, that there is no going back. This IS a new life. And yes it is more than you expected. But much of how you view your mothering journey will be defined by how you approach it. Are you going to wish away the days, longing for the day your child is grown and able to care for themselves? Or maybe longing for the days you've left behind?
Please don't waste these precious years doing that! I cannot tell you to 'enjoy every minute' because honestly, I don't enjoy every minute.
But you can learn to enjoy the journey. Train yourself to look for the long-term benefit in every situation. Grasp the importance of the calling on your life as a mother. Never underestimate the value of a mama who stays home with her babies – loving, caring for them, teaching, training, comforting.
[bctt tweet="Never underestimate the value of a mama who stays home with her babies – loving, caring for them, teaching, training, comforting." username="aranchmom"]
Give your sweet babies the great privilege of being with you and bonding tightly to you. It may seem like they are small, insignificant humans, and caring for them is something anyone could do. But let me tell you, there is no person more qualified to care for that baby than its own mother – you!
When you are exhausted, cry out to Jesus! Get help if you can, but don't hold your needs too precious. We as Christians, are here to give our lives for those who need us. Right now, in this season of life, your baby needs you. They need your comfort, your touch, your smell, your tender care. They need to hear your voice and relax in your arms. No one can fill in adequately for mama. 🙂
By the power of the Holy Spirit in you, you can keep going, in grace and joy and peace. Accept that it is not an easy journey. But it is a very worthy one. One that is rewarding in the end. Don't give up.
Carry on.
What is (or was) the hardest thing about being a first-time mama for you?