Last week I was invited out to the ranch to get some pictures of the crew doing the spring processing. Since we live in town now, it is a real treat to go out to the ranch.
I have always been an outdoors kind of girl. As a kid, I spent hours and hours just rambling in the meadows, forests, and exploring hedgerows. My poor mother could never find me when she wanted me, and when I'd eventually show up at the kitchen door wanting a long drink or something to eat, she would look at my dress and sigh heavily. It was often torn, grass-stained, and dirty.
"What were you doing? Rolling around in the grass?" she'd exclaim in frustration, thinking of the mending and scrubbing in store for her tired hands. "Don't sit in the grass! Or if you do, sit very carefully and don't scoot around!"
I could never remember.
And today, I still get grass stains on my clothes because I have a tendency to sink down by the creek in a soft clump of grass, watch the ripples, and think about life.
Spring Processing On The Ranch
Well anyways, so last week I was enjoying the morning on the ranch, clicking my camera shutter at the cowboys, and just drinking in the sights and sounds and smells of ranch life.
First, the cowboys riding out in the crisp morning sun, fresh horses, full of vinegar and ready to go. They rode out, circled the cattle and pushed (guided) them back to the corrals.
Don't forget the gates
Down the hill, through the hay meadows, across the creek – where some wanted to turn back – and on around to the corral gates. Of course, someone had to 'set the gates' first thing in the morning, before they rode out. Open the gates where they want the yearling to go in, and close the gates elsewhere so they didn't go back out.
The dogs came wagging up to me, eager for attention. They were wet and muddy from the belly down, from bringing back wayward yearlings.
Yearling cattle looked suspiciously at me as I walked up to the corrals, and clumped against the far fence.
Coffee break for the cowboys
The ranch wife brought out some muffins and hot, black coffee. A winning combination on such a day. Everyone eagerly ate it up, then started work again.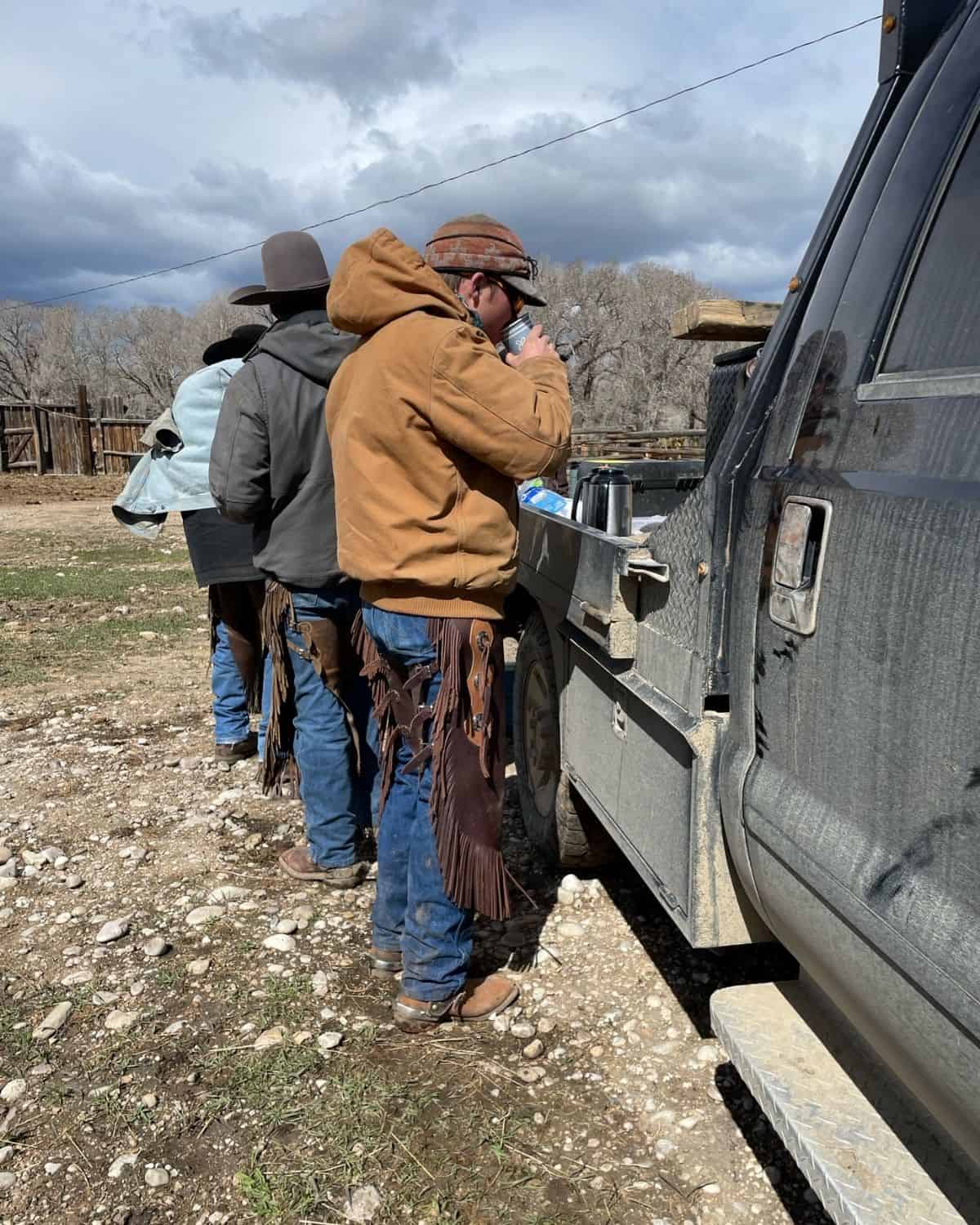 The crew got the cattle settled, then laid out the supplies: vaccines, dewormer, etc. A couple guys in the corrals to keep the chute full, the rest up by the chute – deworming, vaccinating, and so on. The wind was brisk that day; about 40 mph. The 50 degrees would have felt a lot warmer without that wind!