I was recently was given the opportunity to review The Jesus Bible, in exchange for my honest opinion. I was given a copy of The Jesus Bible for this review. All thoughts and opinions are my own.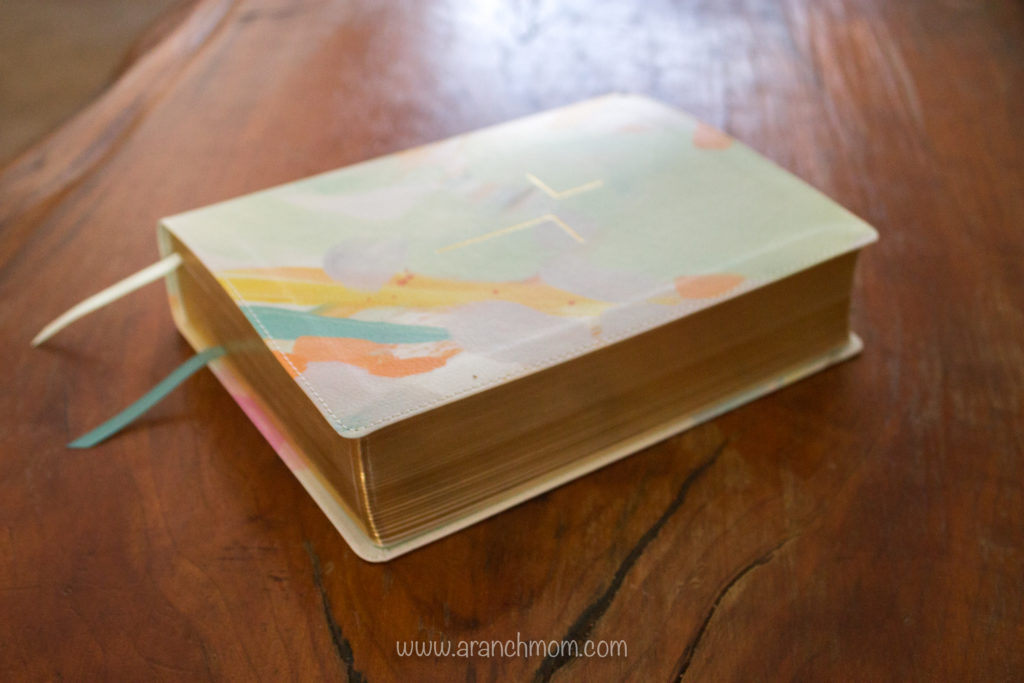 The Jesus Bible comes in ESV and NIV versions. I chose ESV, because I prefer that version over NIV.
It came in a nice box that opens flat. I lifted The Jesus Bible out of the box and was pleasantly surprised at how big it was. This is not a small, fit-in-your-purse Bible. This is a study Bible.
I really enjoy large study Bibles, but if you are wanting a compact Bible, this might be too large. It is 9″ x 7″ x 2″.
Mine is bound with Leathersoft™, which feels like real leather, and I really enjoy the way it lays in my hands. I believe there are several binding options.
What is The Jesus Bible?
The whole premise behind The Jesus Bible, is that Jesus' story doesn't start on Christmas; the entire Bible is the story of Jesus! From Genesis to Revelation; it all works together to tell the greatest story in the world.
To this end, there are study notes throughout the Bible, which help explain the setting, customs, etc, and weave the details together to help you see how it all points to Christ.
It is sort of like a commentary + Bible in one book.
There are several articles included, by popular authors like Randy Alcorn, Max Lucado, John Piper, Ravi Zacharias, and Louie Giglio. I enjoyed reading their thoughts, as I respect their teachings.
The rest of the notes throughout the Bible are written by a team, and I find the notes to be simple but interesting, showing a connection between passages or thoughts.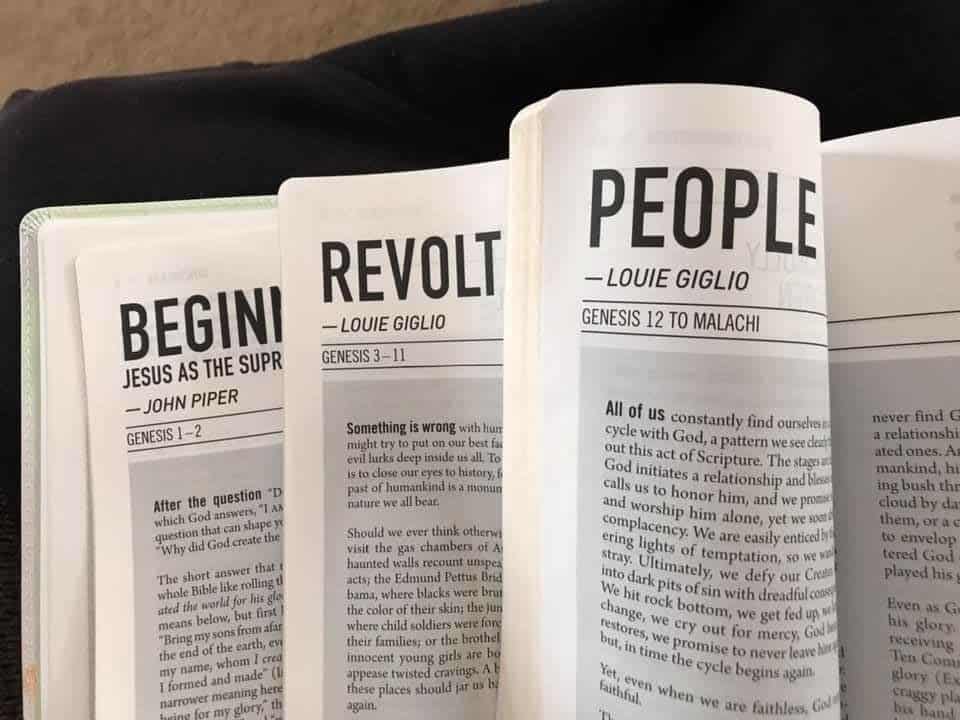 The Jesus Bible layout
The text itself is a single column style, with plenty of space along the sides for taking notes or journaling. It is a black text Bible – words of Christ are not red. Which makes sense if you think about it. All of Scripture is given by inspiration, right? All the words are words of Christ.
 In the beginning was the Word, and the Word was with God, and the Word was God. John 1:1
I am really enjoying this Bible. I like to begin my day with Bible reading and prayer, and I have enjoyed using this one recently.
Things I like
The size. I used to be a small-Bible person, but I am really enjoying this large study size! I think I'm hooked!
The commentary and notes that keep pointing to Christ. It really does bring out how the entire Bible is about Jesus.
The Leathersoft™ cover. I thought it was leather at first. Just a lovely feel to it.
Things I don't like
I wish there were cover design options for the ESV version. There are more options for the NIV version, but only three for the ESV. This pastel watercolor is pretty, but I would love this Bible in a brown or burgundy.
I guess all the commentary throughout could be distracting, although personally, I like it.
And like I mentioned earlier; it is a bit large to tote around. But I just really enjoy the size.
You can read more about this Bible here: The Jesus Bible.