Beefy chili is the favorite soup at our house. My kids aren't big fans of soup, but they all like chili soup! This is about as easy as it can get.
I love a simple recipe, don't you? Just dump a few ingredients together and you're done! Sure, I love taking time to make food special and pretty – but there are those days where I don't want to think, I just want to grab a few things and be done. This is one of those recipes for me. When I simply can't think of anything food-related, or I am super busy and need something easy, this is my go-to meal.
Now, this is not a gourmet recipe nor yet a 5-alarm chili. Not much spiciness here… but of course you always fix that by adding some red pepper – as much as your family likes! 🙂 This is kid-friendly for my bunch.
Brown your hamburger in a big kettle. To save yourself washing a skillet, ya know. Add some cooked beans – any kind. I used some I had previously cooked and frozen. Feel free to open a couple cans.
Tip: If your kids don't like beans, just add a can of refried beans instead! They will probably not know the difference! 😉
Add the taco seasoning… I buy it in bulk – a big container like this lasts a long time.
…and the tomato sauce.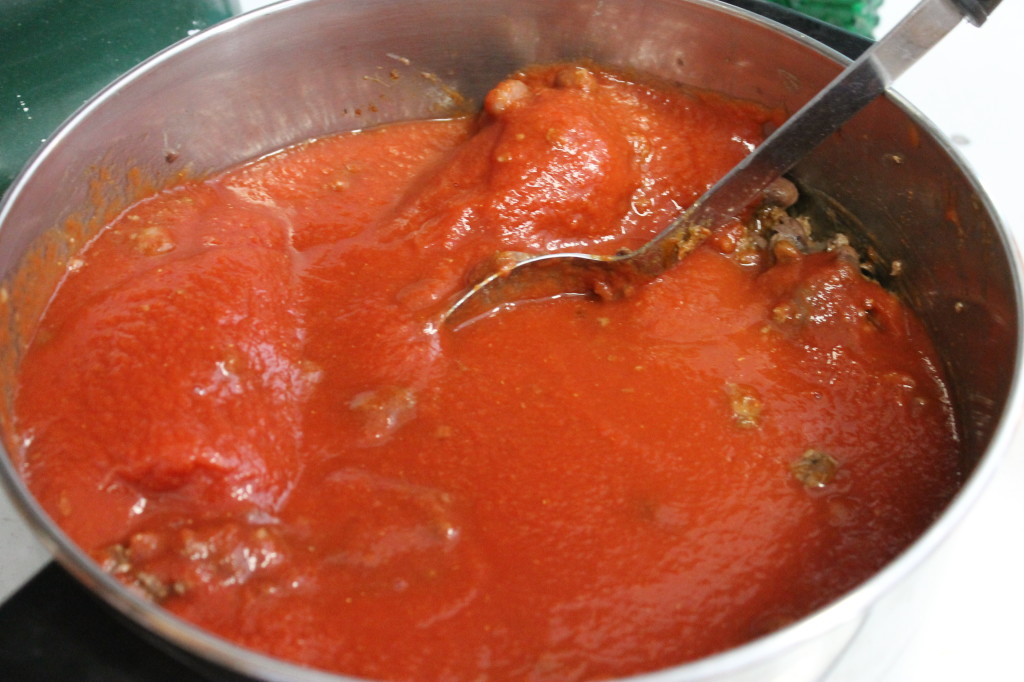 Stir it all together. Simmer for 15 minutes. Or put it in the crockpot on low for a couple hours to keep warm.  Leftovers are great spooned over baked potatoes!
Note: I sometimes add a little water if I want it thinner, for whatever reason. I guess with water it is 5 ingredients – but I don't usually add water. 😉
Sharing over at:
and:  http://www.themodestmomblog.com/2014/01/modest-monday-link-12/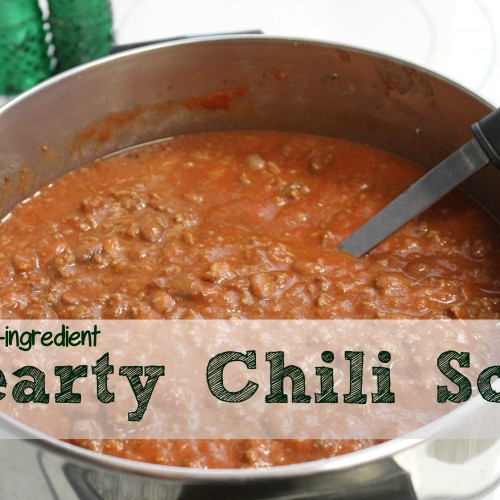 4-Ingredient Hearty Chili Soup
Ingredients
1

lb

hamburger

browned

1

15 oz can pinto or kidney beans, drained

4

cups

tomato sauce or large

30 oz? can

1

packet taco seasoning

or 1/4 cup if using bulk seasoning
Instructions
Brown hamburger in kettle.

Add beans.

Add taco seasoning.

Add tomato sauce and stir.

Add some water if you desire thinner chili.

Simmer 15 min or till bubbly.

Or keep warm several hours in a crockpot on low.
Does your family love chili as much as mine does? 🙂
Related articles across the web