This recipe for deer steak in the oven is delicious! The meat comes out so tender, with creamy, tasty gravy to pour over mashed potatoes. It takes a bit of work to prep, but it is completely worth it after you take a bite of the tender deer meat!
The gravy is forgiving – if you get it a bit lumpy, it will bake out just fine. The onions help to mellow out the wild game flavor. Don't forget to grab all my tips for cooking wild game.
This recipe does need to cook low and slow, to tenderize the venison steak.
How to make deer steak in the oven
Start with 2 lbs of deer steak. (You can use elk, deer, or antelope.) If you are using frozen meat, you will need to thaw it completely.
Pat meat dry with a paper towel, and pound with a meat tenderizer. Here's a tenderizer on Amazon that is similar to mine.
Preheat the oven to 300 degrees while you are prepping the meat. Pound the meat to about half it's thickness. I won't specify a measurement, because steaks vary in thickness. Just pound it down to about half.
After the steak is all tenderized, heat some oil in a big frying pan. I like to use my cast iron pans for that beautiful sear. When the oil is hot, roll each steak in flour, and brown on both sides.
Place the steaks in a baking dish. Any 3-quart baking dish will work, or a 9×13 pan.
Make the gravy
Chop the onion, add it to the pan that you fried the steaks in. All the browned bits from the steaks are just fine – they add flavor. Add the butter, then stir and fry until the onion is soft. (you can use oil or bacon grease instead of butter)
Add the garlic, salt, pepper, and flour. Stir into the onions. It will look clumpy at this stage, but don't worry! The next step will fix it.
Now, pour the milk slowly into the pan, stirring the onion mixture as you pour. At first, it may look lumpy, but should start to smooth out as you continue to stir, and it begins to simmer.
When the gravy starts to boil and thicken a bit, it is done. You don't wan't it too thick, because it will thicken more in the oven.
Bake the deer steak
Pour the gravy over the steaks, cover with a lid or foil, and bake in a preheated oven for 2 1/2 hours. It won't hurt to go a bit longer, if you need to.
We like to pour the gravy over mashed potatoes, but you can also eat it over pasta. Or if you are a little bit Southern like me – pour it over bread!
Any way you eat it, this is delicious, tender venison. It is stick-to-your-ribs comfort food. The slow bake time makes it tender, and the onions and garlic take away any gamey flavor.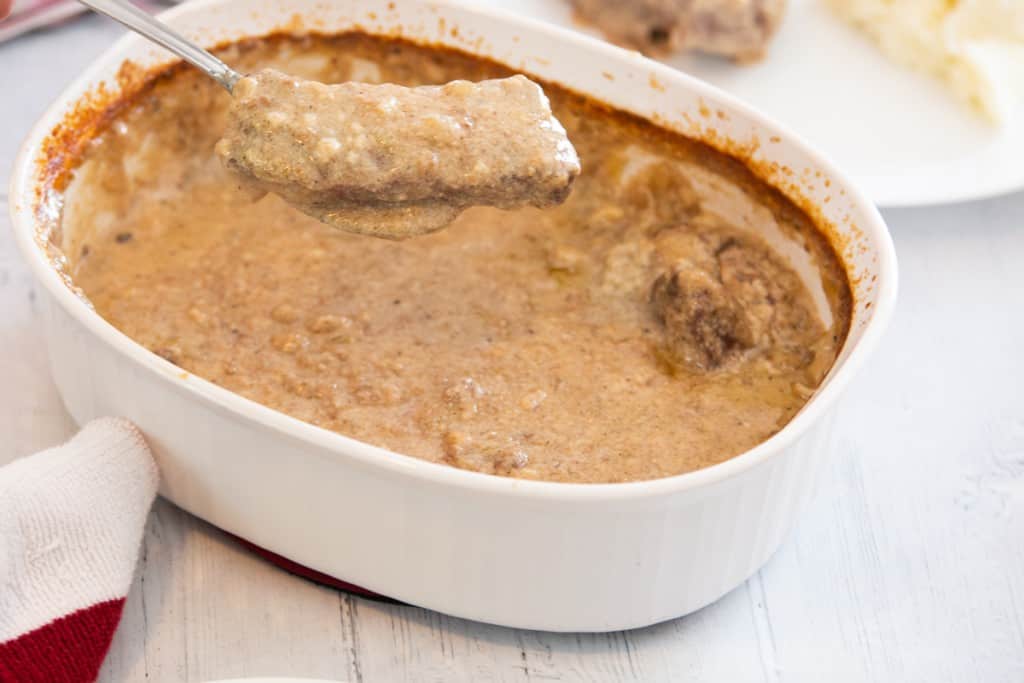 Check out my other venison recipes:
Venison Breakfast Sausage
Crockpot Elk Stew
Elk Lasagna
Venison Meatballs
Crockpot Antelope Roast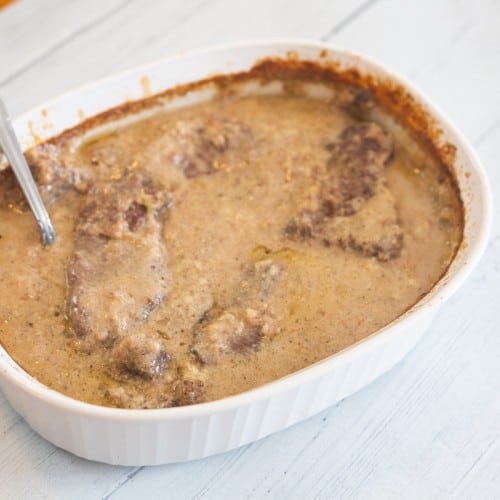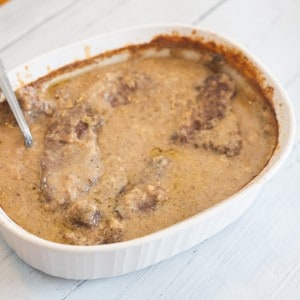 Deer Steaks in the Oven
Savory, tender deer steaks in creamy homemade gravy.
Ingredients
2

lbs

deer steak

1/2

cup

flour

1

onion, chopped

6

cloves

garlic, minced

1

tsp

salt

1/2

tsp

black pepper

2

Tablespoons

oil

4

Tablespoons

butter

4

cups

milk
Instructions
Pat steaks dry with paper towel. Pound with meat mallet to half their original thickness.

Heat oil in pan over medium-high heat.

Roll each steak in flour and fry each side just till browned, about 1 minute each side.

Place steaks in 3 quart casserole dish.

Add butter to same frying pan. Add onions. Fry and stir till soft. Add garlic, salt, pepper, and flour. Stir.

Add milk slowly, stiurring as you pour the milk into the pan. Continue to stir until the gravy boils and starts to thicken. Pour over steaks.

Cover casserole dish and bake at 300° for 2 1/2 hours.
Nutrition