Pan Seared Venison Backstrap is one of my favorite quick meals. I make it year-round, with a salad or some veggies on the side for a healthy, low-carb meal.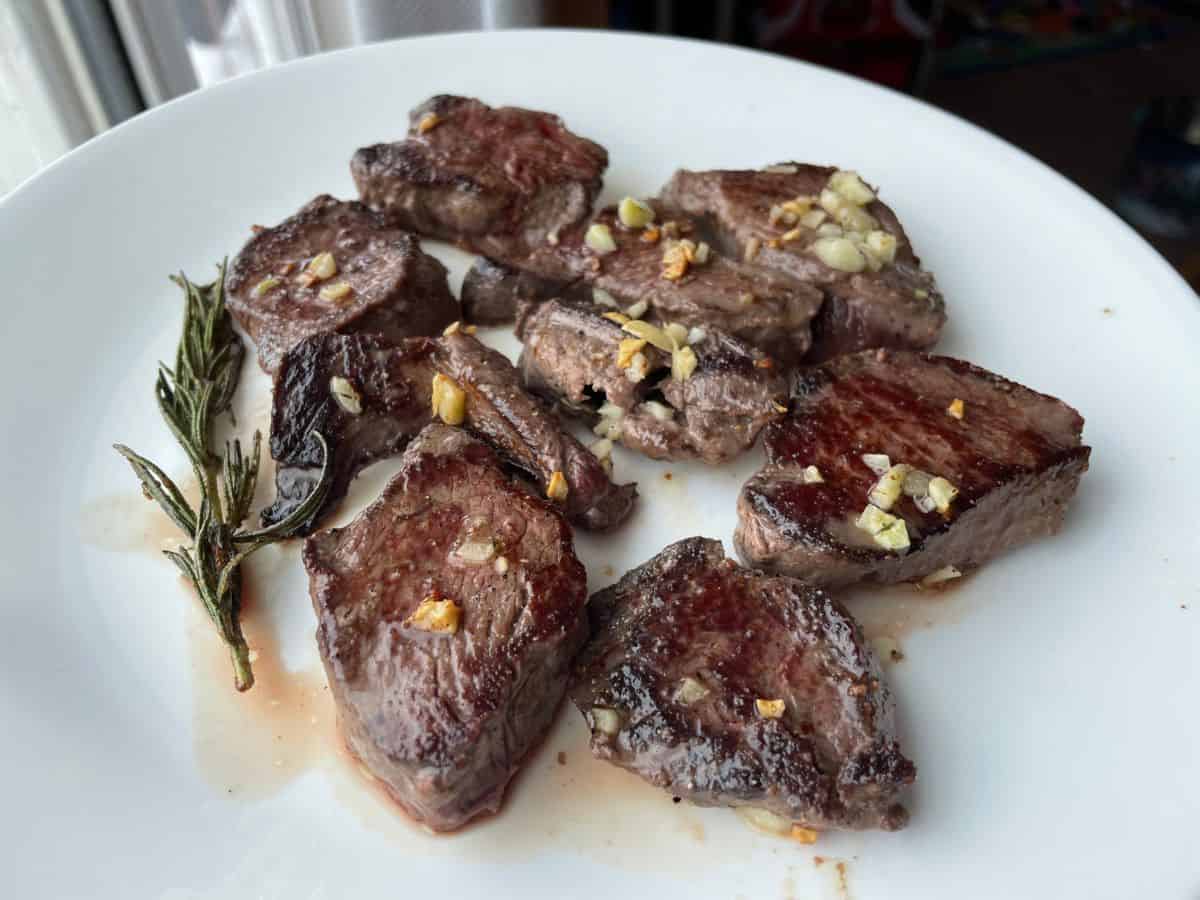 Pan Seared Venison Backstrap
I like to cut the backstrap, or Venison loin, about an inch thick. Cooking time will vary depending on thickness of the cut.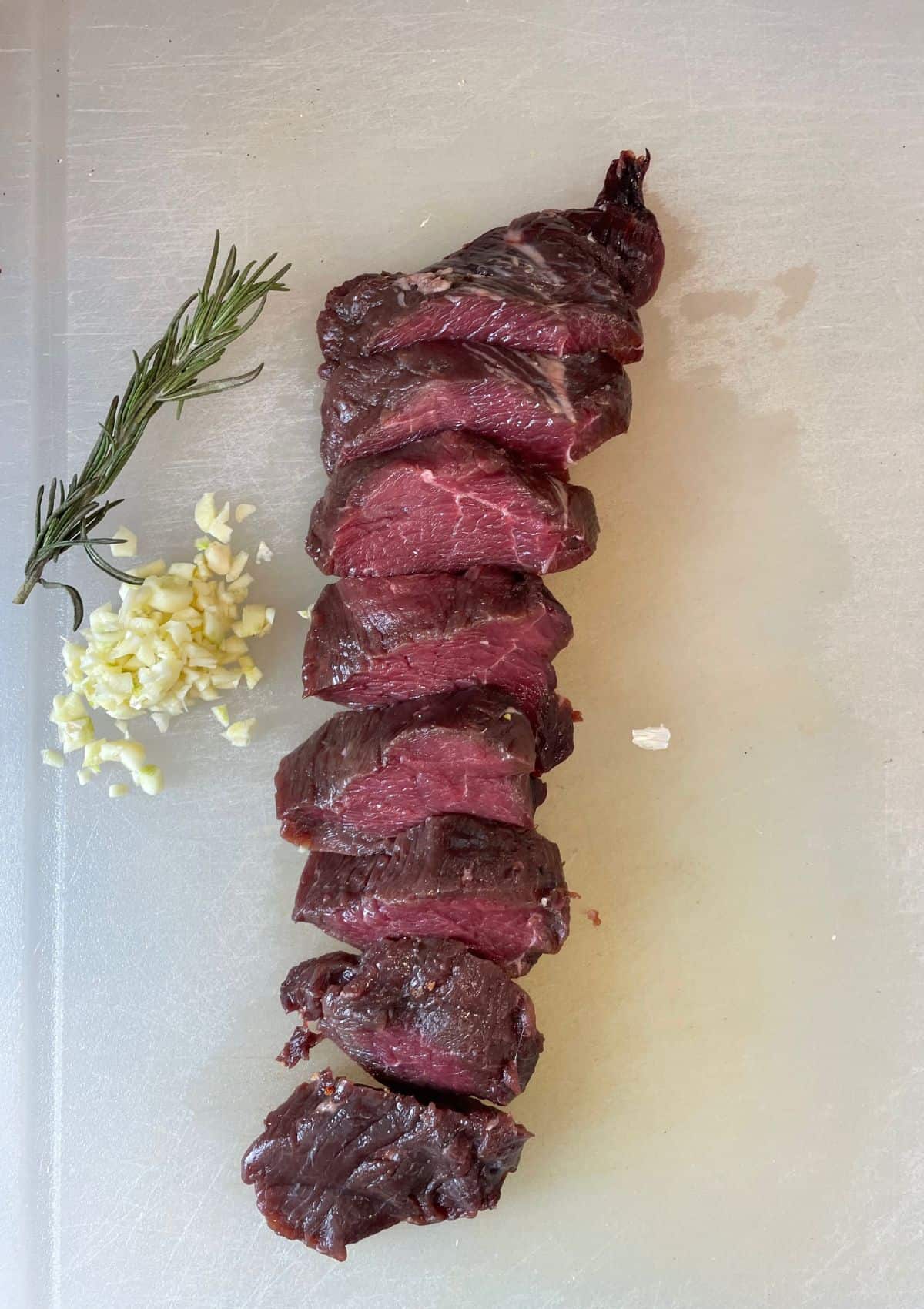 How to pan sear deer backstrap
First, pat the venison backstrap dry with a paper towel. Slice evenly into 1 inch thick slices, or as desired.
Next, dice some garlic cloves and get out some butter, olive oil, and a rosemary sprig.
Heat a cast iron or other heavy-bottomed skillet over medium-high heat. Add the butter, oil, and rosemary. Place the meat into the pan carefully, keeping them spaced evenly.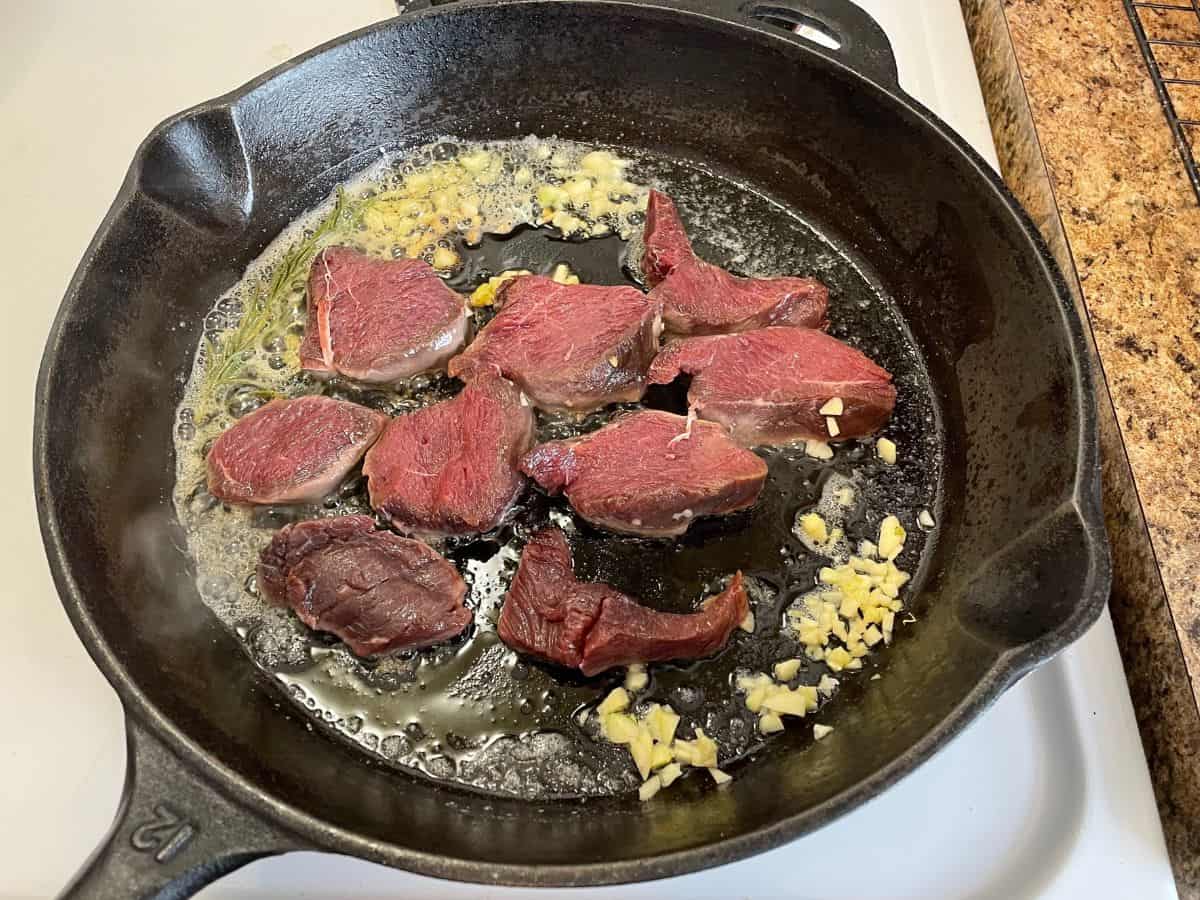 Sear the venison backstrap for 1-2 minutes, then add flip and add the diced garlic to the pan. Sear an additional 1-2 minutes, and spoon the butter over the steaks while they are frying. One or two minutes is long enough for medium doneness, but you may cook the steaks to your preferred level of doneness.
Venison is rare at 125-130, medium 130-135, well done is 140 and above. Well done temps will likely make your steak tough and chewy. Season with salt and pepper as desired.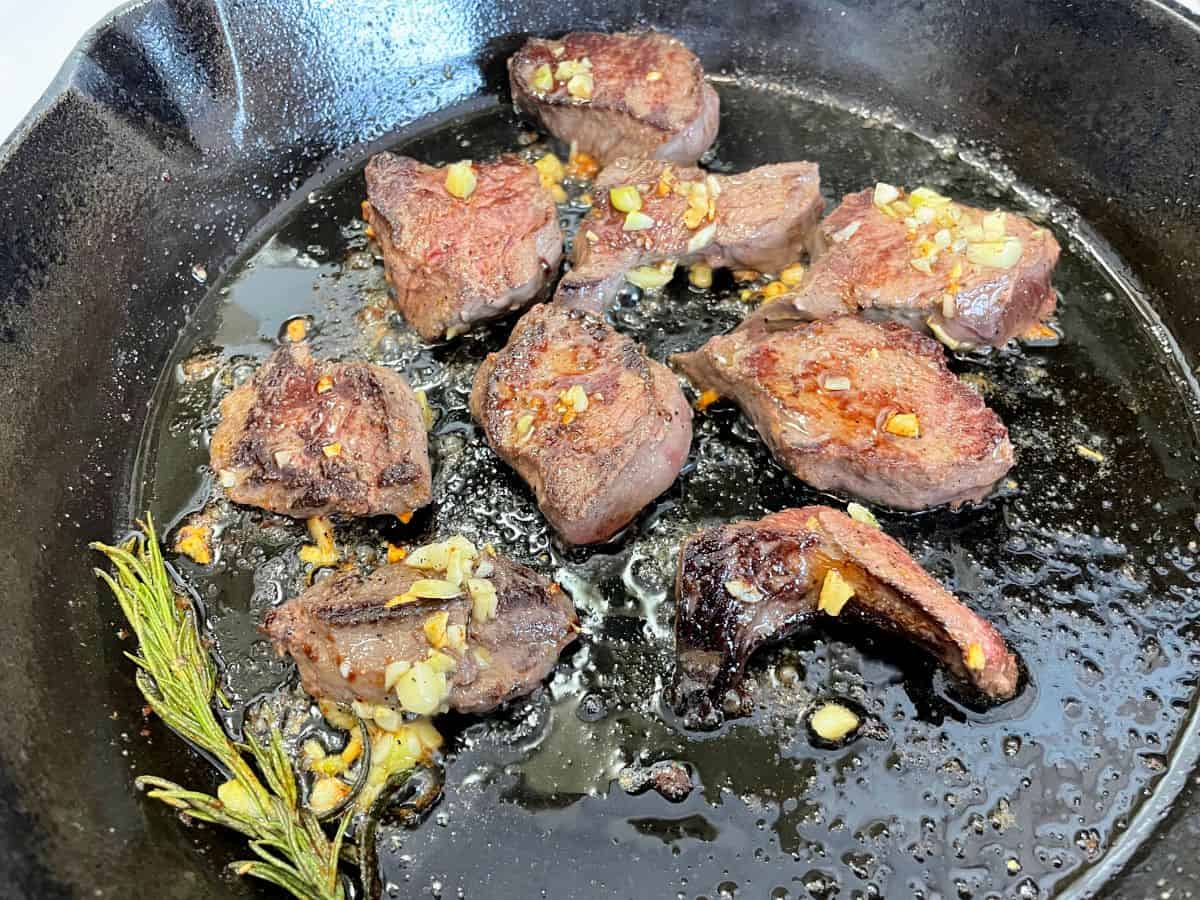 I was in a hurry and didn't take time to get really great photos of the finished product, but trust me when I say – they were luscious and perfectly cooked! I like a rare to medium finish, and I am by no means an expert. But, when the meat melts in your mouth – that is a perfect piece of venison!
If you let the meat rest on a plate for several minutes, the juices will redistribute and not all run out when you cut into it. I like to serve it with some nice, roasted vegetables.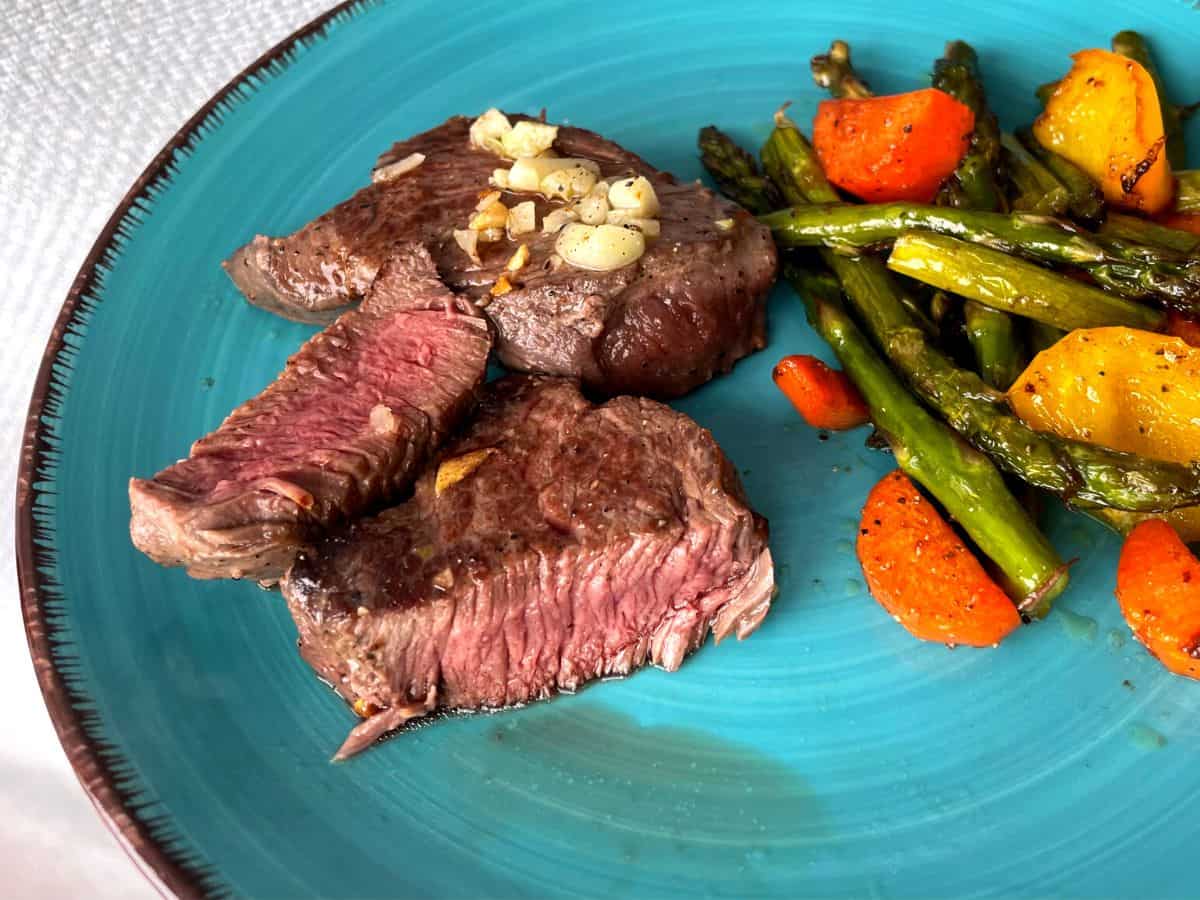 Another quick recipe that we enjoy are these chicken fried steak fingers.
If you want another method for backstrap, you can use the ever-popular stuffed backstrap method. The recipe is created for tenderloin, but can be used for backstrap as well, just cook it longer.
Here are some great wine and beer pairings for Venison.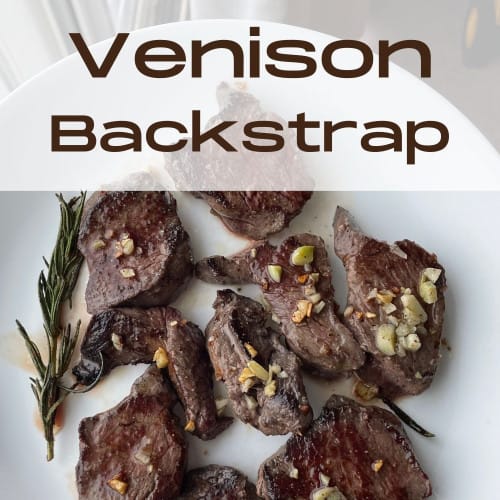 Pan Seared Venison Backstrap
Pan Seared Venison Backstrap is a very fast, healthy skillet meal that everyone loves! Pair with some roasted or sautéed vegetables for a complete meal.
Ingredients
1

lb

venison loin

4

cloves

garlic

diced

1

tablespoon

olive oil

1

tablespoon

butter

1

sprig

rosemary

fresh

salt

pepper
Instructions
Slice venison into 1 inch thick slices.

Heat cast iron or other heavy pan over medium-high heat.

Add butter, rosemary, and olive oil to heated pan and place steaks into the oil mixture, spacing evenly.

Sear for 1 - 2 minutes , then flip and add garlic to butter. Spoon butter over steaks as they fry.

When steaks reach 130 internal temperature, (or your desired level of doneness) remove steaks from pan and place on warmed plate. Rest the meat for 3-5 minutes before cutting.

Sprinkle with salt and pepper to taste, if desired.
Nutrition
Calories:
461
kcal
Carbohydrates:
2
g
Protein:
69
g
Fat:
18
g
Saturated Fat:
7
g
Polyunsaturated Fat:
1
g
Monounsaturated Fat:
7
g
Trans Fat:
0.2
g
Cholesterol:
194
mg
Sodium:
175
mg
Potassium:
929
mg
Fiber:
0.1
g
Sugar:
0.1
g
Vitamin A:
177
IU
Vitamin C:
2
mg
Calcium:
27
mg
Iron:
9
mg