Today I am going to show you how I salvage burnt cookies. I mean, we've all done it. We forget to set the timer or don't hear it ding, or whatever. Soon our noses tell us "you forgot the cookies in the oven!" and there we are – burned cookies! It's so frustrating, after all the hard work, to pull a pan of burnt cookies out of the oven. But one day, I made a happy little experiment, and ever since, I know what to do with burned cookies!
What to do with burned cookies
Make a crust! That's right, crush those babies up and turn them into the base of a creamy, delicious dessert! That is the way to make lemonade out of lemons, let me tell you! 😀 I have made several desserts with burned cookie crust, and every kind is delicious.
I made a cherry delight once, with burnt chocolate chip cookies as the crust, and today I made a chocolate cheesecake pudding with burnt molasses cookies as the crust. Delicious! Anywhere you would use graham crust – use burned cookies. You will be amazed. I often have people ask me for my recipe when I do this, I grin and say: "Well, first you burn a panful of cookies…" Haha!
What can I do with burnt cookies? I can make you a delicious burned cookie crust dessert, that's what!
How to save burnt cookies
I usually put my burned cookies in a bag and throw them in the freezer until I have time to use them. When I am ready to make a dessert, I take them out and let them thaw. Then throw them in the blender.
I use a Ninja Blender, but any blender works fine. Just pulse them until they are all crushed up fine. If it is chocolate chip cookies, or cookies with nuts, they will be a little chunkier – that's ok!
Making the crust from burnt cookies
Dump the cookie crumbs into a 9×13 cake pan. If you have one pan of burnt cookies, this will make somewhere in the range of 4-6 cups of crumbs. But I never measure! I just dump them in the pan and add a chunk of softened butter. About 1/2 cup of butter, or one stick.
Mix butter and crumbs together with your hands. When well mixed, pat the crumbs into a crust. Then cool in the fridge while you make the filling.
This cookie crust is so delicious! You can use sugar cookies, chocolate chip cookies, chocolate cookies, peanut butter cookies, gingersnaps, etc. Just pair a flavor of cookies with a filling that compliments the crust.
Chocolate Cheesecake Dessert
I will share the recipe for this dessert, along with the crust. But don't feel stuck because you don't have the right ingredients – you can literally use any pudding flavor and it will be good.
You can also use pie filling instead of pudding, for the top layer. Your call!
Today, the cowboys and the vet came over to preg-check the cows. I made some coffee and Easy Donuts for a little coffee break. Then I came into the house and ate a donut and drank some leftover coffee. 🙂
I made a simple lunch of meatloaf, roasted baby potatoes, and mixed veggies. Then the chocolate cheesecake for dessert.
It was a chilly day with a fresh 8-10 inches of snow from the weekend. The guys worked from dawn till almost dark, checking each cow to see if she's pregnant or not. They had some trouble with the chute, so things took a bit longer.
Here is the recipe for the dessert that I made them for lunch. The cowboys loved it! I bet you will too.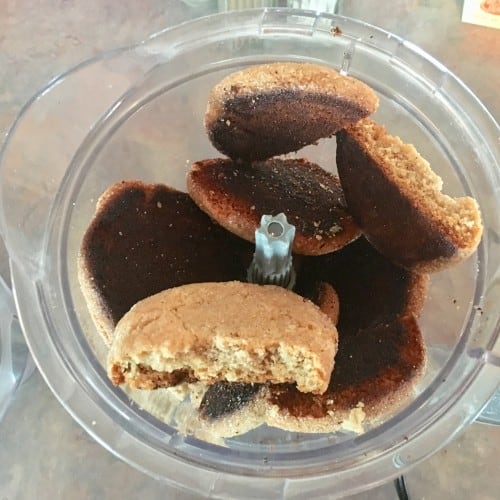 Chocolate cheesecake dessert with burnt cookie crust
Salvage those burnyt cookies with this buttery crust recipe! Use whatever flavor of pudding you like, to make ths delicious pudding/cheesecake dessert.
Ingredients
4-6

cups

crushed cookie crumbs

I used molasses cookies

1/2

cup

butter

2 8-

oz

packages cream cheese

16

oz

whipped topping

2

packages chocolate pudding

4

cups

milk
Instructions
Mix cookie crumbs and butter well.

Pat into 9x13 pan. Chill.

Beat cream cheese well.

Add whipped topping and mix well.

Spread cream cheese mixture over crust.

Mix pudding mix with milk.

Pour over cream cheese mixture and spread evenly.

Chill 15 minutes before eating.
Notes
Use any type of cookies or pudding you desire. Try different flavors and combinations. 
Chocolate pudding with peanut butter cookies.
Vanilla pudding with chocolate chip cookies. 
You can also use cherry pie filling instead of pudding on top. 
The cookies can be quite burnt and still taste good.
Nutrition
Calories:
307
kcal
Carbohydrates:
35
g
Protein:
8
g
Fat:
15
g
Saturated Fat:
9
g
Cholesterol:
26
mg
Sodium:
389
mg
Potassium:
273
mg
Fiber:
1
g
Sugar:
18
g
Vitamin A:
327
IU
Calcium:
186
mg
Iron:
2
mg