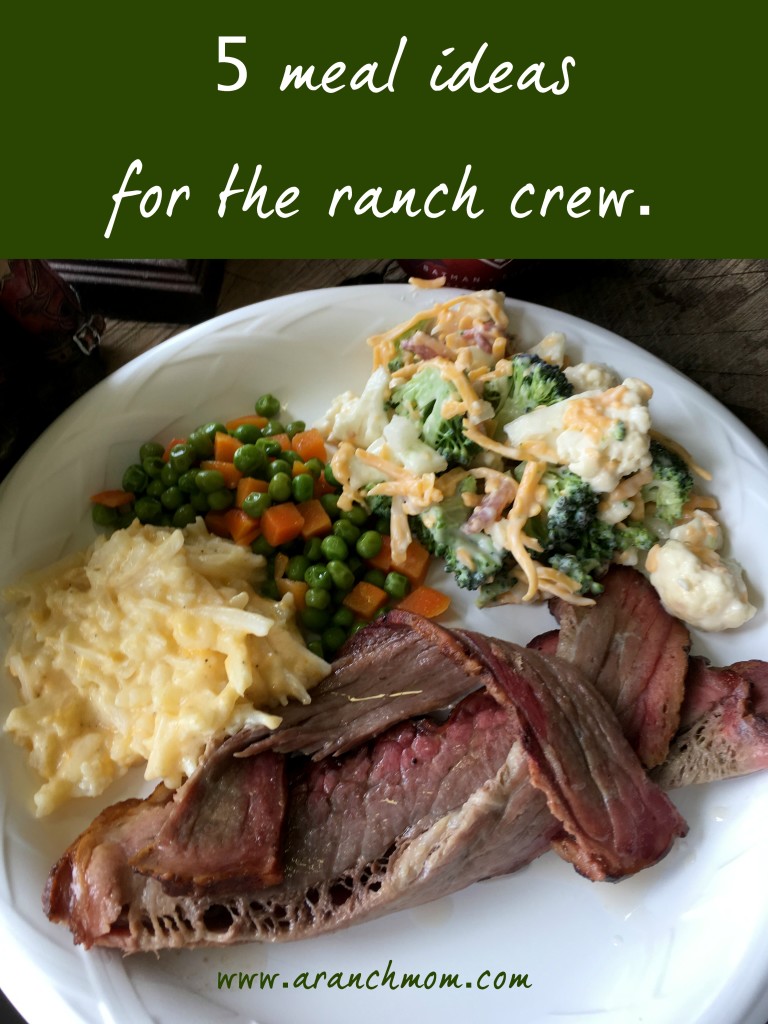 Do you need some menu ideas for the ranch crew? It's easy to run out of ideas for meals, when you have to cook for a dozen or more hungry cowboys. Especially if you need to cook several days in a row!
I'll be the first – and maybe only – one to say; I love cooking for the ranch crew! But even I run out of ideas. I get into a rut and then I hate my own cooking, haha! Thankfully, cowboys seem to be fine with the same foods over and over again.
I have been on ranches where they expect a feast: 2 kinds of meat, potatoes, several vegetables, several salads, several desserts, plus rolls and drinks.
Some ranches take a more relaxed route, and tend to have more normal fare; meat, a couple sides and a dessert.
My husband has told tales of ranches he's helped on, where they served only a small sandwich or burrito and nothing else. Yikes!
But aside from the obvious; Have Plenty Of Food rule, I thought I'd share some of my favorite meals to make for the crew.

Menu ideas for branding
Meal idea #1
BBQ Sandwiches
Chips
Watermelon
Baked Beans
Jello Cake
Meal idea #2

Roast Beef
Mashed potatoes
Corn casserole
Spinach salad
Dinner rolls
Pie with ice cream
Meal idea #3
Brisket
Cheesy potatoes
Green Beans
Layered salad
Biscuits
Cherry Cheesecake
Meal idea #4
Beefy Enchiladas
Spanish Rice
Refried Beans
Homemade Salsa + chips
Texas Sheet Cake
Meal idea #5
Crockpot Elk (or beef) Stew (for cool fall days!)
Cornbread
Blueberry cobbler
NOTES & TIPS
The brisket in Meal #3 can be done at home, or – if that intimidates you – you can buy it pre-cooked at Sam's Club. They sell it already smoked and cured. It is really delicious!! All you have to do it put in the electric roaster (or oven) and warm it up. Super easy!
I was nervous the first time I served stew, thinking it wasn't fancy enough. But it was a cold day and the guys loved it! It was warm and filling. I am considering making it over the fire with my dutch ovens, this fall. 😀 Wouldn't that be fun?
Enchiladas are a bit different for this area. We are too far north for it to be a big thing. But my husband loves Spanish-style food, so I sneak it in there occasionally. 🙂 The guys don't seem to mind, as long as I have really good homemade salsa! 😉 I don't make it more than maybe once per year, because they do like their potatoes.
I am thinking about putting together a book with all my ranch meals; menus, meats, sides, desserts, recipes, servings. Is that something that would be helpful to you? Let me know in the comments!
I hope this list has sparked some ideas in you for meals! Now, I have a favor to ask of you: Would you please comment with some of your favorite menus for the crew? Or any large-crowd recipe that you use and love? I'd appreciate it!