My daughter Jenni loves to write stories about horses and cowgirls. She writes pages and pages! She has notebooks filled to the brim with her stories. Today she is sharing with us what it takes to be a real cowgirl. She should know – she is one! She helps her dad gather cows (and bulls!) on horseback, feeds the beef heifers, bottle-feeds the orphan calves, and takes care of other miscellaneous pets. She can also tend a baby with the best of them, and makes a delicious loaf of bread. She is twelve. I am proud to call her my daughter.
This tongue-in-cheek article is a fun peek into a ranch kid's mind, but if you are looking for serious career advice, check out this article about how to be a cowgirl.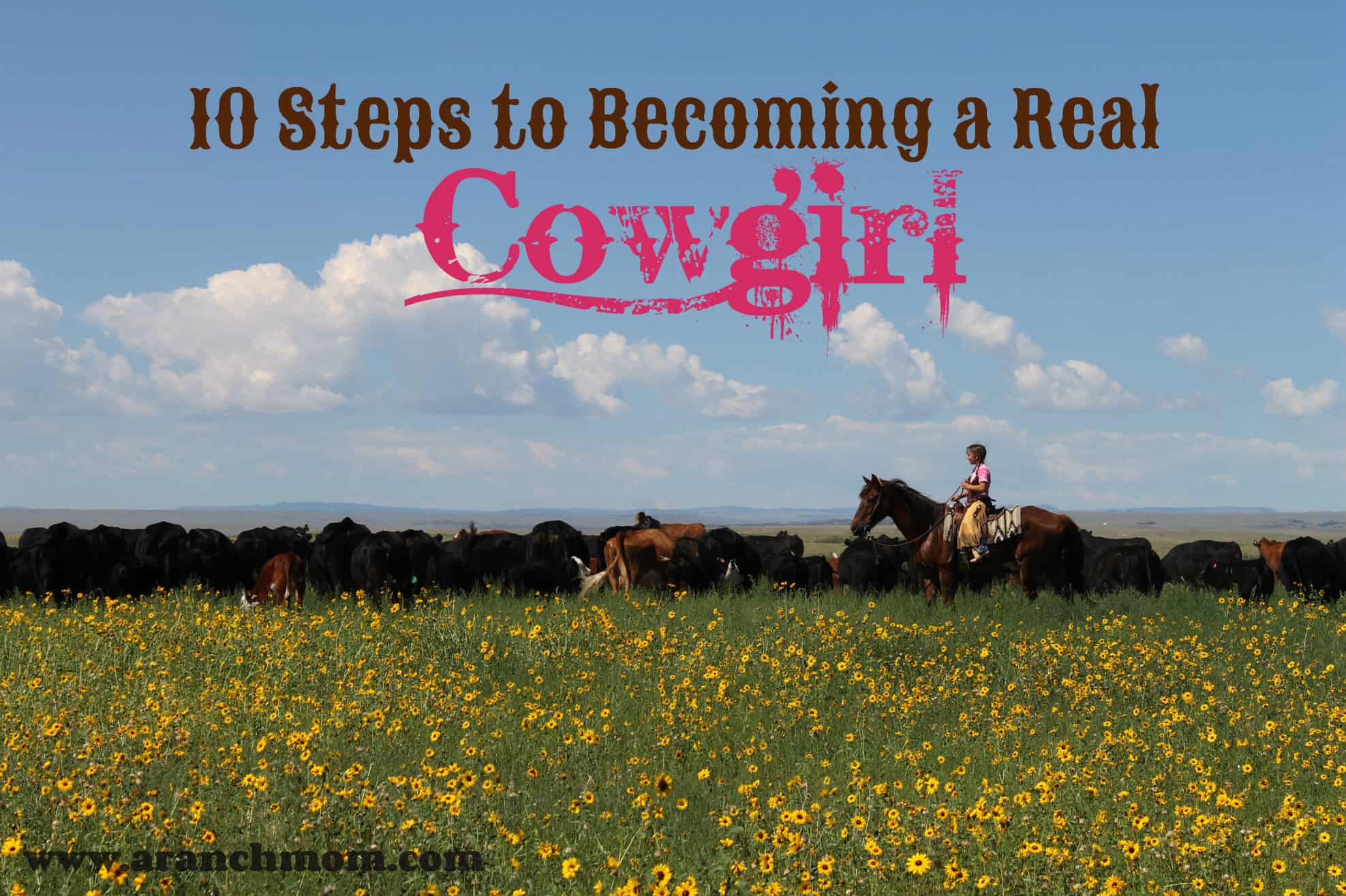 Ten Steps to Being a Real Cowgirl
by Jennifer Schrock
1. Instead of fancy dresses, wear a dusty cowgirl shirt, patched jeans, faded boots, and a hat. A cowgirl doesn't care if her boots are brown and her shirt pink, just as long as there is something in her closet to wear every day, 24/7.
2. Instead of going to town every weekend, grow your own fruits and veggies, raise chickens for eggs, plant wheat crops for flour, and shoot elk for meat. Also, learn to sew your own clothes and learn to make candles and soap.
3. Be friendly. Instead of studying someone to make sure he or she is approachable, go right up to them and give them a hearty hand shake while saying, "Howdy pardner!"
4. Respect your horse. He works hard to please you, so make it fun for him too, don't let that stray calf go, run after it! There is nothin' a cowhorse loves more than running after cattle.
5. Don't wear too much make up. Instead, pull on your clothes and get out there, because the best kinda makeup is the dust your horse makes when he runs.
6. Tight buns? High ponytails? Forget it! Just put your hair in a braid or two and pull on your hat.
7. Spend less time on the internet – getting browned by the summer sun is much better than gossiping on facebook.
8. Forget going to a professional to get a tan – working out in the summer sun is all you need to get seriously tanned.
9. Get off that treadmill, dump the weights – saddle your horse and go do what needs to be done. Trust me, working cattle is all the exercise you need to stay fit.

10. Caviar? Sushi? Margarita? Puh-lease, go for chili and beef steak – its much more filling!
This article is for all you Wyoming, Nevada, Arizona, Texas, and other wild west state cowgirls, Yee-haw!
Sharing over here: http://www.theprairiehomestead.com/2014/02/homestead-barn-hop-148.html