Mom's chicken and rice casserole is one of those childhood comfort foods that just can't be beaten! I remember Mom frying the chicken on a Sunday morning, filling the kitchen with smoke from the hot bacon grease. I'd watch as she laid each piece on top of a bed of rice – my mouth watering at the thought of eating it in a few hours.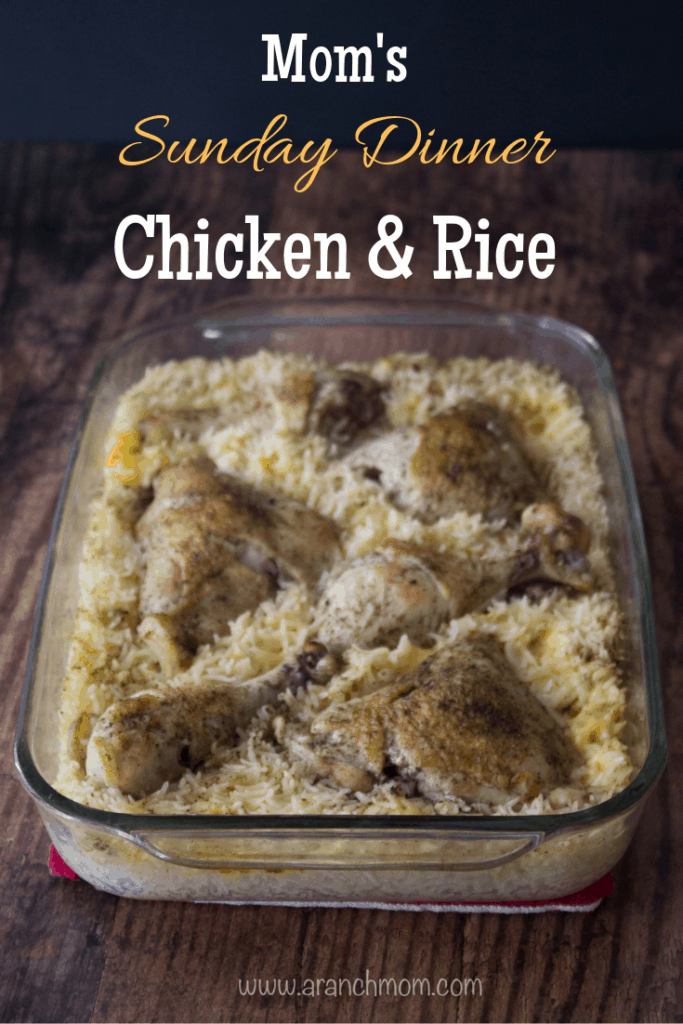 Mom always wore an apron when she cooked, and somehow everything seemed right when Mom was in the kitchen, wearing her apron and frying a chicken.
Mom would turn the oven on low and slide the pan of chicken and rice into it.
When we got home from church a couple hours later, the house would waft out the comforting aroma of chicken and rice.
The best thing about Mom's Sunday-dinner chicken and rice casserole, was that we didn't have to wait long till dinner was ready.
By the time we'd changed from our Sunday clothes into play clothes, Mom would have some green beans heated up and the bread sliced.
My sisters and I would set the table with our mismatched melamine plates, pour the water, and then we'd sit down to eat.
Dad always placed his elbows on the table and folded his hands as he led us in prayer – a prayer far too long, in my hungry-child mind! 🙂
Finally, we would eat. Dad and the older brothers would pick out the biggest pieces, and us younger kids were left with drumsticks and wings. But there was plenty of rice to go around, and the creamy rice was delicious.
Home-canned applesauce and homemade bread rounded out the meal, and Mom's delicious pie for dessert.
Dad and the brothers would be discussing something at full volume, as always, while in the background the Chuck Wagon Gang was crooning from the stereo.
It was a relaxing, soothing break from the normal work-week, and Mom's Sunday-dinner chicken and rice will always bring back those memories.
You can find more memories of my childhood HERE and HERE.
How to make Sunday Chicken and Rice
Preparing the chicken
My mom would pull the skin off the chicken pieces before frying, but I leave the skin on because it's my favorite part! But this recipe is great either way.
Brown the chicken pieces
Heat a few tablespoons of oil in a big skillet over high heat. Add the chicken pieces, and fry till golden brown.
After about 5 minutes or so, the first side should have a good sear on it; flip the chicken and brown the other side.
Tip: Cast iron skillets give a good sear, but you can use any skillet. If you use non-stick, you might want to use a bit of butter with the oil to get that lovely golden color.
You are not trying to cook the chicken in this step – just getting some good color on it. The chicken will finish cooking in the oven.
Prepare the rice
While the chicken is frying, measure the rice into a 9×13 glass cake pan or large casserole dish. (no need to grease the pan)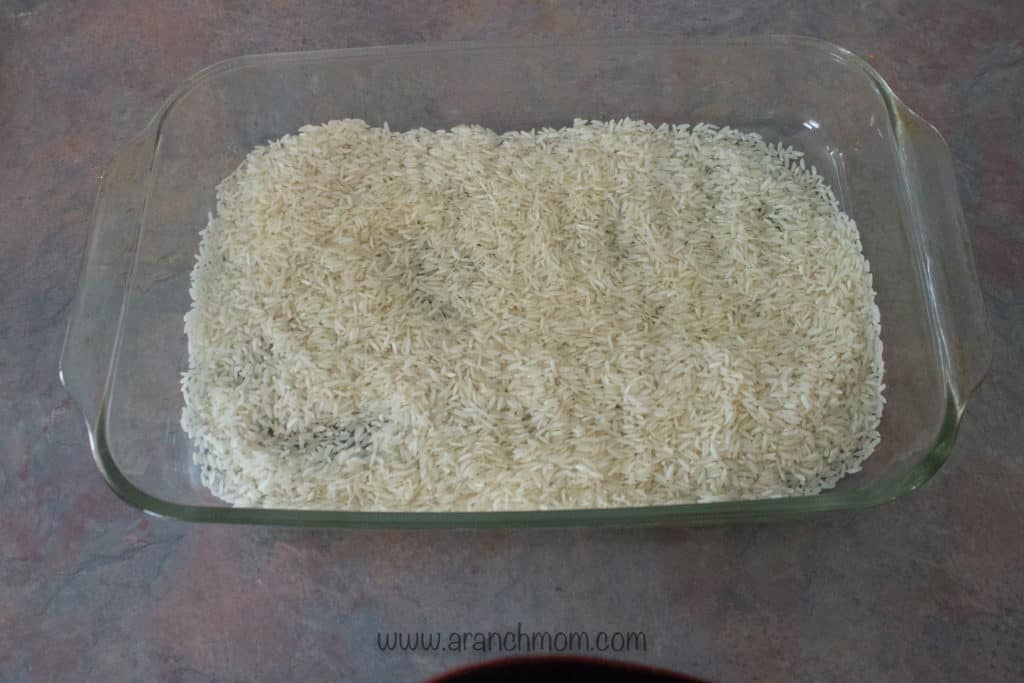 Add the cream of chicken soup, and stir gently with a fork to break it up. It doesn't have to be mixed completely, just make sure there are no large clumps.
Add salt and stir again.
When the chicken is finished frying, place it on top of the rice & liquid mixture.
Sprinkle the casserole with poultry seasoning, garlic, and black pepper. I do not measure this – just a generous sprinkling!
Baking the chicken and rice
Cover the casserole with foil, and bake for 2 hrs at 250.
Delicious served with a lettuce salad and fresh rolls.
Can you make this recipe in the crockpot?
Yes! I have cooked it in the crockpot and it works great. Just prepare the recipe as written, but place it in a crockpot instead of the baking dish. Cook on HIGH for 3 hours. I haven't tried it on LOW, you will need to experiment with that.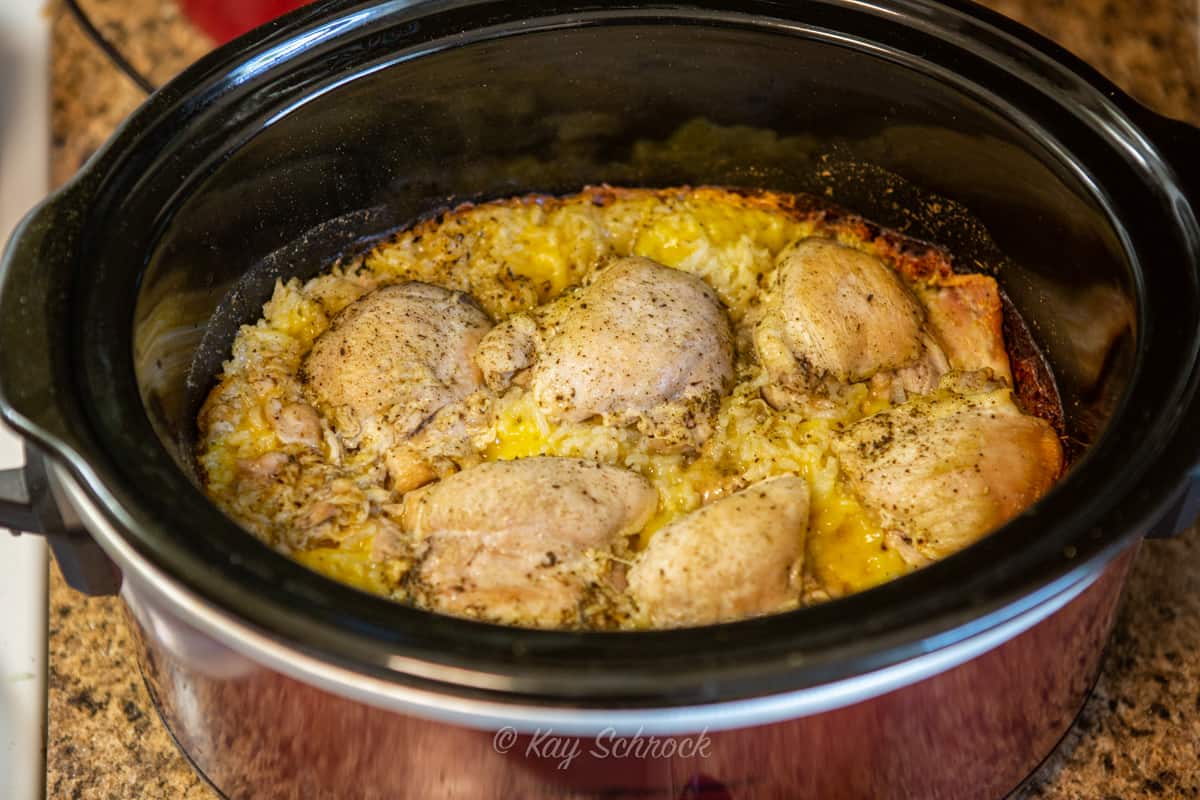 Do you have a favorite Sunday dinner from your childhood? What is your favorite comfort food meal?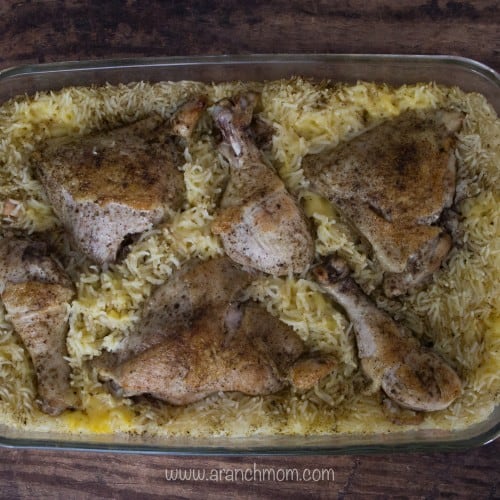 Mom's Sunday-Dinner Chicken and Rice
Delicious chicken and rice casserole like Mom used to make.
Ingredients
2

TBL oil

6

pieces

chicken

bone-in OR boneless

2

cups

water

2

cups

white rice

1

can cream of chicken soup

1

teaspoon

salt

1

teaspoon

poultry seasoning

¼

teaspoon

black pepper

¼

teaspoon

garlic powder
Instructions
Place water, rice, salt, and cream soup in casserole dish.

Stir lightly with a fork.

Brown chicken pieces in oil, on both sides.

Place browned chicken on top of rice mixture.

Sprinkle with spices.

Cover with foil.

Bake at 250* for 2 hrs.
If using Crockpot
Prepare as directed. Place in crockpot instead of baking dish. Cook on HIGH for 3 hours.
Notes
This works great in the crockpot. 
You can also substitute turkey for the chicken.
Nutrition