Branding season is upon us once again, and with it comes the question: "What shall I cook for the branding meal?" Let's face it – the cowboys would be happy with just meat and biscuits! But we want to make sure they get a balanced meal with vegetables and fruit too. 😉
Maybe you never struggle with this, but I still have days when I can't think of anything interesting to make! Side dish ideas are especially hard for me because I get in a rut with the same 5 dishes. 🙂 Therefore, I thought I would sit down and type up a list of the side dishes that I like to make.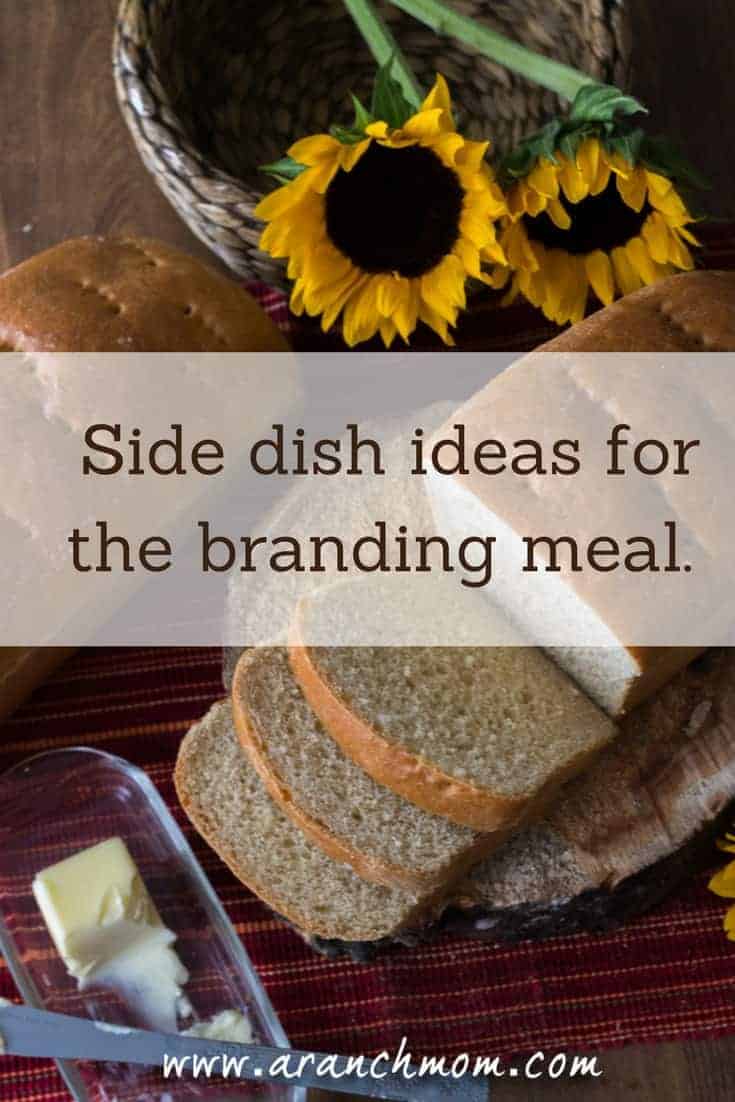 Vegetables
Green beans:  throw in a handful of cooked, crumbled bacon (and the fat they fried in!). Or brown some butter and drizzle it over top.
Peas, cooked gently and a couple TBL of butter added (opt). We like the peas and carrots blend.
Green bean casserole.
Scalloped corn.
Salads
Broccoli & Cauliflower salad
Jello Salad
Layered Salad
Pasta Salad – cook, drain, and cool a package of spaghetti. Stir in diced tomato, onion, cucumbers, and some black olives. Pour Italian dressing over it and chill.
Raspberry pretzel salad. (which is really more of a dessert than a salad, but everyone loves it! 🙂 )
Cottage cheese salad.
Coleslaw. (buy bagged, shredded cabbage and use this dressing recipe)
Potatoes
Cheesy potatoes. (use this recipe and omit the ham.)
Baked potatoes.
Twice-baked potatoes. (these are time consuming – I rarely make them for branding)
Roasted potatoes.
Mashed potatoes.
Breads
Homemade Biscuits.
Cornbread.
Fresh white bread rolls. (my most-complimented food at brandings.)
Sliced bread. (simple but always welcome.)
Garlic bread knots. (buy frozen at Walmart. Very easy to reheat, and delicious!)
Frozen bread rolls. (almost as good as homemade!)
I hope this gives you some new ideas for side dishes! I'd love to hear your favorite dishes in the comment section! I am always on the hunt for new side dish ideas for a crowd.
More branding meal ideas:
3 Tips for a stress-free branding meal.
5 Meal Ideas for the ranch crew.
Cooking for the ranch crew, Part 1.
Cooking for the ranch crew, Part 2.
You might also enjoy these: