Bacon Wrapped Venison Tenderloin is the perfect summer wild game meal for the grill. Deer tenderloins stuffed with cheese and peppers, wrapped in bacon, and grilled to perfection.
How to make Bacon Wrapped Venison Tenderloin
This grilled deer tenderloin recipe is not fancy, but it is succulent and mouth-watering! It takes less than an hour from raw to plated.
What is venison tenderloin
Start with two whole deer tenderloins. Tenderloin is NOT the same thing as backstrap. That is a common misunderstanding of venison cuts. Backstrap or loin, comes from the outside of the deer, just below the skin and on each side of the spine.
Tenderloin comes from inside the deer, behind the ribcage, laying along each side of the spine. It is the equivalent to filet mignon on beef. It is just as tender and desirable as filet mignon, in my opinion! Prepared properly, it can be cut with a fork, and melts in your mouth. Here is a chart that explains the various meat cuts on a deer.
Stuff the Tenderloin with cheese
Use a very sharp knife to carefully cut a slit into the tenderloin. Start about a half-inch or so from the end. Don't slice completely through the meat – leave about a half inch uncut, so the meat falls open in a 'butterfly' position.
Next, lay out bacon strips, with each strip overlapping the previous one just a bit. Place the butterflied tenderloin on top of the bacon. It took me about half a pound of bacon per tenderloin.
Then, lay some slices of cheese on the cut part. Lay some pepperoncini's beside the cheese, and some cream cheese slices along the other side.
Sprinkle generously with Greek seasoning or your favorite steak seasoning. My favorite seasoning blend is Cavender's greek seasoning. You can find it on Amazon, as well as Walmart or your favorite grocery store.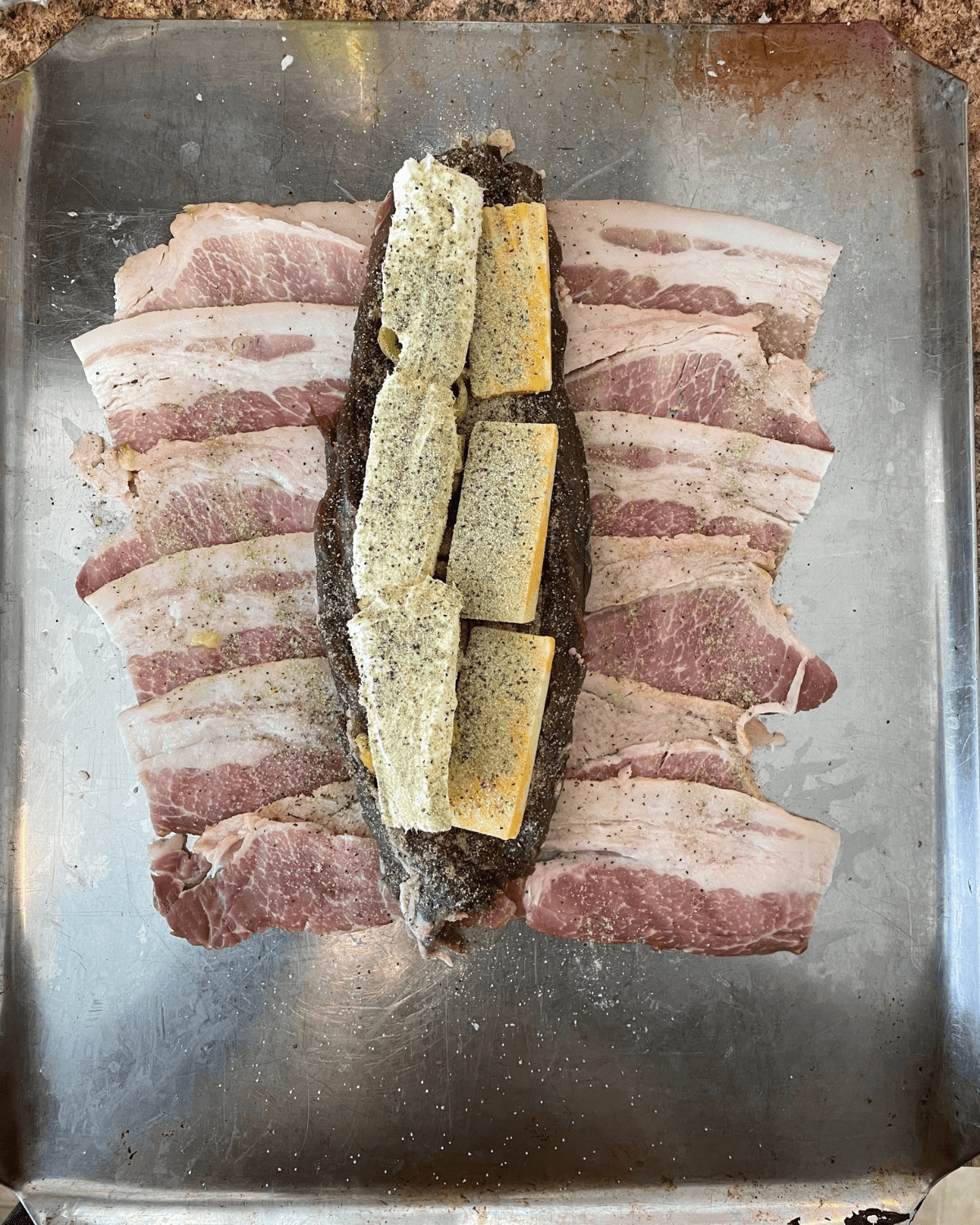 Wrap the tenderloin with bacon
Finally, start at the bottom and fold the tenderloin back together. This can be kind of difficult, just go slowly and pinch the meat together with the cheese inside as much as possible. Deer meat will stretch a little but so just pull it together as you go.
I used my left hand to hold the meat together, and my right hand to wrap each slice of bacon around it. Secure each strip of bacon with a toothpick or party skewer. I used the 4″ skewers, and they worked great to go completely through the tenderloin and hold it all together.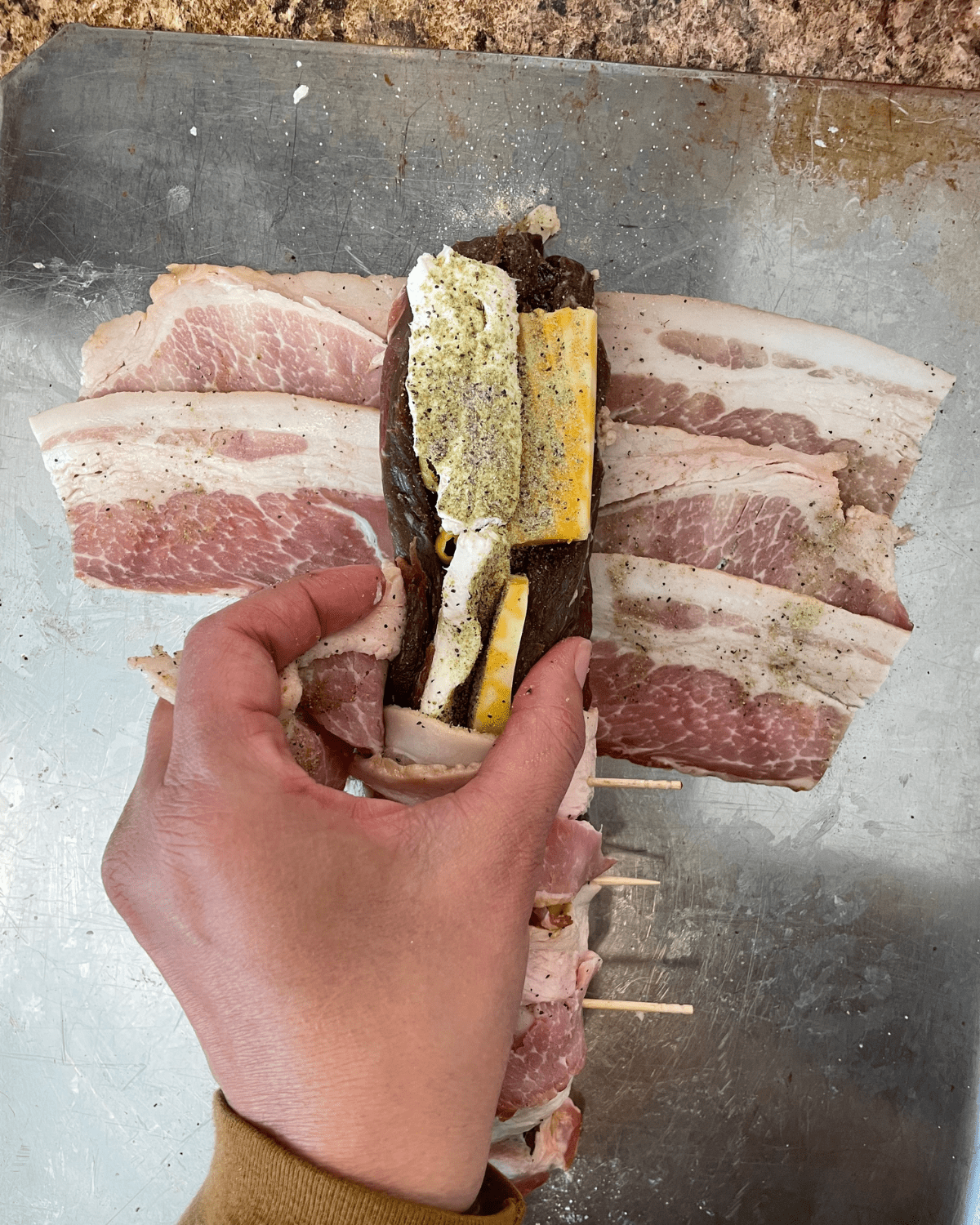 Cook the tenderloin on the grill
I preheated the grill to 400, and kept the grill lid closed for the first several minutes. I didn't time it precisely, because there are various factors that will affect the grill temperature and time. It was cold and VERY windy when I grilled, so the wind blew the heat away. A warmer day, or less windy conditions would make a big difference in how long it needs to cook. I highly recommend using a meat thermometer to check your meat. This will cut down on improperly cooked meat, and give you a better chance at success every time.
I turned the meat every few minutes, so it would cook evenly – but also to crisp the bacon. The bacon grease did drip down and cause some flaming up, but it wasn't too bad. Yes, the skewer ends burnt off, but that just made it easier to turn the meat!
When the meat was almost finished, I brushed BBQ sauce all over the bacon and let it cook a couple minutes more to caramelize the sauce.
Grilled deer tenderloin wrapped in bacon is now one of my favorite ways to eat wild game! I have had some suggestions on other fillings to stuff into the tenderloin, so I am going to try them. Comment below and lt me know your favorite way to stuff a tenderloin!
Bacon Wrapped Venison Tenderloin
Try this delicious Bacon Wrapped Venison Tenderloin on the grill this summer! It will WOW your friends and family!
Ingredients
2

whole

venison tenderloins

1

lb

bacon

1

cup

pepperoncini

sliced

4

oz

cheddar

sliced

4

oz

cream cheese

sliced

1

teaspoon

greek seasoning

Cavenders brand
Instructions
Place tenderloin on cutting board and carefully split it open length-wise, leaving ½ inch at each end uncut. Be careful to not cut completely through - you are just making a pocket to stuff with cheese.

Place bacon slices on the cutting board, overlapping each slice just a bit. Place tenderloin on top of the bacon, cut side up.

Place cheese slices and pepperoncini on the open tenderloin. Sprinkle generously with Greek seasoning.

Begin at the bottom, and with one hand pinch the tenderloin together, keeping the cheeses inside, and with your other hand wrap each bacon slice around the meat. Secure each slice of bacon with a toothpick or party skewer.

Heat grill to 350° and place wrapped deer meat on the grill. Close grill for several minutes. Turn the meat over and grill another several minutes. Then open the grill, turn heat up to 400°, and continue turning meat frequently to crisp up the bacon and finish cooking the tenderloin. Brush with BBQ sauce the last few minutes if desired.

Venison needs to be cooked to a minimum internal temperature of 125°. I grilled mine to a medium-rare 130, and it was perfect for us.
Notes
You can use any type of cheese. Sharp cheddar is preferable but when I photographed this recipe all I had was co-jack. 
If you don't have Cavender's seasoning, you can use salt and pepper or your favorite all-purpose steak seasoning. 
I usually don't measure my cheese amounts. I just use thick cheese slices as desired. 
Nutrition
Serving:
5
oz
Calories:
692
kcal
Carbohydrates:
4
g
Protein:
61
g
Fat:
47
g
Saturated Fat:
19
g
Polyunsaturated Fat:
6
g
Monounsaturated Fat:
17
g
Trans Fat:
1
g
Cholesterol:
207
mg
Sodium:
772
mg
Potassium:
848
mg
Fiber:
1
g
Sugar:
1
g
Vitamin A:
547
IU
Vitamin C:
17
mg
Calcium:
173
mg
Iron:
7
mg